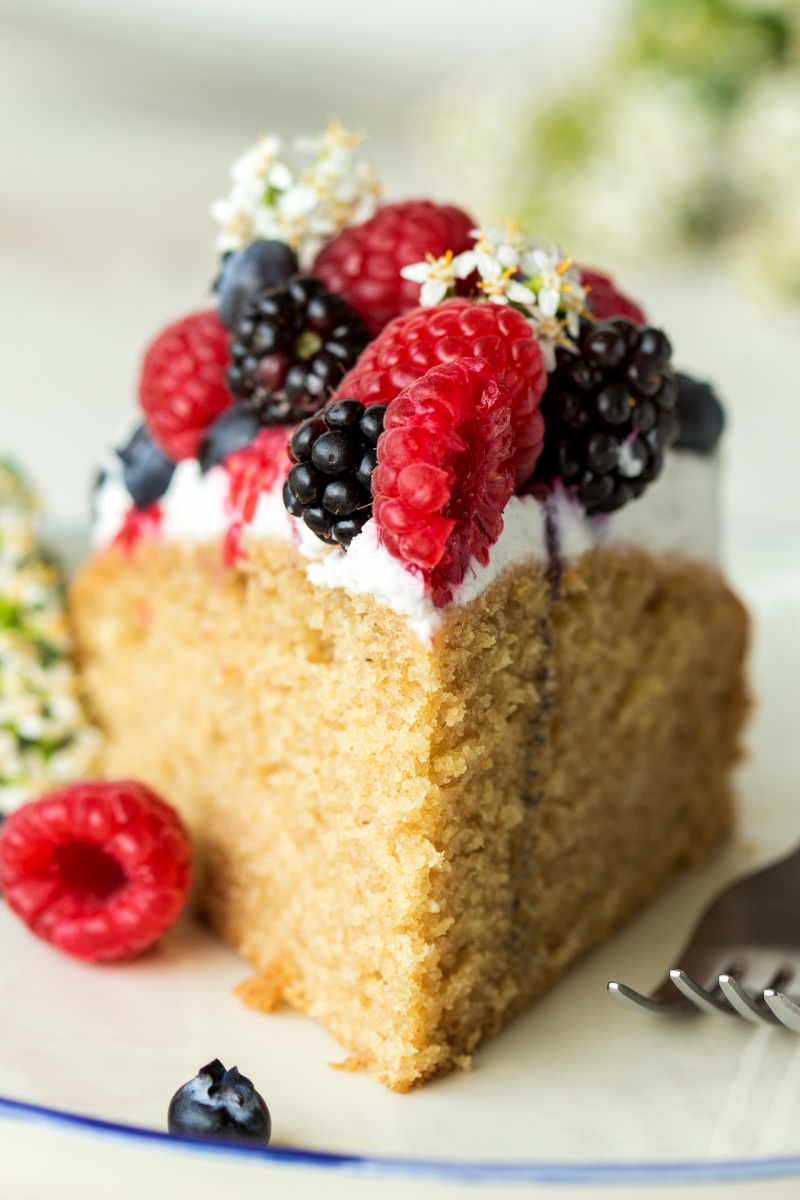 Another weekend has rolled along at last! It's been a bit frantic in our household since my last post as we finally stumbled across a house that ticks almost all of our boxes and is within our price range. Despite ourselves, we got quietly (and internally) really excited upon seeing its potential, but what unfortunately often happens with good properties, we weren't alone.
When we opened the negotiation with an acceptably lower-than-the-asking-price amount, we were told that there were already two full asking price offers on the table and that the owner would not accept anything lower than that. While we could possibly stretch to it, it's above the upper limit we have set ourselves. Plus, we felt that the fact that we were the only chain-free buyers keen to move as quickly as possible had to be worth something, right?
So we said we cannot afford it at the full price and walked away. In reality, we already have another (much closer to the asking price) offer in mind, but I am holding out for at least a day so that the seller doesn't think we are too keen and pushes us further. Buying a house comes with a whole host of extra costs and I don't feel comfortable without leaving any buffer. Playing it cool is soooooo damn hard though, especially that I am like a dog – you can totally read all my emotions as they sweep through my face. Good job it's a phone negotiation.
To stop myself from to-ing and fro-ing on how to play this, I decided to make a cake for the blog. A simple vegan sponge with a touch of my beloved almonds, topped with whipped coconut cream and all shades of berries, some of which (blackberries) are currently growing in our backyard. It's a simple enough cake, yet makes an entrance due to all the pretty berry colours and textures contrasting with snow-white coconut cream and golden cake underneath.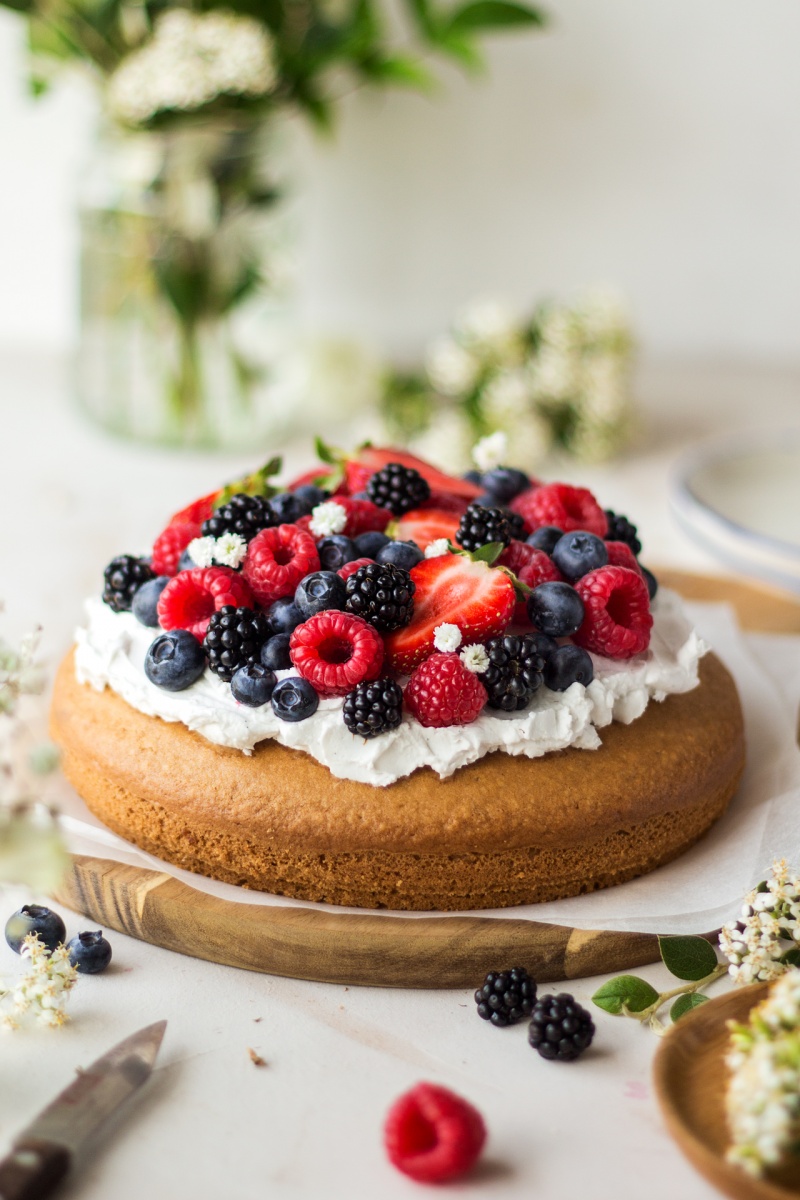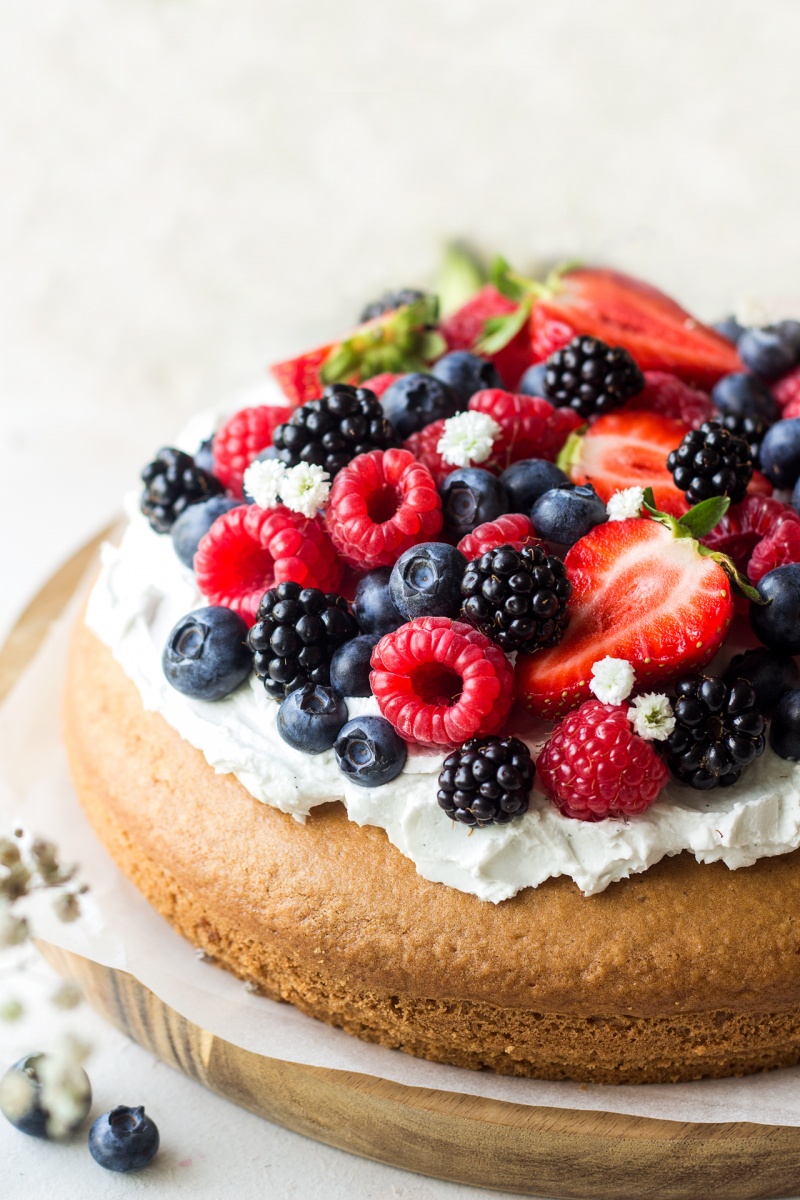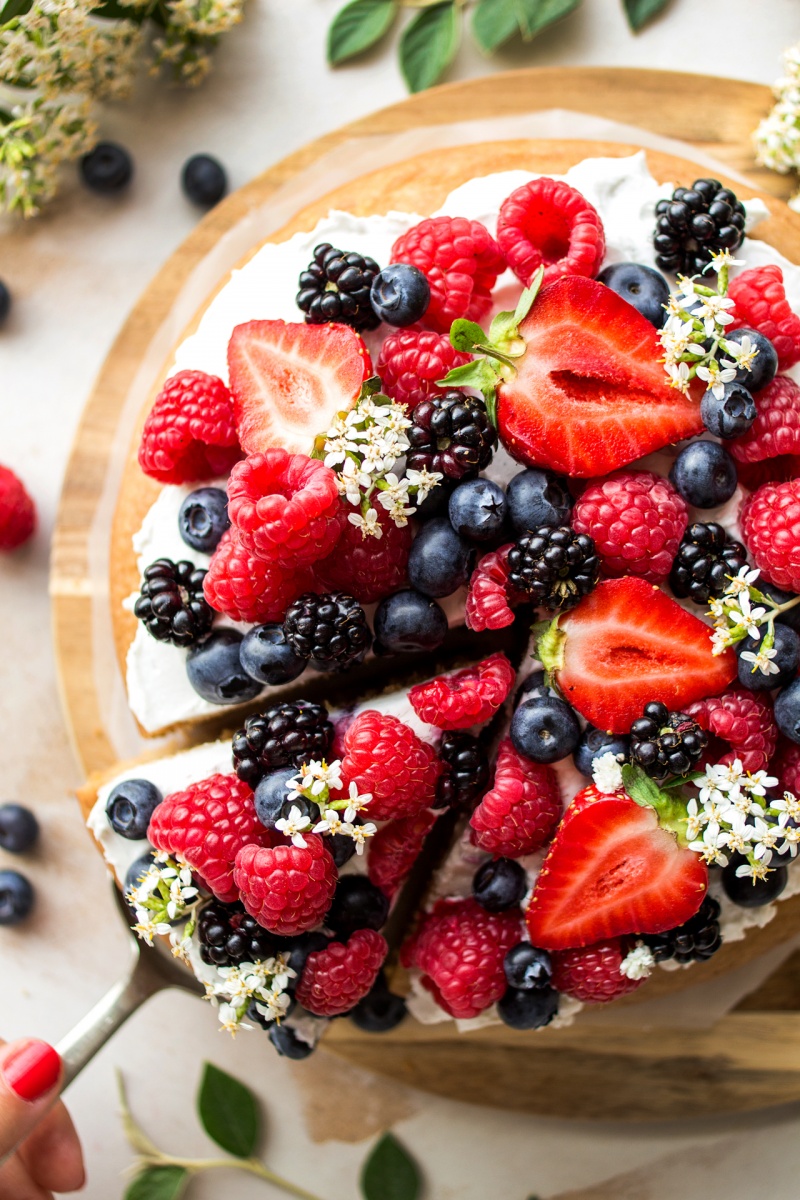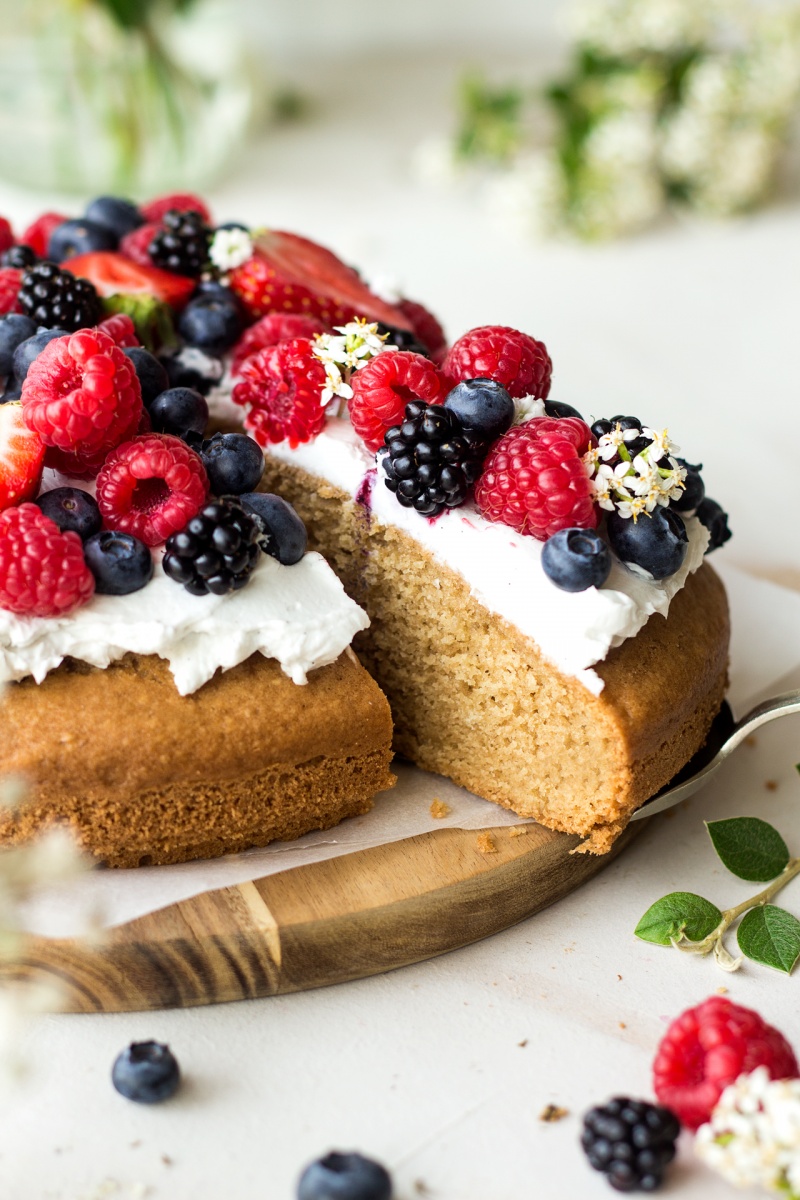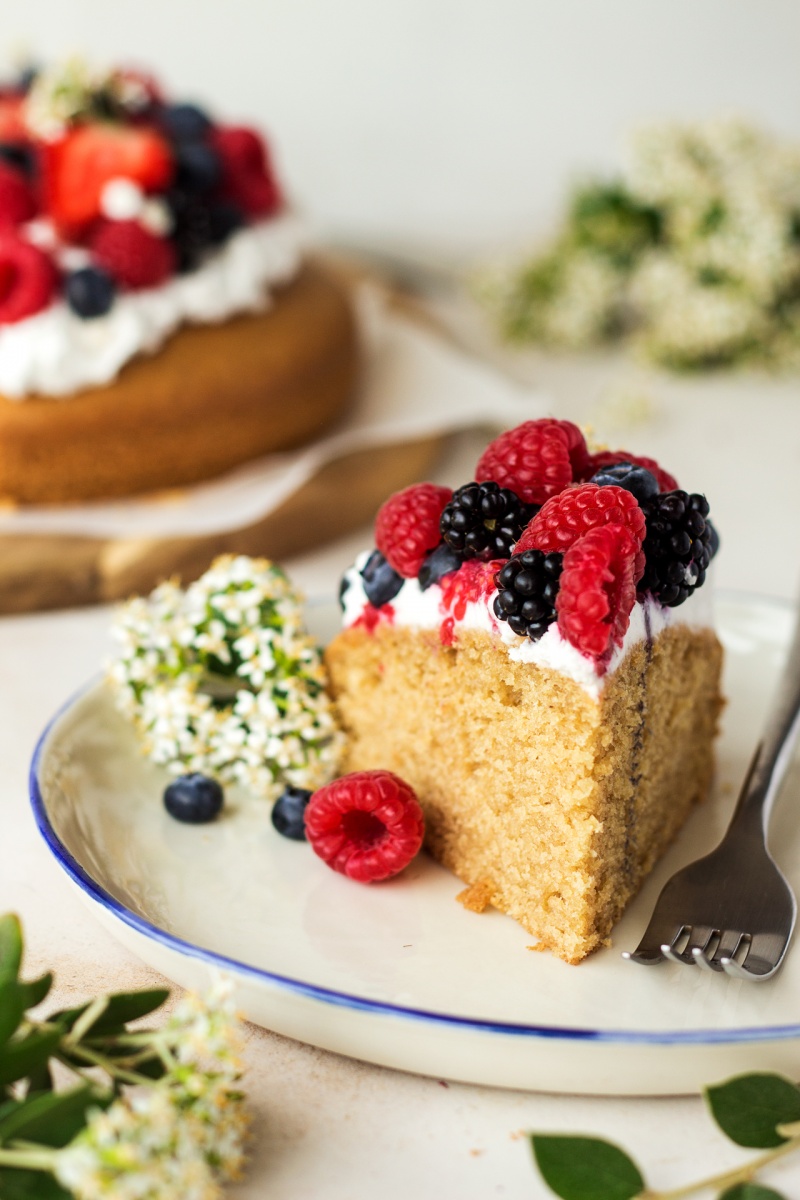 WET INGREDIENTS
50 g / 60 ml / ¼ cup softened* mild coconut oil (or other mild tasting oil)
125 g / ½ cup + 2 tbsp caster sugar or coconut sugar**
30 ml / 2 tbsp freshly squeezed lemon or lime juice
240 ml / 1 cup plant milk (I used almond) at room temperature
1 tsp bitter almond essence
DRY INGREDIENTS
220 g / 2 cups all purpose white flour or all purpose GF flour mix (this is the one I use)
¾ tsp baking soda
¾ tsp baking powder
80 g / ¾ cup finely ground almonds (or almond meal)
OTHER INGREDIENTS
400 g / 14 oz full fat coconut milk*** chilled for at least 48 hrs or 200 g / 7 oz thick coconut yogurt like Coyo
1 tsp tapioca starch
2-3 tsp icing sugar (optional)
summer berries
METHOD
Heat up the oven to 170° C (or 150° C fan forced) / 340° F (300° F fan forced). Grease your baking tin (I used a 20 cm / 8″ round pan) with a very small amount of oil.
Cream the oil and sugar with an electric whisk in a tall bowl.
Stir the lemon / lime juice, room temperature (but not warm) plant milk and almond essence into the oil and sugar.
Place a sieve over the bowl and sift through all the dry ingredients, except for the ground almonds. Fold the flour in gently. If you are using wheat flour, be careful not to over mix the batter as the cake will be tough.
Fold in the finely ground almonds.
Transfer the batter to the baking tin. If your tin doesn't have a removable bottom, it may be a good idea to place 2 long and wide strips of baking paper down first so that you can use them as handy tabs to make cake removal easier.
Bake for about 35-40 minutes, until a toothpick comes out clean and the top is nicely browned. I found that coconut sugar makes the cake brown way quicker so I covered the top with a piece of kitchen foil for the last 10 minutes of baking. I also found that the cake made with GF flour mix only needed 35 minutes in the oven, while the one with the all purpose wheat flour required more like 40 minutes. Please stay vigilant and use your own judgement depending on what sugar / flour you used and on the knowledge of your particular oven, but do not open the oven door until the cake has fully risen and has browned on top.
Allow the cake to cool down completely (that's very important).
Top the cooled down cake with cream (or thick coconut yoghurt) and berries and serve. The cream will stay stable for several hours at room temperature provided its not exposed to excessive heat or direct sunlight. Store leftovers in an airtight box, in the fridge.
COCONUT WHIPPED CREAM
Place a metal whipping bowl in the fridge for at least 1 hour prior to whipping the cream.
Just before you are ready to whip, open a tin of coconut milk gently and scoop the cream portion out (it should have risen to the top of the can while sitting in the fridge).
Whip the coconut cream with an electric whisk for 5 minutes, until soft peaks form.
Add 1 tsp of tapioca starch and whip some more to stabilise. If you wish to sweeten the cream a little, add 2-3 tsp icing sugar.
Keep the cream chilled until ready to top the cake, do not expose to direct sunlight and make sure the cake is completely cold before applying.
NOTES
*During a heatwave, when the ambient temperature in my house was a lot higher, I realised that softened (as opposed to melted) coconut oil whipped with sugar give cakes a nicer texture. If that's not possible, however, feel free to use liquid oil, just make sure it's cool to the touch as otherwise it will melt the sugar in the cake batter.
**This cake is not very sweet. I like it like that but if you have a sweet tooth, increase the sugar to 150 g or ¾ cup.
***Not all coconut milk is whippable. Look for brands that do not contain any stabilisers, just water and coconut. This is the brand I personally like.