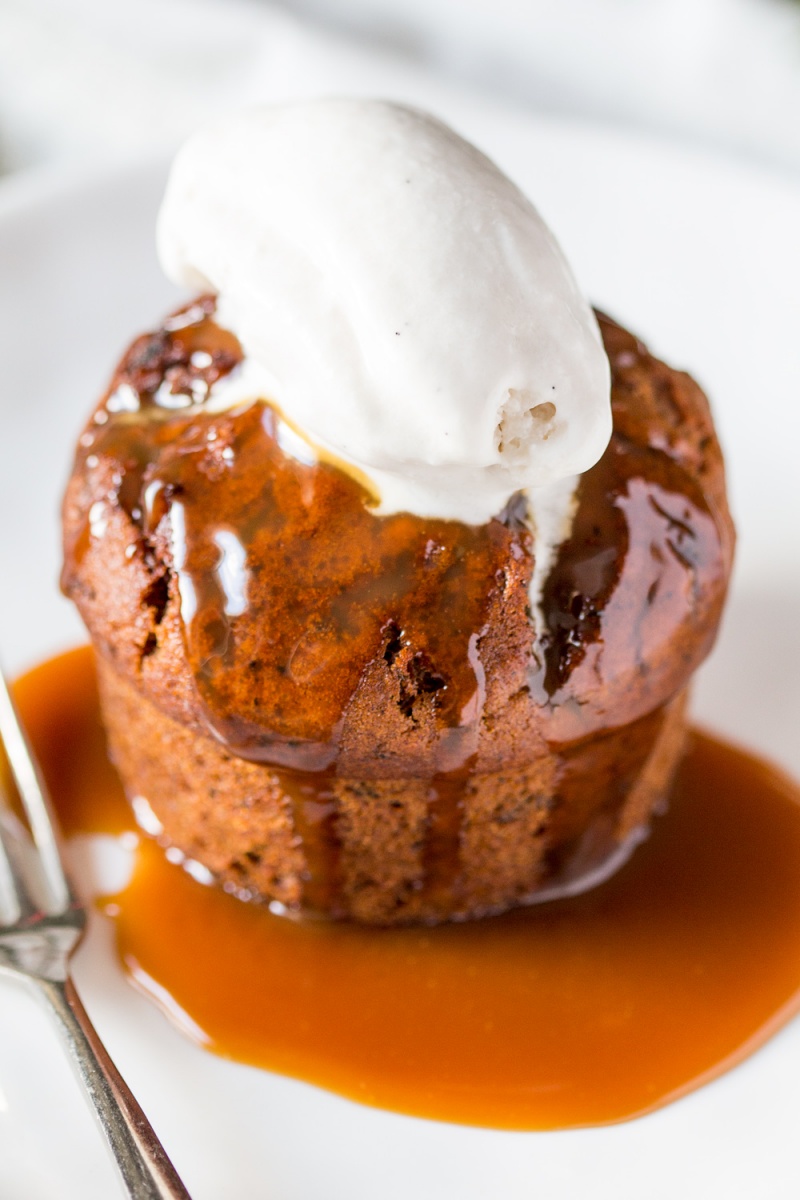 Sticky toffee pudding is our favourite British dessert. It's very indulgent, rich and aromatic and it firmly belongs in winter. Each bite reminds me of my past London life. It takes me back to long Sunday walks in Hampstead Heath on sunny, winter days followed by a lunch in a cosy gastropub, a glass of red wine and a share (or whole if there was room) of sticky toffee pudding.
You would be forgiven for thinking that a pudding this rich isn't an easy thing to veganise, but we found the opposite to be true. We replaced butter with good quality olive oil and because the sponge recipe feels like it could have had some Middle Eastern influence (dates, tea, muscovado sugar), olive oil seems to belong in this recipe.
Instead of eggs, we used unsweetened apple purée, which keeps the sponge moist and balances the sweetness of dates and sugar nicely. Acidity in the apples and baking soda leaven the cake so both functions of eggs (leavening and keeping the cake moist) have been taken care of in quite an uncomplicated way.
This moist aromatic sponge is delicious on its own with a mug of hot tea or coffee, but a drizzle of slightly salted toffee sauce and a scoop of plain vanilla ice cream take it to the next level. Try it, it won't disappoint! Duncan, our cat Tina and myself are wishing you all a very merry Xmas!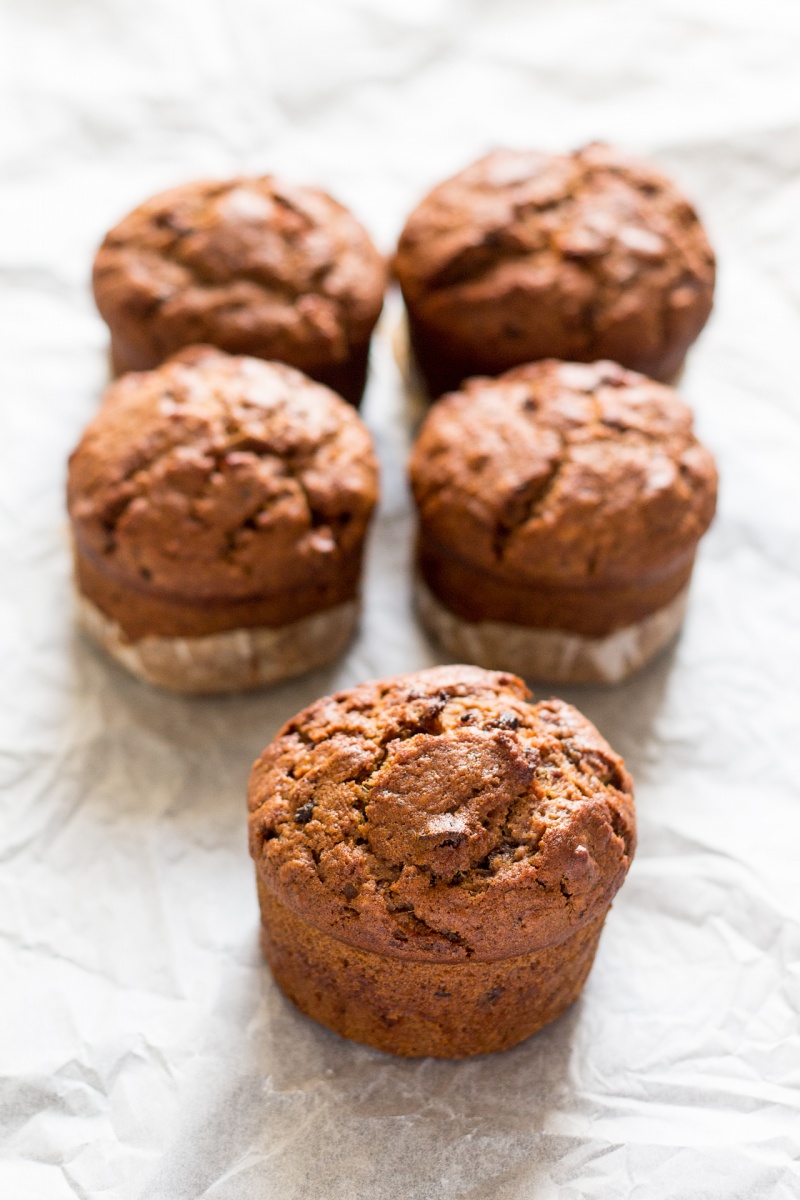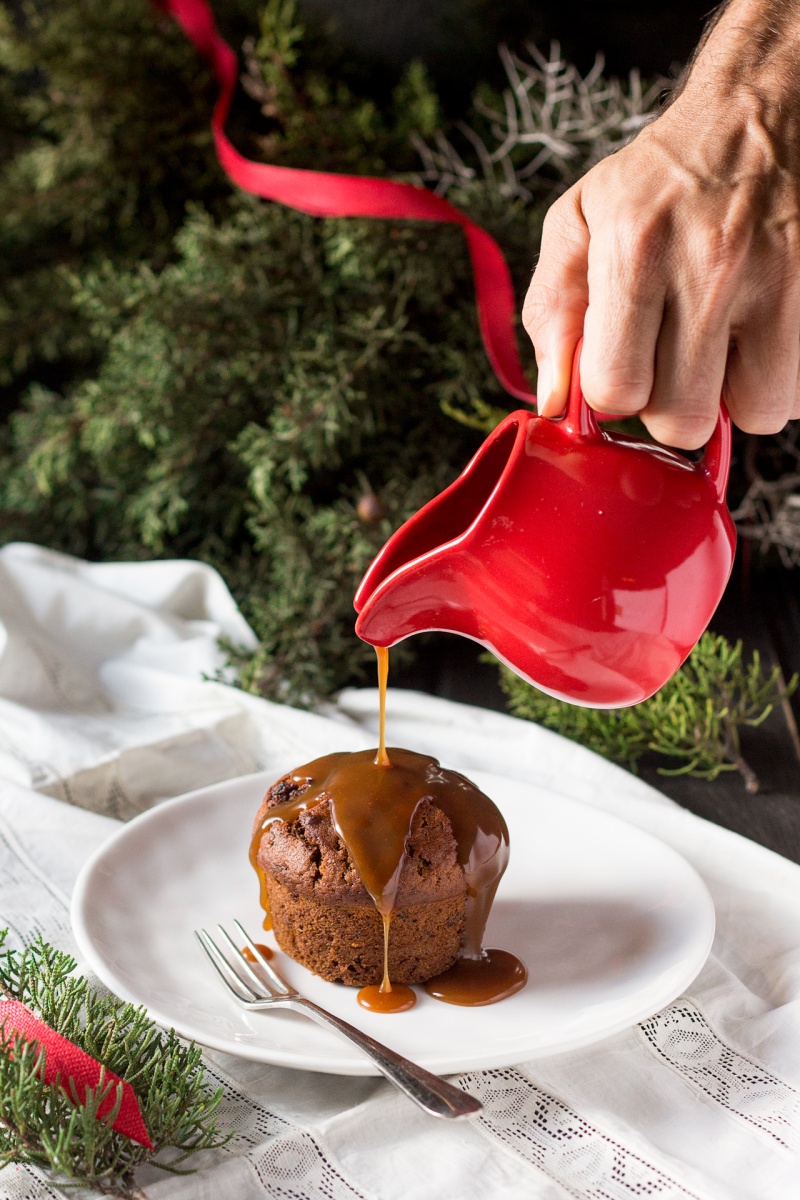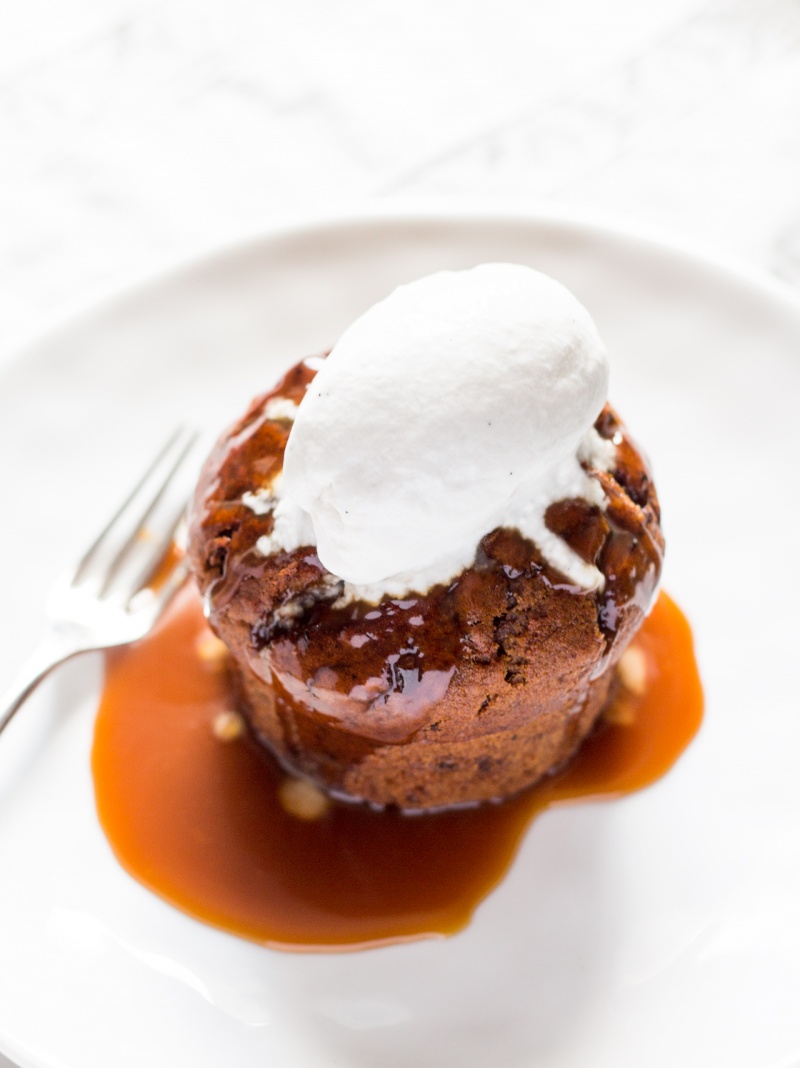 DATE AND CHAI SPONGE
175 g / 1 cup pitted dates, roughly chopped
1 teabag of chai (or English breakfast tea)
80 ml light/mild olive oil
50 g / 1/3 cup dark muscovado sugar
50 g / scant ¼ cup brown sugar
100 g / ½ cup of unsweetened apple purée* (from sour apples)
100 ml almond milk
175 g / heaped 1 and 1/3 cup plain flour, sifted
1 tsp baking powder
1 tsp baking soda
1 tsp vanilla extract
TOFFEE SAUCE
100 g / ½ cup sugar (I used brown, unrefined)
120 ml / ½ cup + 60 ml / ¼ cup full fat coconut milk
a few pinches of salt
METHOD
DATE AND CHAI SPONGE
Pour 150 ml (½ + 1/8 cup) of boiling water over the teabag, dates and baking soda. When the tea has brewed for 10 minutes, remove the teabag, add vanilla extract and mash the date mixture with a fork.
Preheat the oven to 180° C / 355° F.
Coat the inside of the 6 x 200 ml ramekins with olive oil and line the base with non-stick baking paper.
In a separate bowl, stir the olive oil, muscovado sugar and light brown sugar until thoroughly combined.
Add the almond milk, apple purée and date mixture from step 1. Right now it will look way too much like a liquid – that's okay, it's the way it should look.
Combine sifted flour and baking powder. Add them into the wet ingredients and stir until the mixture is smooth. Be careful not to overmix or else the sponge will end up heavy.
Spoon the mixture into the ramekins (fill the ramekins two thirds full to allow room for rising) and place in the oven for 30-40 minutes (until the top is caramel brown).
After removing from the oven, allow to cool for 20 minutes before running a knife around the edge of the ramekins and turning them over. They should come out easily.
TOFFEE SAUCE
Spread an even layer of sugar at the bottom of a dry pan or pot. Heat up sugar on a medium heat (I used setting 3 out of 6). Refrain from stirring it, although if your pan has hot spots, you may need to gently manoeuvre unmelted sugar into a hot spot. Meanwhile, warm up ½ cup of coconut milk in a separate pot.
Once all the sugar has melted, take the pan off the heat and slowly stir in warmed-up coconut milk. Be very careful as even though warming milk up minimises this, caramel may be splattering at this point and it will be very hot.
There is a chance that once you add coconut milk, some of the caramel will harden into big lumps. What you need to do is to return the pan to the stove and set on a very low setting (I used 2 out of 6) to allow these lumps to melt away. Make sure you keep on stirring the mixture. Now, because the longer you cook your caramel sauce the more sticky and less sauce-like it will become, if you do need to bring it back to the stove to melt any stubborn lumps, add another ¼ cup / 60 ml of coconut milk to the pan to ensure that once your lumps have dissolved the caramel will retain sauce consistency. Do not panic if it appears to be too runny at first, caramel thickens as it cools down. If it does end up being too runny, you can always reduce it gently again.
Finally, taste the caramel and season with enough salt to cut through the richness.
NOTES
*To make simple apple purée, simply peel and core two sour apples (we used Granny Smith variety) and pop into a small pot with a lid. Add a splash of water so that the apples do not catch on the bottom and simmer, covered, on a very low heat until they are falling apart soft. Blend in a blender or mash with a fork if you do not mind a slightly chunkier purée.
Date and chai sponge recipe has been adapted from this recipe.