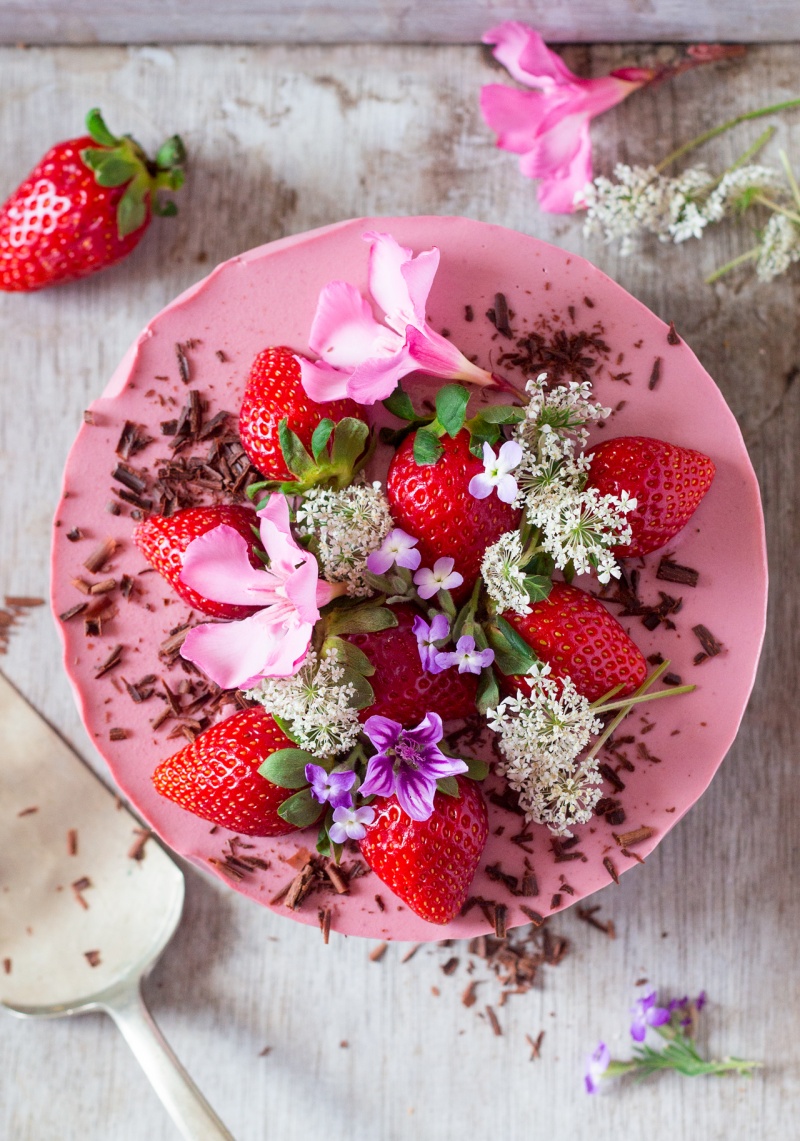 Another cheesecake? I hear you say…
I've been working on a perfect oil-free cheesecake recipe for so long that now, that I've finaly hit the jackpot, I was dying to try other flavours out. As strawberries are in season at the moment, I figured that strawberry cheesecake should be very well received.
Once again, it took a few trials to get the amount of agar agar spot on as strawberries have a surprising amount of water in them, it turns out, but I've done it. It's smooth, creamy, fragrant and very strawberry 🙂 .
This time, I have gone for a fully fledged cake rather than cute individual cheesecakes. As you might have noticed, I like baking small and cute things. I don't know why that is? I reckon some part of me secretly believes that having one small (teeny weeny) cheesecake is not as bad as having a slice of a big guy. I know it doesn't make sense, but hey, I often don't… 😉 so here is a big (ish) cheesecake for you.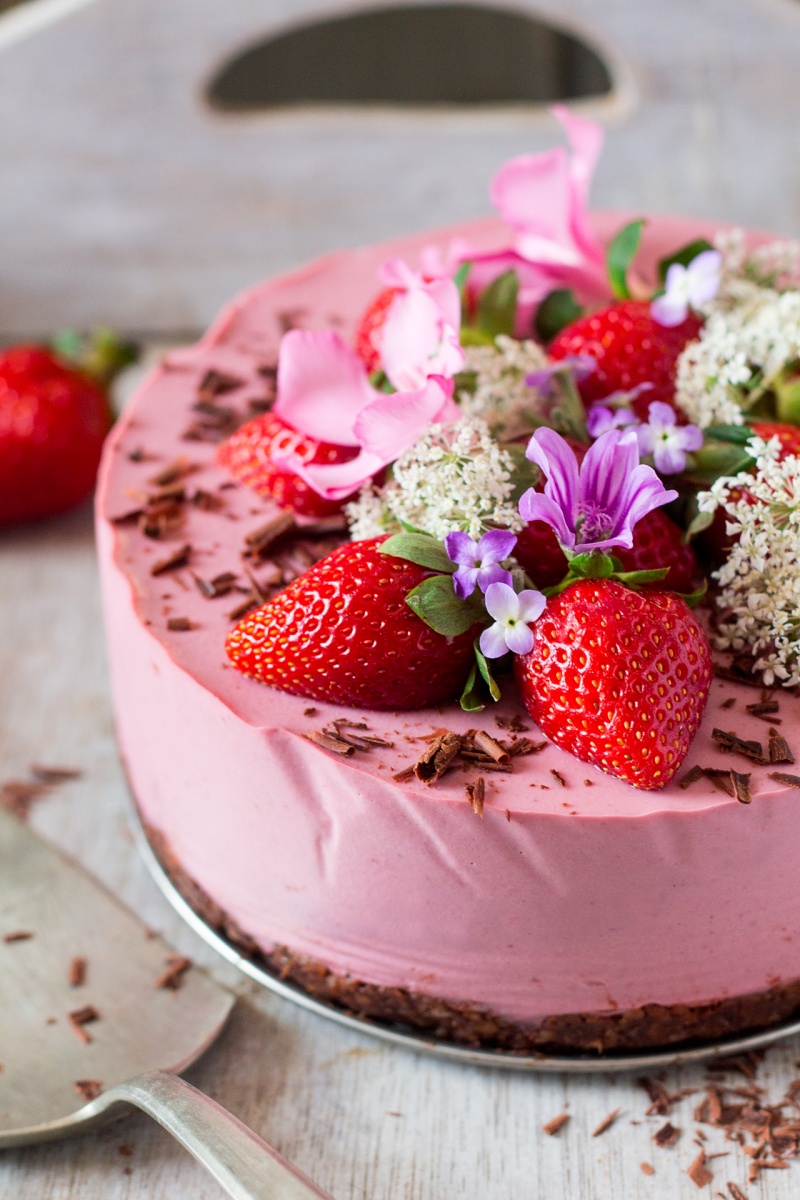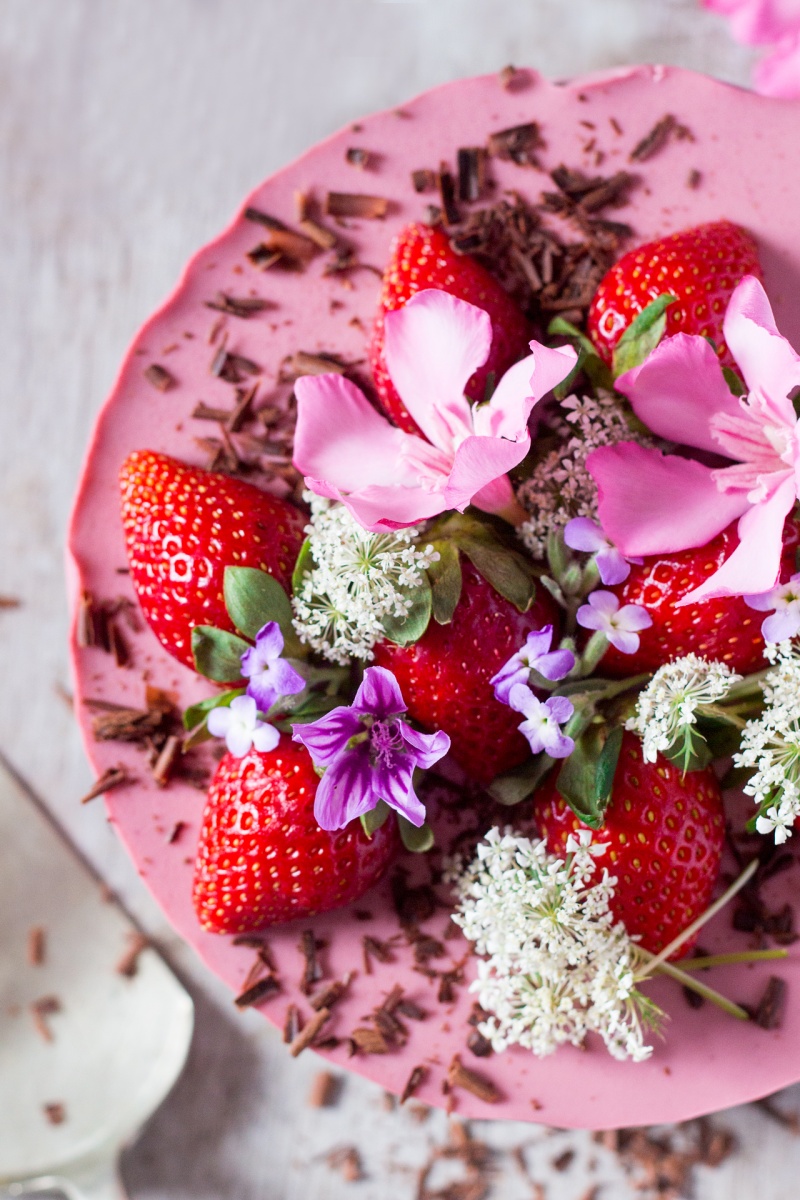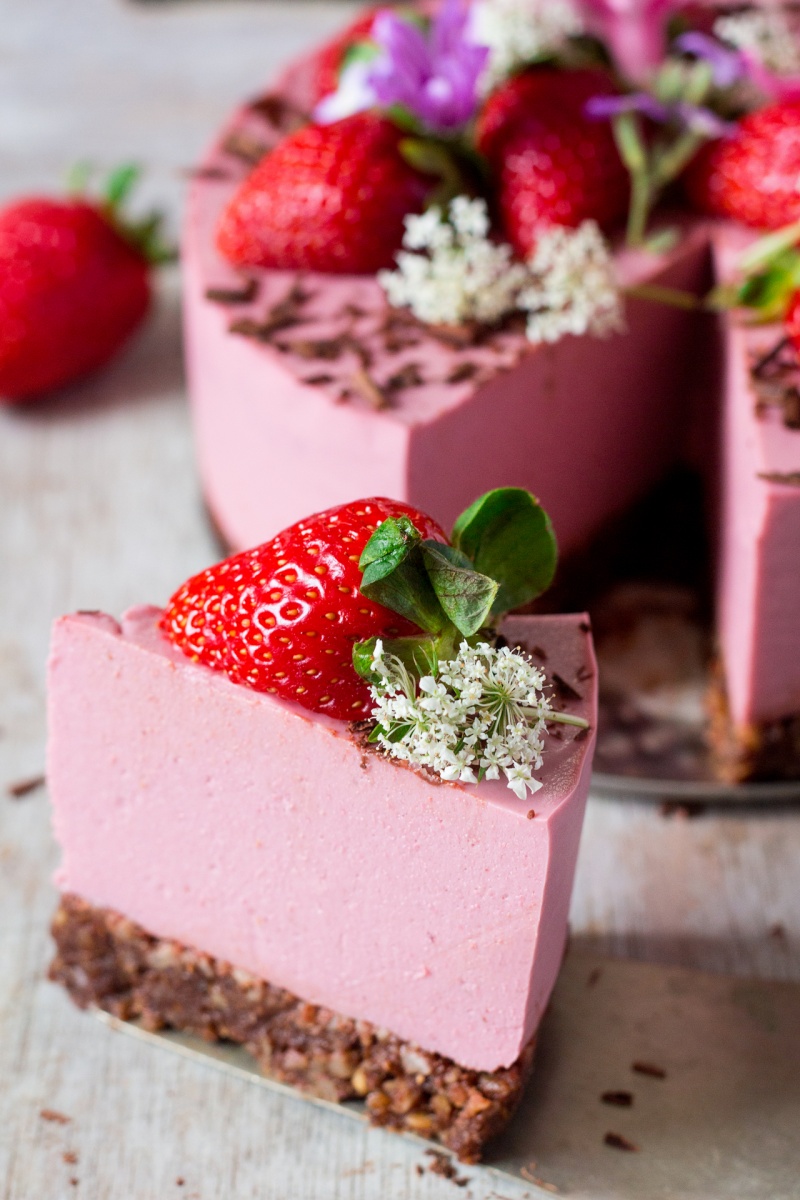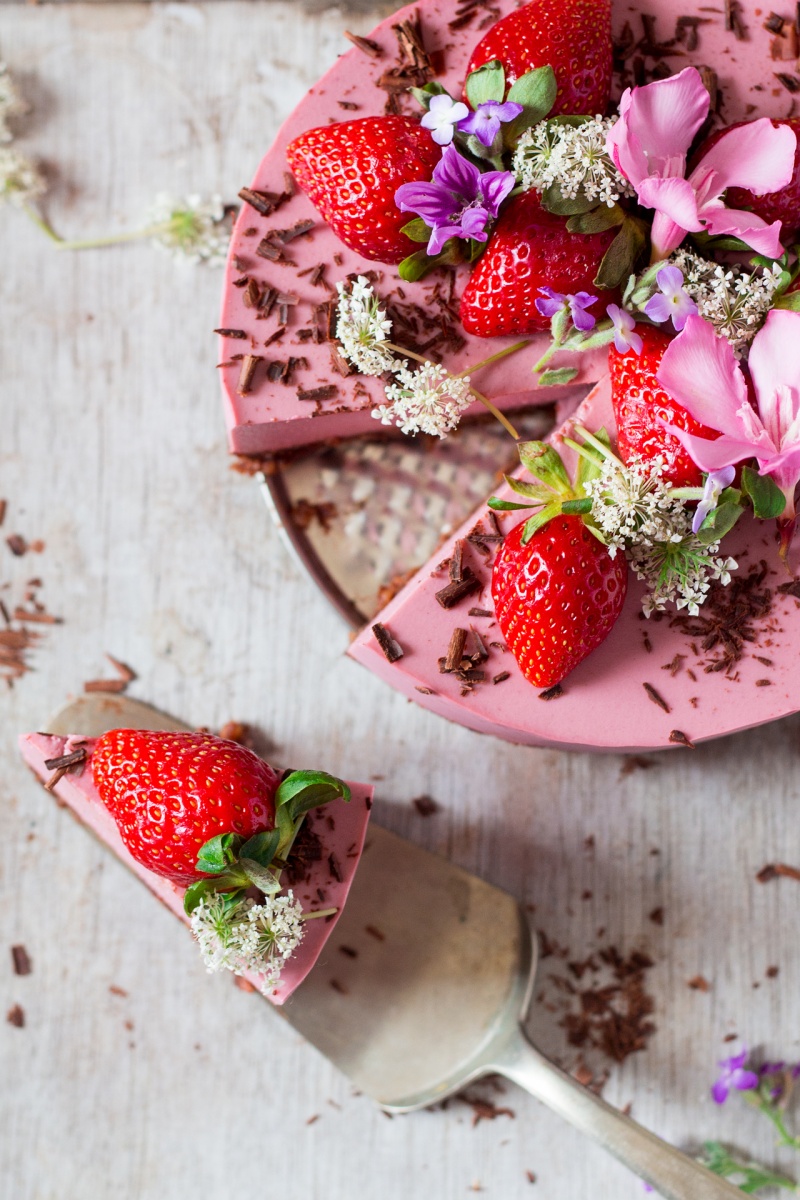 CHEESECAKE BASE
20 dates / 170 g / 6 oz pitted and soaked in boiling water
a few pinches of fine salt
heaped 1 cup / 140 g almonds
1½ tbsp raw cacao powder (optional)
CHEESECAKE
1 cup / 150 g raw cashews (soaked overnight)
600 g / 21 oz RIPE strawberries, de-stemmed (weigh after de-stemming)
5-6 tbsp / 75-90 ml maple syrup, adjust to taste
7½ level tsp agar agar flakes*
½ cup coconut cream*, chilled (from a tin)
½ cup reduced aquafaba*
DECORATION (optional)
chocolate shavings
fresh strawberries
METHOD
Line the bottom of your spring form tin (mine was 16 cm / 6 " across and 6.5 cm / 2.5 " tall) with a circle of baking paper and cut out a long rectangle to line the sides with.
CHEESECAKE BASE
Grind your almonds in a food processor until you get a coarse crumb. Take them out of the food processor and set aside.
Drain your dates and chop them roughly. Put into a food processor and process into a paste. Add cacao powder and a bit of salt to taste and process some more.
In a bowl, mix date paste with enough ground almonds to obtain a dough that isn't too sticky yet still holds together well. I prefer doing it by hand to get a feel for exactly how many almonds I should be adding.
Line the sides of the baking tin and then mould the base mixture to the bottom of your spring form tin. Press the mixture down well with your fingers so that there are no gaps / air-bubbles. Put a bit if baking paper on top of the base and weigh it down with something heavy (I used a round container of similar size, filled with sugar). Put into the fridge while you make your cheesecake mixture.
CHEESECAKE MIXTURE
Just before you are ready to start blending the cheesecake, put agar flakes, ½ cup of reduced aquafaba (or water if you don't want to use aquafaba) and ½ cup of coconut cream into a small pot. Let the mixture come to the boil and simmer on low-medium heat, stirring frequently, until flakes almost dissolve and the mixture thickens (about 15 mins). From that point onwards, you'll need to work fast as agar sets as soon as it cools down.
Chuck maple syrup, de-stemmed strawberries and cashews (in this order) into the blender. Blend until smooth. Once smooth add activated agar mixture into a blender. Blend, scraping the sides of the blender from time to time if needed. Adjust the sweetness to taste. Blend until completely smooth.
As soon as the cheesecake mixture is super smooth, take the spring form tin out of the fridge and pour the cheesecake mixture on top of the set base. Make sure you do it very quickly to get a smooth finish as, like I mentioned before, agar sets very quickly. Gently hit the filled spring form tin against your work surface a few times to get rid of air pockets/bubbles.
You don't need to put this cheesecake into the freezer as it will set beautifully at room temperature or in the fridge. Once set, decorate at will.
NOTES
*I have never used
agar powder
, but if that's the only agar you have, conventional wisdom says that 3 tsp
agar flakes
equals 1 tsp
agar powder
, so for this recipe I would use 2½ tsp of agar powder.
*COCONUT CREAM: what you need is the solid part of full fat (stabiliser free) coconut milk that floats to the top and solidifies after prolonged (a week is best, 72 hrs at least) chilling. If using coconut milk or tinned coconut cream that tends to include some coconut water, you will need to increase the amount of agar agar used.
**Aquafaba – water from a can of low-sodium chickpeas or from cooking dry chickpeas at home, reduced on the stove to achieve thicker consistency.