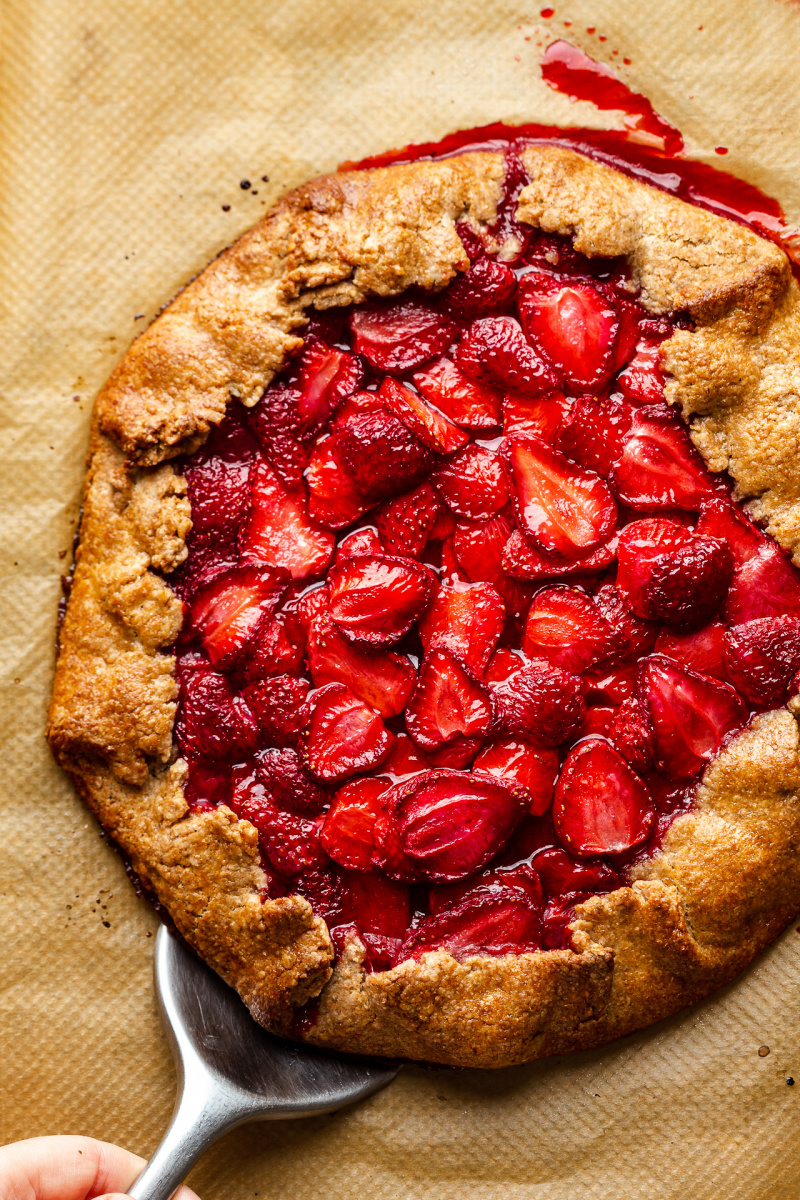 Happy weekend, guys! Hope you've got some fun planned for the next two days? Myself and my furry daughter – Tina – are watching the fort this weekend as Duncan has gone away to do some white water kayaking. He used do it in his early 20s in Australia and he has recently decided to return to it. After a short refresher course two weeks ago, this weekend he is honing his skills further under the watchful eye of an instructor.
He did invite me to join in as some stage, but I'm not terribly good at having my head under water and have no prior experience of kayaking so I figured it's probably best if he gets on with it by himself. All I was able to contribute was some help with self-catering including this very galette, which I was happy to part with given my lack of self control. You know the healthy granola recipe I posted on Wednesdays…Turns out that I seem to be sleepwalking to the granola jar far too often and so I need to stop making it ASAP as all my running won't be enough to counteract the handfuls of granola that seem to disappear down my gob…
Today was my second morning run and I'm still lacking a lot of fitness compared to a few months ago but I'm slowly getting there. Today's run and its aftermath was far less traumatic than the last one so I know I simply need to keep doing what I'm doing and not let the lazy gremlin that occasionally whispers into my ear lead me astray 😉 .
Today's recipe is another strawberry recipe – can you tell that I'm a tad obsessed? It's a simple freehand galette with a sweet and juicy strawberry centre. It's very simple to make and forgiving yet satisfying to eat, be it on its own or with a dollop of vanilla ice cream, vegan custard or vegan coconut yoghurt. I actually made two of these for my photoshoot as the first one wasn't photogenic enough and I sent them off with Duncan knowing that a bunch of hungry kayakers will welcome a sweet treat after hours in the cold water.
It's one of the simplest desserts to make and it screams summer with its juicy strawberry centre. It's perfect for any impromptu summer gatherings so if you find yourself invited to one of these, remember that this vegan strawberry galette has your back! Enjoy!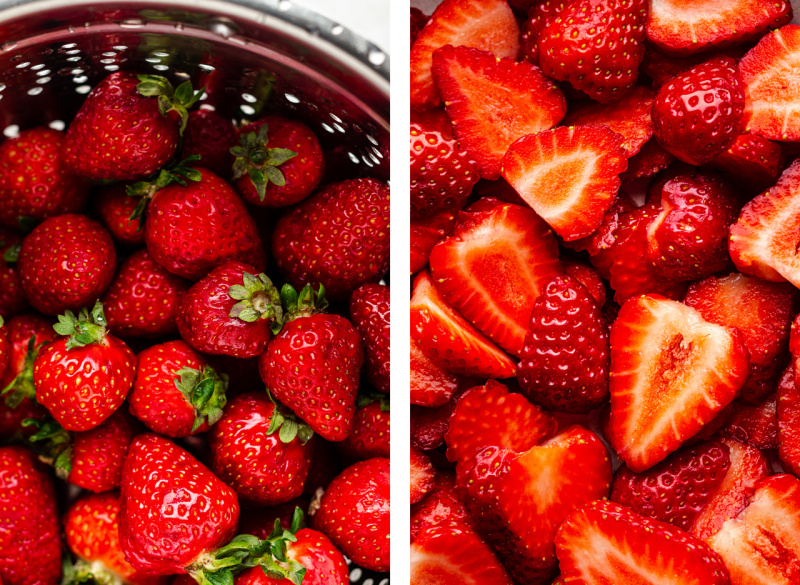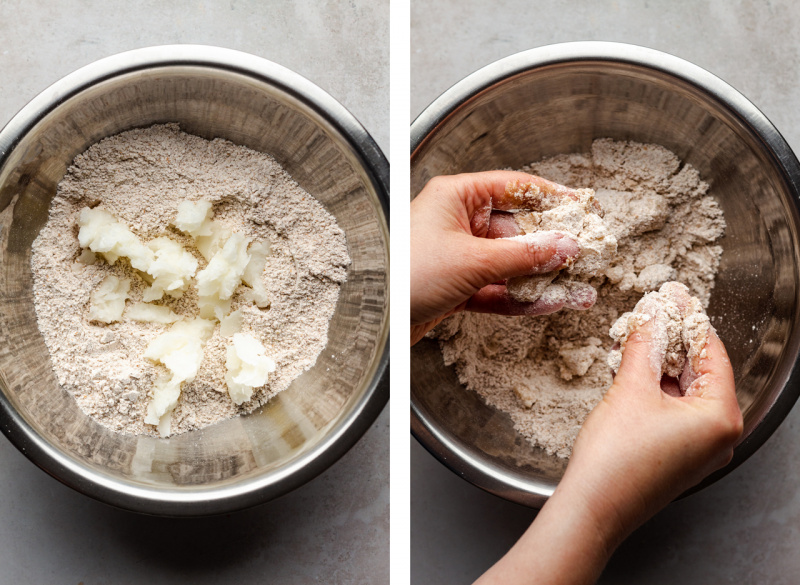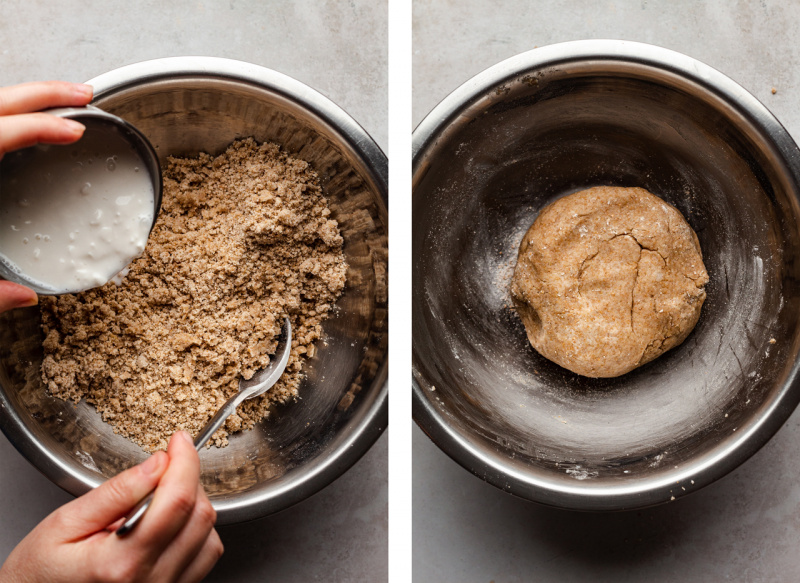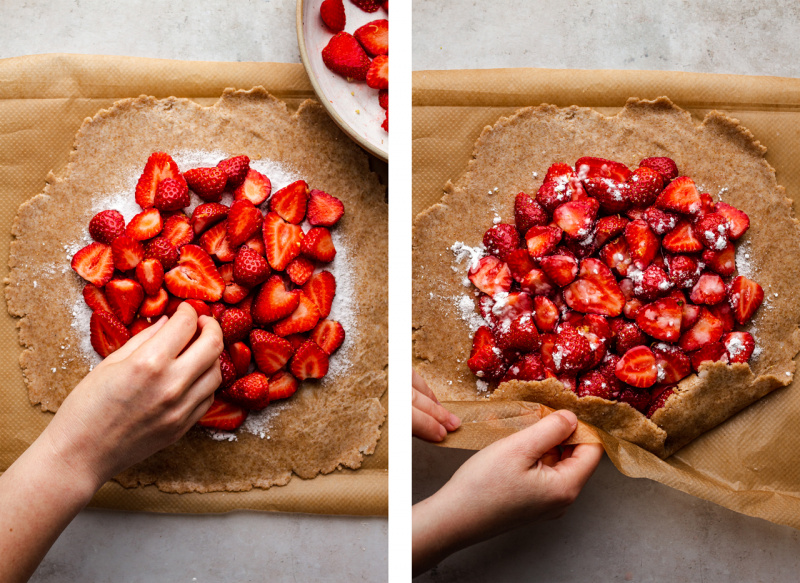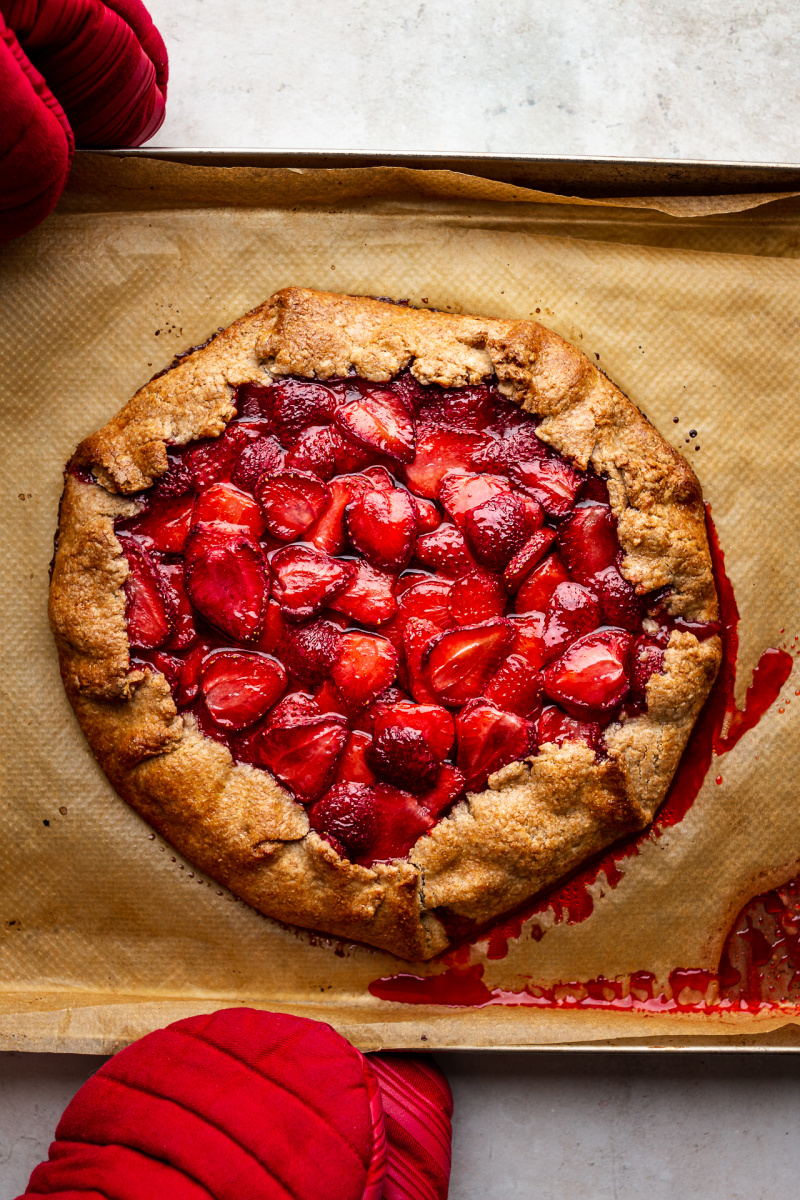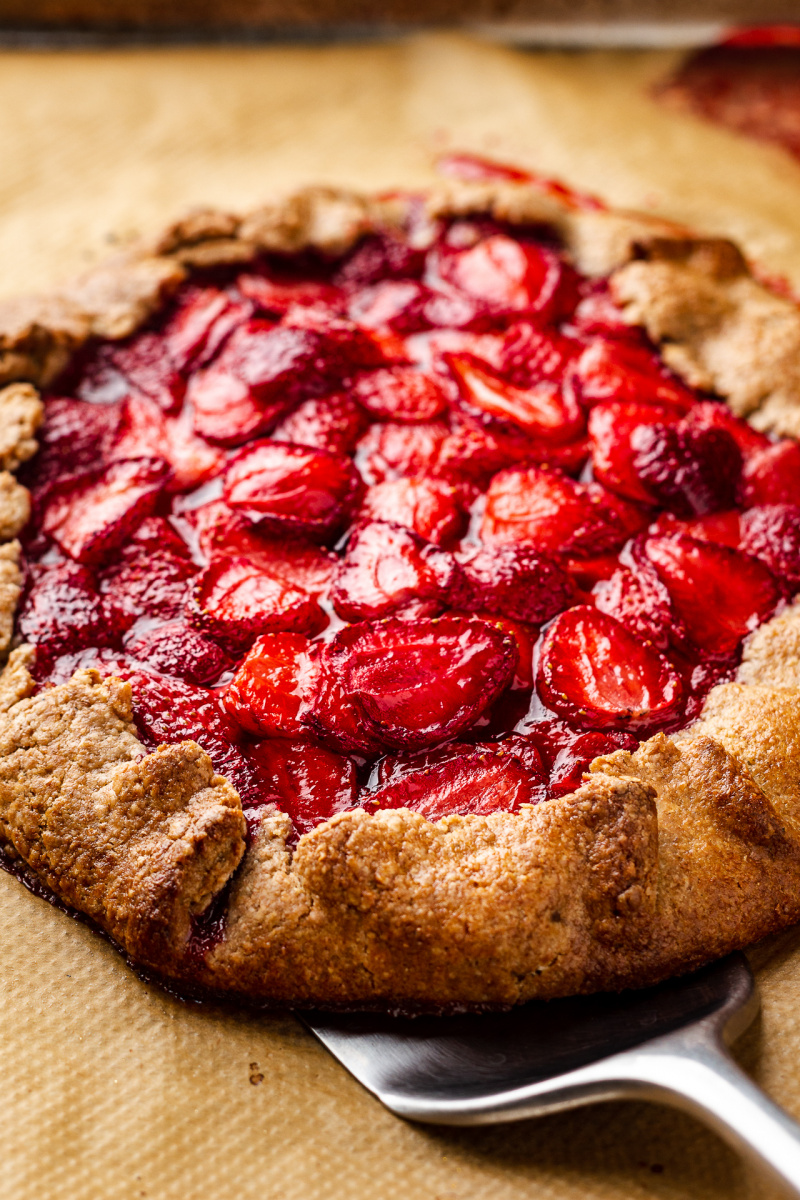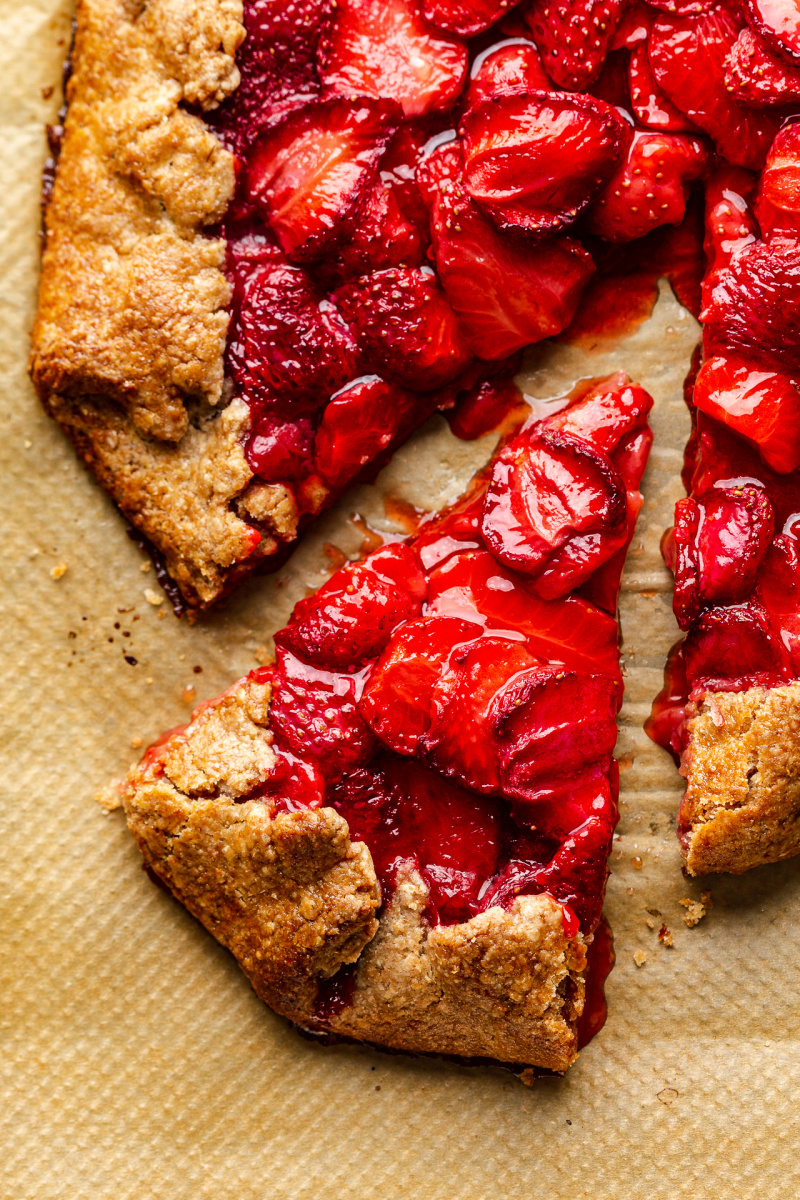 PASTRY
150 g / slightly heaped 1¼ cups wholemeal spelt flour
25 g / 2 tbsp caster sugar (or coconut sugar)
¼ tsp salt
¼ tsp ground cardamom (optional)
75 g / 1/3 cup solid (not melted!) refined coconut oil or vegan butter
60 g / ¼ cup thick vegan yoghurt*
1 tsp apple cider vinegar (or other acid)
1 tsp plant milk + 1 tsp maple syrup, to glaze
FILLING
METHOD
PASTRY
Place flour, sugar, salt and cardamom (optional) in a medium size bowl. Mix well.
Add chopped (solid) coconut oil and cut it into the flour with a pastry cutter or two knifes. You can also use a food processor to do this.
Once the mixture is uniform and there are no large lumps left (to check, shake the bowl lightly, they will come to the surface), rub the small bits of oil into the flour with your fingers until there are no lumps left.
Add yogurt and vinegar and mix it into the dough with a spoon, then use your hands to gently bring the dough together, but do not knead. If the dough is too dry to bring together, you may need to add a touch of water, but add it very carefully and gradually, teaspoon by teaspoon. Rest the pastry in the fridge for at least 30 minutes.
FILLING
Wash and stem your strawberries. Cut them into 3-4 slices vertically.
Just before filling the galette, stir 3 tsp of tapioca starch, 4 tsp of sugar and lemon zest through the strawberries.
ASSEMBLY
Heat up your oven to 180° C / 355° F oven with a pizza stone inside, if you have one. Otherwise you could use a robust metal tray.
Place a large piece of baking paper on the counter, sprinkle it with flour and place chilled pastry on top. Whack it with a rolling pin a few times to flatten. If the dough is too tough (coconut oil hardens a lot in the cold) allow the dough to sit on the counter for a bit before rolling out.
Slowly and gently roll the dough out into a rough circle, on a large piece of baking paper.
Sprinkle 2 tsp of sugar and 1 tsp of tapioca starch in the middle of the rolled pastry leaving a thick margin all around.
Heap sliced strawberries on top of the sugar and squeeze lemon juice over them (up to ½ lemon).
Gently fold the excess pastry over the filling – you can use baking paper underneath to make this easier. Combine 1 tsp of plant milk with 1 tsp of maple syrup to create a glaze and brush the exposed pastry with it.
Bake for about 45 minutes, until the pastry has browned nicely and the filling is bubbly. Don't worry if the juices leak, it can happen even if there is the smallest crack in the pastry shell.
Allow the galette to cool for at least 30 minutes before cutting. Serve on its own or with a dollop of vegan cream or ice cream. It's the kind of dessert that is best eaten fresh as it will get soggy over time.
NOTES
*You can safely skip this ingredient and use fridge-cold water – just enough to bring the pastry together and be sure to add it gradually.
You can also make this galette with wholemeal or regular all purpose flour (or a mixture of both) if that's what you prefer.