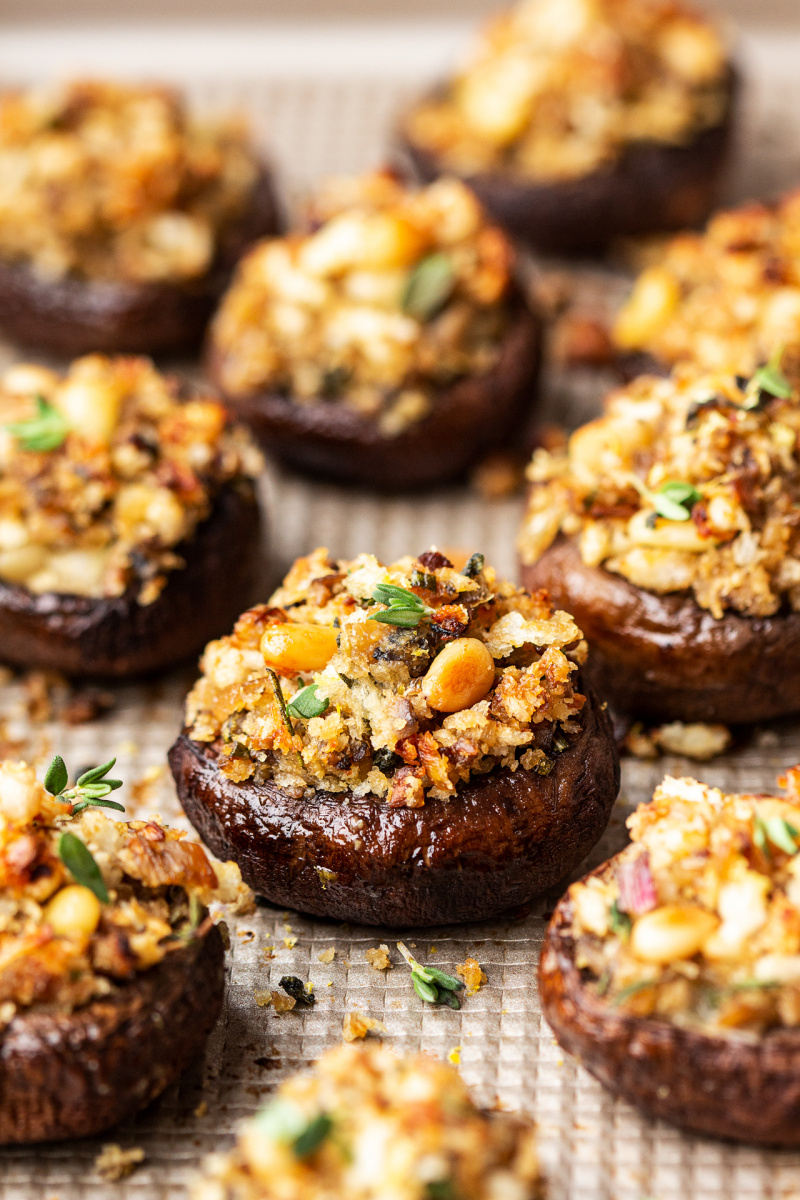 I needed a breather from all the sweet stuff my kitchen has been busy churning out lately so I've decided to regale you with a deliciously savoury and appropriately Christmassy appetizer today – vegan stuffed mushrooms. For me, mushrooms always remind me of home and the comfort of my mum's cooking. One dish that I am particularly fond of is dead simple yet insanely delicious – whole mushroom caps pan-fried in a generous amount of – I'm ashamed to admit – butter. The smell of my mum making those would permeate throughout the house and suddenly my Dad, Brother and I would be like a kettle of vultures, forks in hands! The beautiful thing about this dish is that, other than some salt and pepper, maybe a garlic clove as seasoning, all you need is a loaf of good sourdough to mop up the pan juices with. The mere thought of these mushrooms makes me drool.
These mushrooms are not that rustic and a bit more complicated to make but they are also much more festive looking, so I hope you may be tempted to welcome them on your Christmas table. The pre-baked mushroom caps are lovingly basted in a quick garlic and rosemary oil and filled with a heady mixture of fried shallots, garlic, winter herbs, panko breadcrumbs and nuts. They are not difficult to make and they are delicious, full of homely, wintery flavours and with bags of umami (cos mushrooms and miso are umami bombs). They are certainly good enough to feed my mushroom habit so if you or your fellow diners have a thing for mushrooms too, I am pretty sure they will be an instant hit. Enjoy. x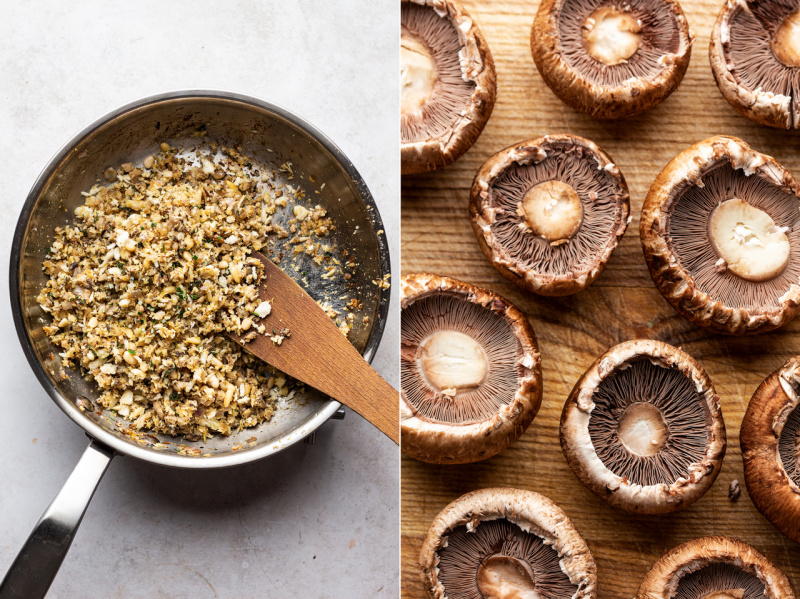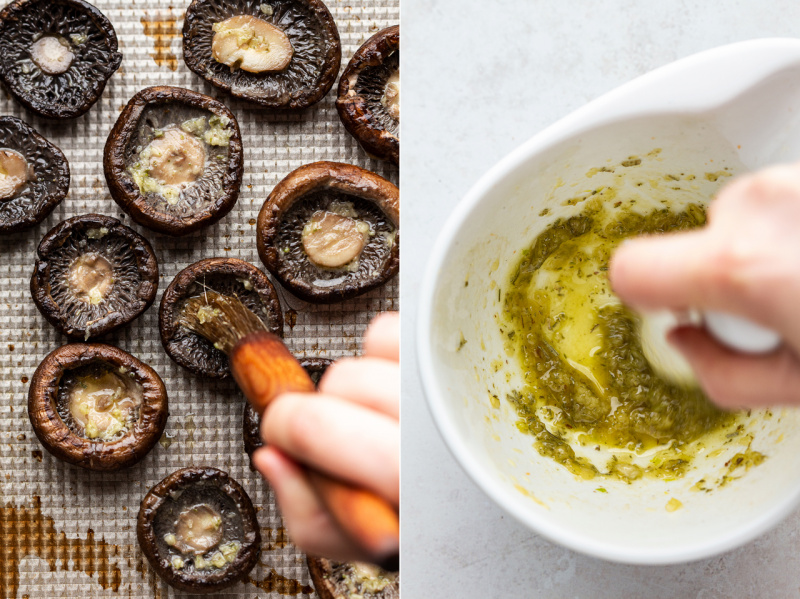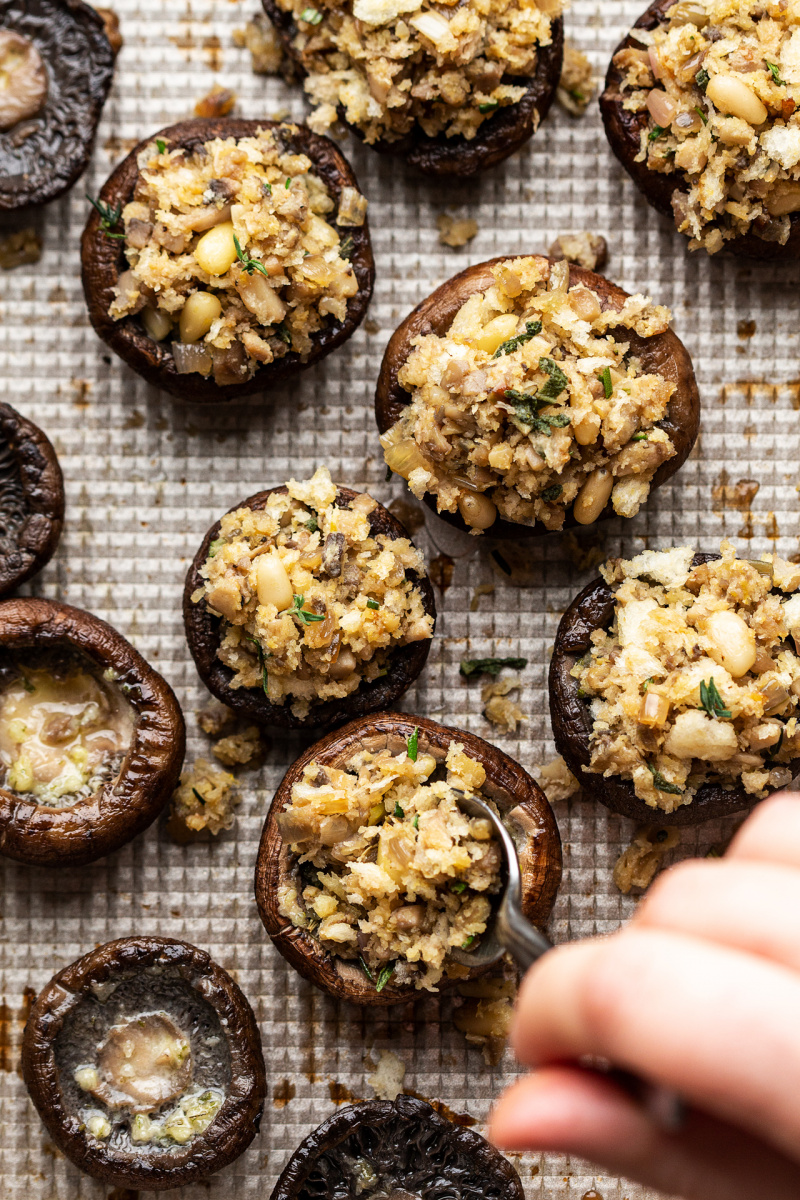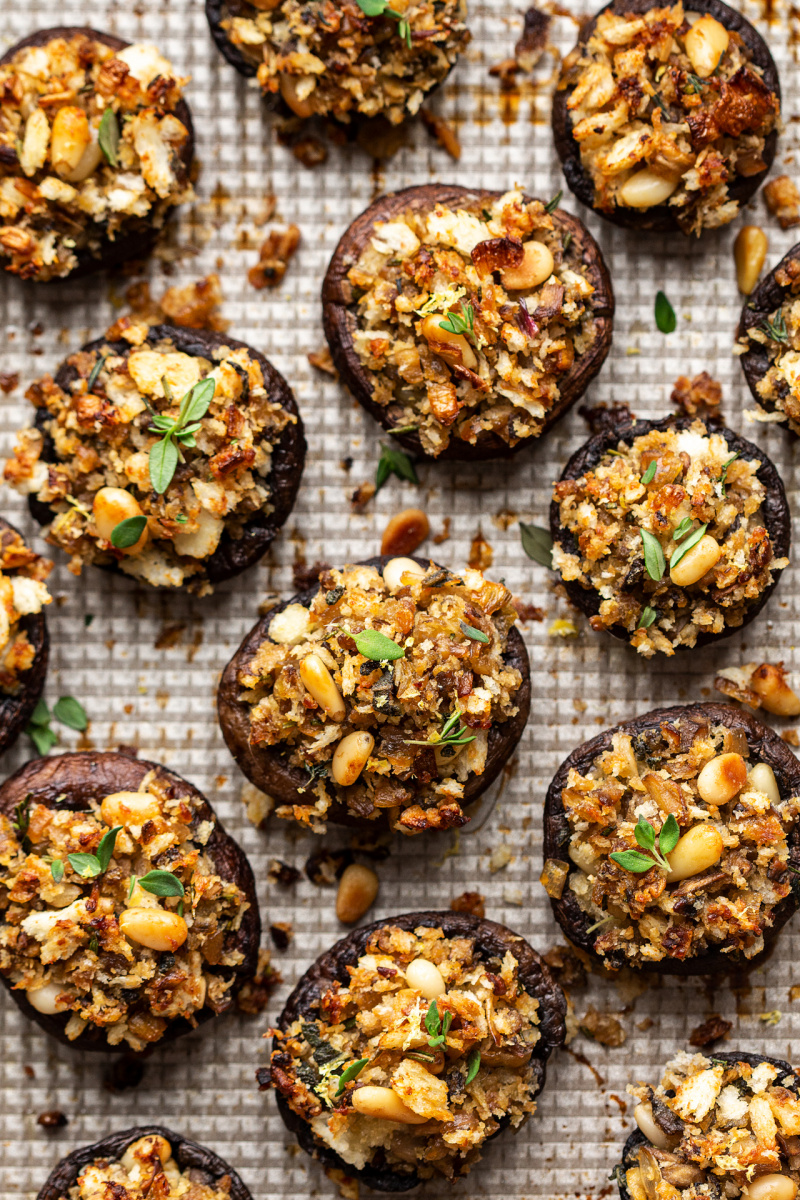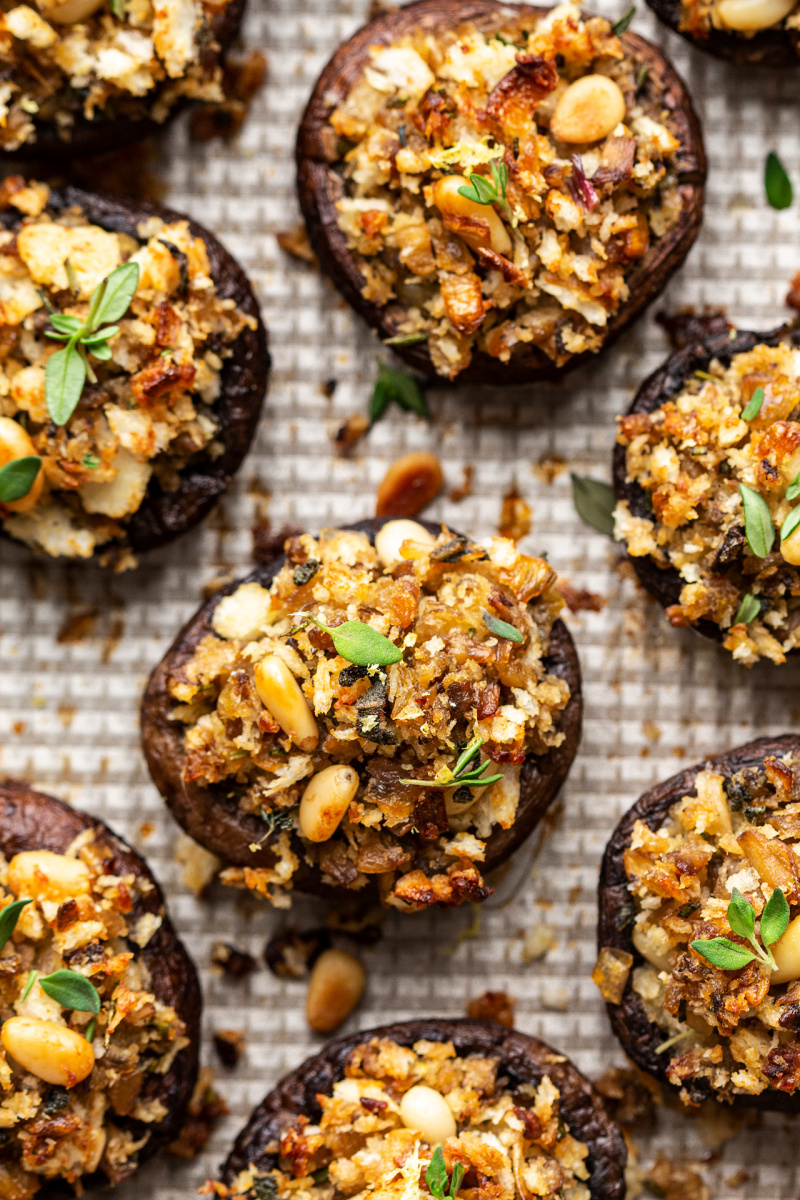 18 medium chestnut mushrooms
olive oil
3 garlic cloves, 2 diced finely + 1 whole
coarse sea salt
a pinch of dry rosemary (optional)
2 medium shallots, very finely diced
5 fresh sage leaves, finely chopped
1 sprig of rosemary, leaves finely chopped
few thyme sprigs, leaves picked
1 tbsp nutritional yeast
¼ tsp black pepper
2 tsp white / shiro miso
zest of 1 lemon + 1 tbsp lemon juice
35 g / ¾ cup panko breadcrumbs (GF breadcrumbs for GF version)
2 tbsp pine nuts or chopped walnuts
METHOD
PASTRY
Preheat the oven to 200° C / 390° F.
Clean the mushrooms with a damp brush or cloth (do not wash them) and cut out all of the stems and save them for the stuffing.
Coat the caps in 2 tbsp of olive oil (you can skip the oil if you wish but the mushrooms will be a bit drier) and place them on a baking tray, gill side down, and bake for about 15 minutes, flipping them to the other side halfway through.
Crush the whole garlic clove with a pinch of coarse salt and dry rosemary in a pestle and mortar. You could also slice the garlic thinly first and crush it on a bread board with the side of a knife. Pound the garlic into a smooth paste and then add approximately 2 tbsp of olive oil to it to create a garlicky oil.
Meanwhile dice the mushroom stems really finely.
Heat up 15 ml / 1 tbsp of oil in a medium frying pan, add diced shallots and fry them off gently until almost translucent, stirring often.
Next add in diced garlic, chopped fresh herbs, nutritional yeast, black pepper and ¼ tsp of salt. Continue frying until the shallots are translucent and garlic is fragrant.
Next stir in diced mushroom stems. Fry off until the stems are cooked.
Once mushroom caps are done baking, lower the oven temperature to 170° C / 340° F.
Mix the baking juices into the miso paste. Mix diluted miso paste into the stuffing mixture before adding in lemon zest and juice.
Stir in breadcrumbs and pine nuts making sure they are evenly distributed.
Finally stir 15-30 ml / 1-2 tbsp of olive oil through the mixture. Adjust the seasoning and check that the mixture is moist but not overly soggy.
Brush the insides of the caps with the garlic oil you made earlier before stuffing them with the mixture.
Bake the stuffed mushrooms for about 15-20 minutes until the tops are browned.
NOTES