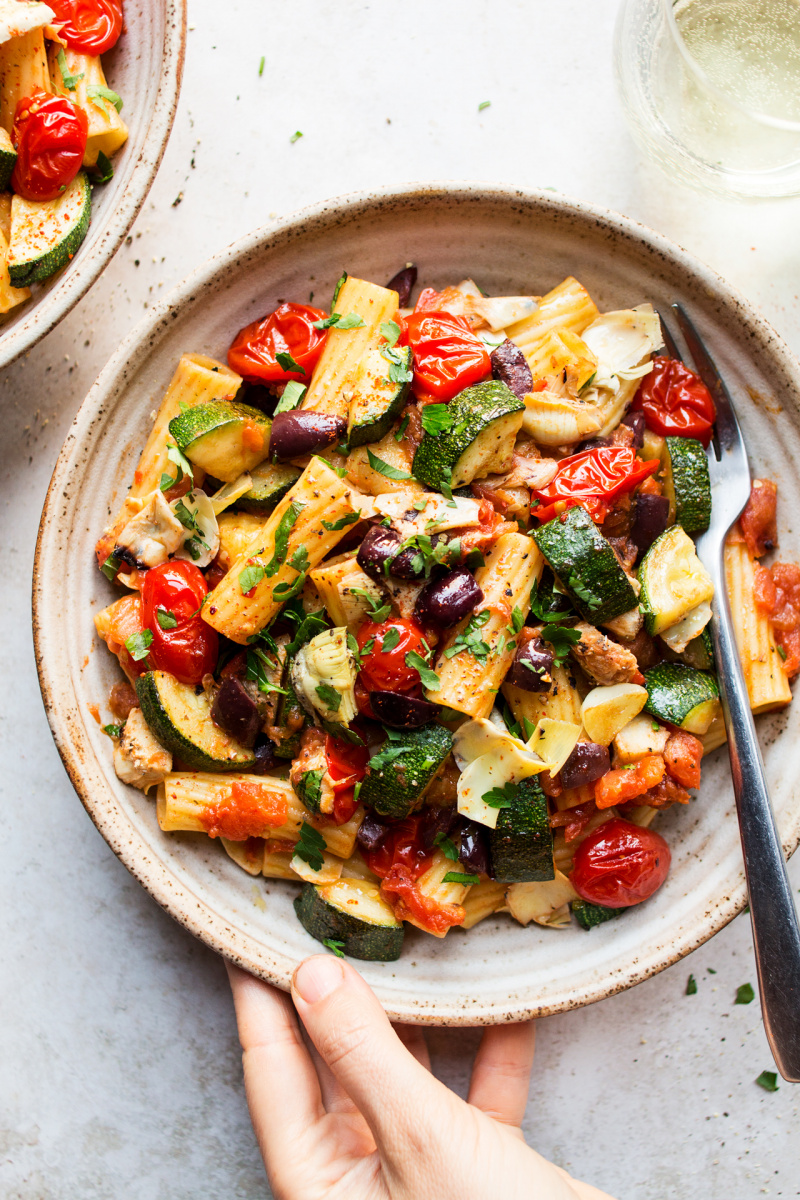 Summer is here!! Yay! You might be like, Ania, have you been living in a cave? We are officially halfway through summer!! True, but Bristol (and the UK in general) has been a bit summer shy this year and only today it really turned the heat up.
It's been a gloriously beautiful day. Perfect for sinking into my beloved hammock, iced coffee and a book in hand… That's how I plan to be in the next few days so as to not squander any of this precious sunshine…
Since hot weather isn't conducive to elaborate cooking, I have a simple summer pasta recipe for you today. It uses the best of summer produce: zucchini, ripe tomatoes, grilled artichokes and Kalamata olives and can be thrown together in a matter of minutes.
It's deliciously simple yet a proper crowd pleaser too and it totally rocks as a pasta salad also. There are no rules other than seasonal veg and a bit of care. Right, I hope you'll approve. I'd better leave you with this dish and go back to my hammock before my cat, Tina, discovers the appeal of it 😉 .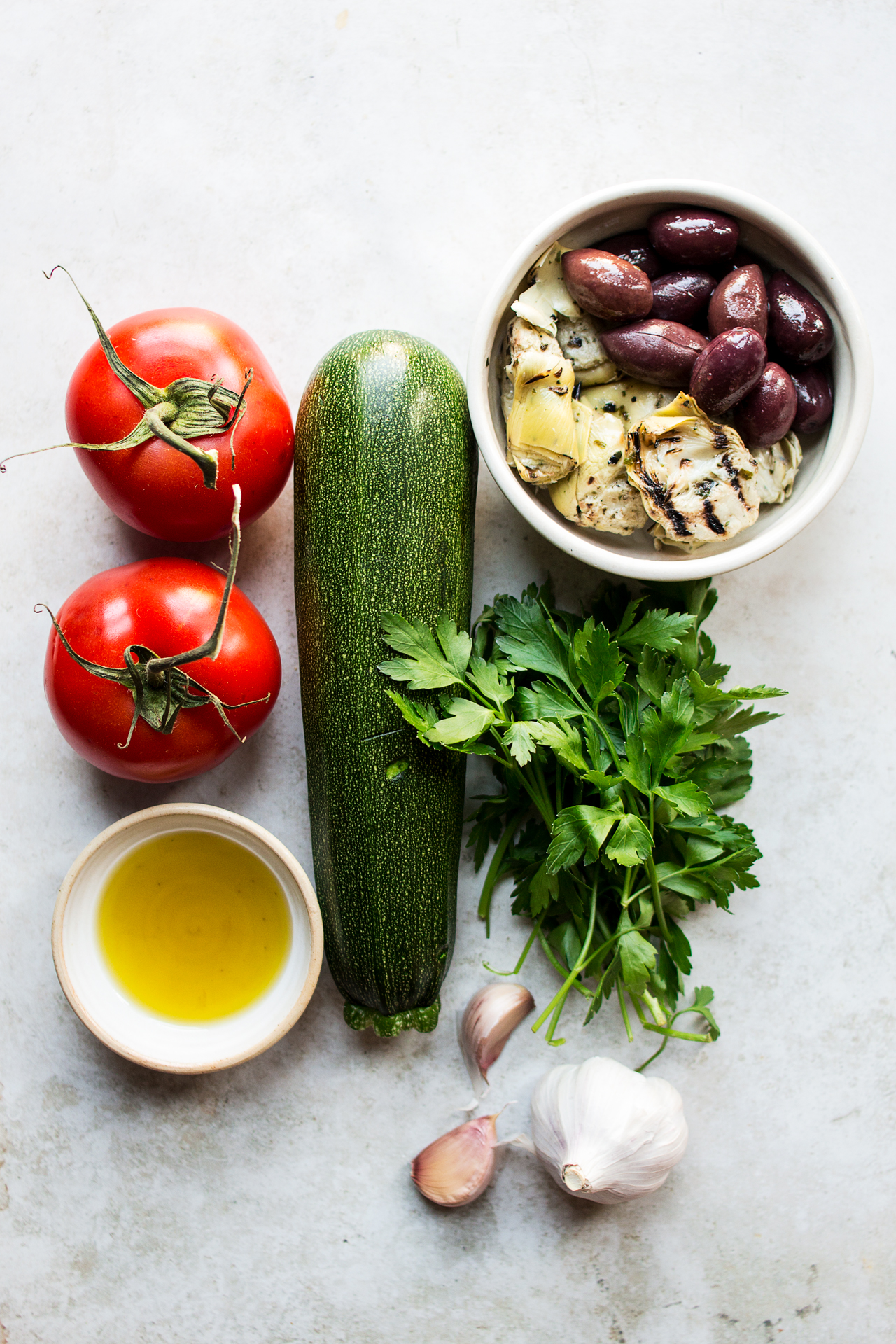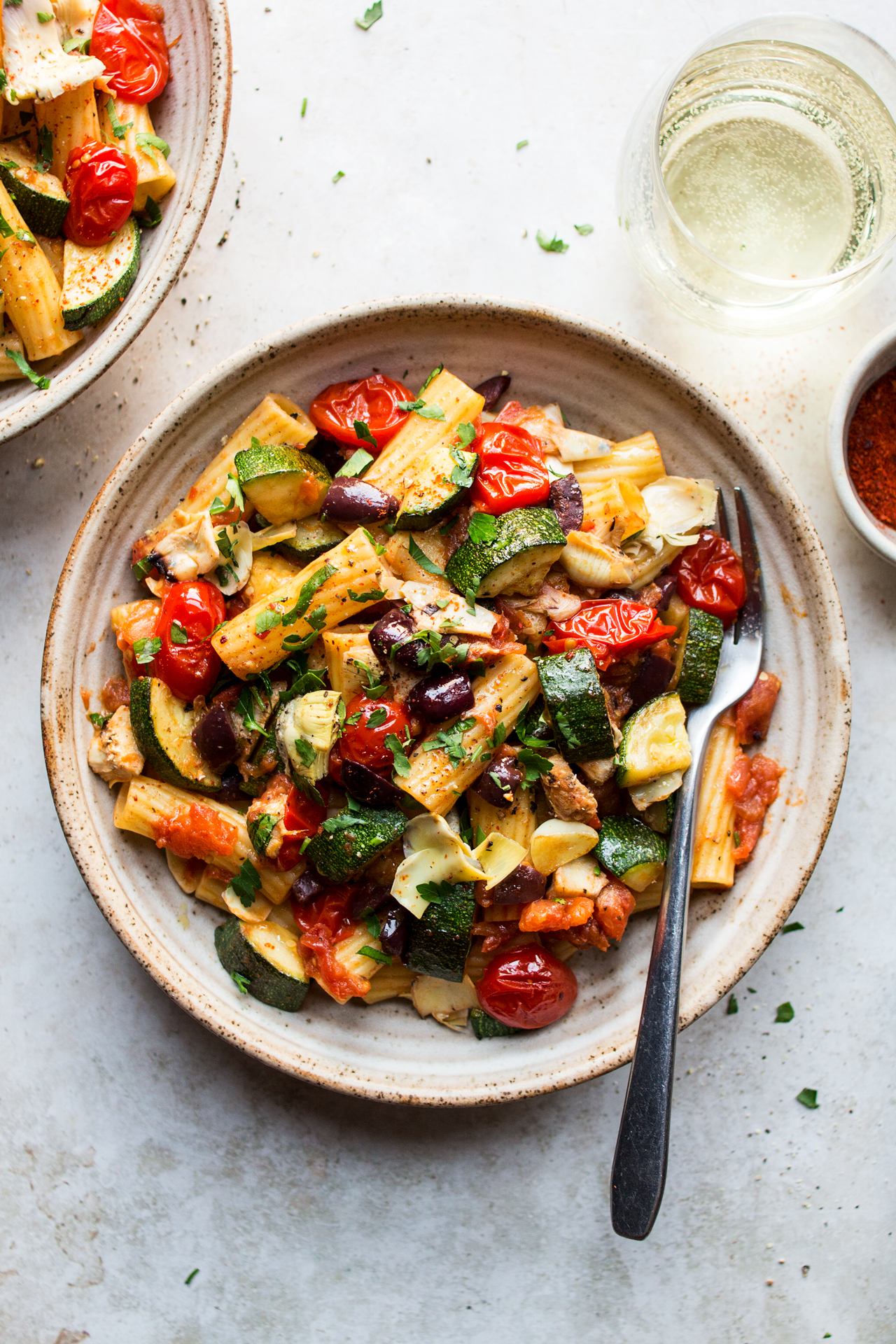 200 g / 7 oz rigatoni or penne pasta (GF if needed)
20 ml / 4 tsp extra virgin olive oil
200 g / 7 oz courgette / zucchini (1 medium), cut into chunks
2 garlic cloves, roughly chopped
salt and black pepper, to taste
2 large ripe tomatoes, peeled and chopped
8 cherry tomatoes, halved
a good pinch of sugar (optional)
2 tsp balsamic vinegar
a good pinch of chilli flakes (I used fine Korean chilli flakes)
4 charred artichoke heart halves, chopped
8 Kalamata olives, de-stoned and chopped
chopped fresh parsley, to garnish (optional)
METHOD
Cook the pasta just short of al dente (the pasta I used takes 12 min to cook al dente, I cooked it for 11 min) following the instructions on the packet, saving about 60 ml / ¼ cup of cooking water just before you drain your pasta.
Heat up 2 tsp oil in a non-stick pan (I like to use a stainless steel one for this dish). Once hot, add zucchini and fry it on a gentle heat until caramelised, stirring from time to time.
Once zucchini is almost done, add the garlic and allow it to fry in amongst the zucchini, stirring frequently. Do not let it brown as it will make it taste bitter.
Season with salt and pepper and transfer out of the pan. Set aside.
Add chopped tomatoes and a good splash of water (or vegan wine if you'd like) into the same pan.
Allow the tomatoes to break down and thicken a little. Add a splash more liquid if the pan is getting dry.
Season the sauce with salt, pepper, a pinch of sugar (if using), balsamic vinegar and a pinch of chilli if using. Stir well. Add cherry tomato halves to the pan, allow the cherry tomatoes to soften in the sauce.
Add drained pasta to the sauce and a bit of pasta cooking water if needed. Coat the pasta in the tomato sauce. Mix well and adjust the seasoning if needed – remember that olives will add saltiness. At this point you may want to add a touch more olive oil for a more luxurious finish.
Finally return fried zucchini and add chopped artichoke hearts and olives to the pan.
Divide between two bowls and sprinkle with fresh parsley.
NOTES