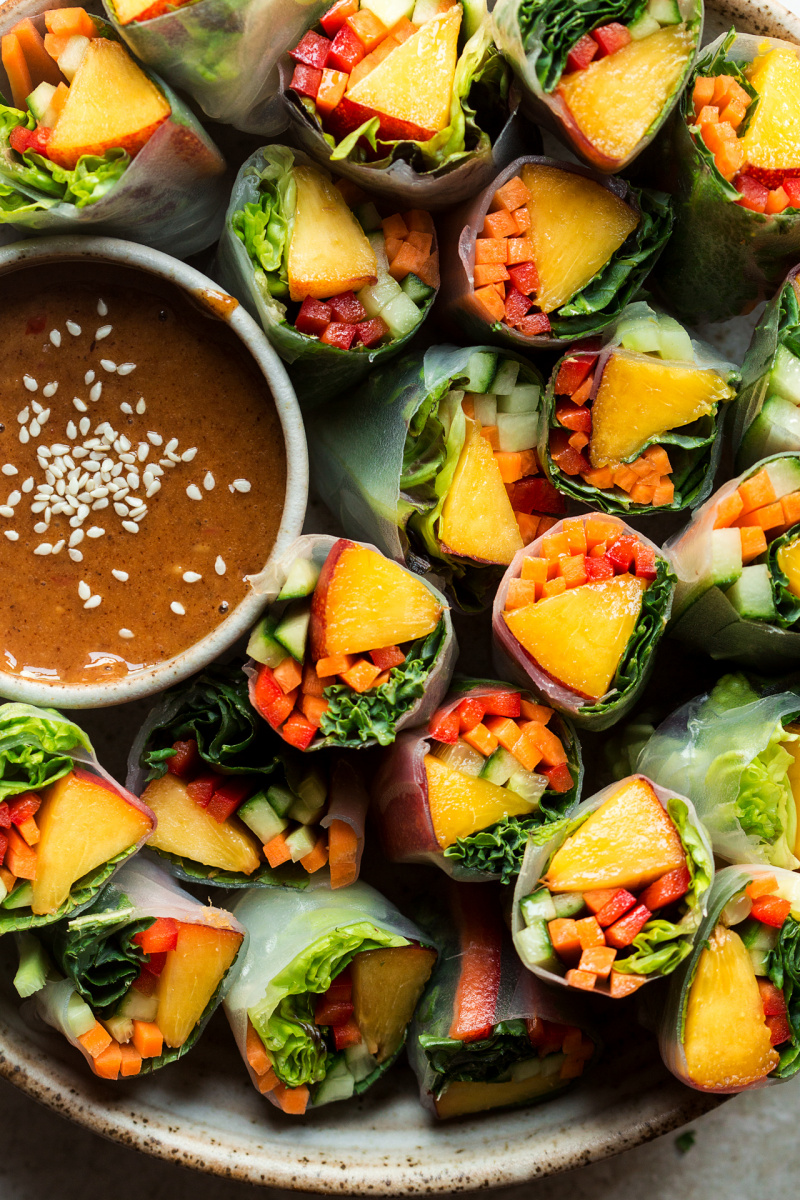 As you can tell, I am in a South-East Asian food mood these days. After my take on bun noodles last week, this week we are stuffing our faces with Greekified summer rolls with an addictive almond butter sauce on repeat. Why Greekified you ask?
This is a new take on one of my first recipes, which I came up with when we lived on the Greek island of Paros for four years. As summer there is synonymous with juicy stone fruit, I decided to stick a slice of ripe nectarine (or peach, a plum would work also) into my summer rolls instead of the typically used exotic fruit, like mangos for example, and it worked a treat. I now do that all the time. Not only does the nectarine contribute a lot of delicious sweetness and juiciness, it also works super well against the traditionally used mint.
These little rolls are a perfect hot weather food as they require no cooking at all. The assembly is kind of therapeutic and lends itself to chatting to someone or listening to your favourite podcast at the same time and you do get quicker at putting them together with more practice. These rolls are refreshing, crunchy and filling – if you want to make them even more filling, add a clump of rice vermicelli to each roll, but I decided not to as I like them as they are.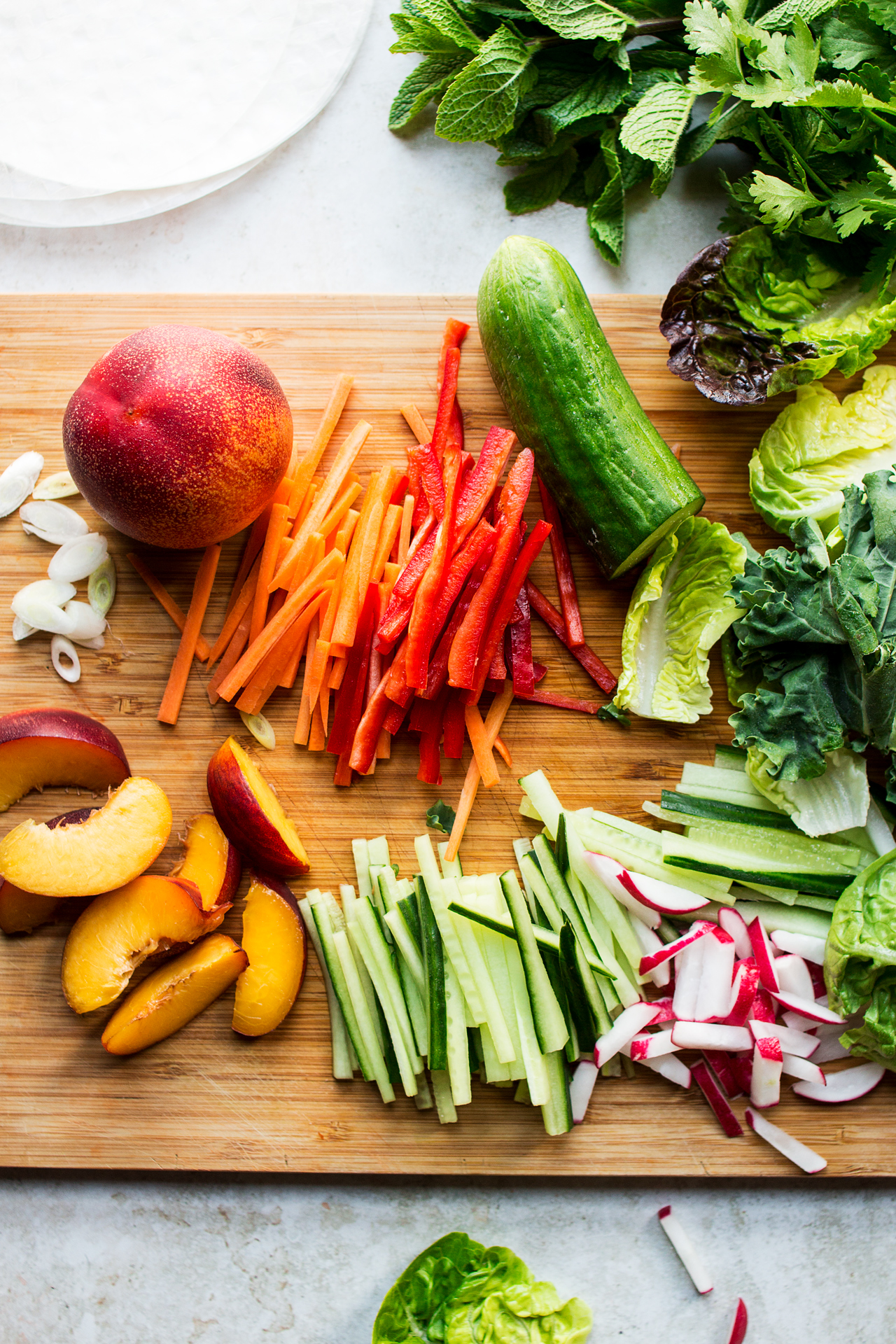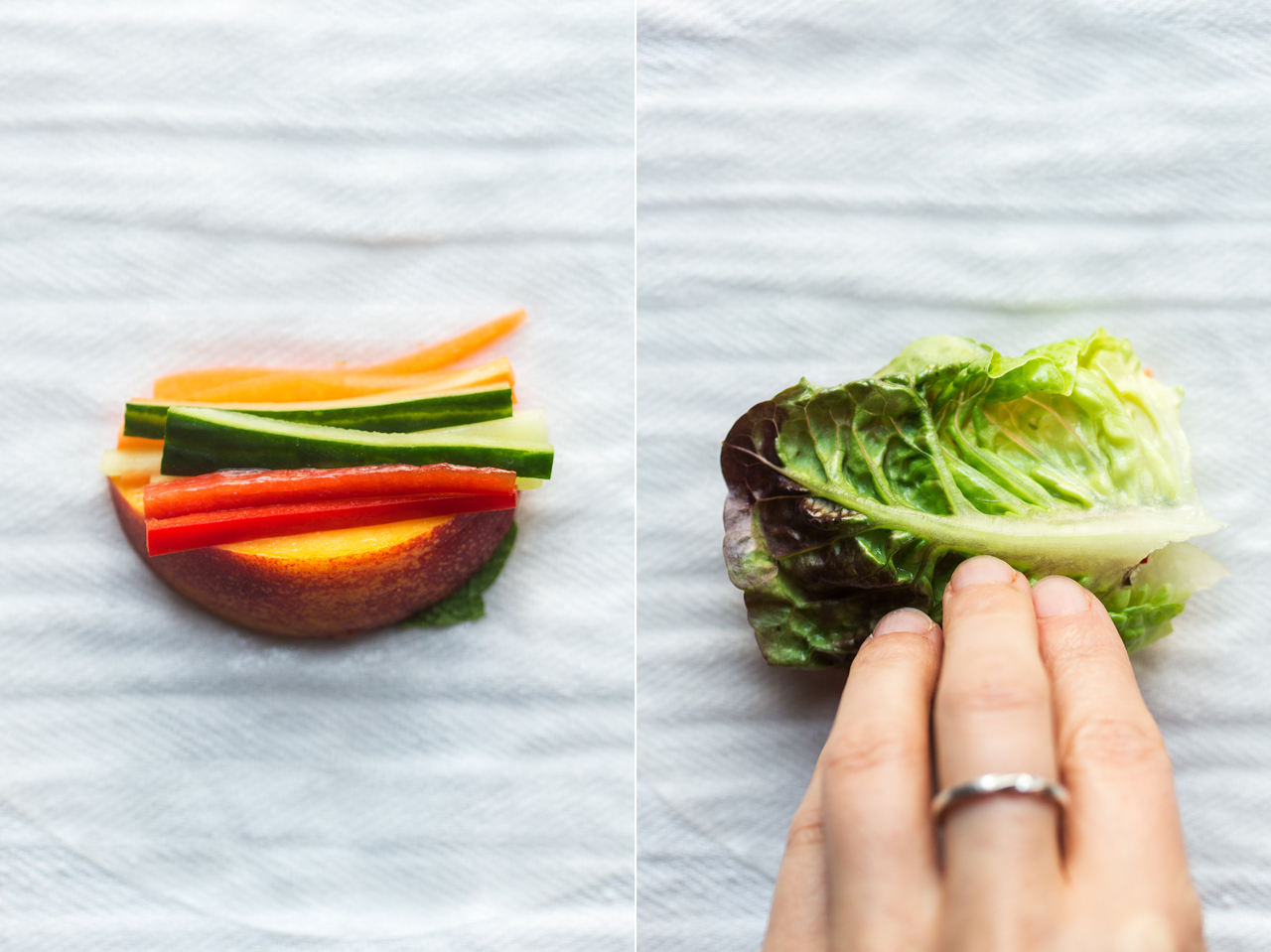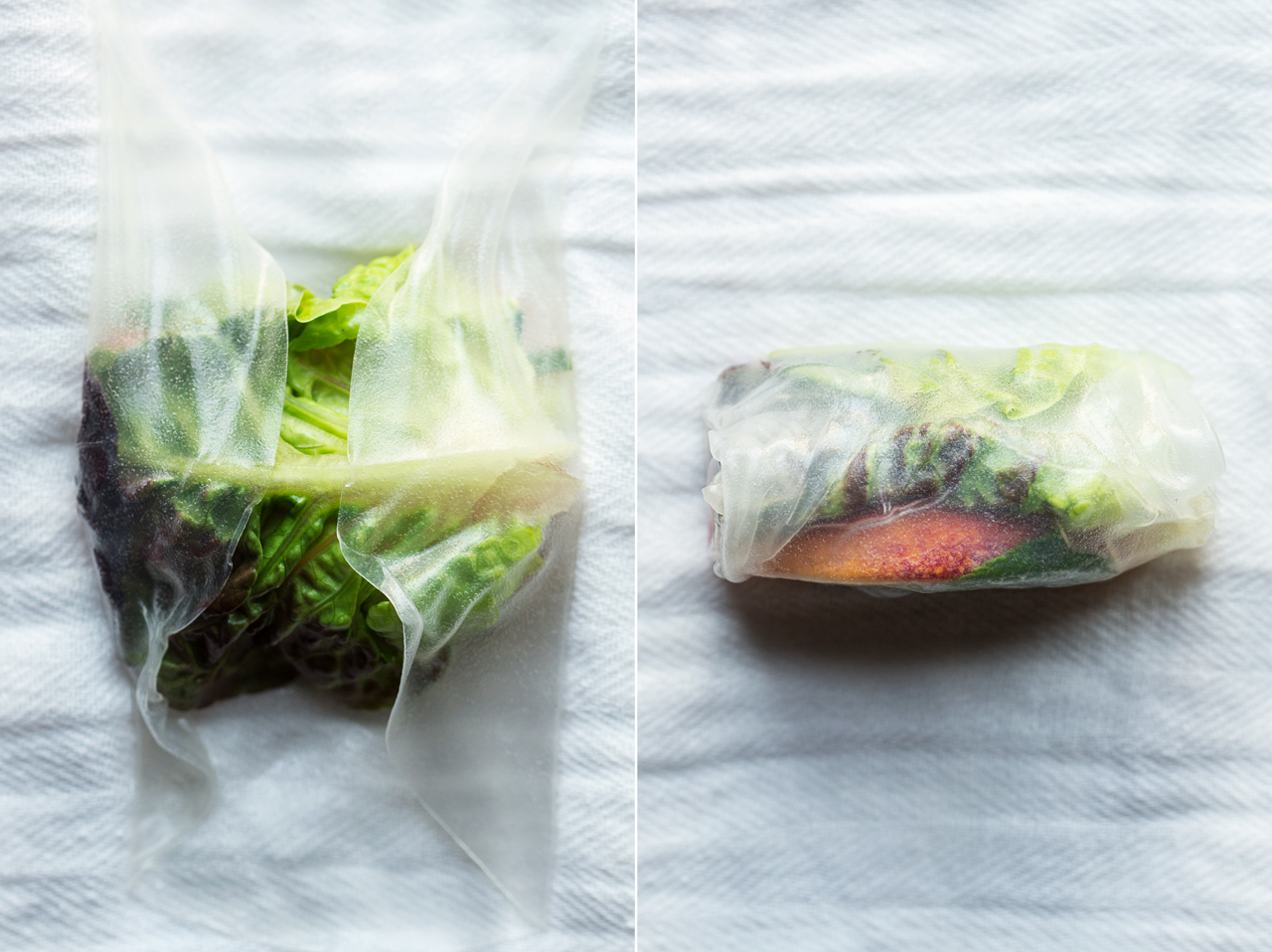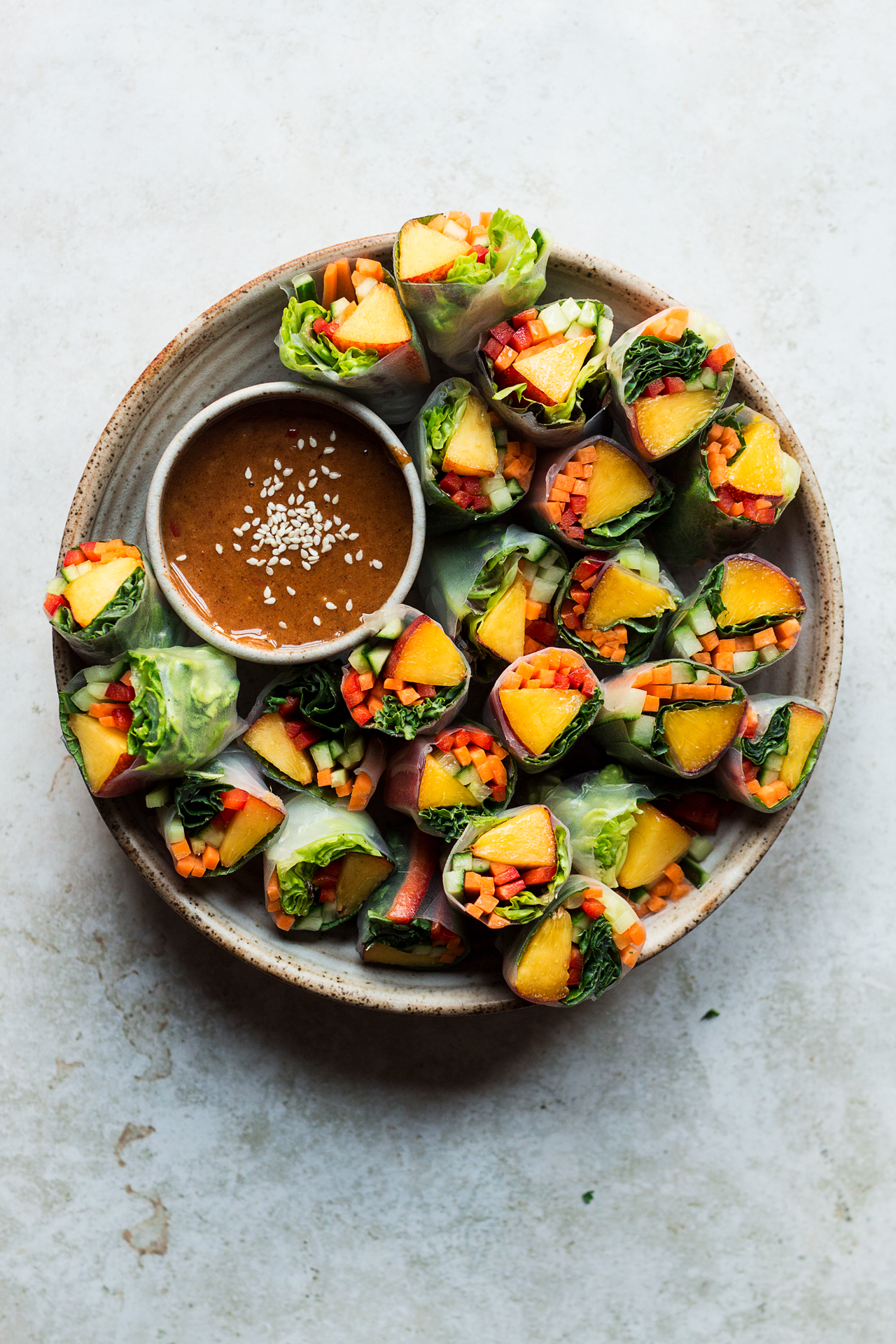 DIPPING SAUCE
120 ml / ½ cup all natural almond butter (or peanut if you prefer)
juice of ½ lime (about 2 tbsp), adjust to taste
1 tbsp soy sauce or tamari, adjust to tase
1 tsp maple syrup, adjust to taste
1-2 tsp chilli sauce (I used sambal oelek)
2 tsp grated ginger, grated finely
SUMMER ROLLS
20 rice paper wrappers (mine were 16 cm diameter)
a small bunch of fresh mint (and / or coriander)
2 ripe peaches, divided into segments
2 carrots, cut into thin matchsticks*
1 cucumber, cut into thin matchsticks
1 pointed red pepper, cut into thin matchsticks
1-2 baby gem lettuce and/or 2 curly kale leaves, divided into smaller pieces
METHOD
DIPPING SAUCE
Place almond butter, a good splash of water, 2 tbsp of lime juice and 1 tbsp soy sauce in a mixing bowl. Mix until you achieve the right consistency.
Taste and season with more lime juice (if needed), soy sauce / tamari (if needed), maple syrup, chilli sauce and ginger.
SUMMER ROLLS
Dampen a clean kitchen towel and place it on a work surface.
Prepare a bowl with cold water and rehydrate one rice paper wrapper at a time by immersing it fully in the water for about 15 seconds and then placing it on the damp kitchen towel. Do not immerse the wrapper for too long – you want it flexible but not fully soft when you take it out of the water. It will continue to soften once out of the water.
Place two mint or a small clump of coriander leaves at the bottom of each roll, in the middle of the rehydrated rice paper. Follow by a segment of peach, veggie matchsticks and a lettuce leaf or a piece of kale. Take care not to overfill as the roll will tear in the process of rolling it up.
Once you finish with the filling, start rolling each summer roll like a burrito. Fold the sides over and start rolling from the bottom, making sure you keep on wrapping the rice paper over the filling tightly with your other hand. It takes a few goes to get the knack of it.
Repeat steps 2, 3 and 4 until you've run out of your filling and / or wrappers.
Cut the rolls in half and enjoy them fresh, dipped in the prepared dipping sauce.
NOTES
*Be sure to adjust the length of your veggie matchsticks to the diameters of your rice paper wrappers. I used 16 cm / 6.3″ wrappers so I cut all my veggies to 5 cm / 2″ to allow for a generous margin on both sides of the filling, which makes rolling the rolls much easier.