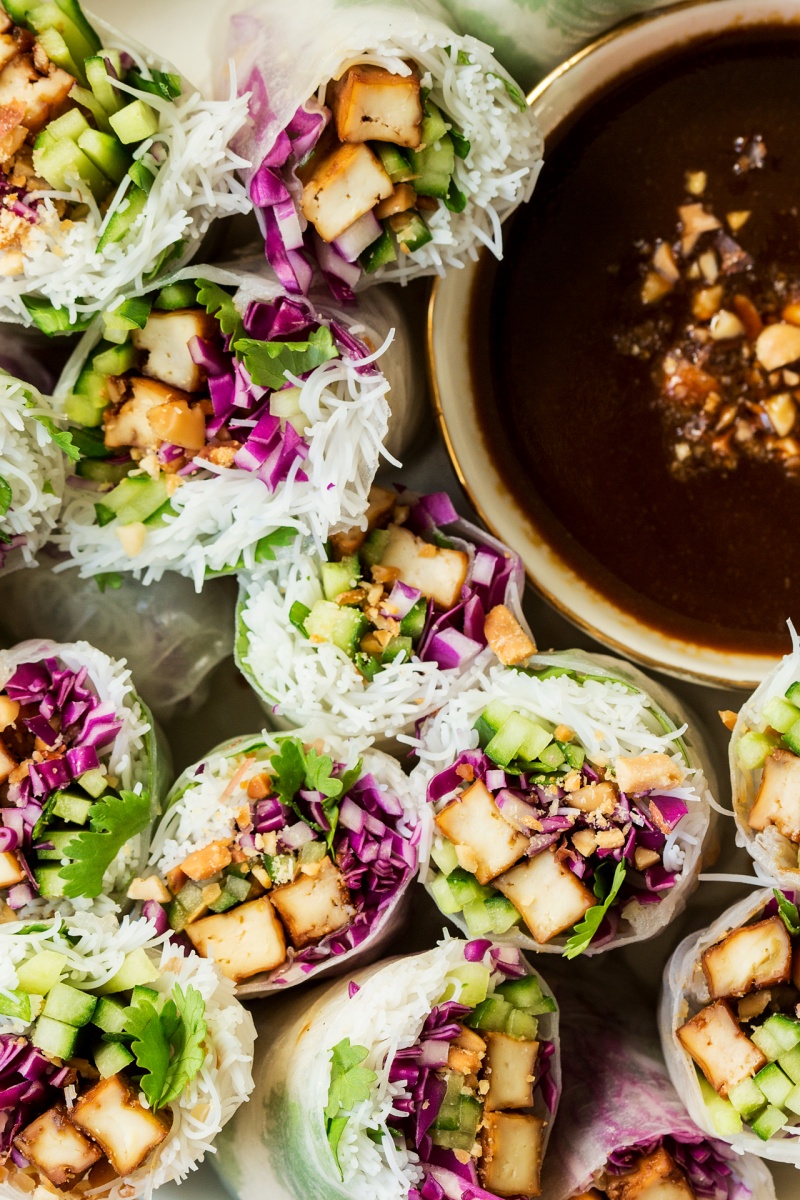 Hands up who likes summer rolls? I'm a big fan of them myself but sometimes I feel like they would benefit from being a tad more substantial. Hence I added hoisin marinated tofu to these guys and they really hit the spot.
These vegan summer rolls are still fresh and pleasantly crunchy, yet filling at the same time. They make an awesome work or school lunch and perfect picnic food too.
We don't eat tofu very often, only about 2-3 times a month, but that's due to the fact that getting tofu here (especially outside of the tourist season) can be a bit of a pain, not because Duncan is scared of growing man boobs. In case you are not aware, this is one of the soy myths that has seeped into the general public's consciousness.
As this Guardian article pinpoints nicely, all soy scaremongers can be traced back to an American fringe organisation called WAPF, which, coincidentally is a fervent promoter of meat and dairy. They excel at making stuff up about soy. And if their made up health concerns don't catch on, they will hit you with their bogus environmental ones – like the one that soy consumption fuels deforestation of the Amazon, while in reality the vast majority of soy grown in that region is not grown for human consumption, but for livestock feed!
If you want to find out the truth, listen to a proper industry independent scientist, like Dr Greger, whose website nutritionalfacts.org is a well of balanced nutritional information supported by tons of properly conducted and peer-reviewed research. He debunks all these myths with ease, one by one.
In this video, for example, Dr Greger shows that moderate consumption of soy has a myriad of health benefits including lower incidence of gynaecological cancers (breast and ovarian), improved bone health and alleviation of menopausal symptoms. This is clearly supported by the overall health statistics of Asian countries, like Japan and China, with a long-standing tradition of soy consumption.
So, if you enjoy tofu (and have no soy allergy, of course) don't let anyone tell you that you are poisoning your body as it's simply not true. And if they do, ask for hard evidence, I bet all their arguments can be traced back to the same source.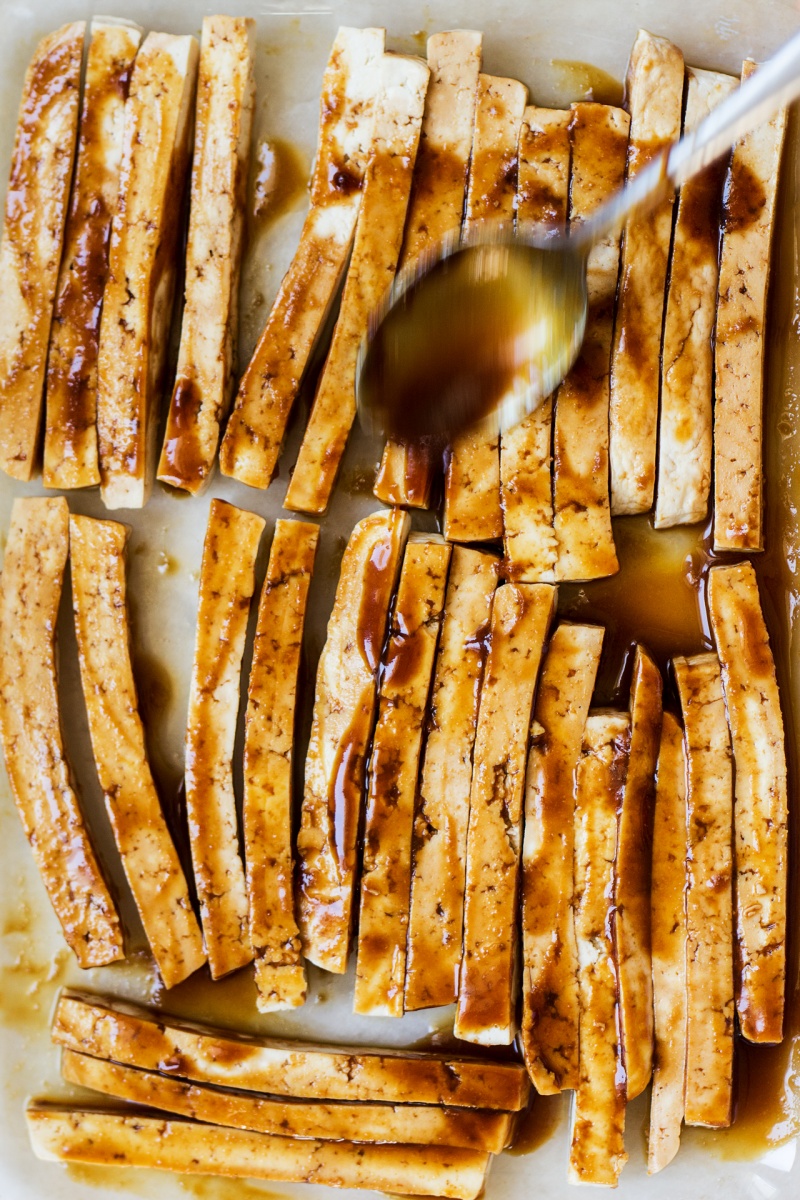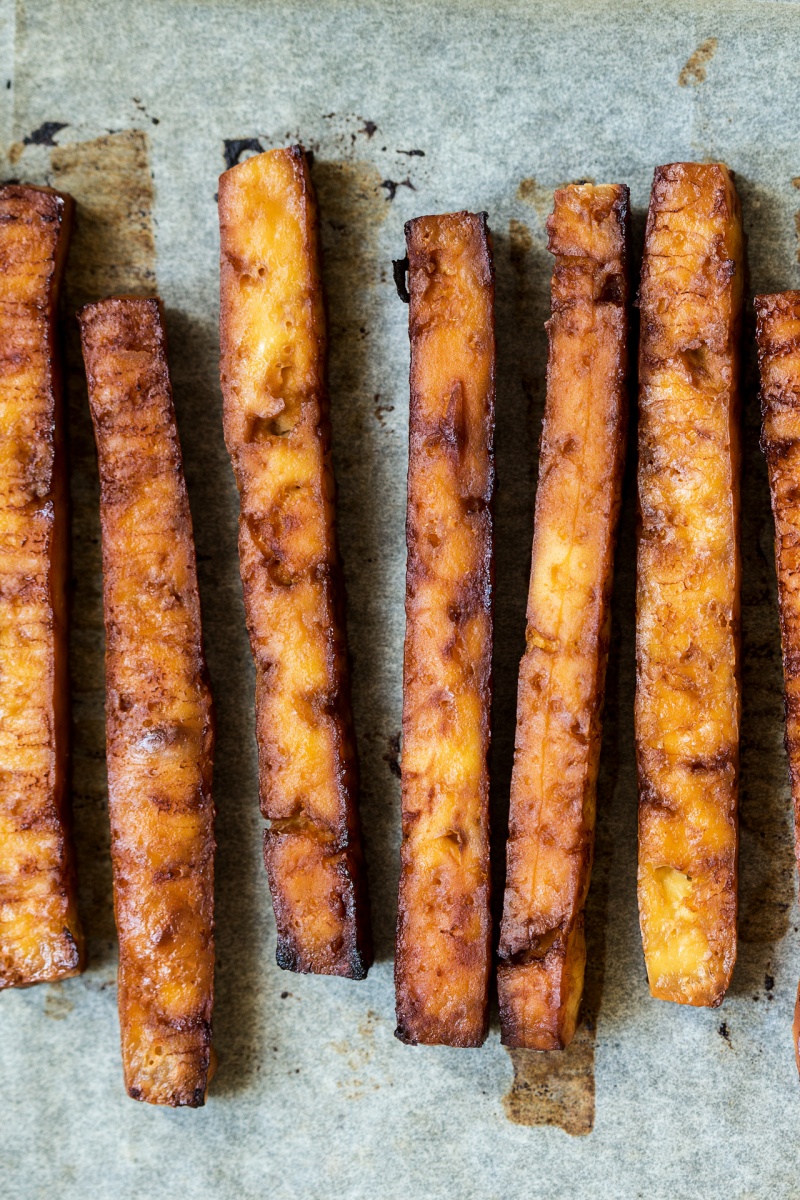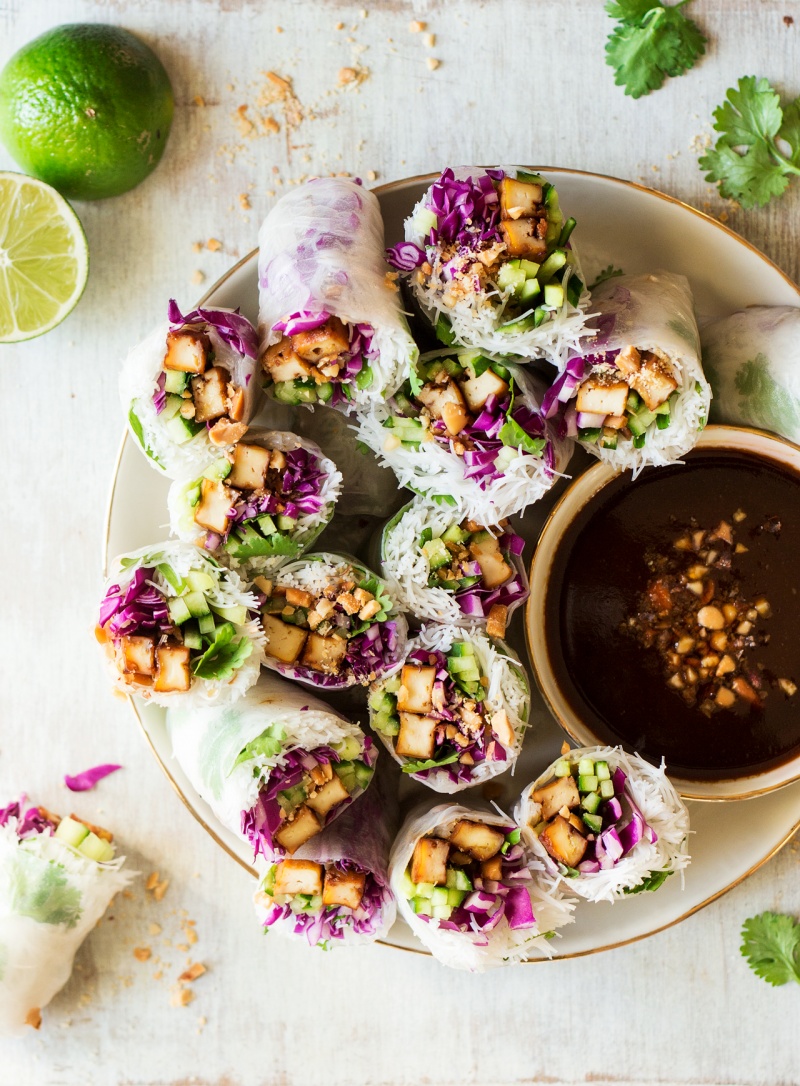 TOFU RICE PAPER ROLLS
16 rice paper wrappers (mine were 22 cm diameter)
400 g / 14 oz firm (cotton not silken) tofu, well pressed*
2 small cucumbers, julienned
¼ small red cabbage, sliced thinly
50 g / 2 oz vermicelli rice noodles
2 spring onions, finely sliced (optional)
handful of fresh coriander leaves
roasted peanuts**, crushed finely
DIPPING SAUCE AND TOFU MARINADE
4 tbsp / ¼ cup hoisin sauce (GF version if required)
about 3 tbsp lime juice, adjust to taste
1 tbsp / 15 ml tamari (for gluten free version) or soy sauce
1 garlic clove, grated finely
2 tsp grated ginger, grated finely
water
METHOD
SAUCE AND TOFU MARINADE
Place all the sauce ingredients in a medium sized bowl.
If needed, dilute with a splash of water until the mixture resembles ketchup in consistency.
TOFU
Cut pressed tofu into 32 long strips. I cut each 200 g into 8 strips and then cut each strip in half.
Heat up the oven to 180° C / 350° F. Line a baking tray with a piece of baking parchment.
Put tofu sticks into a shallow dish (I used a large Pyrex) and coat in approx. 2 tbsp of the marinade you prepared earlier. Let them sit in the marinade until the oven is ready.
Place marinated tofu on the prepared baking tray. Bake in the middle of the oven for 20-25 mins, turning the tofu sticks halfway through.
ROLLS
Dampen a clean kitchen towel and put on a clean surface. Prepare the rice wrappers, one at a time, according to the instructions on the packet (see NOTES). Put the re-hydrated rice wrapper on the damp towel.
Start filling the wrapper, but make sure you do not overfill. I put a small clump of noodles first, followed by red cabbage, cucumber and two sticks of tofu. I finished with some fresh coriander, a few slices of spring onion and a sprinkle of smashed peanuts (or other nuts).
Once you finish with the filling, start rolling each like a burrito. Fold the sides over and start rolling from the bottom, making sure you hold the filling tightly with your other hand. It takes a few goes to get the knack of it.
Repeat steps 4 and 5 until you've run out of your filling and / or wrappers.
Cut rolls in half and enjoy them fresh, dipped in the prepared dipping sauce.
NOTES
*To press the tofu without a
tofu press
, wrap your tofu in a paper towel, place it on a plate and weigh it down with something heavy (like a can of coconut milk, for example). Once the paper towel becomes wet, change it for a new one. Repeat a few times until the paper towel stays almost dry. Pressed tofu is tastier as it absorbs flavours better.
**If you have a peanut allergy, you can use toasted almonds or cashews instead.
A handy tip from me is to not keep the rice wrapper in water for too long, as it becomes very fragile and starts sticking to your fingers and itself. Take it out when it is no longer hard but still retains its shape as it continues to soften even once out of the water.