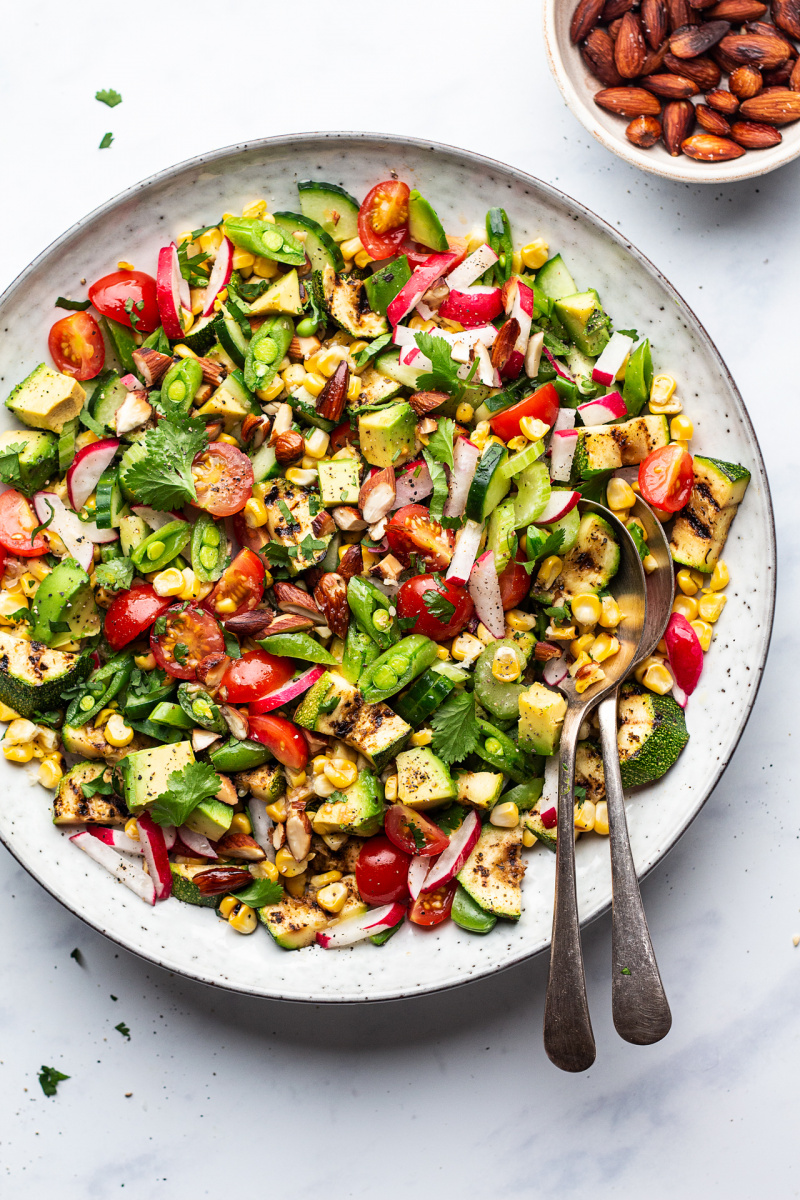 We've lucked out with the weather this week. It's really really hot and sunny so I am temporarily in my Greek summer mode – slumped in the shade with my notebook brainstorming future recipe ideas, living on nothing but salads and fruit and fighting the afternoon slump with prolific amount of ice cold caffeine – my drug of choice 😉 . Espresso freddo – cold Greek coffee that we fell in love with when living on Paros – is something we cannot live without. We don't have a special machine that the Greek cafes use to make it, but I found that making it in a blender is a good enough hack.
As Duncan has become a bit of a coffee snob, we use his favourite single origin coffee brewed in a Chemex for an extra smooth end result that requires zero sugar or plant milk, but any coffee will do. It is a good idea to brew it a little stronger than you would normally as ice dulls the flavour a little. We go through a lot of coffee and as I dislike waste, I've recently started turning our single origin coffee grounds into a coffee scrub – something that has earned me a fair amount of sniggering from you-know-who.
I've been using a shop-bought coffee scrub for a while but I ran out during the lockdown and with such a steady amount of coffee grounds going into our compost daily, I've decided to make my own. As opposed to the shop-bought version which had a lot of ingredients (including agave syrup!!), my version is dead simple. I spread used up grounds on a baking tray and dry them out in the sun. Once dry I put them in a jar with some organic almond oil to form a paste. The coffee exfoliates your skin while the almond oil keeps it moisturised and it smells wonderful. I recommend it to anyone with a regular supply of coffee grounds. I don't think I will need to buy it ever again.
Recipewise, I have a deliciously crunchy, tangy and sweet, hydrating and filling salad for you today. It is ideal hot weather food, perfect for easy entertaining, a BBQ or a picnic. It doesn't require much work. A bit of careful chopping and this colourful bowl comes together in a cinch. It's healthy yet definitely not boring and I hope you'll enjoy it. x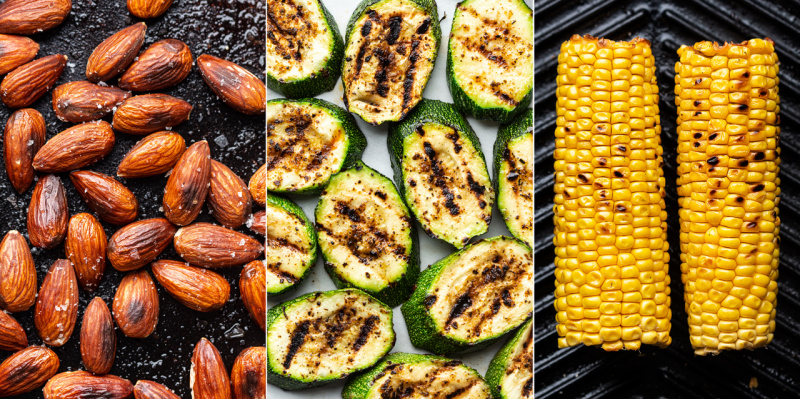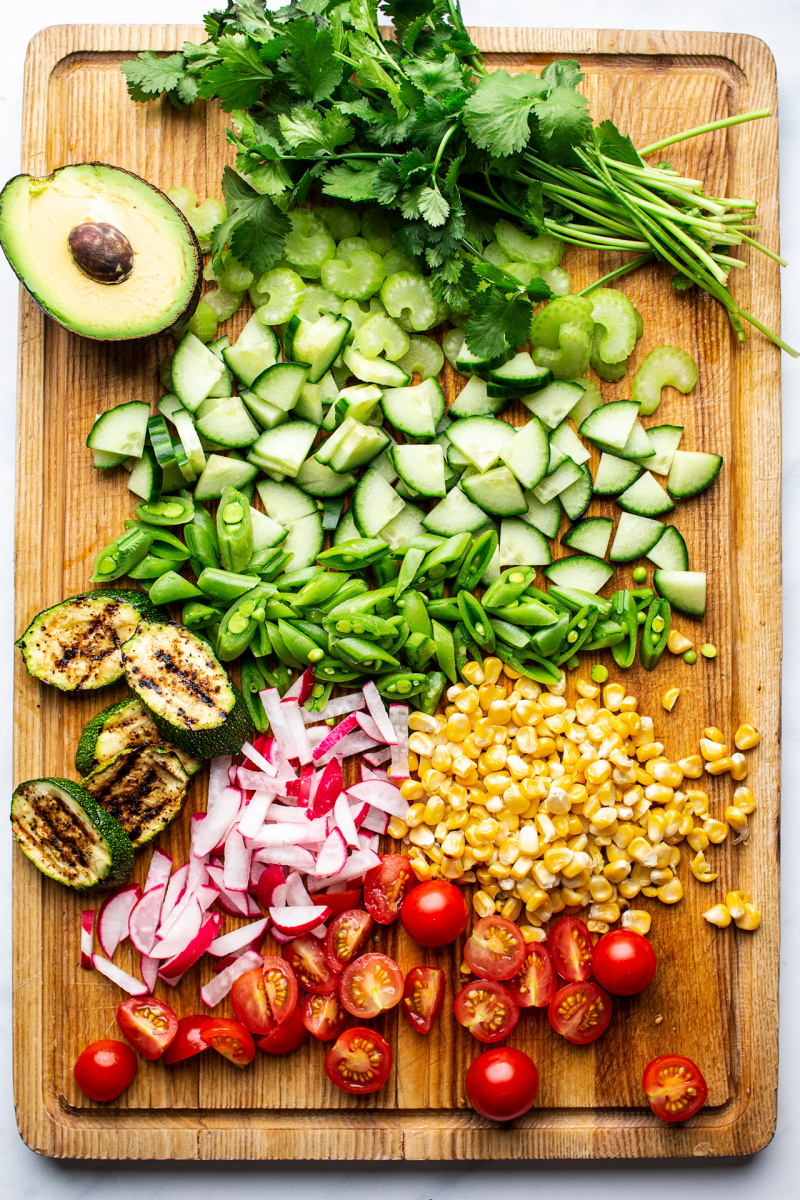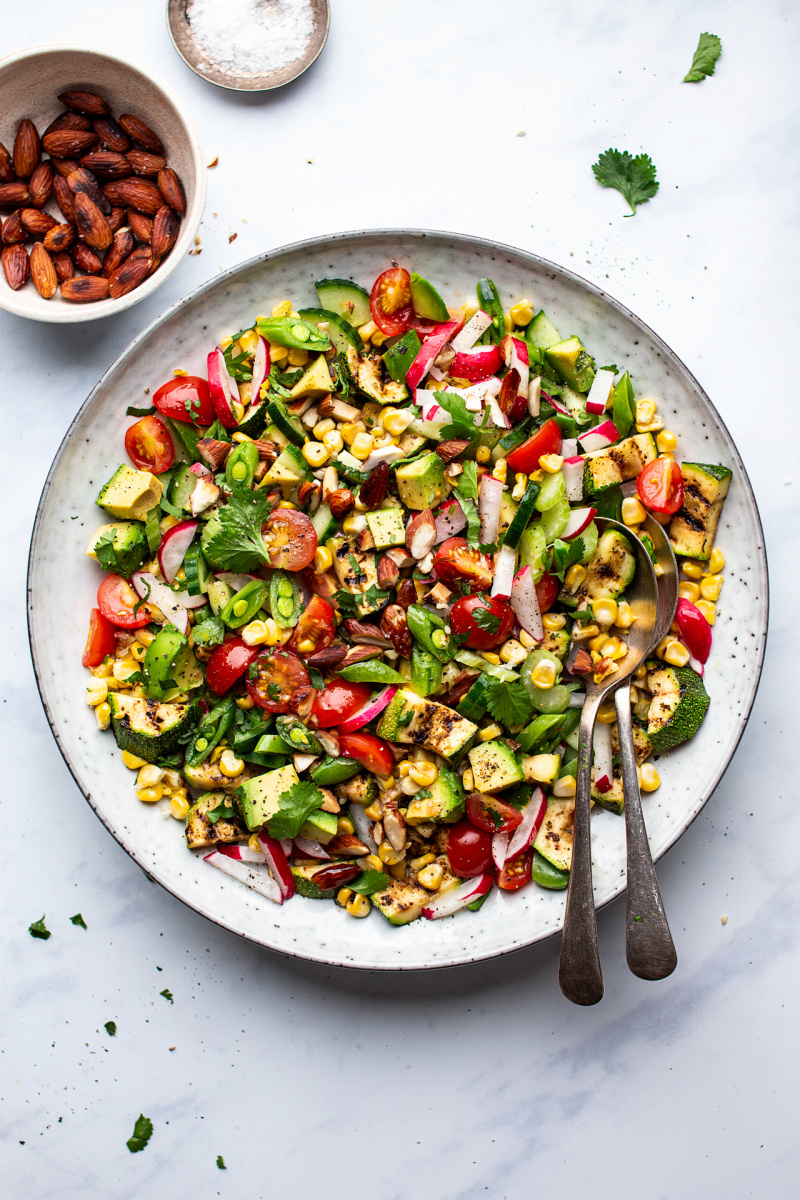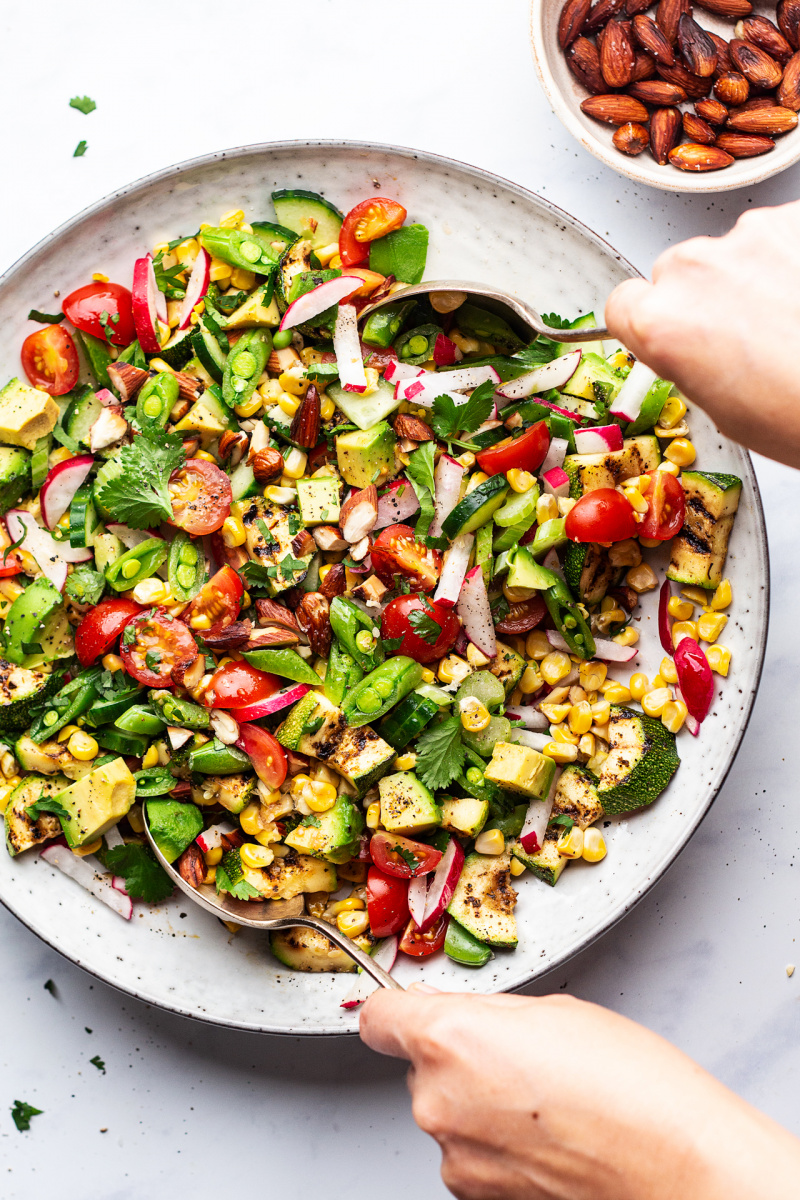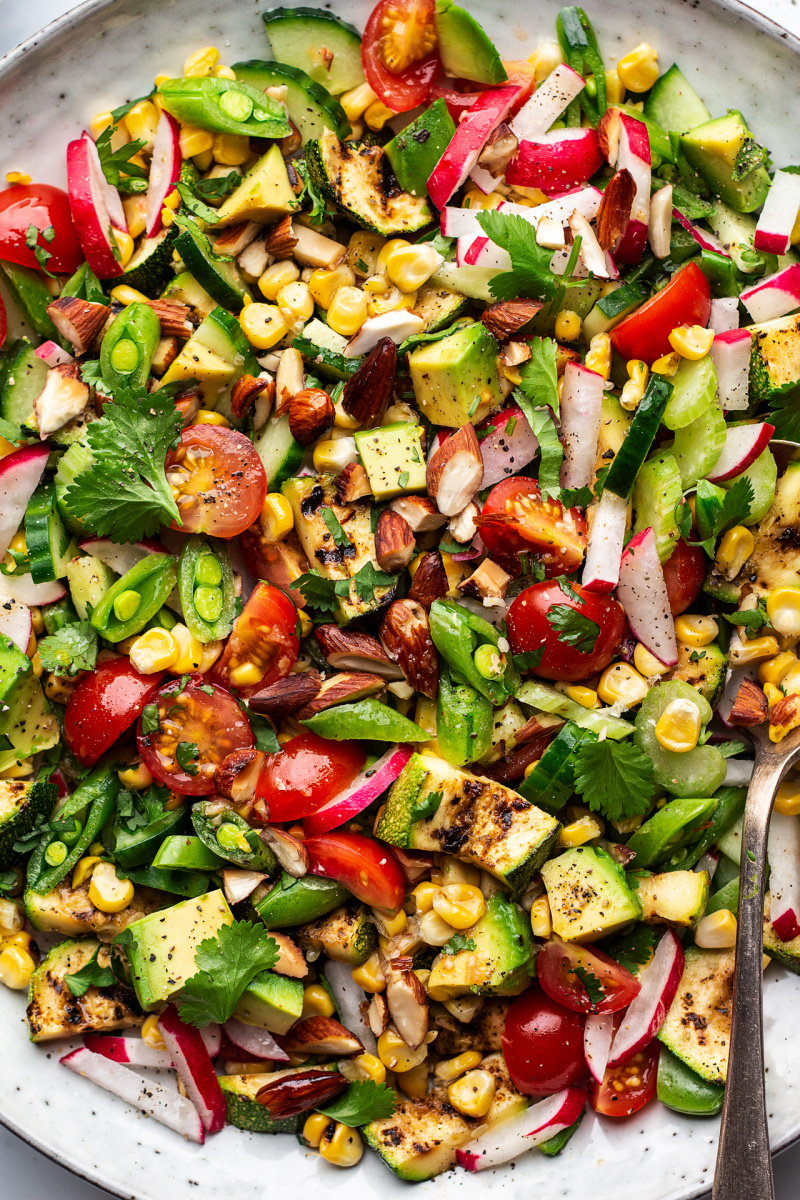 SALAD
2 ears of corn
1 zucchini, cut into thick slices
olive oil
approx. 1 tsp cajun spice
15 radishes
½ long cucumber
15 cherry or plum tomatoes
1 small red pepper
1 ripe avocado
2 celery sticks
100 g / 3½ oz sugar snap peas
1/3 cup almonds
a handful of coriander, chopped
DRESSING
45 ml / 3 tbsp extra virgin olive oil
30-45 ml / 2-3 tbsp lime juice, adjust to taste
15 ml / 1 tbsp Cholula Chipotle OR a few drops of Smoky Tabasco, adjust to taste
1 tsp maple syrup
1 garlic clove, finely grated
salt and pepper, to taste
METHOD
SALAD
Heat up a griddle pan on a low heat. Brush the corn with a small amount of oil and place on the preheated griddle pan. Grill, turning every few minutes, until cooked and lightly charred all over. Once cool, shave the kernels off with a sharp knife.
Brush zucchini with a small amount of oil on both sides, season with salt, lightly sprinkle with cajun spice and place on the hot griddle pan. Allow them to cook undisturbed until you get nice char marks on one side, flip and cook until you get the char marks again. Take the zucchini off the pan and allow them to cool and chop into smaller pieces.
Prepare the remaining vegetables by cutting radishes into matchsticks, cucumber into quarter slices, tomatoes into quarters, pepper and avocado into large dice, celery sticks and sugar snap peas into thin slices, on the diagonal.
Heat up a small frying pan on a low heat. Add 1 teaspoon of olive oil and, seconds later, the almonds. Toss to coat the almonds in oil. Toast them, tossing from time to time, on a low heat until charred slightly, sprinkle with salt and set aside to cool. Once cool, chop roughly.
Combine all of the salad ingredients together in a large bowl, drizzle with the dressing and decorate with fresh coriander and chopped almonds.
DRESSING
Combine all the dressing ingredients in a small bowl or a jar with a lid. Stir vigorously to combine or put the lid on the jar and shake very well. Season with salt and pepper to taste.
NOTES