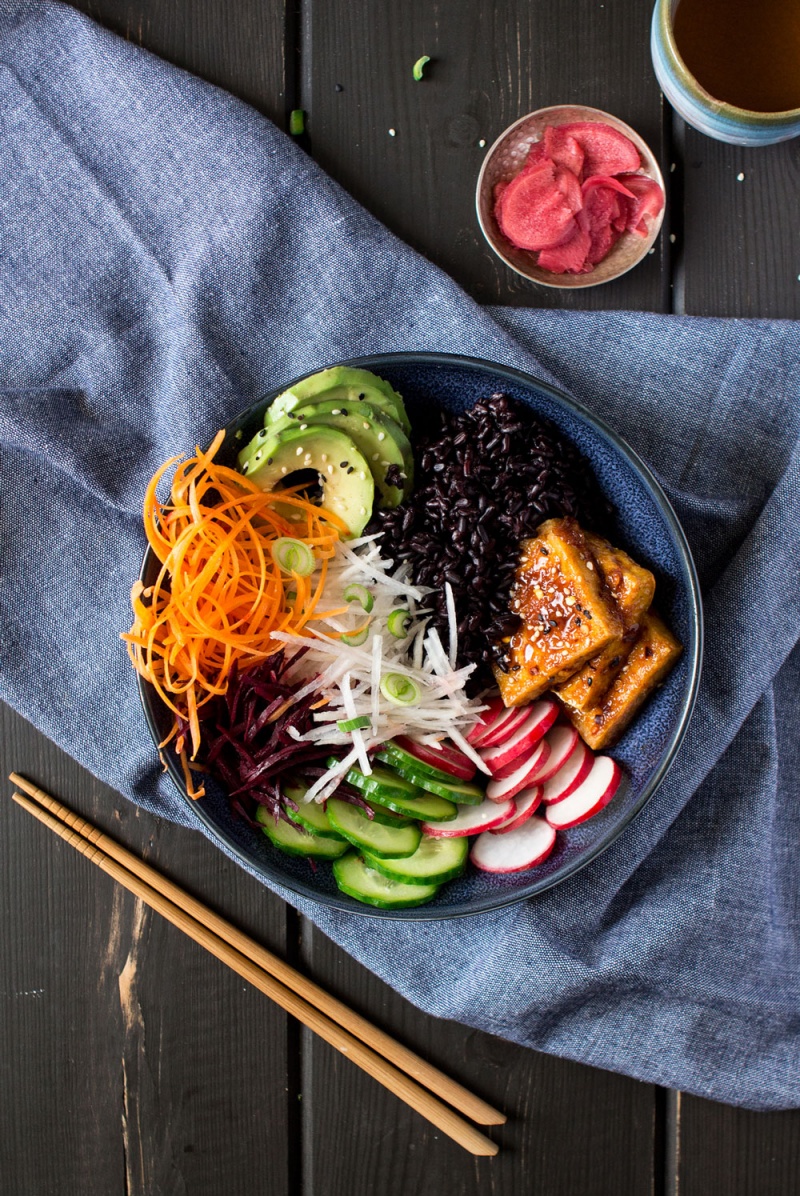 As much as I like making sushi rolls, sometimes I simply get lazy. When I am after sushi-like flavours without all the work involved (cooking, fanning and seasoning sushi rice and rolling things into neat sushi rolls), I make hassle-free vegan sushi bowls for lunch instead.
If you spend any time looking at cooking blogs at all, I'm sure you are familiar with the 'lunch bowl' concept. I am on board with it. It's not as work-intensive as the real thing and it's very visual, which means that in an effort to make your bowl as pretty as you can, you are bound to treat your body to a rainbow of nutrients in the process.
My vegan sushi bowl contains all the elements I would typically put into a futomaki roll. Having said that, this is very flexible so feel free to swap things you don't have to hand or you're not that keen on for something you actually like. I went for black rice as it's very nutritious and looks pretty (yes, I am mildly obsessed with food looking good on a plate).
Have you ever wondered why black rice is often referred to as forbidden rice? Apparently, in ancient China the growth of this type of rice was strictly controlled and only royalty and the wealthy Chinese were allowed to consume it. As I hate all sorts of class systems and the idea that some people are inherently better than others based on how wealthy they are is foreign to me, finding out about this was like a red rag to a bull 🙂 . I'm having black rice for lunch a few times a week these days despite having no royal lineage 🙂 . Nutrition for the masses, I say!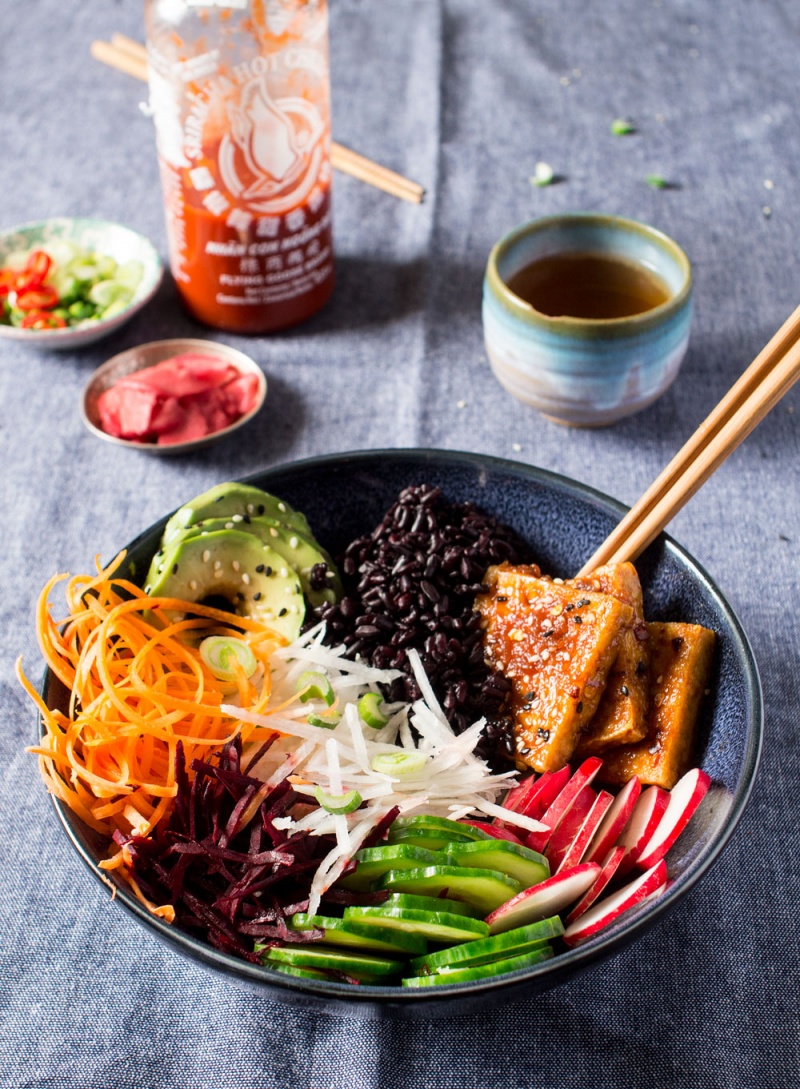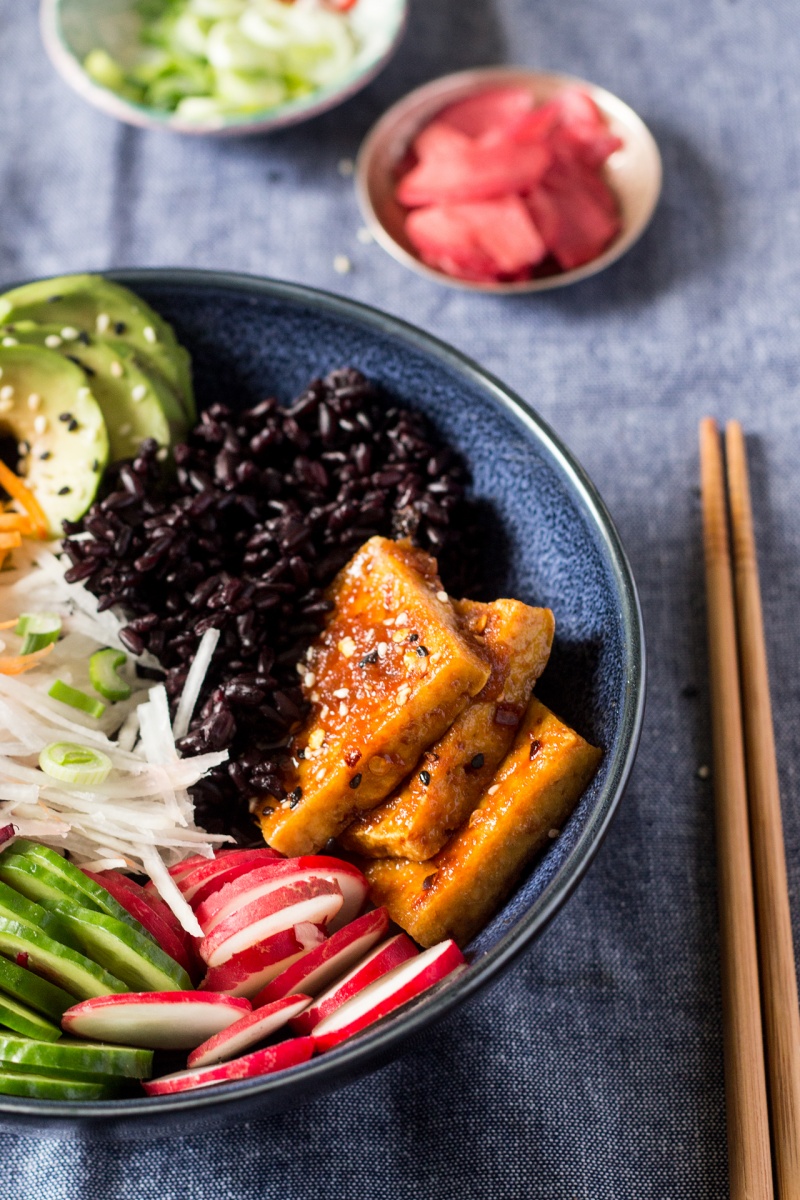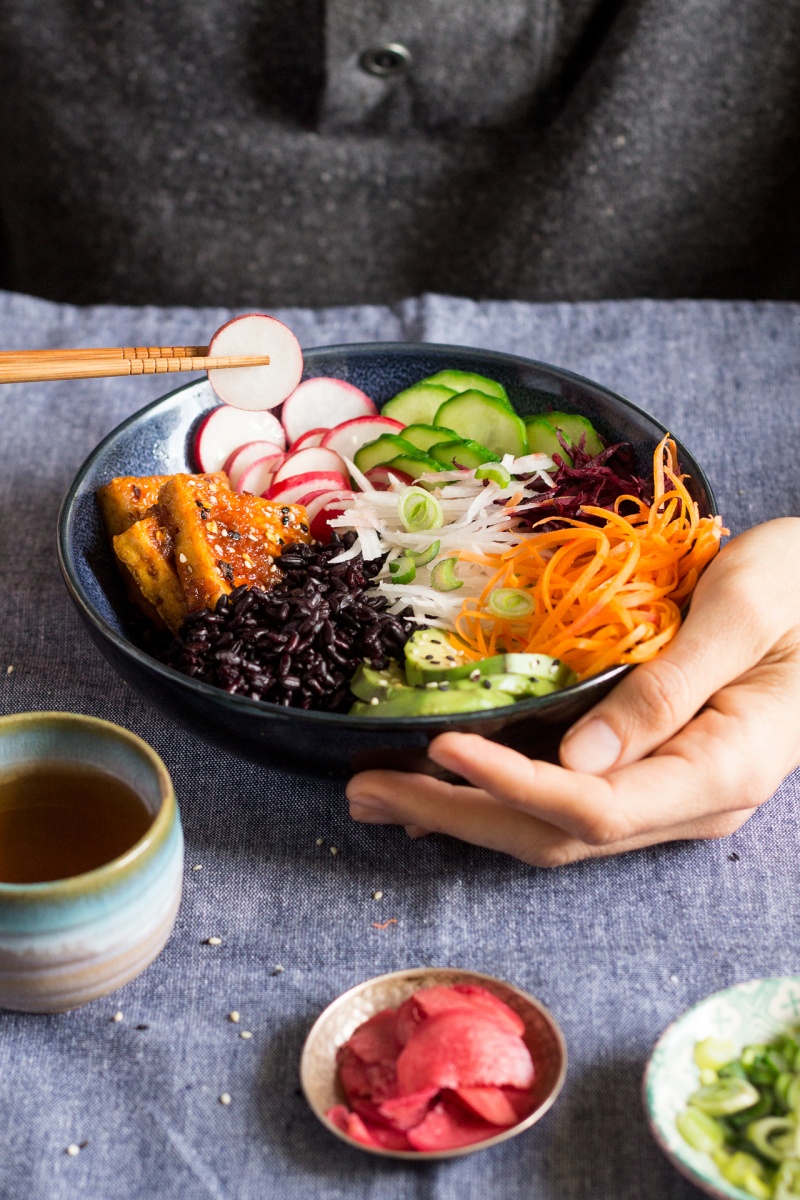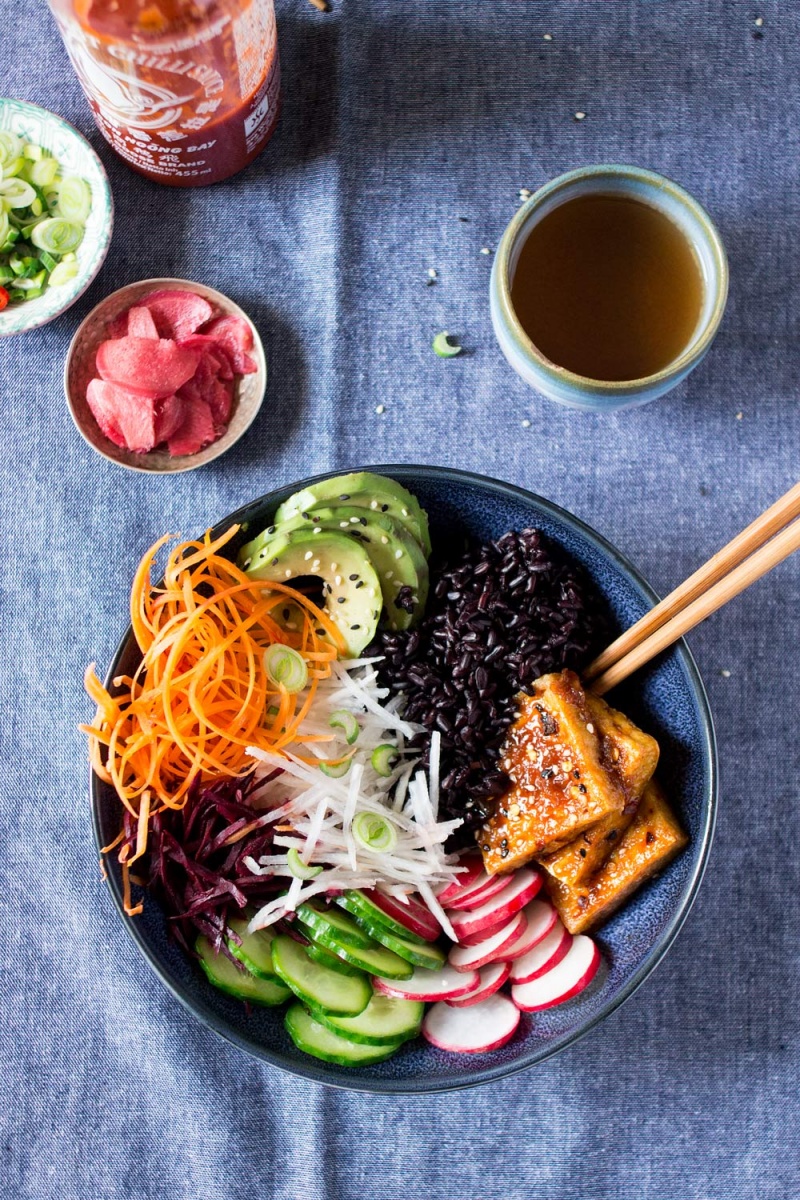 SUSHI BOWLS
1 cup of cooked rice of choice: brown, black or sushi
½ avocado, sliced
1 carrot, grated finely
1 small cucumber, sliced
1 large beetroot, grated finely
1 turnip, grated finely
handful of radishes, sliced
pickled ginger, store-bought or homemade
1 small spring onion, sliced thinly
sesame seeds, to garnish
200 g firm tofu, pressed*
2 tbsp cornflour / cornstarch
1-2 tbsp peanut oil (or other high smoke point oil), for frying (optional)
DRESSING & TOFU GLAZE
4 tbsp tamari (GF) or soy sauce
2 tbsp rice vinegar
2 tbsp maple syrup
2 tsp sesame oil
3-4 tsp Sriracha (or wasabi to taste)
METHOD
Cut up tofu into equal-size pieces and sprinkle lightly with cornflour (if frying).
Heat up oil in a small pan. Fry tofu in hot oil until crispy and lightly coloured on both sides. Blot fried tofu on a piece of paper towel. (2nd OPTION: If you do not want to fry your tofu, you can bake it instead. Do not sprinkle it with cornflour/cornstarch but immerse it in the glaze for 5 minutes instead. Bake it in 180 º C / 360 º F over for about 30-40 minutes and drizzle with more glaze once baked.
Mix all the dressing / glaze ingredients together and submerge fried (or baked) tofu pieces in it for 5-10 minutes. Keep the leftover mixture afterwards as it'll double up as dressing too.
Divide rice, all the veg and tofu between two bowls. Sprinkle with sesame seeds and finely sliced spring onion. Serve with pickled ginger and the leftover dressing.
NOTES
* To press the tofu, you either need a special tofu press or you can do it with a bunch of kitchen towels and a heavy weight. Wrap your tofu in a paper towel, place it on a plate and weigh it down with something heavy (like a can of coconut milk, for example). Once the paper towel becomes wet, change it for a new one. Repeat a few times until the paper towel stays almost dry. Pressed tofu is tastier as it absorbs flavours better.