Encouraged by the last weekend's sun, I decided that it's time for some vibrant vegan tacos this weekend – quintessentially summery food IMO – and as luck would have it, the sunshine gave way to ominous grey clouds threatening heavy rain. Oh well. Still, tacos are filling and refreshing at the same time and I enjoy tucking into them whatever the weather.
As it's pretty difficult to get quality corn tortillas here in the UK, I've decided to bite the bullet and purchase my very own tortilla press and it's the best thing ever. It speeds up the process of making taco shells immensely. It took me a few goes to get the knack of making each and every tortilla puff on a hot pan, but the last batch was spot on so I am getting there, I feel. If you enjoy tacos and want to know what's in your dough, I highly recommend getting your own press. Personally, it's been a life changer!
In terms of fillings, I've been wanting to try cooking with plantain – banana's more starchy cousin – for a while and I've decided that putting it in tacos will certainly be a good way to use it. I cut it into slices, coated in a Mexican spice mix and fried in a small amount of oil. It's mildly sweet flavour typically benefits from a squeeze of lime juice, but instead I've decided to deliver a pop of sour taste by adding a sprinkling of quick-pickled onions and a dollop of tangy coriander crema. I have also included lime flavoured refried beans, which you are welcome to skip, but they do make the dish more substantial, are super easy and quick to make and provide additional nutrition.
I went out for tacos last weekend with some friends and while the taco shells themselves were expertly made, the vegan range of fillings was highly unimaginative and I was disappointed. I also felt a bit robbed too, tbh (paying an average of £3 for a tiny taco)! I find that this often happens when meat-forward places offer vegan options. They tend to think that any vegetable substitute will do, the pairings are often lacklustre and there is often a stark lack of contrast of flavours and textures that is so needed, and especially key in vegan cooking. I mean a taco smeared with a chunky pea dip and topped with spring onions and coriander is just not really that exciting, is it? It's the kind of topping that belongs on a bruschetta in my opinion, where the crustiness of the bread offers much needed textural relief. Oh well, you win some and you lose some, but you always come away with some thoughts and inspiration, so it's all good.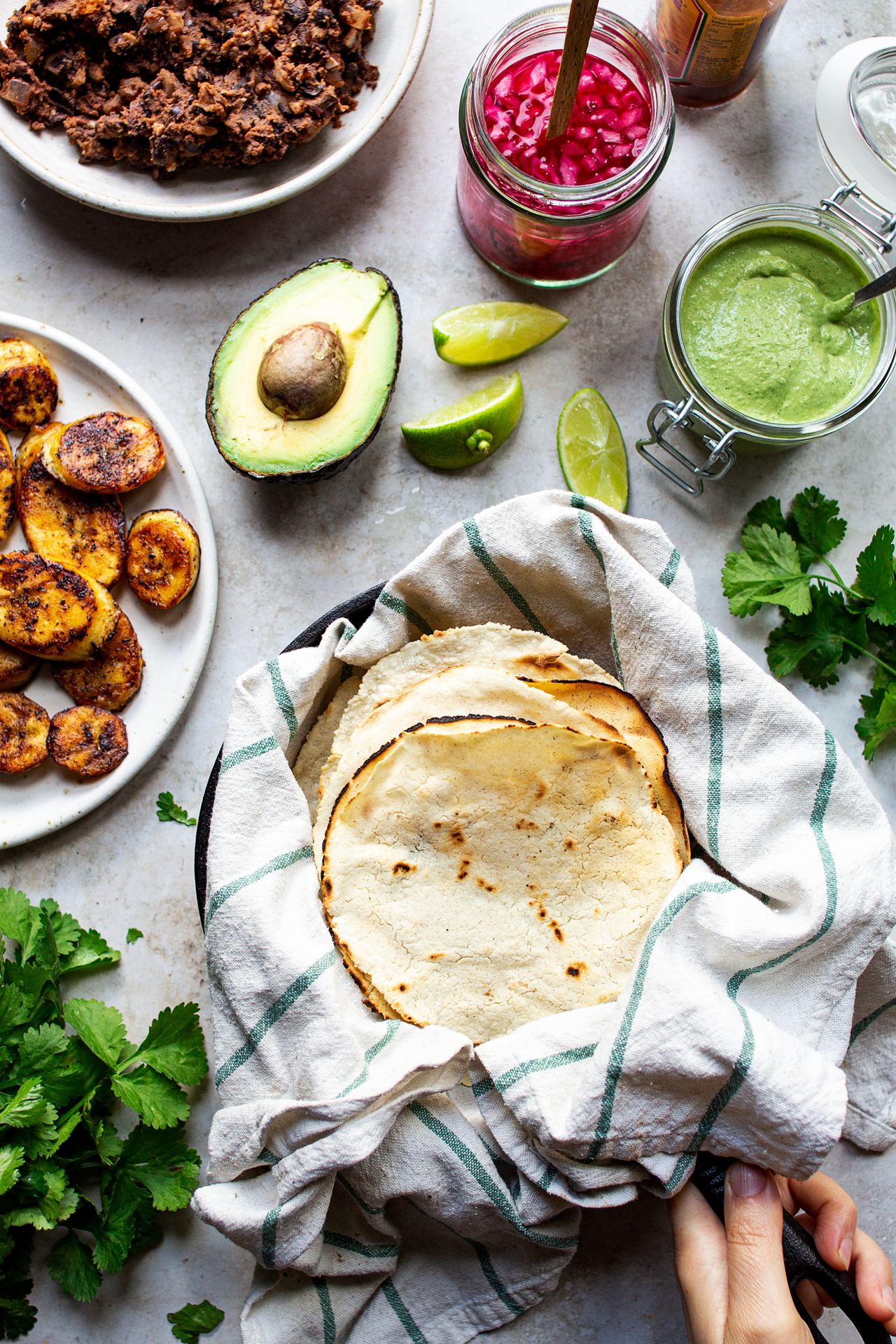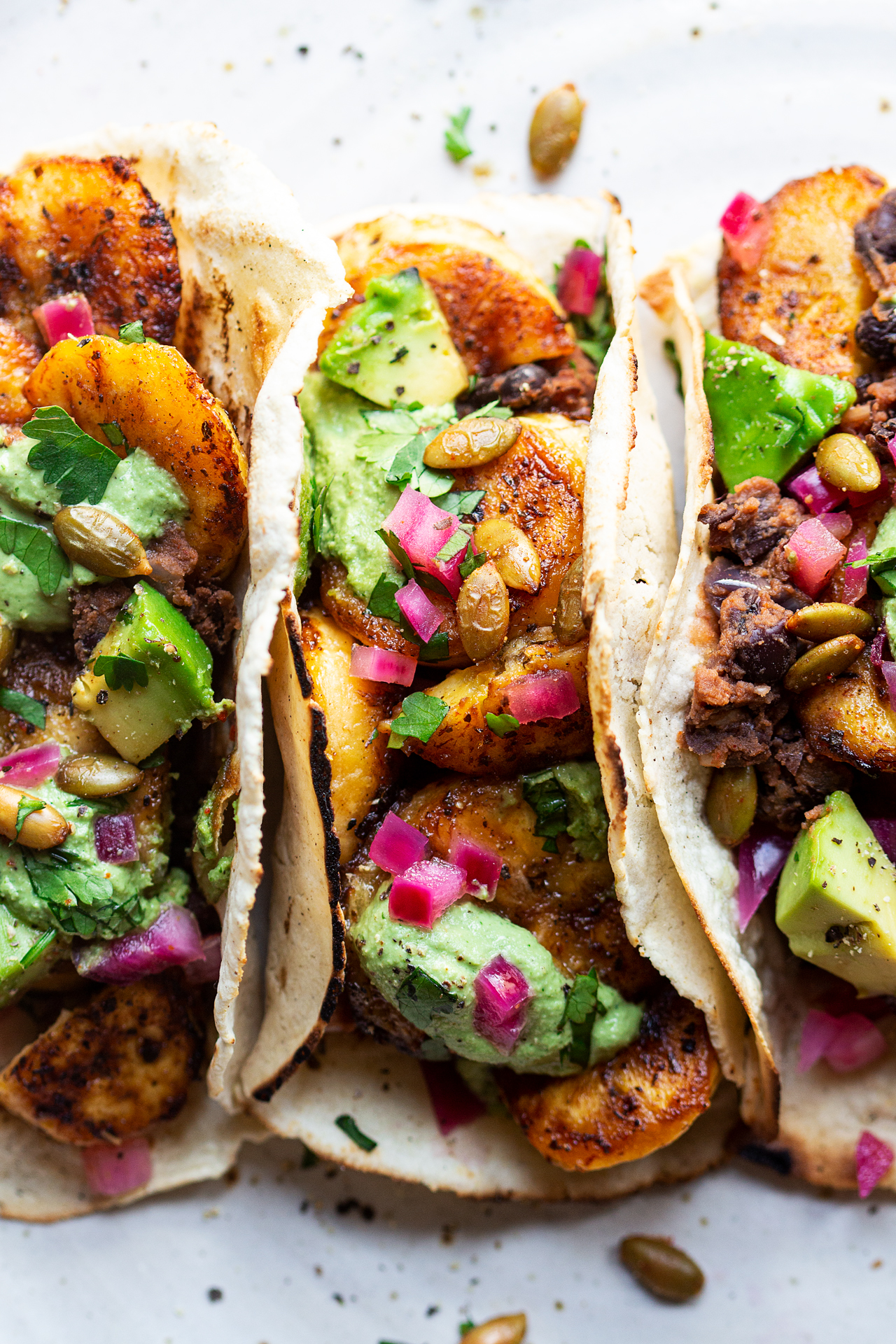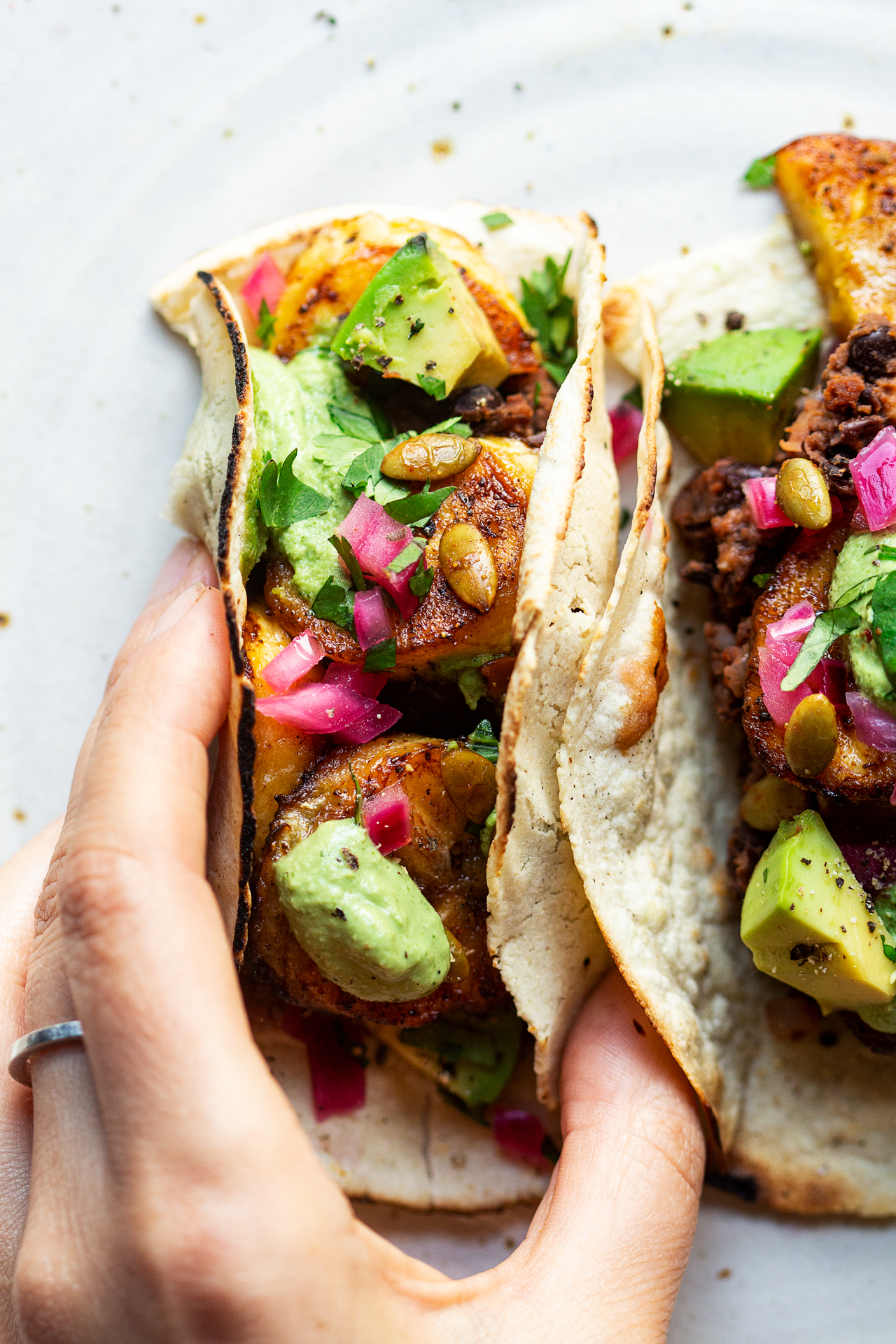 REFRIED BLACK BEANS
1 tbsp olive oil
½ red onion, diced finely
2 large garlic cloves, diced finely
1 tsp ground cumin
1 heaped tsp smoked paprika
¼ tsp cayenne pepper, adjust to taste
400 g / 14 oz can of black beans (this is the brand I use)
juice of ½ lime, adjust to taste
salt, adjust to taste
QUICK PICKLED ONIONS
¼ cup apple cider vinegar
2 tsp sugar
¼ tsp salt
½ large red onion, diced very finely
PLANTAINS
2 ripe plantains
1 tbsp oil, for frying
salt
CORIANDER / CILANTRO CREMA
¼ cup cashews (sub with pumpkin seeds for nut-free version)
¼ cup pumpkin seeds
a large handful of coriander / cilantro
the green part of a small spring onion / scallion
juice of ½ lime, adjust to taste
½ tsp ground cumin
salt and pepper, to taste
REMAINING INGREDIENTS
12 homemade or shop-bought corn tacos
ripe avocado
a handful of coriander, chopped
pepitas (I pan roasted and spiced them like in this recipe)
METHOD
REFRIED BLACK BEANS (make a day ahead if possible)
Heat up 1 tbsp of olive oil in a large frying pan. Add diced onion and fry on a gentle heat until translucent.
Add diced garlic, fry on a gentle heat, until soft and fragrant, stirring the whole time.
Mix dry spices into the onion-garlic mixture, stirring the whole time.
Throw in drained black beans, a splash of water and a good pinch of salt.
Squash some of the beans with the back of the fork. Cook on low heat until the beans thicken a little – add another splash of water if the pan is looking dry.
Season with lime juice and more salt if needed. Set aside to cool.
QUICK PICKLED ONIONS
Place apple vinegar, ¼ cup of water, sugar and salt in a very small pot. Bring to the boil.
Place diced onion in a glass jar and pour hot marinade over it. Allow it to cool.
PLANTAINS
Slice plantain into thick slices on the diagonal. Sprinkle them with the seasoning mix and salt on both sides.
Heat up a tablespoon of oil in a non-stick pan.
Place seasoned plantain slices in the hot oil and allow them to fry for a minute or two on one side, until golden. Flip to the other side and fry until golden. Set aside.
CREMA
Immerse cashews and pepitas in boiling water for 30 minutes. Set aside.
Drain them and place in a blender with the rest of the ingredients and a splash of water – blend until creamy and smooth.
Adjust seasoning as desired, place in the fridge to thicken.
ASSEMBLY
Assemble your tacos by speading some refried beans at the bottom of each taco, topping with fried plantain and avocado chunks. Top with coriander crema, pickled onions, spiced pepitas and coriander.
NOTES
This
is the type of tortilla press that I use and can recommend.