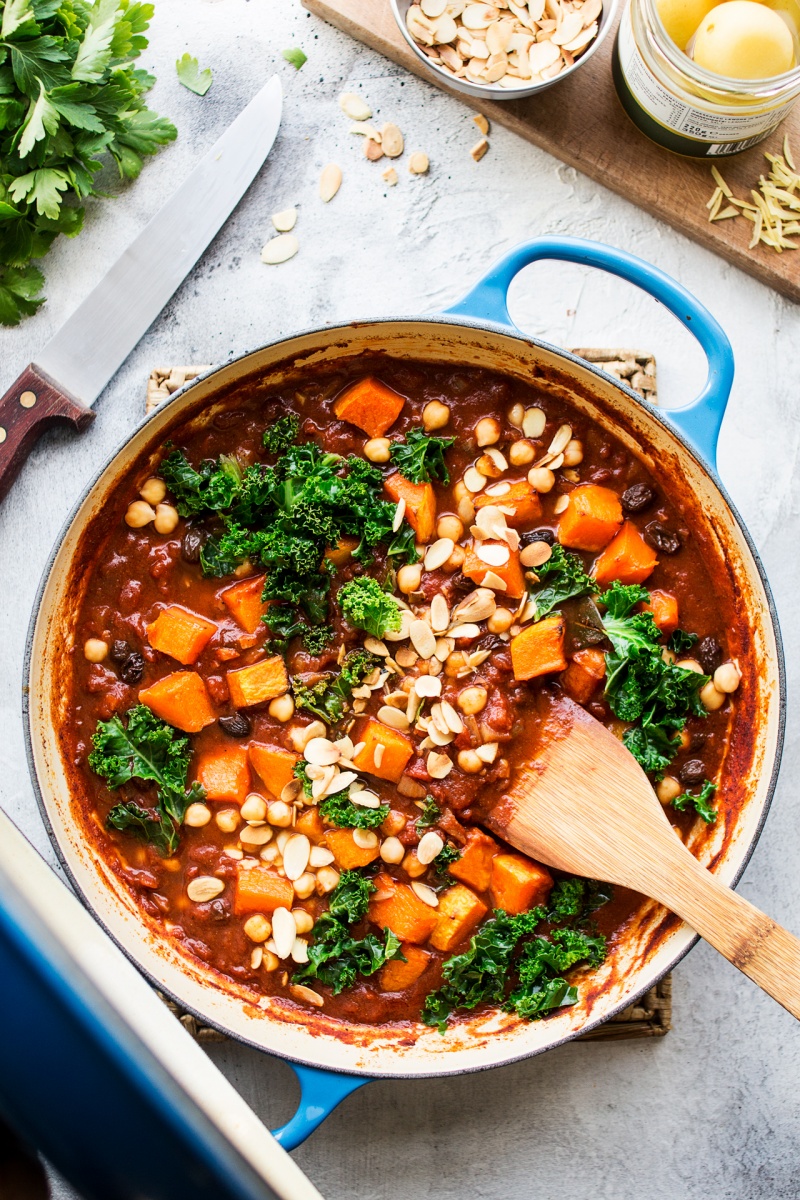 Is it me or the weather just cannot make up its mind lately? It's been sunny and warm so we have moved on to some lighter, spring fare and now I'm back to huddling by the heater, a mug of hot coffee in my hand and a warm cat on a chair next to me! I think we are both bummed!
Oh well, at least it's an excuse to have comfort food for a little bit longer. Like this vegan tagine I cooked up lately in Duncan's birthday present (thank you, Duncan's parents! Although I happen to do most of the cooking, Duncan has been enjoying eating out of that pot immensely 😉 ). This dish is super simple to make and cosy and for me, personally, it hits the spot when I am craving something soothing yet healthy at the same time.
Like most stews, this one also gets better with age…I froze a double portion of it before we went away to Devon for Duncan's birthday and it turned out to be a true life saver.
Devon was absolutely beautiful and it made us vow to make more effort to leave Bristol at weekends as there is so much gorgeous nature on our doorstep. We spent two days hiking around Lynton and Lynmouth where we enjoyed gorgeous views, humid forest air, some wildlife and farm animal spotting – we saw some deers and ponies as well as a prolific number of ultra cute little lambs huddling with their mothers.
We've had to cross quite a few fields to get to the public pathway and the sheeps' reaction towards us (running in the opposite direction as soon as they saw us) made us realise that they do not view us, humans, as friends in the least. Understandably, they are fiercely protective over their offsprings and this idea that taking away their precious child every lambing season is part and parcel of the symbiotic nature of their relationship with farmers is a big fat lie. Obviously, but I am still so mad at myself for not seeing through this sooner!
While we really enjoyed our trip and felt relaxed and inspired afterwards, we did struggle with getting vegan food big time. We somehow managed to wing breakfast and I covered our lunches by planning in advance and assembling sandwiches ahead of each hike and I am so glad I did. Dinners were the problem. We ended up eating pizza two nights in a row and a dodgy veggie burger on the last night, so by the time we got home we were so happy about that homemade tagine in our freezer. Next time, we will be looking for a self-catering cottage and cooking our own meals, I think.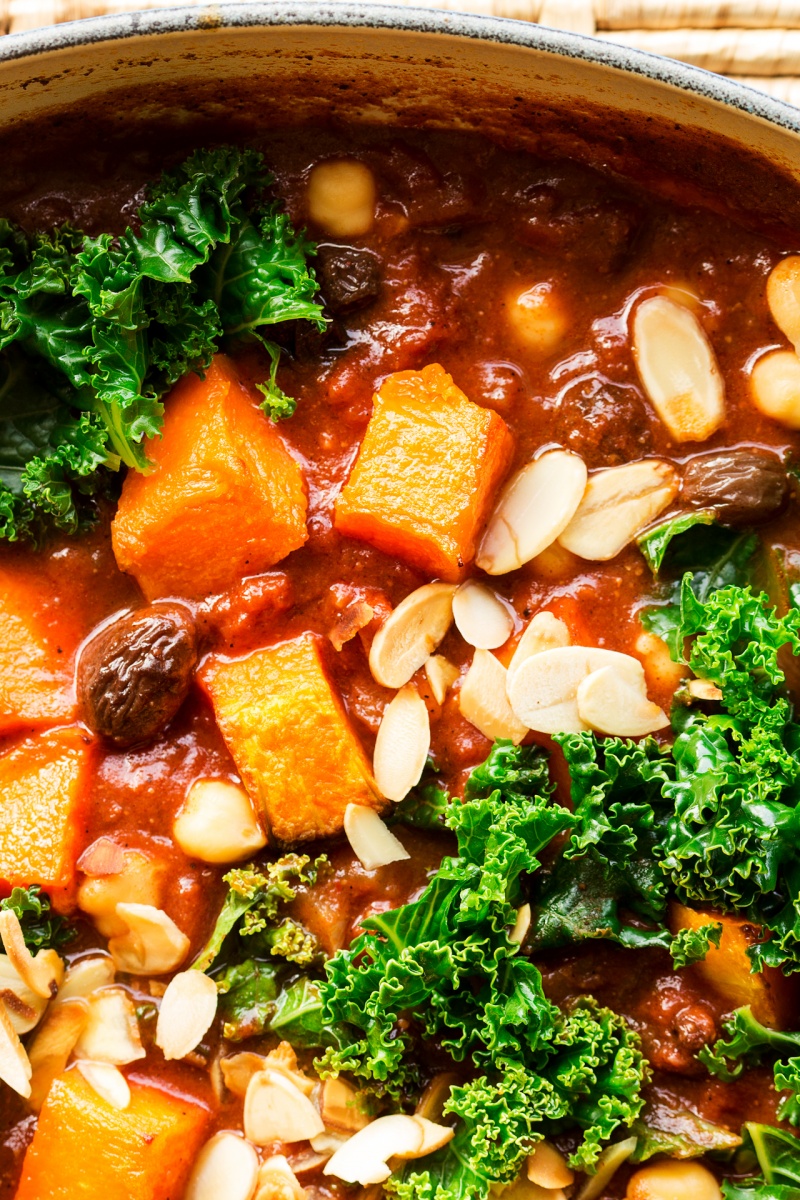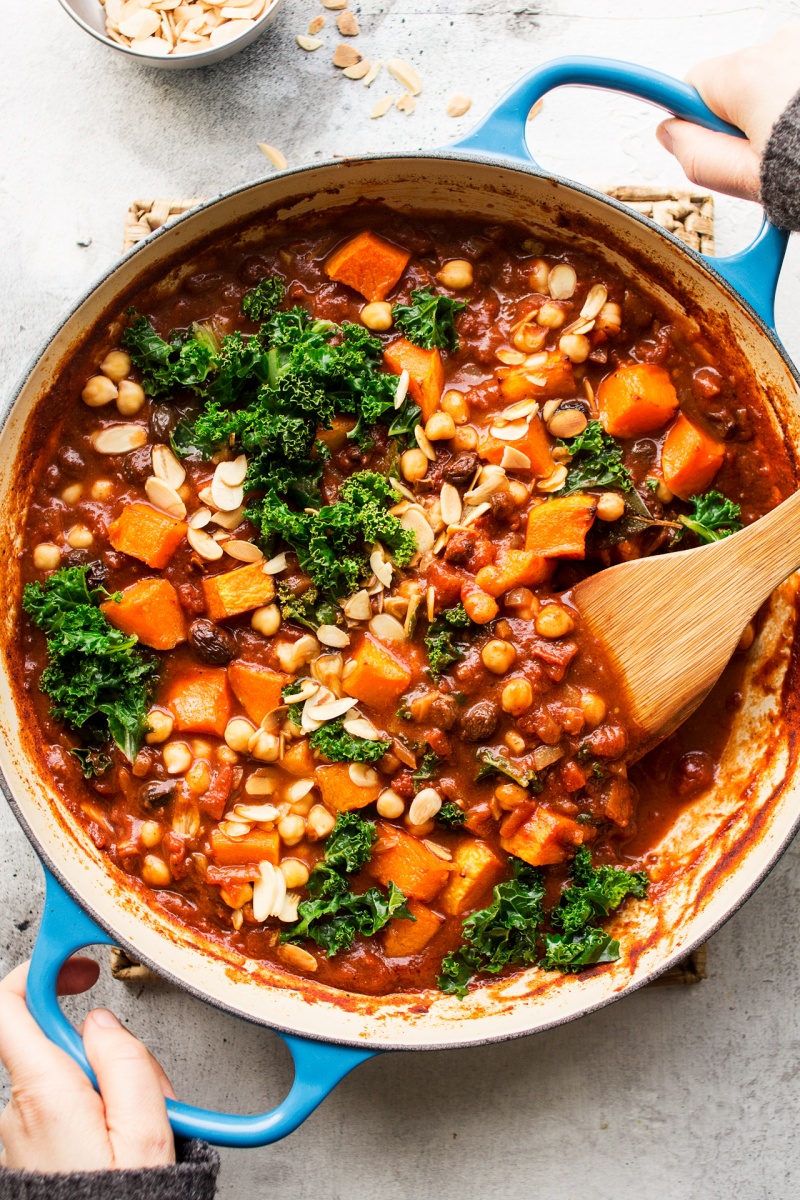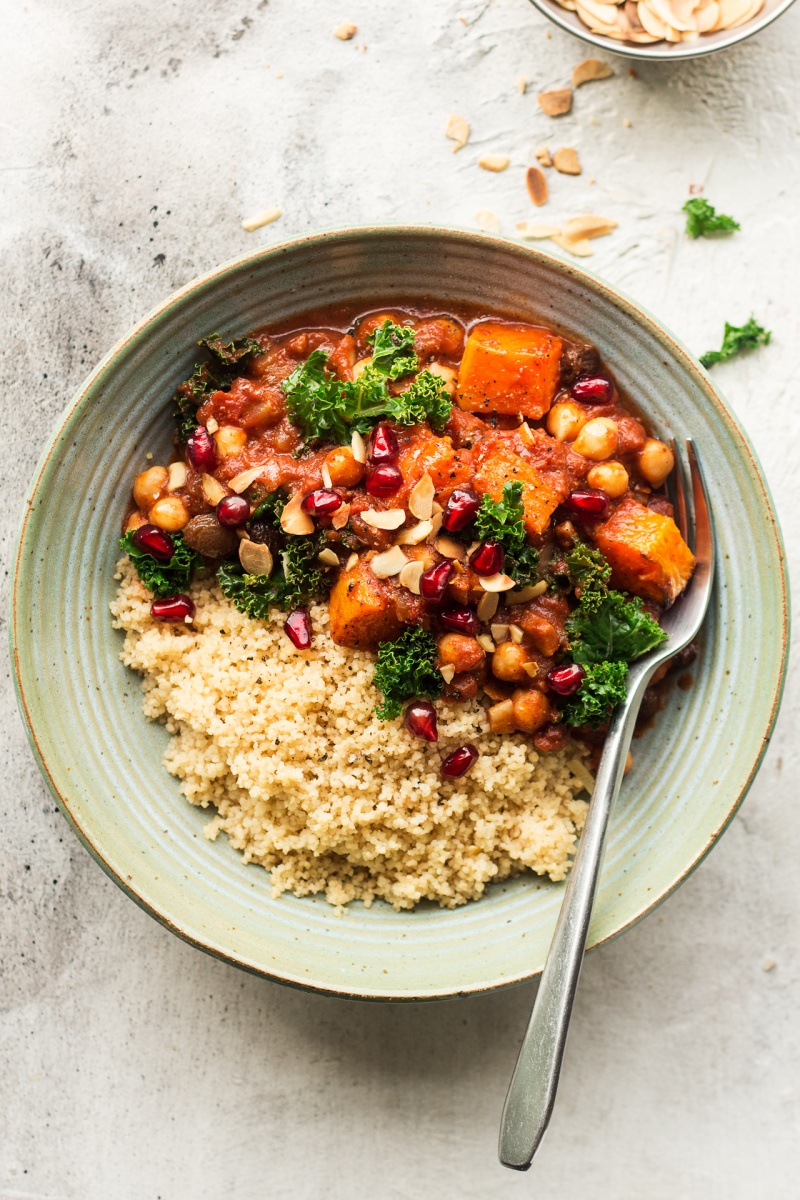 2 tbsp / 30 ml oil (I used olive oil)
1 large onion, finely chopped
5 garlic cloves, finely chopped
2 tsp ground cinnamon
2 tsp ground coriander
1 tsp ground cumin
1 tsp ground ginger
½ tsp ground nutmeg
¼ tsp chilli flakes or cayenne pepper, adjust to taste
a good pinch of saffron
4 cardamom pods
2 bay leaves
2 x 400 g / 14 oz tin chopped tomatoes / 6 medium, ripe tomatoes
1 preserved lemon, chopped very finely
35 g / ¼ cup raisins
¾ tsp salt, adjust to taste
½ medium butternut squash
black pepper, to taste
2 tsp date syrup / nectar, shop-bought or homemade (or sugar)
100 g / 3.5 oz kale, tough stems removed
240 g / 1½ cups cooked chickpeas (approx. ½ cup raw)
2 cups cooked couscous or rice, to serve
almond flakes, to serve (optional)
pomegranate arils, to serve
METHOD
Heat up the oil in a heavy-bottomed pot that you have a lid for.
Add the diced onion and fry it gently until almost translucent (for about 7 minutes), stirring from time to time.
Add the chopped garlic. Keep on frying gently until the onion is translucent and the garlic softens completely and releases its beautiful aroma (approx. 5 minutes).
Stir all the ground spices into the onion-garlic mixture. Fry them off on a very low heat for a minute or two (stirring the whole time as if they burn they'll taste bitter).
Add the chopped tomatoes, 2 tins worth of water, saffron, cardamom pods, bay leaves, preserved lemon, raisins and salt to the pan. Simmer, covered, until the tomato chunks fall apart and the sauce looks more or less homogeneous (about 45 minutes).
Remove the lid and keep on cooking the stew on low-medium heat to allow excess water to evaporate so that the stew thickens.
You can cook the butternut squash in the stew (it takes about 20 minutes), but I prefer to do so separately as it allows for greater control over its 'doneness'. Bake in a 200° C / 390° C oven for about 25-30 minutes or steam for 30 minutes.
Once the sauce thickens, taste it and season with a generous amount of black pepper, more salt if needed and add some date syrup (or sugar) if you find the dish too acidic.
Chuck in the chopped kale for the final 10 minutes and cover the pot with a lid to allow the kale to cook in the sauce. You could also steam it separately for 10 minutes and add it to the tagine at the end.
Finally, stir in the cooked chickpeas and let them warm through. Serve over cooked couscous (or rice), sprinkled with toasted almond flakes and pomegranate seeds.