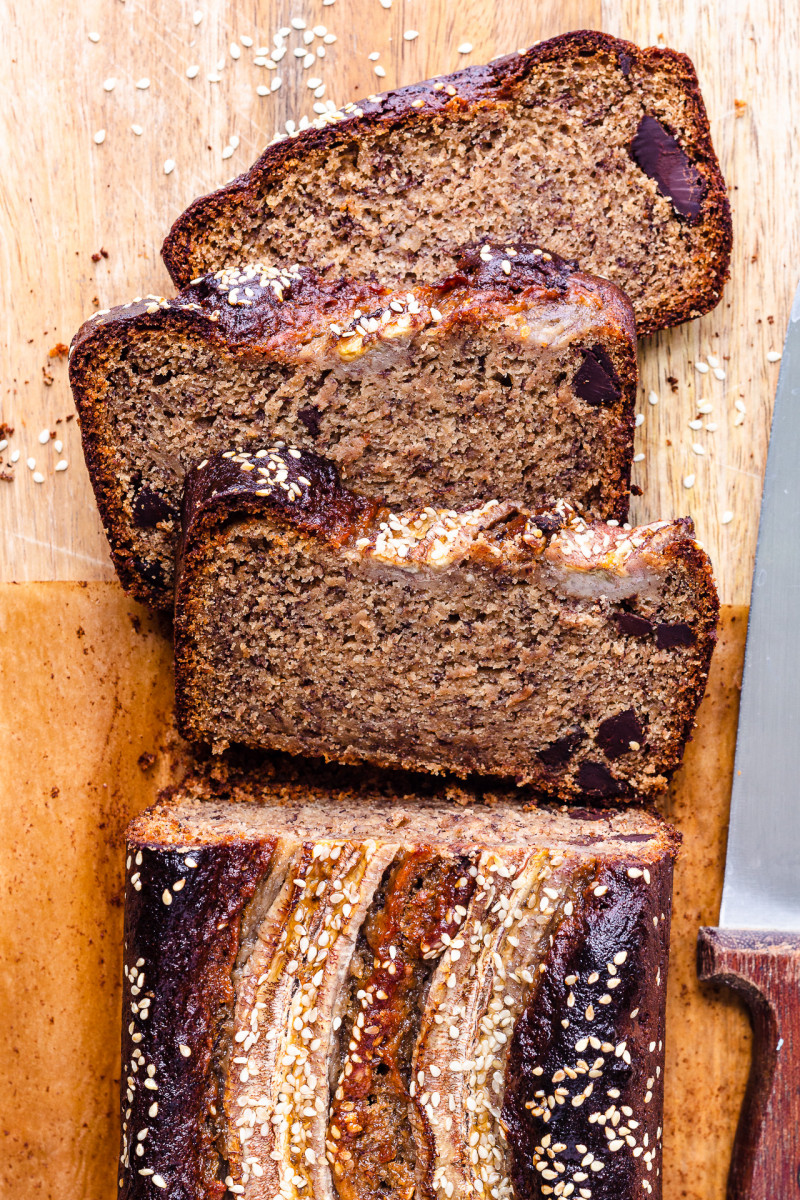 Autumn is for baking and although I am still on holidays and enjoying my freedom, I do miss my oven a tiny bit. If you feel putting yours on this weekend, how about a vegan tahini banana bread optionally studded with chunks of dark chocolate?
This oil-free banana bread is really simple to make and really hits the spot. It only needs a handful of staple ingredients and one large mixing bowl to bring everything together. Here are key ingredients at a glance.
MORE ABOUT THE INGREDIENTS
BANANAS: overripe bananas are the best to use in a cake like this. They add moisture and sweetness and banana flavour, of course, to this simple loaf cake. You can use fresh or frozen (defrost them at room temperature first) ripe bananas, but be mindful of the fact that frozen may require a little longer (5-10 minutes) baking time as they release more moisture after freezing.
MAPLE SYRUP: maple syrup or any other liquid sweeter gives this cake extra needed sweetness and some more moisture. I tested this recipe with 120 ml / ½ cup maple syrup first but I think that due to the fact that tahini is naturally bitter, I did not find sufficiently sweet.
TAHINI: tahini gives this cake flavour and contributes to its soft texture. I recommend using light tahini here as dark tahini (made from unhulled sesame seeds) adds a lot more bitterness and a more pronounced flavour. Make sure to stir your tahini well before using.
ACID: a touch of acid is useful to help vegan bakes rise. Acid reacts with baking soda and that reaction helps to create light and fluffy crumb.
FLOUR: I used white all purpose flour to make this vegan tahini banana bread. I suspect that wholemeal flour will also work well, but I would increase the amount of mashed bananas to 2 cups (450 g / 16 oz) as wholemeal flour is more thirsty. A good gluten-free mix, contain starches or gums, works well if you are after the gluten-free version.
BAKING AGENTS: as this vegan tahini banana bread does not contain eggs (obviously), I give it a helping hand when it comes to leavening by using a carefully calibrated combination of baking soda and baking powder.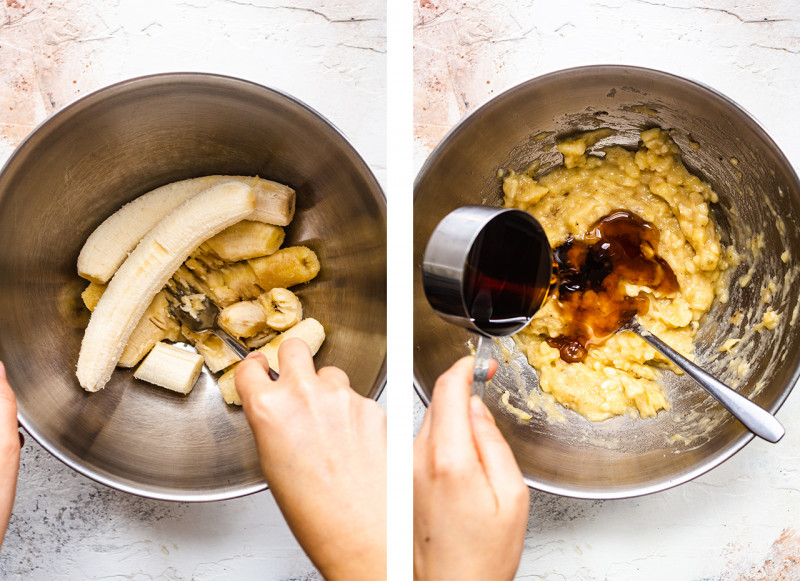 Mash ripe bananas really well using a potato masher or a fork. Once mashed up well, add maple syrup and lemon juice to help it rise.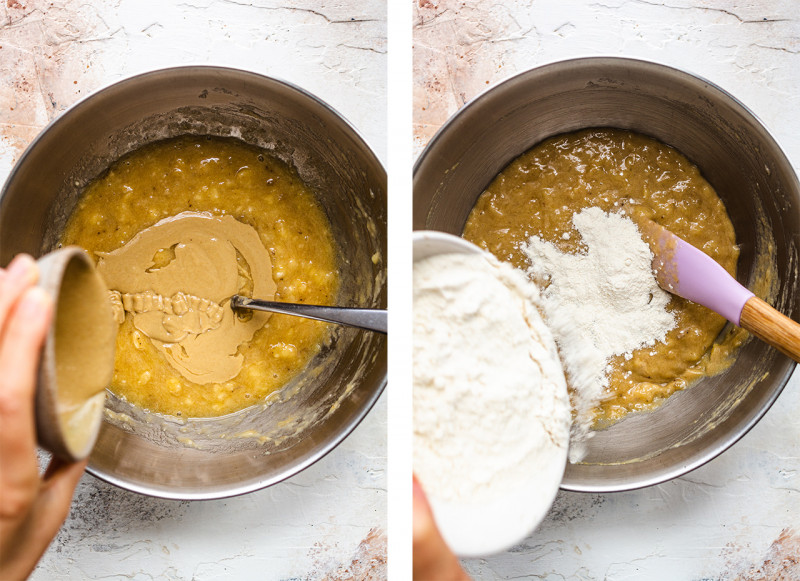 Next, incorporate well mixed light tahini and mix well until everything is well combined. Once all the wet ingredients are in, gently fold in flour in (roughly) two batches. Add baking agents and spices to the second batch flour.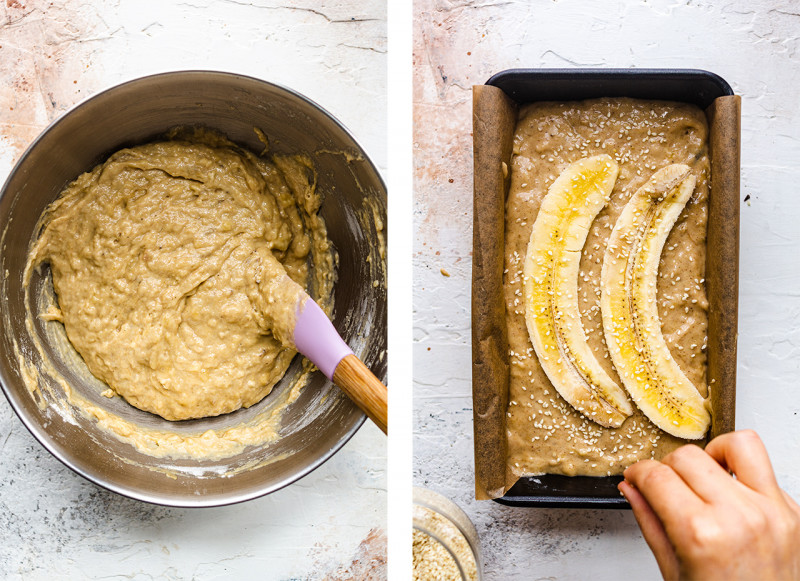 Fold in chocolate chunks if using before transferring the batter to the prepared baking tin, decorating and baking.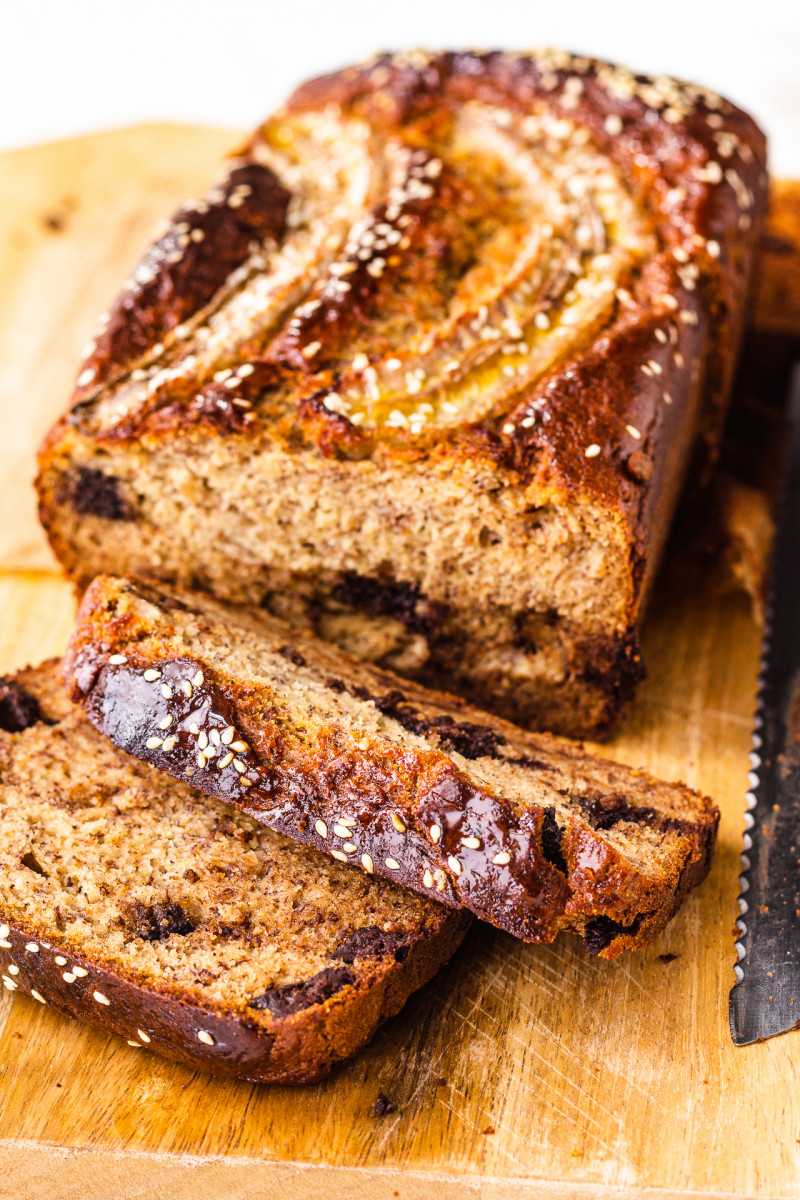 WET INGREDIENTS
DRY INGREDIENTS
180 g / 1½ cups all purpose wheat flour or tested GF flour mix (I use this one)
1½ tsp baking powder
¾ tsp baking soda
1 tsp cinnamon + ¼ tsp cardamom
¼ tsp fine salt
OPTONAL EXTRAS
70 g / 2.5 oz chocolate chunks or chips
small banana, for decoration
sesame seeds – any colour, for decoration
METHOD
Heat up the oven to 175° C / 350° F (regular setting, not a fan setting) and line a 900 g / 2 lb cake tin with baking paper. Move the oven rack a notch down from the middle position.
In a large bowl, combine mashed up bananas, maple syrup and lemon juice.
Before measuring out tahini ensure that it's really well mixed instead of thicker part being settled at the bottom of the jar. Add tahini to the wet ingredients and mix until well combined.
Gently fold in flour in two batches, adding all the remaining dry ingredients together with the second batch.
Fold in chocolate chunks if using.
Transfer the batter into the prepared baking tin. Top the cake with a banana sliced in half and sprinkle with sesame seeds.
Bake until a toothpick comes out fairly clean, about 50-55 minutes or 55-60 if using frozen bananas (cover with foil if the top is browning too quickly). Remove from the oven and brush with with a little maple syrup while the cake is still hot to give the top a nice shine.
Let the cake cool down completely before slicing. Use a serrated knife to slice if you have one – I find that it produces neater looking slices.
NOTES
*BANANAS: weight given is AFTER peeling. You can use either fresh or defrosted frozen bananas. The important thing is that they are really ripe. If using frozen bananas, be sure to use all of the liquid that tends to separate as a result of freezing too and do not worry if they turned brown, that's perfectly normal.
*TAHINI: I did not find tahini flavour overpowering here, but if you prefer only just a subtle flavour to come through feel free to substitute some of the tahini with neutral flavour oil like olive oil, melted fragrance-free coconut oil or vegan butter.
I used a 2lb / 900 g cake tin of the following dimensions: 18.5cm x 8cm x 6cm. (I used one like this).
This banana bread recipe is an amalgamation of several of my earlier creations. If you like the concept but are unsure about tahini, how about this peanut butter banana bread?
NUTRITIONAL INFO
*per 1 out of 18 servings (includes chocolate)