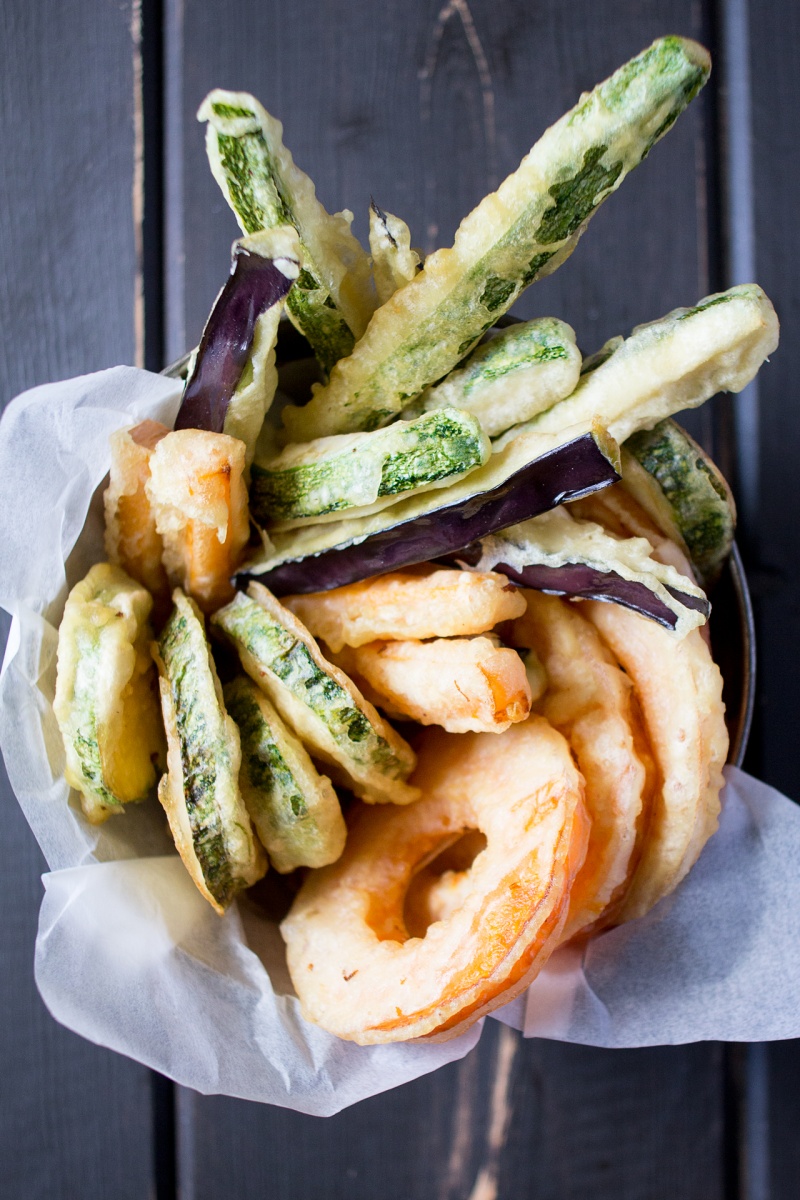 'Take your greasy mitts off my vegan tempura!', hmmm, sorry, I was talking to Duncan…He is always by my side when I decide to make something deep-fried (as I do not do it very often) and gets slightly miffed when I have the cheek to allocate less than perfect pieces to him. Poor Duncan, with all this food blogging and testing going on, he must be so underfed! As I shout at him, I suddenly get a childhood flashback to me and my bro doing much worse to my late grandma. I guess I'm off my moral high horse now…
I remember one particular incident that still makes my ears burn in shame. My gran was a great cook and she liked to entertain. She had a big group of friends who would come to her house for tea or dinner parties on a regular basis.
My brother and I loved these occasions as we always got to nibble on a nice spread of food. On one such occasion, my gran was making a spring green pea soup with delicious, crispy and salty butter-fried croutons as a starter. She fried a mountain of them and then moved on to other tasks. My bro, my cousin and I grabbed a bowl of them and hid under the dining table, which had a long tablecloth so gran had no idea where we were or what we were up to. The plan was to just eat a few croutons off the top and then re-arrange them so that no one noticed anything. The trouble was that these naughty croutons they were sooo addictive…
When the guests were about to arrive, gran started looking for the croutons to place them on the table. Next thing we know she started calling out for us. When she finally heard our whispers from under the table, she lifted the tablecloth and discovered the three of us, much less amused now, hugging an awkwardly empty ex-crouton bowl. She was "well mad" and we got in a lot of trouble. It was certainly the last time she allowed us anywhere near her famous dinner parties 🙁 .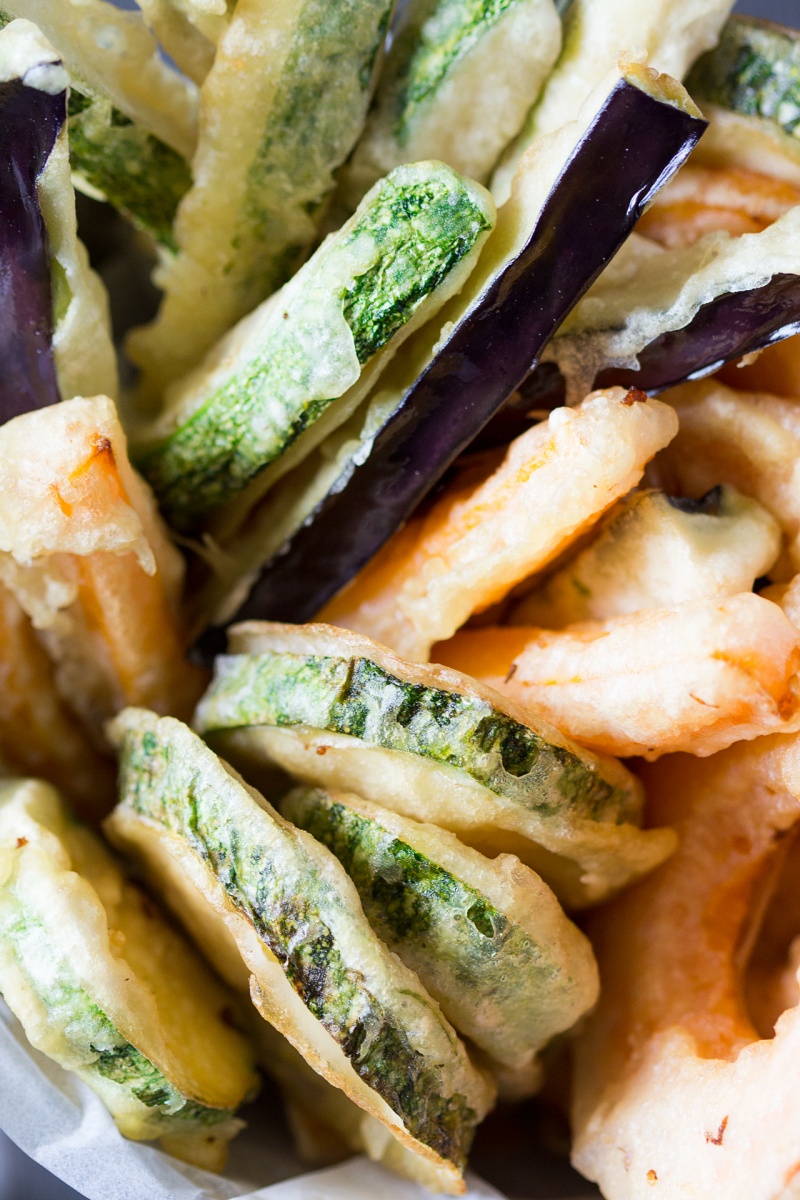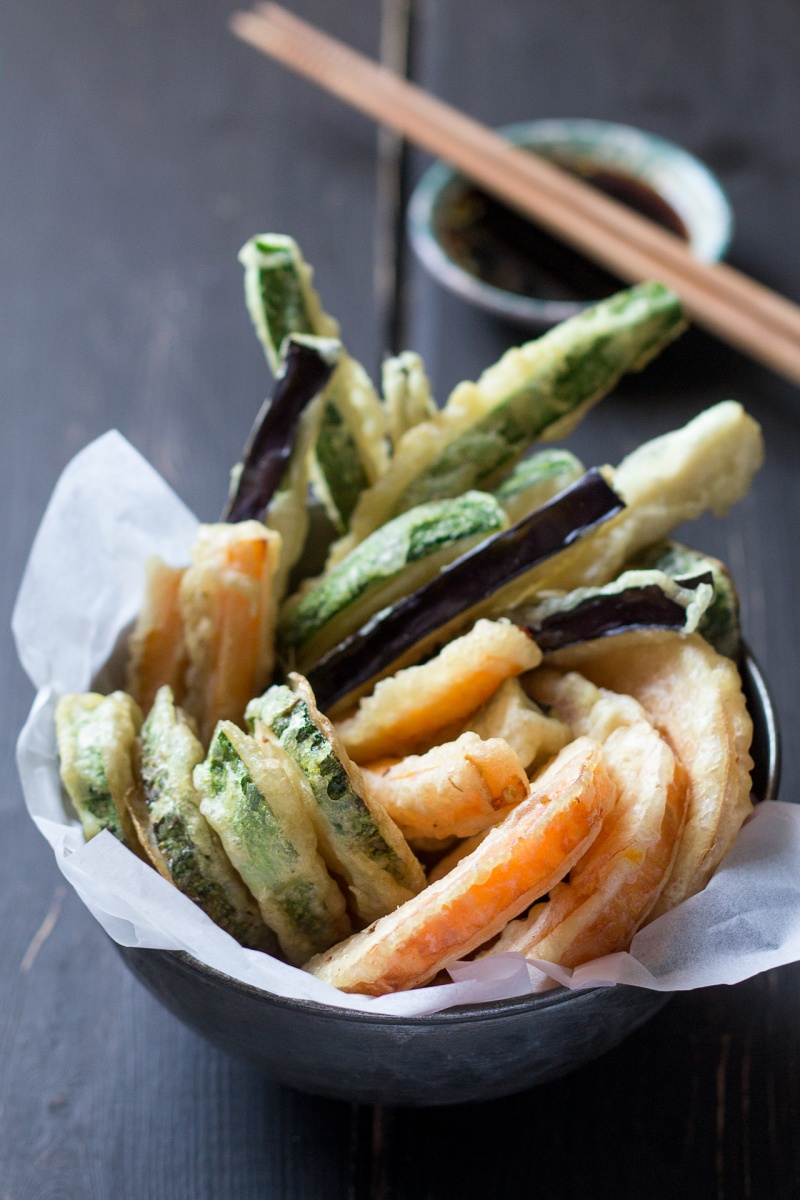 TEMPURA
1 small butternut squash or sweet potato, peeled
2 medium courgettes
1 medium aubergine
3 tbsp / 45 ml of fridge-cold, reduced aquafaba*
approx. 1 cup / 240 ml of fridge-cold sparkling water
1 tsp baking soda
2 tbsp cornflour / cornstarch, sifted
1½ cup + 2 tbsp rice or white cake flour, sifted + more for dusting
about 20 ice cubes
about 2 cups of neutral-tasting oil, for frying (I used sunflower oil)
DIPPING SAUCE
METHOD
Cut the vegetables into ½ cm / 1/8 in slices or ½ cm / 1/8 in wide matchsticks.
Spread some flour on a large plate to coat the vegetables in later. Prepare two fairly large glass or metal bowls. One should be a bit larger than the other so that you could nest the smaller bowl inside the larger one.
In a separate bowl, combine sifted cornflour, rice flour and baking soda.
In another bowl, combine all dipping sauce ingredients and set aside until later.
Pour oil into a small pot and set it on the stove on a medium heat. Allow it to come to temperature (170-180° C / 340-360° F) while you prepare the batter.
Place ice cubes at the bottom of the large bowl. Rest smaller bowl on top of the ice cubes. Put cold aquafaba into the small bowl and whisk it with a hand whisk until frothy. Add fridge cold sparkling water to the aquafaba, then mix in cornflour, rice flour and baking soda with a hand whisk to achieve a runny (crepe-like) batter. If using a flour with gluten as opposed to rice flour, be very careful not to overmix the batter or else your batter will end up heavy. Mix in very gently with a pair of chopsticks and ignore any lumps you may end up with – tempura batter made with gluten flour should be lumpy.
Drag each piece of vegetable in a little flour first and then immerse it in cold batter.
Once the oil comes to temperature, test it by dropping a piece of tempura in it. If the tempura drops to the bottom but comes up right after that, the oil is at the correct temperature. If the vegetables do not drop to the bottom at all, the oil is too hot. Depending on the size of your pot and vegetables, fry 2-3 pieces at a time. It is important not to overcrowd the pan or else you'll end up with greasy tempura.
Cook tempura for 1-2 minutes (depending on thickness and hardness of the vegetables – courgette cooks quicker than butternut squash, for example) and then turn and cook for another 1-2 minutes – until both sides are lightly browned. Once they achieve the desired colour, fish them out with a slotted spoon and place them on a piece of paper towel to drain any excess oil.
Serve straight after frying with a dipping sauce on the side.
NOTES
*Aquafaba (AF) or bean brine is leftover cooking water from cooking most legumes. I use chickpea water and have not tried using any other type yet. You can get it from a can of low sodium chickpeas or make your own. In this recipe, I used tinned AF, but when making sweet recipes I always make my own to avoid added salt. When making your aquafaba, soak dry chickpeas in lots of water overnight, rinse and put in a large pot with lots of water. Bring to the boil and then simmer for about 1 hour (until beans are soft). Remove cooked chickpeas with a slotted spoon and what's left in your pot is aquafaba. If it is too runny (ideally it should resemble egg whites), you can concentrate it a bit by simmering it on a low heat (without a lid) until it reaches the desired consistency. Cool it down and refrigerate for a few hours before using. It is particularly important in this recipe, as the key to light and crispy tempura is very cold batter.