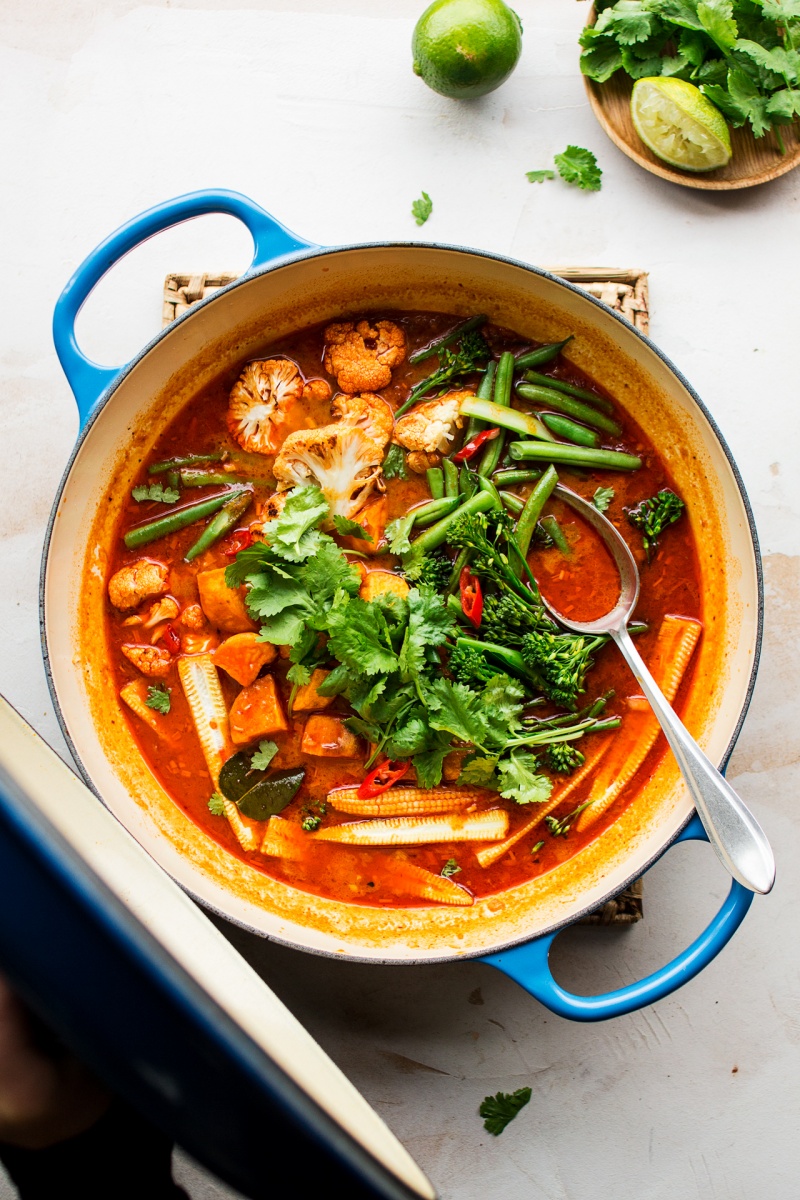 I don't know about you, but I'm happy to be seeing the end of this week as it has not been good for me at all. I've been feeling really exhausted and low. My usual coping strategies are not really working and given my history with depression and intermittent anxiety issues, I am only hoping this state of mind is not here to stay.
At times like these, self-motivating is exceptionally hard and I sometimes wish I was still working in an office where I simply clock in and out and I have a bunch of colleagues to talk to. While blogging about your favourite subject for a living feels like an amazing privilege most of the time, there certainly are times when I feel like I have very little to give and it's the last thing I want to be doing.
While editing photos for this recipe, I've been listening to one of my favourite podcasts, the Guilty Feminist (which never fails to make me laugh out loud) and they were discussing the subject of jealousy. One of the guests mentioned how social media gives the impression that everyone is having a much better time than you and how that makes you feel somewhat isolated and inadequate. That has been totally me this week. Not so much being jealous of any one person in particular, but just having a general feeling that everyone has their stuff figured out and I don't.
They also pointed out that while you may feel like that about other people's lives, there is always someone who feels that way about you! So to set the record straight, if you ever think that me or any other blogger out there leads this fantasy lifestyle filled with unicorns, cat hugs (okay, I do get a fair share of these as my cat is very affectionate), rainbow-coloured food, latte meet-ups with cool people in trendy locations, don't be fooled! While blogging certainly can afford you some of that some of the time, it's also a lonely pursuit involving constant washing up, lots of failures that no one is there to see, lots of procrastination, self-doubt and a sparse amount of human contact. Coupled with being new to a city, it can really make you feel very alone at times.
To lift myself out of this funk, I've decided to cook up something bright and full of flavour. As I've started the week off with a vegan version of the famous Thai corn fritters, I already had my fridge stocked with Thai red curry paste, fresh lemongrass and fragrant lime leaves, so I've decided it would be prudent to put them to another use.
So on the menu today is another Thai restaurant classic – Thai red curry bursting with a variety of vegetables, which you should feel free to swap for anything you have handy. The cool thing is that when combined these two would make a great dinner party menu if you are planning on any entertaining. They are both easy to make and are massive crowd pleasers. I hope you'll make at least one of these dishes and its vibrant colours and flavours will brighten up your day a little too.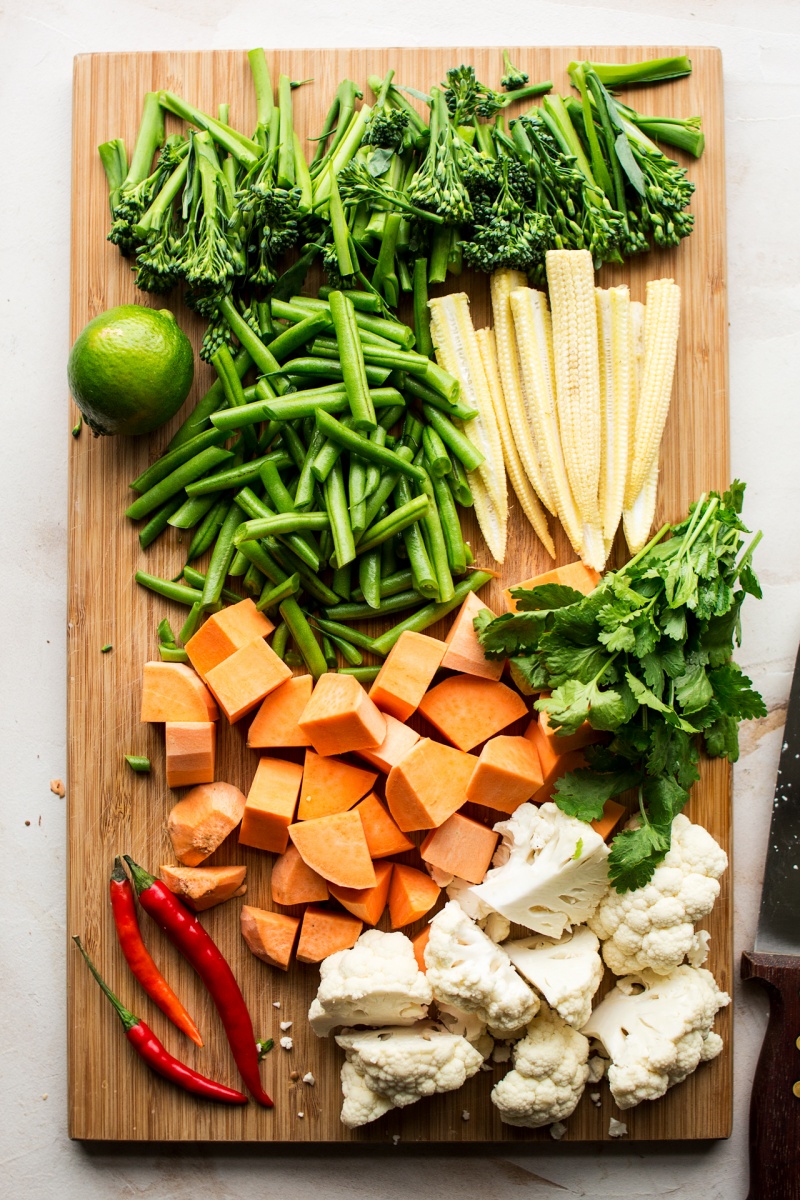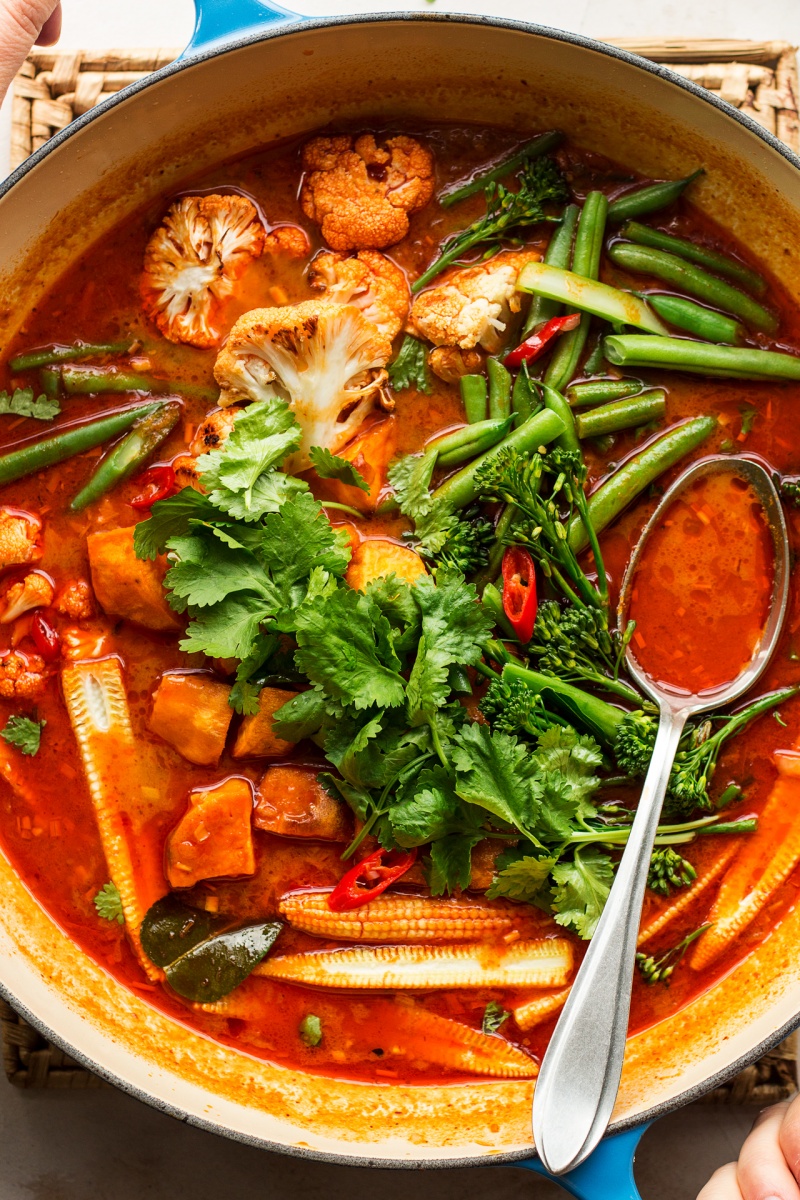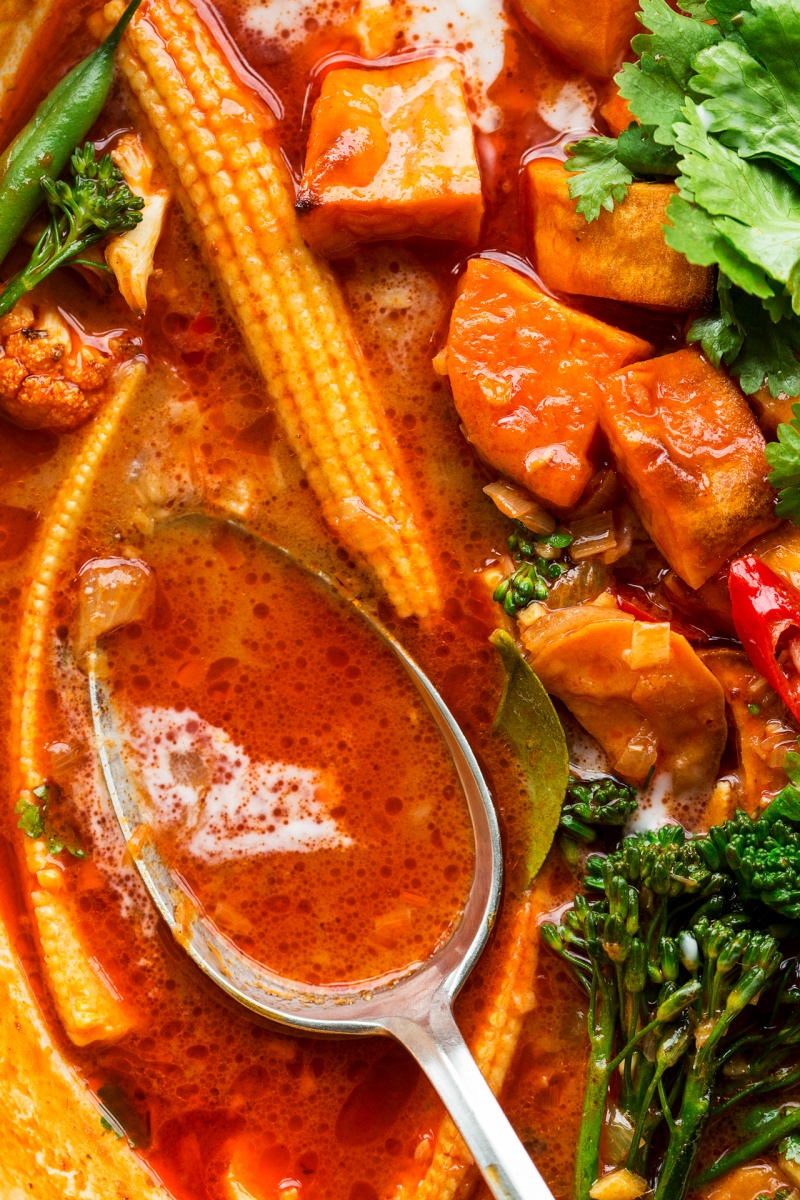 1-2 tbsp / 15-30 ml neutral tasting oil (I used rice bran)
2 medium shallots, diced finely
4 garlic cloves, diced finely
thumb-size piece of ginger, diced finely
2 stalks of lemongrass, soft inner part chopped finely
2-3 tbsp vegan-friendly Thai red curry paste, depending on the brand and your heat tolerance
400 ml / 14 oz coconut milk (from a tin)
2 fresh Makrut (aka Kaffir) lime leaves*
360-480 ml / 1½-2 cups veggie stock (or water)
1 sweet potato, cubed
100 g / 3.5 oz fine green beans, cut into 2-3 segments
¼ cauliflower, divided into medium florets
100 g / 3.5 oz tenderstem broccoli, cut into 3 segments
100 g / 3.5 oz baby corn, halved
1 tbsp tamari or soy sauce or vegan fish sauce, more to taste
juice of half a lime
1 tsp sugar (I used coconut sugar)
fresh coriander, to serve
METHOD
Heat up the oil in a heavy-bottomed pot.
Add the diced shallots and fry them on a low heat until almost translucent (for about 5-7 minutes), stirring from time to time.
Add the diced garlic, ginger and lemongrass. Keep on frying gently for another 5 minutes or so, stirring regularly. If the pot gets too dry, add a small splash of stock or water.
Mix the red curry paste into the aromatics and keep on frying it off gently for about 3 minutes until you see the oils separating.
Stir in the milk (you can use low-fat coconut milk if you want the curry to be skinnier).
Finally add in the lime leaves and stock (or water). Start off with 360 ml / 1½ cups of stock and add more to achieve the desired consistency. Traditionally this curry sauce is fairly thin and soupy in consistency.
Allow the sauce to come to a gentle simmer.
Season with tamari (soy sauce or vegan fish sauce), lime juice and a touch of sugar (if needed). If you can, allow the curry flavours to develop overnight as it always tastes better the day after it has been made. If you are making this dish a day in advance, I recommend not cooking vegetables until just before serving.
In terms of the veggies, you could simply cook them in the simmering curry, but that gives you less control over the 'doneness' of the individual elements and it affects the colour of the greens. Put the potato in first (takes about 12 minutes) and cover the pot with a lid. After 6 minutes, add in the beans and cauliflower. After another 2 minutes add in the tenderstem broccoli and halved baby corn and continue simmering (with the lid on) for another 4 minutes or so.
Another way to cook the green veggies, which I personally like as it preserves their vibrant colour and allows you to control crispness better, is to steam them. I steamed my beans for 2 minutes, then added the tenderstem broccoli and continued for 2 more minutes.
Serve on top of plain rice garnished with fresh coriander.
NOTES
*A kind reader pointed out to me that the word Kaffir is a racial slur (
here is one article
explaining the issue) and therefore there is a motion to start calling these limes by their Thai name, Makrut. The trouble is that the former name is so entrenched that it is what you will find on the packaging, at least here in the UK, so I feel like I've had to include a reference to it or else you will not know what ingredient I'm talking about.