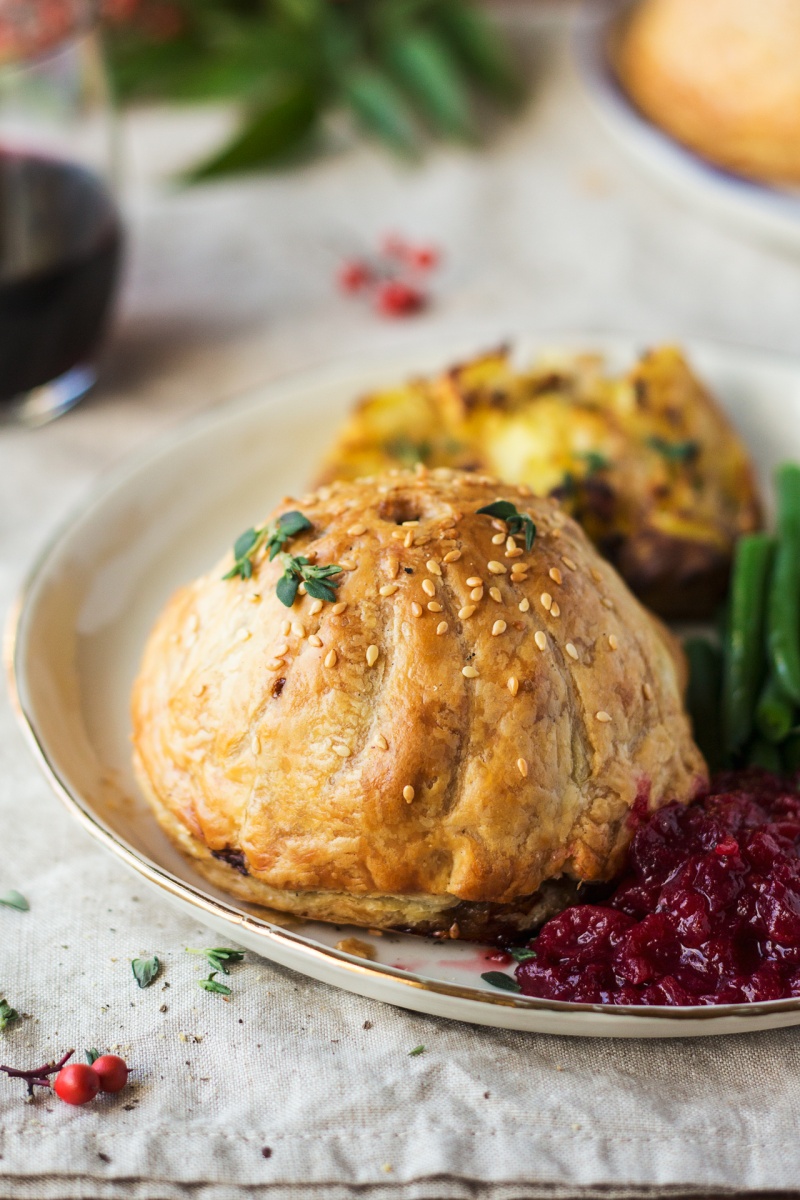 Is anyone else finding it hard to cope with these super short and dark days? I do big time, I must admit. I've been generally struggling with my mood lately, but the lack of sunlight is definitely not helping. I notice that on the rare days when the sun is shining I am instantly feeling better, so there is definitely some connection here. Well, short of moving to a different part of the globe ('no more!!' I cried some time ago), there is not much one can do other than wait for spring, I guess. I'm still doing the running 4-5 days a week and that's definitely helping my mood, but it can only do so much.
It's just as well that I've ramped up my running, as with Xmas only a month away, I start to gravitate towards comfort foods and I'm experiencing an unusual (for me) dislike for salads, unless they are warm (so not really salads at all 🙂 ). This little dish of mini pithiviers (French pies) might come in handy for those of you who are celebrating Thanksgiving tomorrow and are expecting some vegan guests – I bet they will be really happy to be offered these little parcels of plant deliciousness in the place of turkey.
They are also quite handy if, like us for Xmas, you are going to bring your own food to a non-vegan friend's house. They travel well and their number can be easily scaled up or down depending on how many people you are catering for. They are quite cute and because of their diminutive size they take very little time to heat up. They go well with cranberry sauce, balsamic glaze or a vegan gravy and all the usual trimmings. I can promise you that they will leave you satisfied but not so overly full that you'll go into a food coma straight after eating and kill the party mood 😉 (based on a true story…)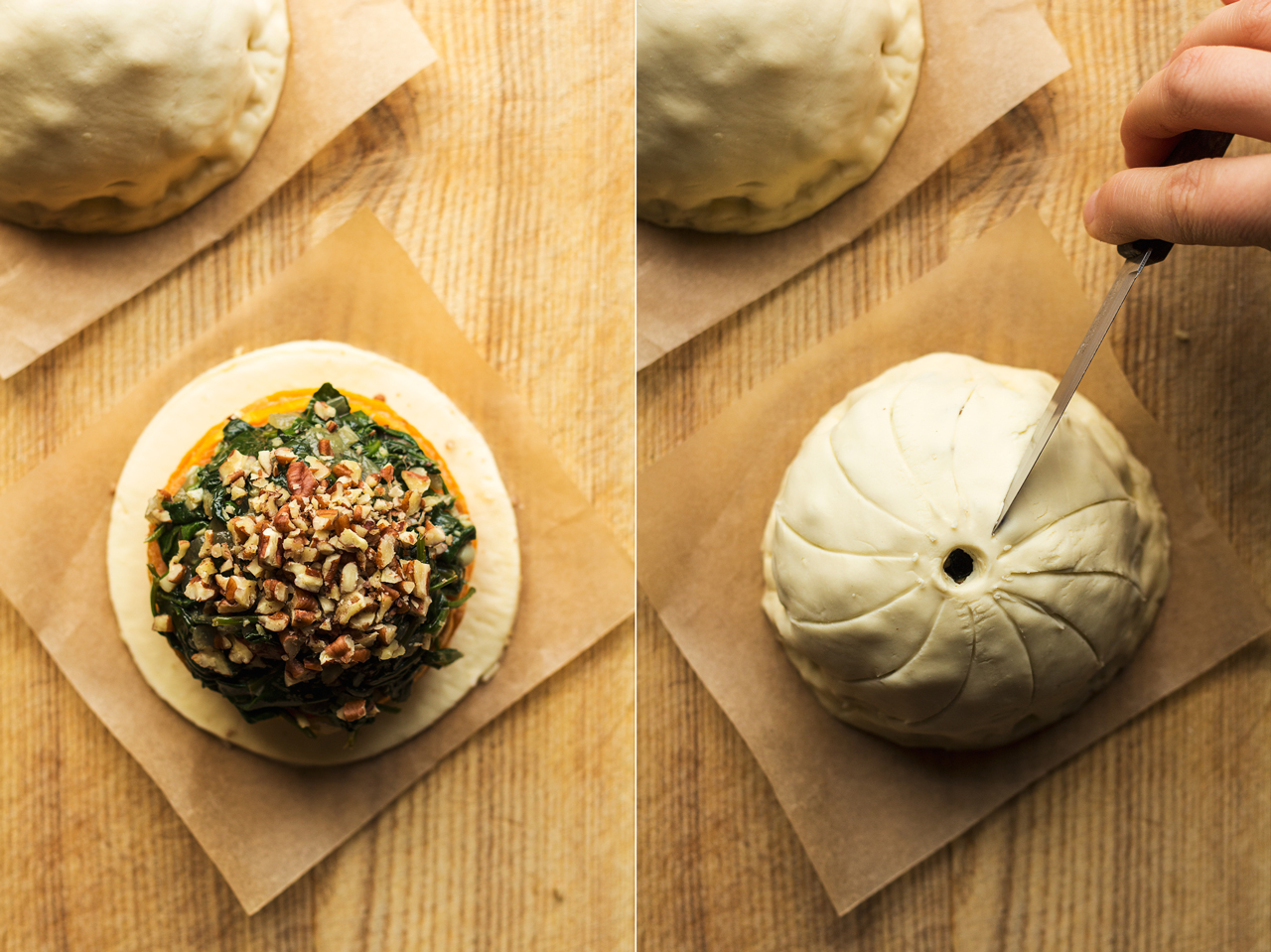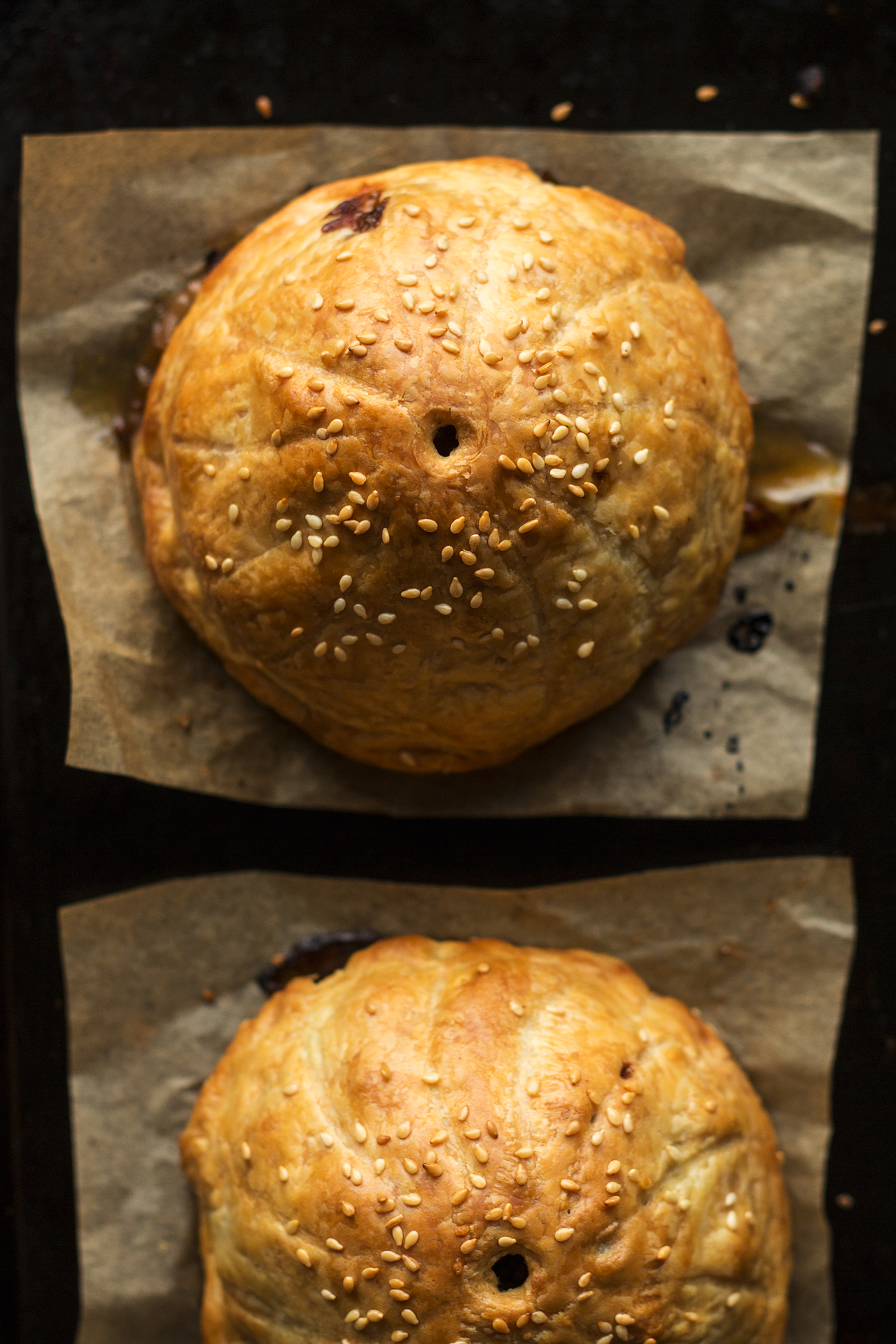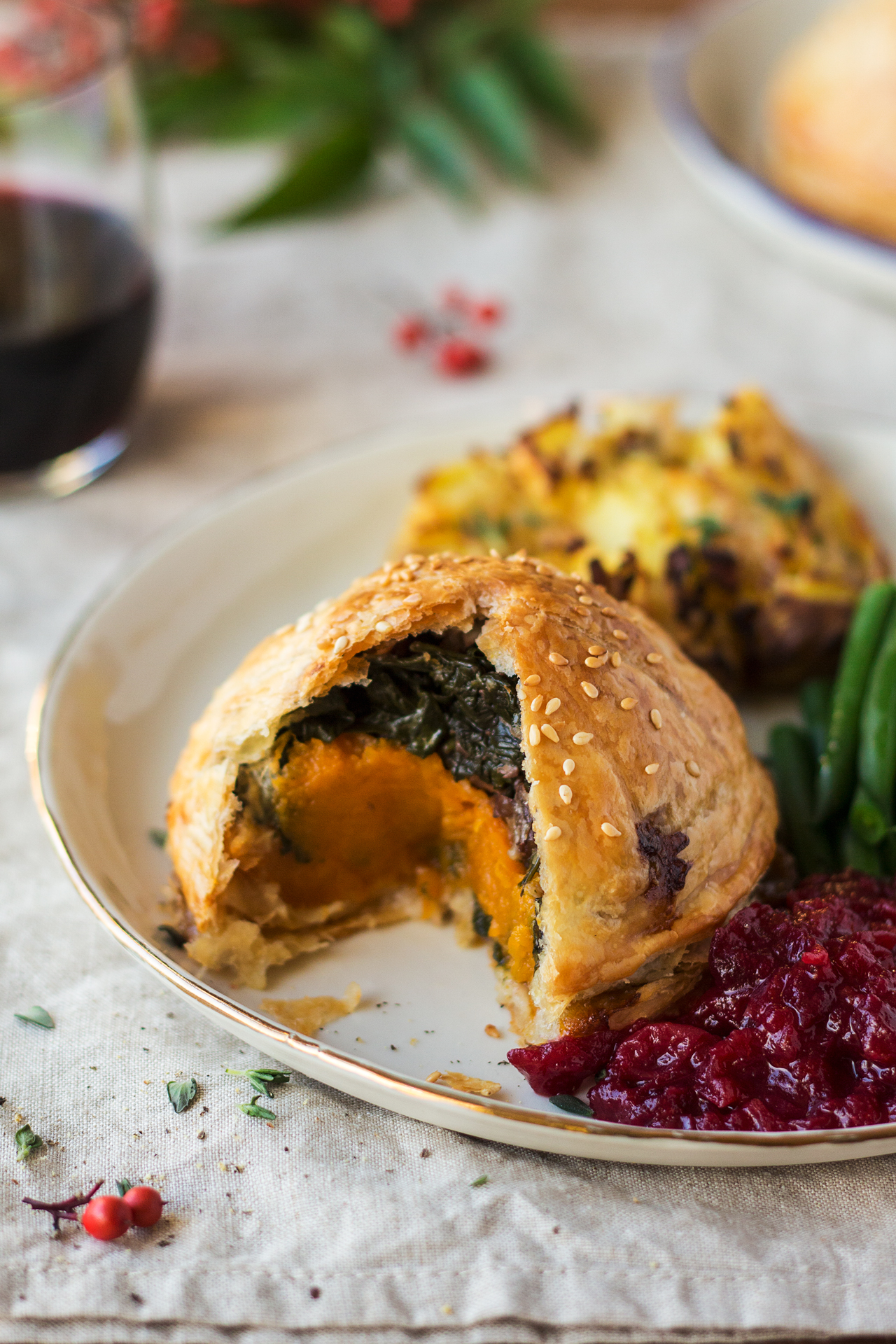 300 g / 10.5 oz solid part of butternut pumpkin / squash or sweet potato*
2 tbsp olive oil
2 small shallots, finely diced
2 garlic cloves, finely diced
a few springs of thyme, leaves picked or two pinches of dry thyme
salt, to taste
200 g / 7 oz (weight assumes leaves only) spinach
black pepper, to taste
a good pinch of nutmeg
1 sheet vegan puff pastry**
2 tbsp breadcrumbs
2 tbsp chopped pecans
1 tbsp plant milk (soy milk works well), to glaze
METHOD
FILLING
Heat up the oven to 200° C / 390° F (or 180° C / 355° F on a fan setting) and line a baking tray with a piece of baking paper.
Peel your butternut pumpkin / squash or sweet potato and cut it into 1.25 cm / 0.5″ thick slices.
Brush the slices with olive oil and pop them on the prepared tray. Bake for about 20-25 minutes, until the slices are soft and lightly caramelised. Allow to cool and season well.
Heat up 1.5 tbsp of oil in a heavy bottomed pan. Add the finely diced shallots and fry on a low-medium heat until gently caramelised. Add the chopped garlic, thyme and a pinch of salt. Stir-fry until softened and fragrant.
Add in the chopped spinach and allow the spinach to wilt into the pan. Season with salt, pepper and a dash of nutmeg.
Once the spinach has wilted, allow all the moisture to cook out gently. Cool the mixture off.
ASSEMBLY
Cut two smaller circles (about 10 cm diameter) and two slightly larger ones (about 12 cm diameter) out of a sheet of puff pastry. I used two upside down bowls as a guide, running a knife alongside the outer edge. The smaller circles will form the bottoms of your pithiviers and the larger ones will become the top.
Sprinkle the breadcrumbs on the surface of the smaller circles leaving a small margin all around for sealing the pastry.
Place a circle of roasted butternut squash on top, follow by a pile of spinach and top with a generous layer of chopped pecans.
Drape the larger circle over the filling to create a dome, sealing it with the end of a fork or your fingers all along the base.
Make a pronounced hole in the top of the dome to allow the steam to escape during baking. With the blunt side of a pairing knife, make shallow incisions (take care not to pierce the pastry) that go from the bottom of each pithivier to the top, following a slight curve.
Place them in the fridge for 30 minutes while you heat up the oven to 200° C / 390° F.
Brush the pithiviers with a little plant milk and optionally sprinkle with some coarse salt, sesame seeds, poppy seeds or nigella seeds.
Bake for about 30-40 minutes, until the pastry is beautifully puffed and golden. Serve with a cranberry sauce and your favourite side dishes.
NOTES
 *It's a good idea to pick a butternut pumpkin / squash or sweet potato that is quite thick so that the dense part is roughly 9 cm in diameter when sliced. If that's not available, that's okay too (and you could totally use a different type of dense pumpkin too) – simply fashion the base from a few different pieces that weld nicely together.
**I know that Jus-Rol and Pepperidge Farm are definitely vegan and that Dufour definitely isn't. If in doubt, check the packet for more details.