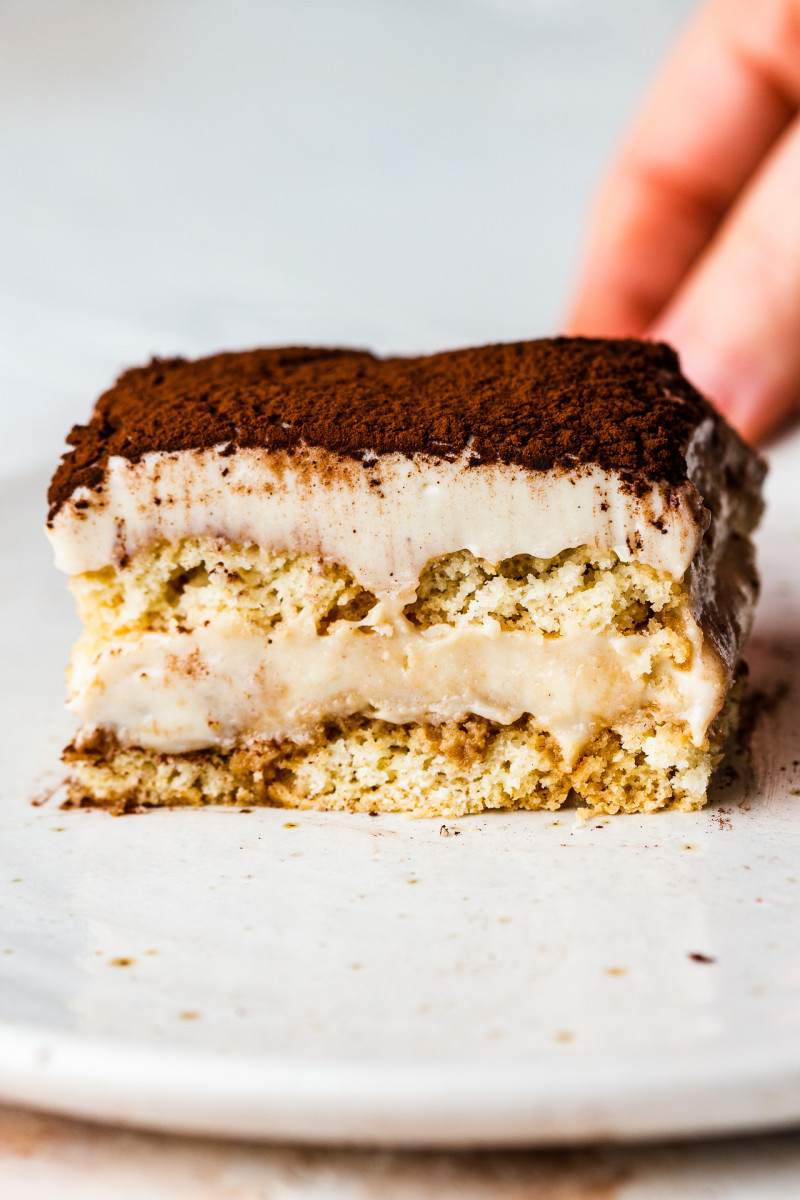 It's a big day in the Lazy Cat Kitchen household as finally, after about a year of tinkering, we are launching a new version of this website. If everything goes to plan, you should be looking at it by the time this recipe is live. I am a bit nervous, I won't lie.
It was a big job and we somehow didn't divorce over it, although it got tense a couple of times 😉 . There are so many things to do and think of when doing a job like that. I am lucky as I am married to a web developer extraordinaire with an admirable amount of tenacity but despite having such a first class level of IT expertise in the house, the job was still stressful as we were both tackling it alongside our day jobs. It put a lot of pressure on us and made other chores (DIY mostly) suffer. We are glad to be finally crossing the finish line.
We have listened to your feedback and introduced some improvements to the layout, legibility and added nutritional information to all our recipes – something that Duncan beavered away at for hours while I plied him with hot beverages and snacks 🙂 (we played to our strengths, what can I say?). We hope you like this new version of our site and find it a pleasure to use.
Meanwhile, after last week's recipe for vegan lady fingers, I promised you a dessert featuring these and I'm pretty sure most of you guessed what I was talking about…Being a massive coffee aficionado, I've had to correct an oversight of there being no tiramisu recipe (apart from these tiramisu jars) on the blog thus far.
This tiramisu uses my vegan lady fingers as a base, but you could also make a drier sponge and use that instead. For the cream, I used a combination of silky tofu and cashews, which while lush and creamy once blended, do ideally need to be stiffened a little. You have two options here, either deodorised (which means no coconut aroma or flavour is present) coconut oil or agar agar powder. Both of them work well with the first one being more indulgent than the latter. It's not that fussy to make and the result is well worth it, it makes for a perfect dinner party dessert.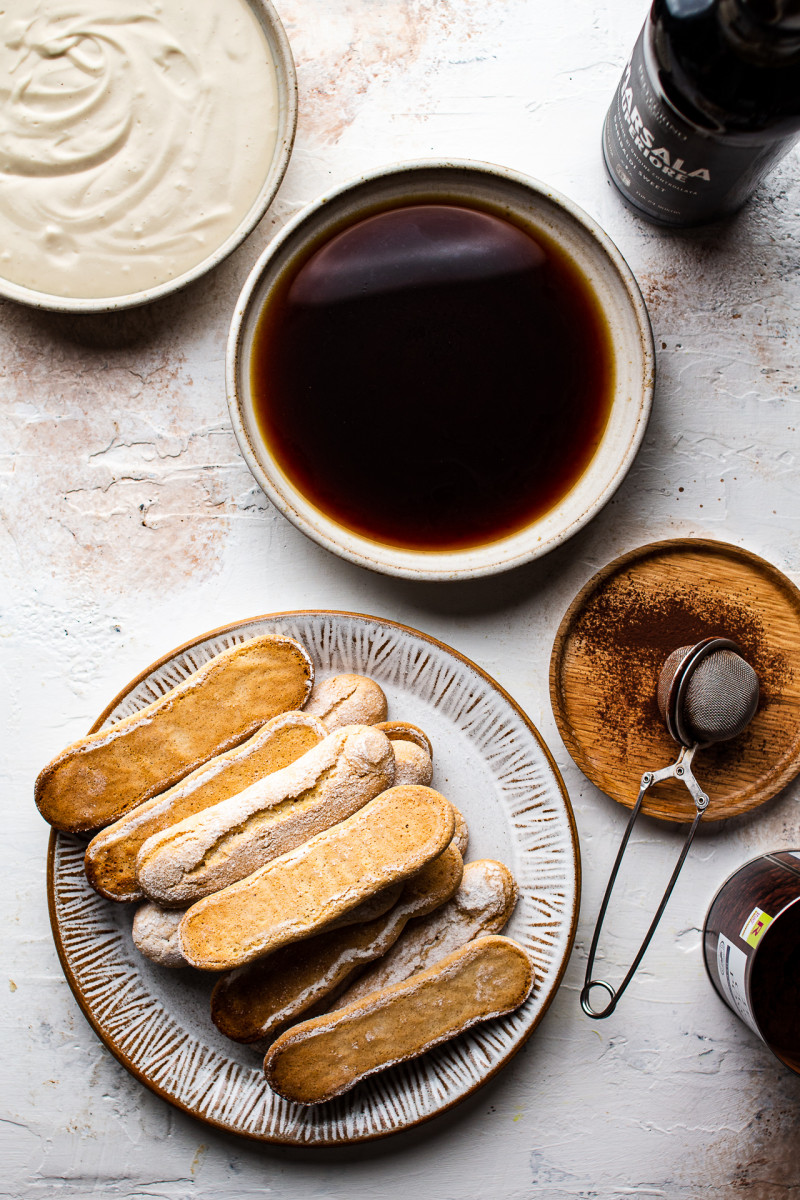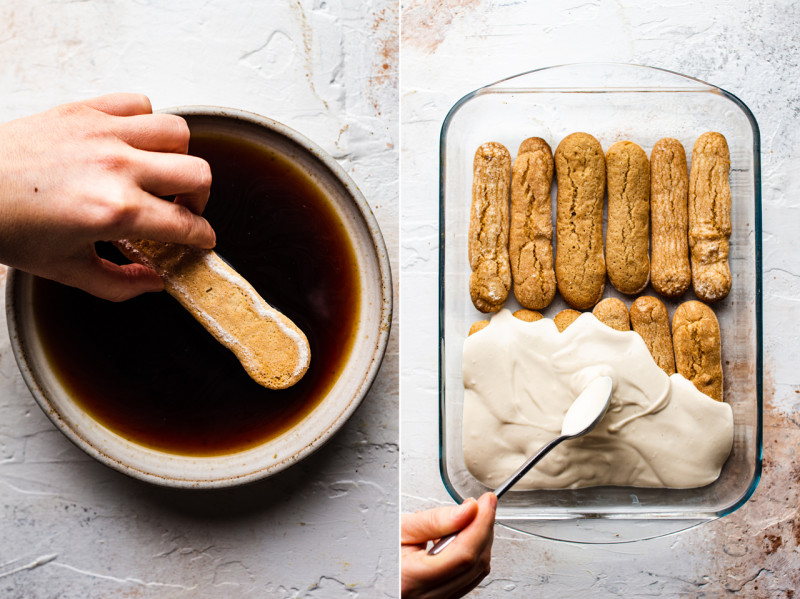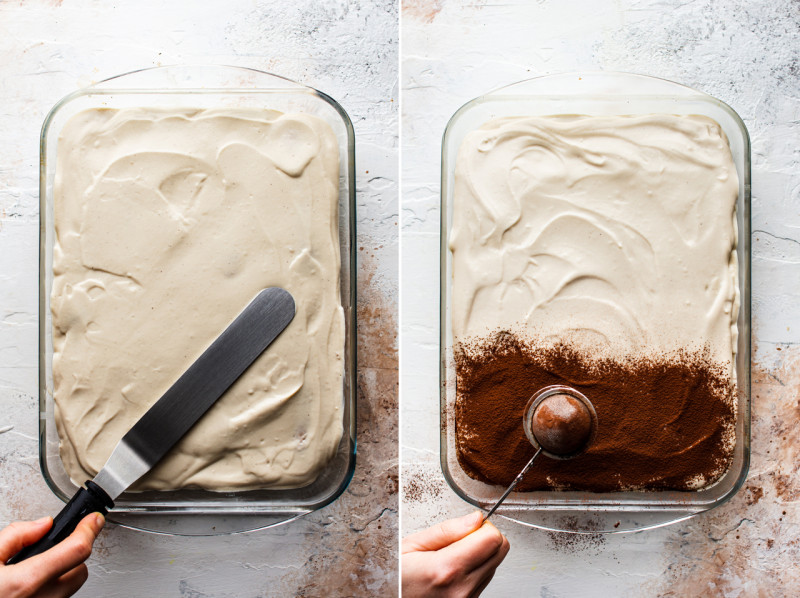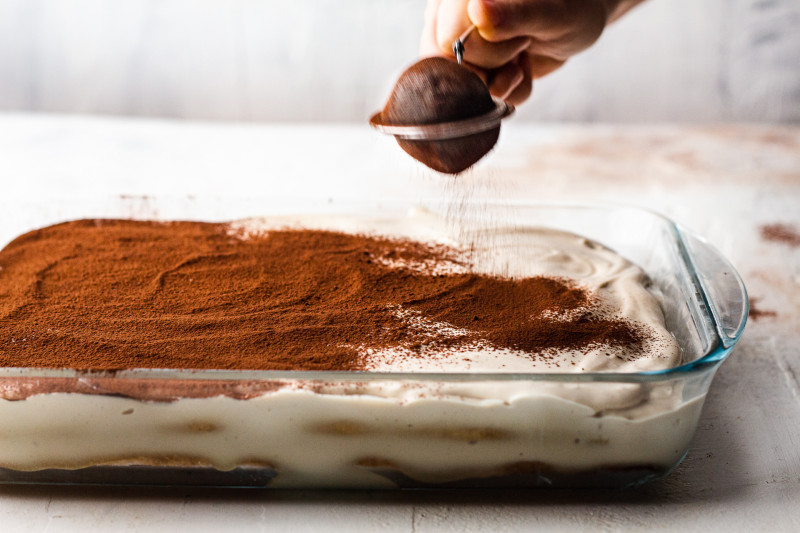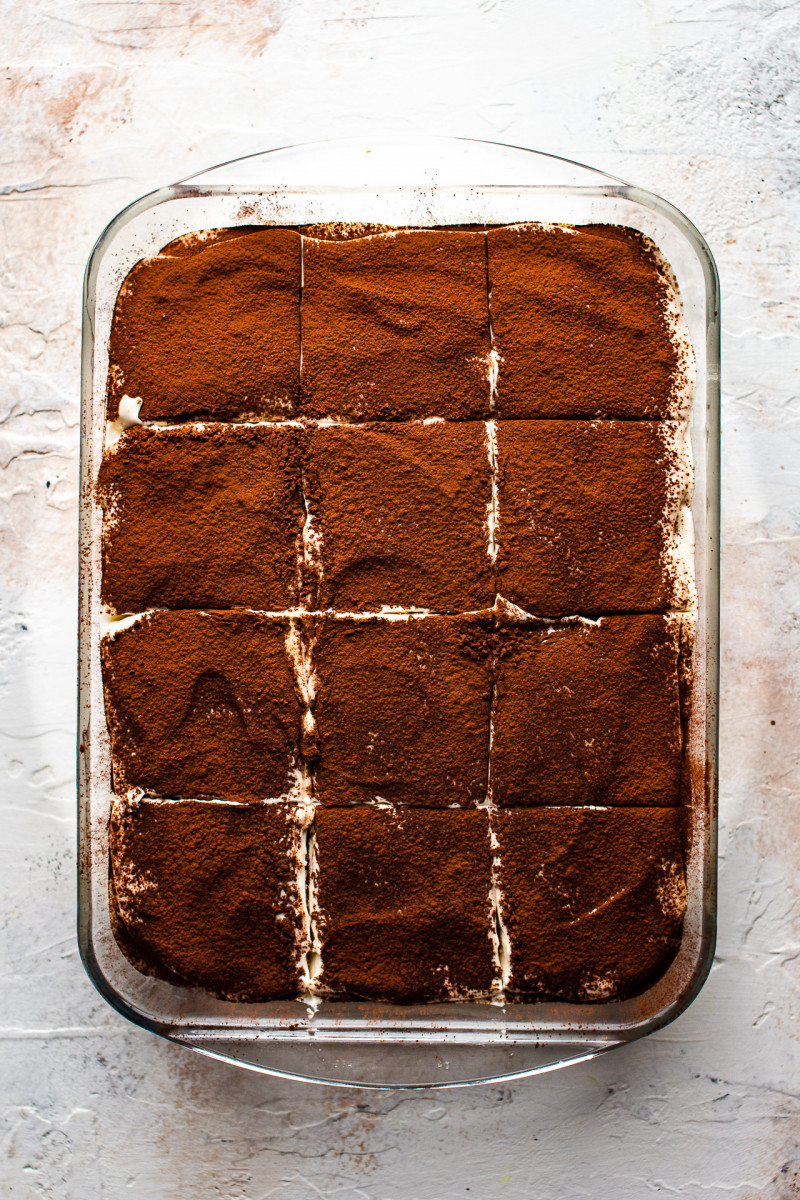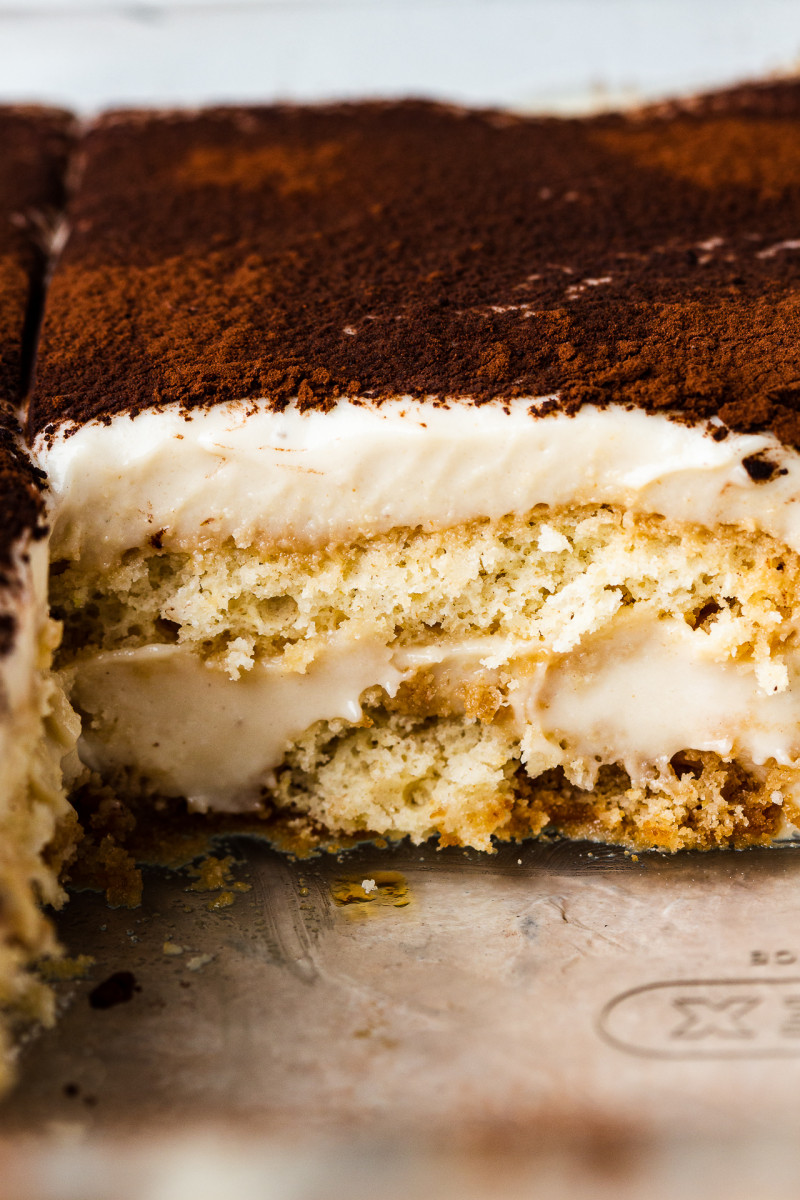 COFFEE MIXTURE
240 ml / 1 cup strong coffee*
30-45 ml / 2-3 tbsp sweet Marsala wine*
CREAM
METHOD
COFFEE MIXTURE
Mix cold coffee with alcohol and pour into a shallow dish. You could sweeten this soaking liquid if you wish, but I don't as the other two components of the dessert provide enough sweetness.
CREAM
Place drained tofu at the bottom of the blender followed by half of the cashews and the rest of the ingredients (apart from cocoa powder). Once blended, add the remaining cashews and blend until smooth – use a tamper or a silicone spatula to help the blender churn from time to time. You may want to add some lemon juice (if liked), I personally did not feel that it was needed.
Stiffen the cream by blending in melted coconut oil/vegan butter OR agar agar powder activated in 150 ml (½ cup + 2 tbsp) water (see NOTES on activating instructions). Refrigerate until ready to assemble.
ASSEMBLY
Dip each lady finger in the coffee mixture briefly. Arrange a layer of coffee dipped lady fingers at the bottom of the dish. Drizzle a small amount of coffee on top, but not too much as you don't want the lady fingers to disintegrate completely after resting.
Spread half of the cream on top, followed by another layer of coffee dipped lady fingers. Again, drizzle a small amount of coffee on top.
Spread the rest of the cream on top and allow the dessert to set overnight at least (two nights is best).
Dust with cacao powder, cut and serve (chilled).
NOTES
*LADY FINGERS: They can be made a week or two in advance and stored in an air-tight container. Alternatively, you could also make a
regular vanilla sponge
.
*COFFEE: I brewed 30 g of dark roast coffee in 240 ml / 1 cup of water. You could also use 2-3 espresso shots or approx. 2-3 tbsp instant coffee instead.
*MARSALA WINE: You could use rum, brandy, whiskey, any coffee-flavoured liqueur or Amaretto instead. If you don't want to use alcohol, you could skip it or replace it with a few drops of almond extract, for example.
*CASHEWS: Should be soaked overnight or for at least 30 minutes in boiling water.
*ICING SUGAR: You could use softened dates instead. If you were to use a liquid sweetener (like maple syrup), it would make the cream too loose.
*AGAR AGAR POWDER: To activate agar agar powder, place it in a small pot with 150 ml (½ cup + 2 tbsp) water and set aside for 10 minutes to rehydrate. Next, bring the two to a simmer (stirring the whole time) and allow it to simmer for 60 seconds to activate. Once activated, immediately add to the cream. Agar agar powder can theoretically be replaced by agar agar flakes but you'll need to triple the volume as they are 3 times less potent and I generally do not like using them as they never fully dissolve, in my experience.
*The Pyrex dish I used had the following dimensions: 30 cm x 22 cm (12″ x 8.5½), but you could also use a square 25 cm (10″) dish for a slightly taller tiramisu.