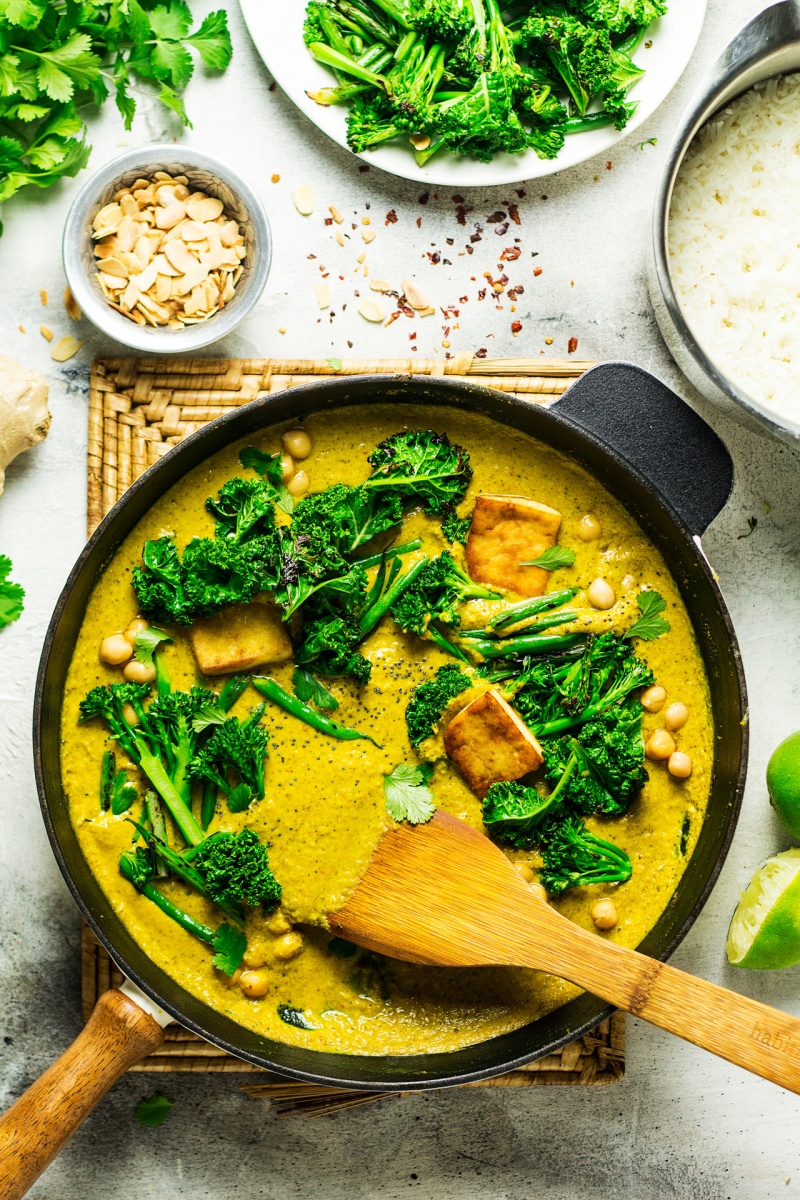 Greetings from crazily cold Poland, guys! As luck would have it, the moment I set my foot in Krakow the temperature dropped to an all new low. It oscillates around -8° C (17° F) during the day and -15° C (5° F) at night, which given that I have not lived here since my early twenties, I am really not cut out for anymore.
I stayed at my parents' house over the weekend. I spent most of the time cooking lots and going to the movies with my mum, whose love for cinema isn't shared by my dad, so usually she has no company. I was more than happy to oblige so we saw three films over the last two days. It was a fun way to get out of the house yet get out of the freezing cold too.
Today's post is a vegan version of a classic Indian curry called a korma. Some of you may know it as a rather sweet tasting curry, which is often what is offered as a korma in most British curry houses. I'll admit, I am not a fan as I find this kind of curry too sweet and heavy. My version, which is an amalgamation of a few classic recipes, isn't overly sweet yet, like a traditional korma, it's fragrant with spices and nutty from the almond and coconut base. I paired it with pan-fried tofu and a bunch of greens. When paired with rice or naan bread, it makes for a great midweek meal.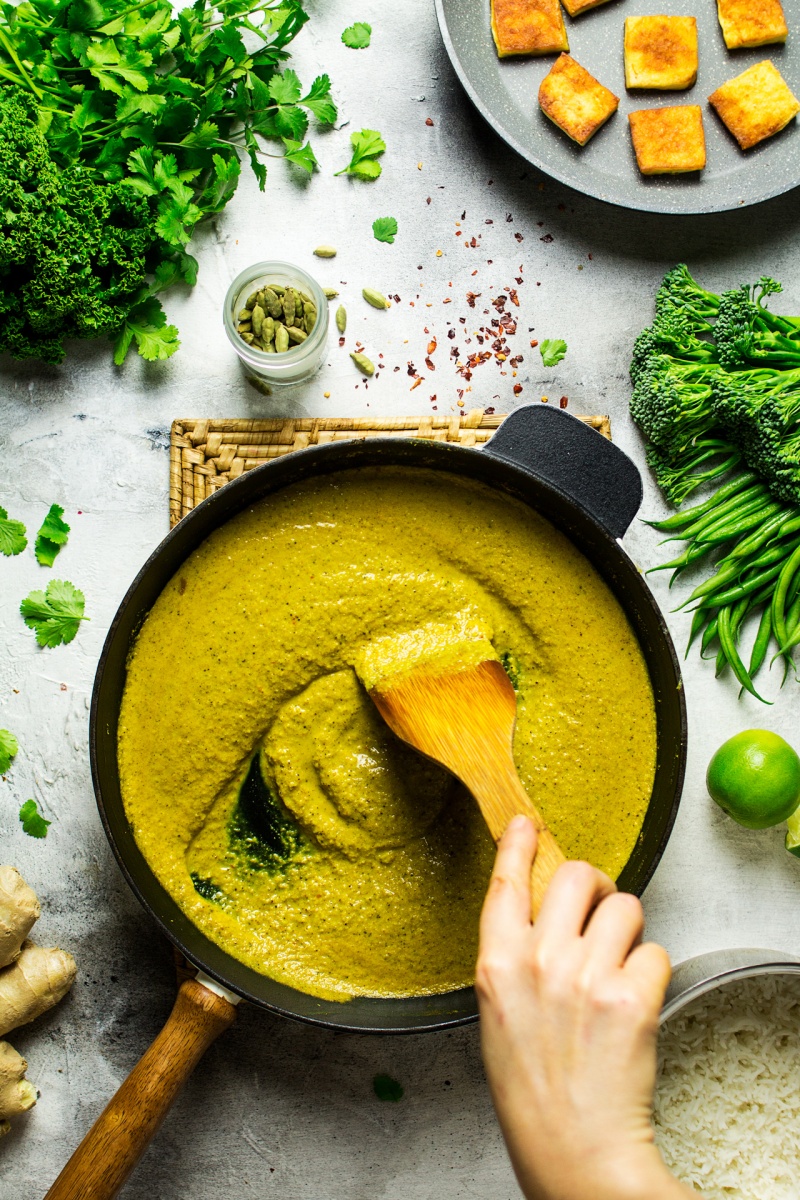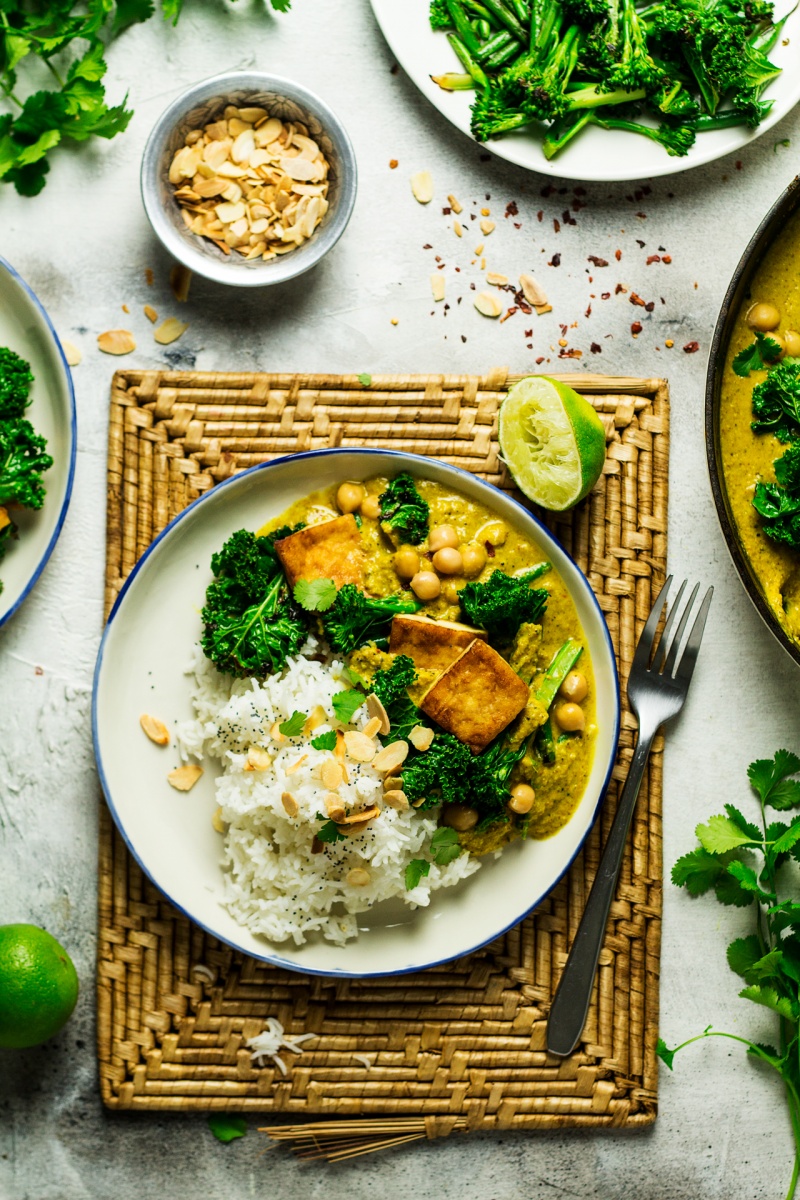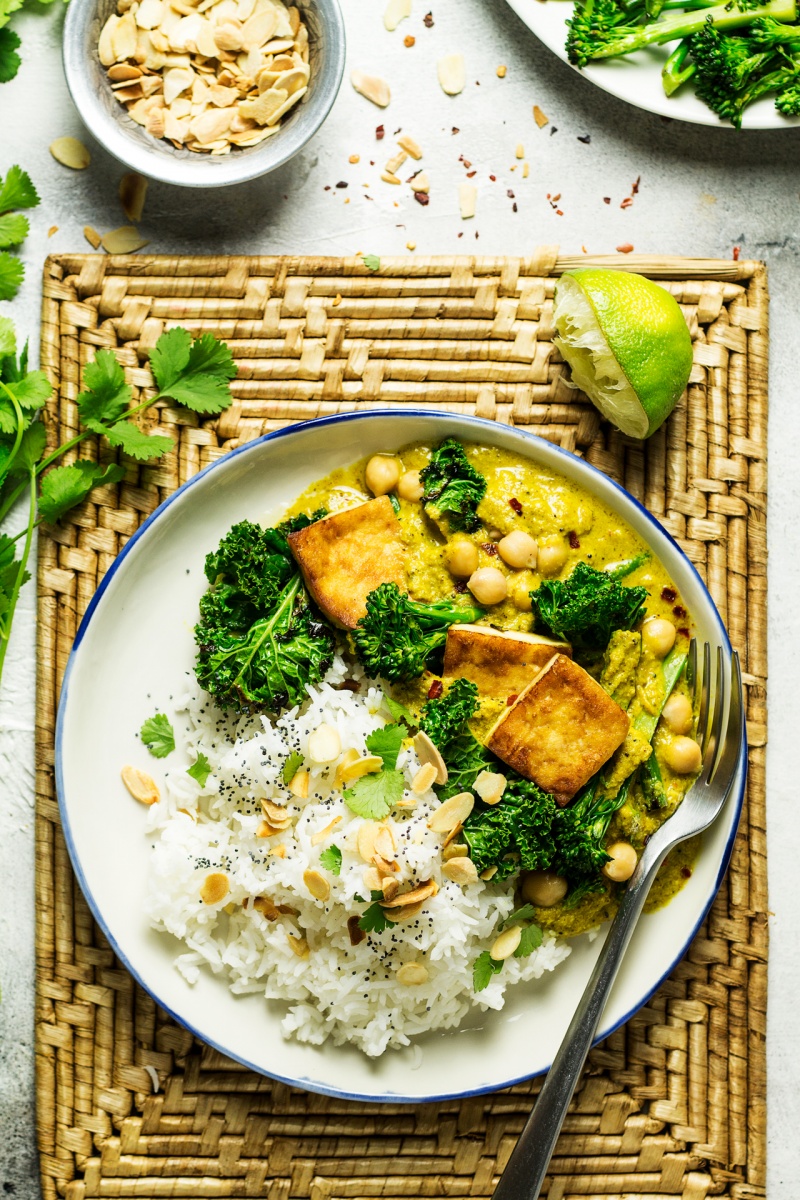 CURRY SAUCE
20 g / ¼ cup desiccated coconut
20 g / ¼ cup blanched almond flakes + more for serving
1 tbsp poppy seeds
2 tbsp oil (I used rice bran oil)
1 yellow onion, finely chopped
4 garlic cloves, finely chopped
30 g / 1 oz fresh ginger, finely chopped
½ tsp cinnamon
1 heaped tsp turmeric
8 dried curry leaves
4 green cardamom pods, seeds crushed
1 tsp ground coriander
¼ tsp ground fennel seeds
1/8 tsp ground cloves
½ tsp ground cumin
1 heaped tsp garam masala
1/8 tsp grated nutmeg
¼-½ tsp hot chilli flakes, adjust to taste
about ½ tsp fine sea salt, adjust to taste
1-2 tsp maple syrup or sugar
juice of ½-1 lemon or lime, adjust to taste
coriander leaves for serving
OPTIONAL ADD-INS
200 g / 7 oz tender stem broccoli or kale or fine green beans (or a mixture of all three)
200 g / 7 oz firm or extra firm tofu, pressed
30 ml / 2 tbsp soy sauce or tamari
165 g / 1 cup cooked chickpeas
2 cups rice, cooked
2-4 tbsp vegan yogurt, to serve
METHOD
Place the first three ingredients in a small bowl and cover with boiling water, set aside for at least 30 minutes (you could also soak them in cold water overnight).
Heat up oil on a medium heat, in a heavy bottom pan. Once the oil is hot, add the finely chopped onion and allow it to get almost translucent.
Add garlic and ginger. Cook for 2 minutes, stirring frequently so that the ginger does not stick to the pan.
Reduce the heat to low and add all the spices: cinnamon, turmeric, curry leaves, cardamon, coriander, fennel seeds, cloves, cumin, garam masala, nutmeg and chilli. Mix the spices into the aromatics. Fry the mixture off gently for a few minutes until all the spices are fragrant, stir frequently.
Place the soaked coconut, almonds and poppy seeds in a blender and add enough water (about 240 ml / 1 cup) so that you blend them easily until smooth. If you like your curry sauce smooth, add fried aromatics and spices into the blender too. Don't worry if you need to add more water, it will cook off in the curry.
Add coconut mixture (or return the entire sauce) to the pan. Season with salt, sugar (if needed) and lemon (or lime juice).
Add veggies into the sauce (unless you would rather cook them separately, which I prefer as you've got more control over the 'doneness'). Let everything come to a gentle boil, simmer covered until the veggies are tender (about 4 minutes).
Taste and adjust spicing if needed. I added a bit more salt and 2 teaspoons of maple syrup. Add the optional cooked chickpeas into the sauce, just to warm them up.
Serve garnished with chopped coriander leaves, with a side of rice or a roti.
OPTIONAL ADD-INS
To cook vegetables separately, you could either chop the broccoli / kale / fine green beans small and stir-fry them in a tablespoon of oil in a hot wok until crunchy (about 4 minutes). Alternatively you could steam them or simply boil them in the sauce (for about 4 minutes).
To prepare the tofu, cut it into equal size cubes (I went for 16 flat pieces) and sprinkle with about 2 tbsp of soy sauce (or tamari) on both sides and set aside for the soy sauce to infuse the tofu. Pan-fry it in a little bit of oil on a hot pan until charred on both sides. Alternatively, you can bake it in an oven preheated to 200° C / 390° F oven (180° C / 355° F fan forced) for about 20 minutes, flipping the pieces to the other side with a spatula halfway through.
NOTES
As with most curries and stews, the flavours of this dish improve with time – I recommend making it a day ahead.