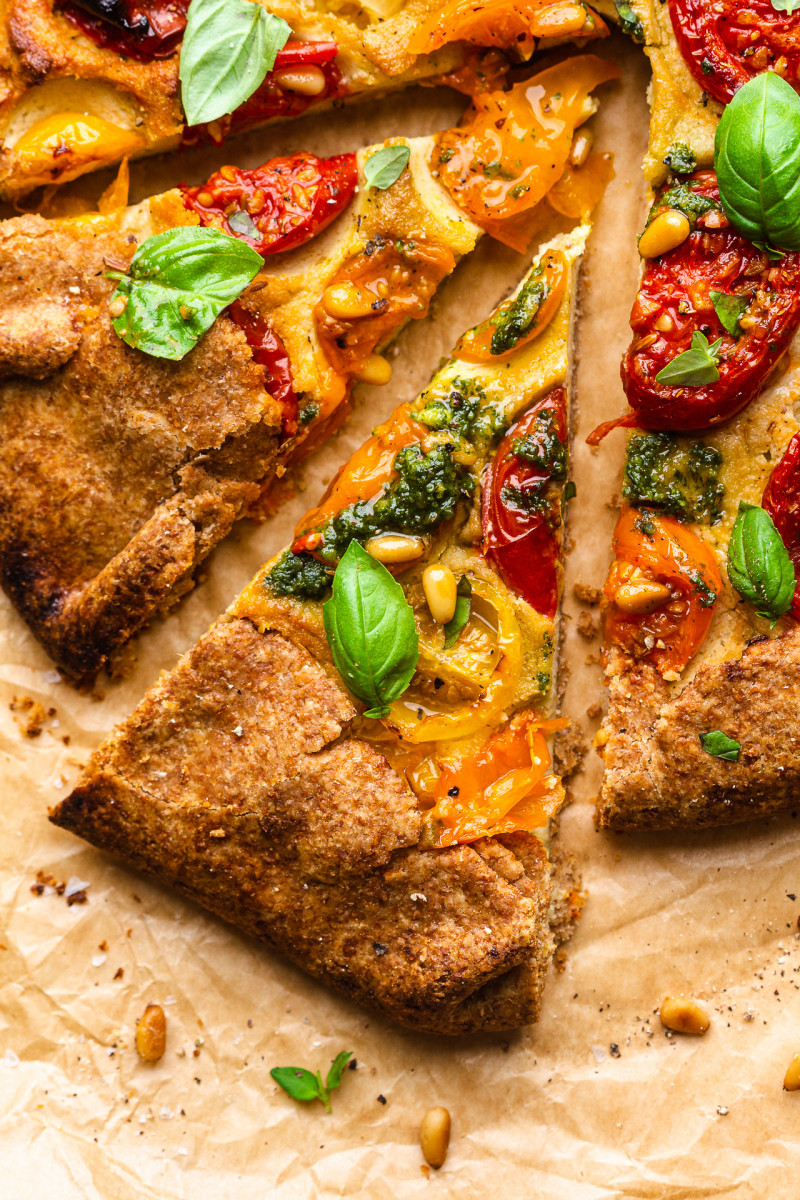 What's cooking this weekend, folks? Despite the fact that UK did not get the memo this year and our current average is probably about 18° C (64° F), I am trying my best to 'manifest' 😉 summer… In that vein, I have a deliciously summery tomato galette recipe for you today.
Galettes are lazy pies and they are great at any time of the year, but summer is a particularly galette-friendly time. I love them for a couple of reasons. They free from so you don't have to worry if you have the correct size pie tin in your cupboard. They are flexible – they can be topped with pretty much any vegetable or fruit (I've made a peach one, a pumpkin one, a zucchini one and a strawberry one for the blog so far). They look delicious and impressive! Combined with a good salad, they will make for decent main meal.
This summery galette has spelt flour crust, a tangy and cheesy interior and is topped with beautifully jammy and oven-caramelised sweet tomatoes in a multitude of colours. Once out of the oven, I dressed it a little by drizzling thinned basil pesto on top, scattering some pan-roasted pine nuts and heaps of fresh basil, but that's because making food look good is part of my job. We had it for dinner with a mountain of fennel and red pepper slaw (which I am working on a recipe for) and it was delicious. All that was missing was a warm summer evening…I hope you'll enjoy it and send us some summer if you've got it, we are pretty desperate!
MORE ABOUT THE INGREDIENTS
SPELT FLOUR: I like the rusticity and texture of spelt flour in galettes but you can use wholemeal or white AP flour, but the amount of water needed may be different. To make this crust, GLUTEN-FREE, use a well balanced gluten-free flour and ¾ tsp xanthan gum.
VEGAN BUTTER/COCONUT OIL: The best type of fat for pastry, even rustic pastry like this, is the type of fat that's solid when cold. I used Naturli, but coconut oil (especially odourless coconut oil works well too. Frozen olive oil (place it in a freezer bag and freeze) will work too. You can decrease the amount of fat and use more water, but be aware that the higher fat to flour ratio, the nicer the pie crust..
APPLE CIDER VINEGAR: Adding a small amount of acid (lemon juice could be used instead) to a pie dough produces a nicer crust as it tenderises gluten giving the crust a nicer mouthfeel.
TOMATOES: Use ripe tomatoes of any shape and size. Make sure to salt them and drain excess moisture before topping the galette as otherwise they will release all that excess moisture in the oven, making the pie watery.
FENNEL SEEDS: I used a small amount of pan-toasted & crushed fennel seeds to flavour the tomatoes, alongside garlic. Fennel seeds have a pretty assertive, aniseedy flavour so if you are not a fan, simply skip or replace with lemony coriander seeds instead. As with fennel seeds, toasting them a dry pan and crushing before adding to the tomatoes is recommended.
CASHEWS: Cashews form a deliciously creamy base for the filling, but you can also use sunflower seeds instead. They are a lot cheaper and a great alternative, especially if you have nut allergies. I find that sunflower seeds to contribute more taste than cashews, but there is so much going on here that they won't take centre stage, promise. Both cashews and sunflower seeds need to be soaked before blending. Ideally soak for a few hours in cold water, but if you want to speed things up 30 minute soak in boiling water also does the job. Drain well before blending!
GARLIC: A clove (or two if you are a fan!) is great here. I often like to use a few roasted garlic cloves instead for a mellower flavour. To roast the garlic, cut the top of the garlic head off (I recommend roasting 2-3 at the same time) and drizzle the exposed cloves with a small amount of olive oil. Wrap the garlic in a piece of kitchen foil (or a few layers of baking paper) and bake for about 30 minutes in a 200° C / 390° F, until the cloves are soft and sticky. Roasted garlic can be smashed and added to salad dressings, it's great in bechamel-style sauces, even spread on sourdough toast! I love it.
MISO: A touch of miso paste adds a great depth of flavour (and some salt too). I like to use white miso (aka shiro miso paste), but red one can be used too. It's more potent so you may want to use less.
NUTRITIONAL YEAST: This staple vegan seasoning adds a hint of cheesiness to this filling, which I like. If you don't have any on hand, skip and perhaps use a little bit more miso.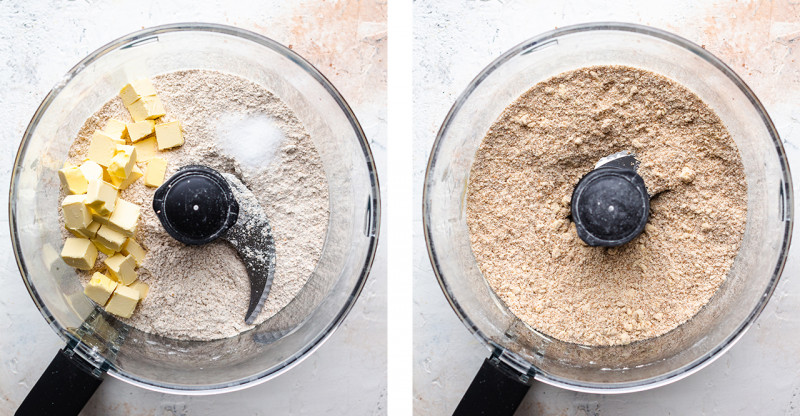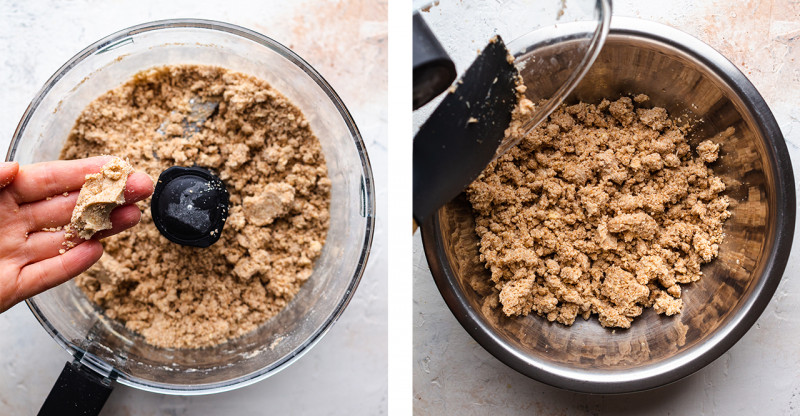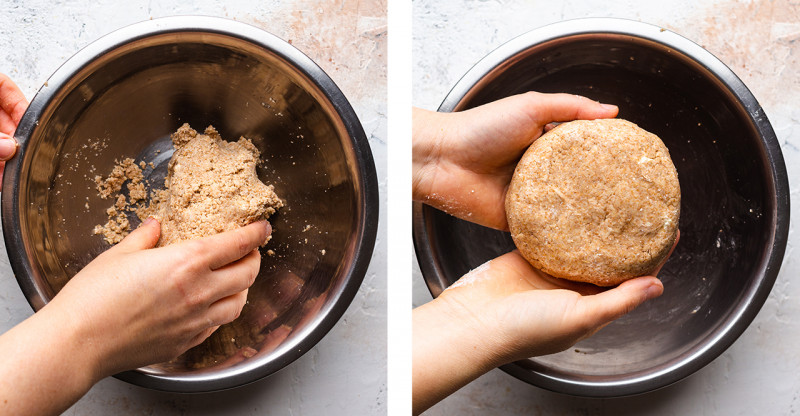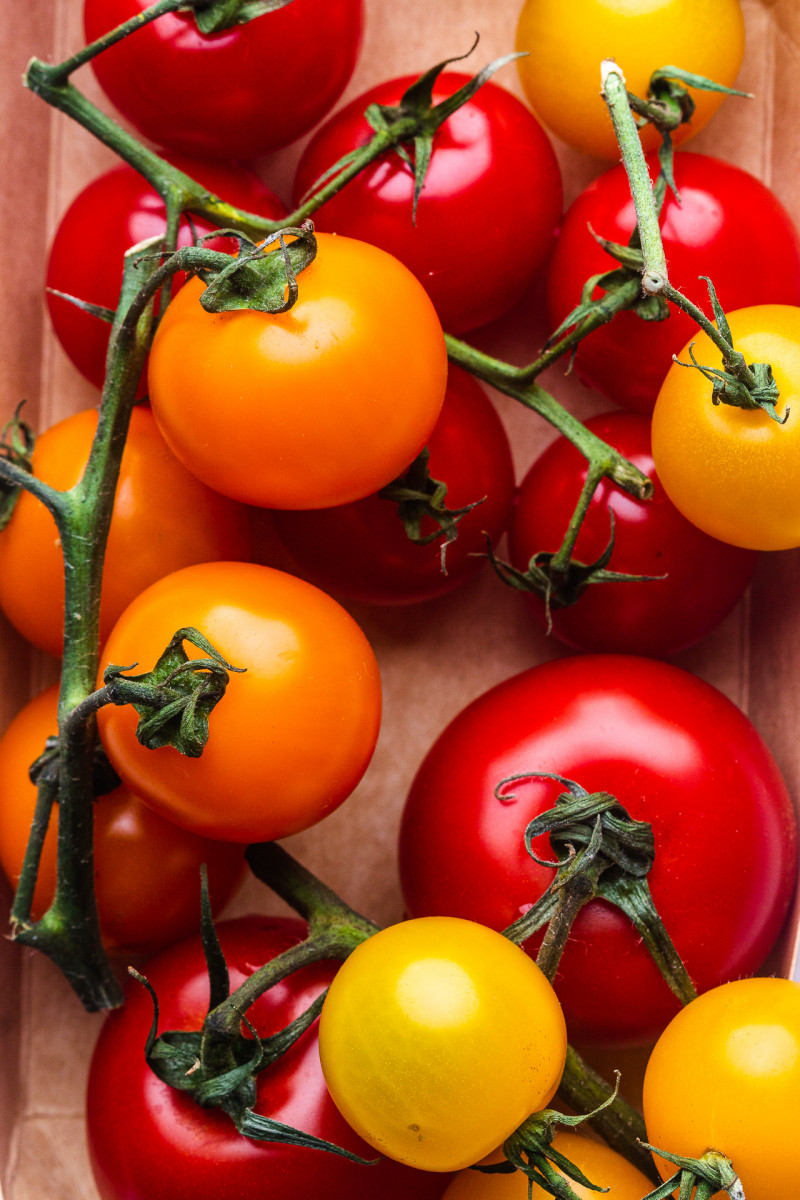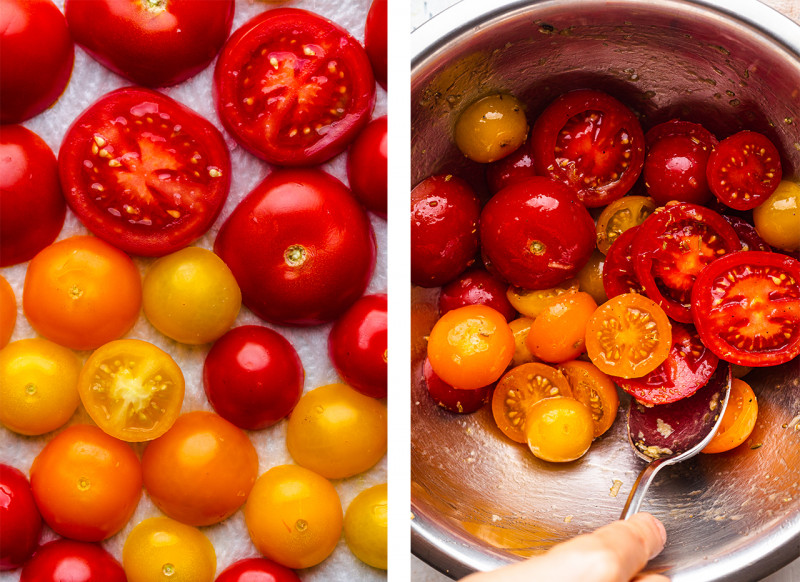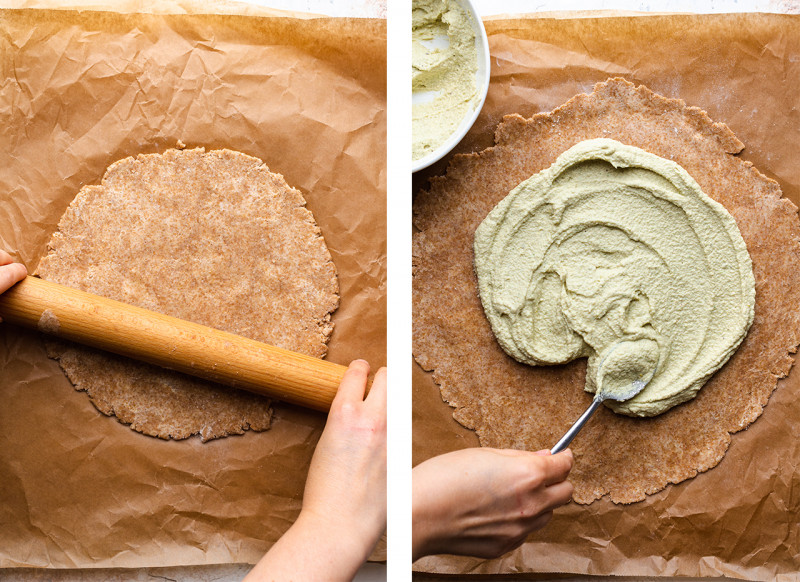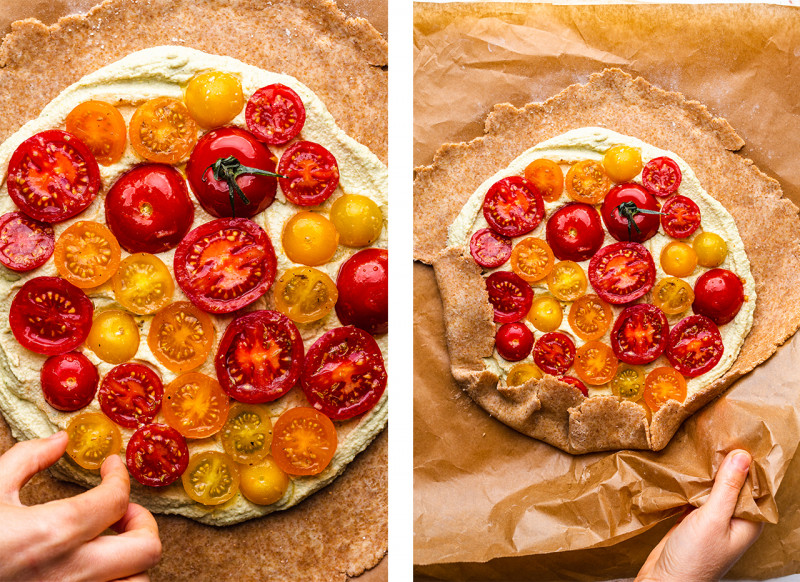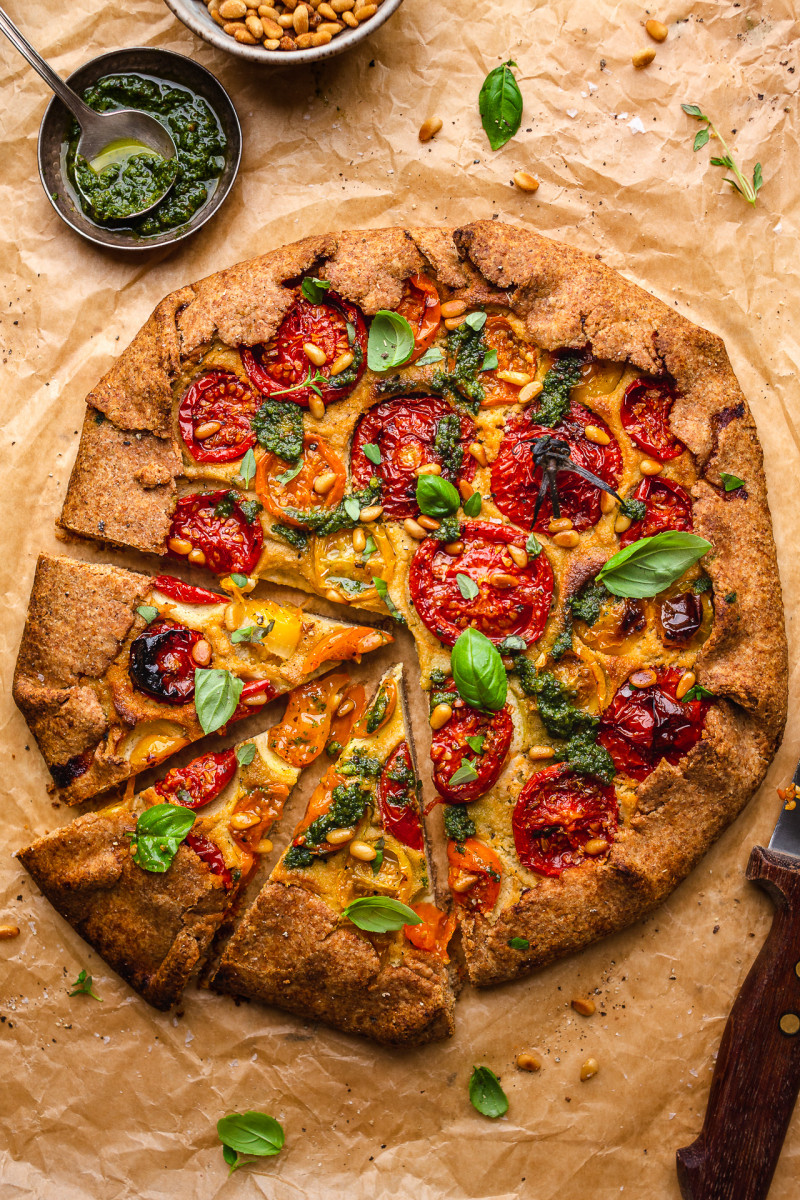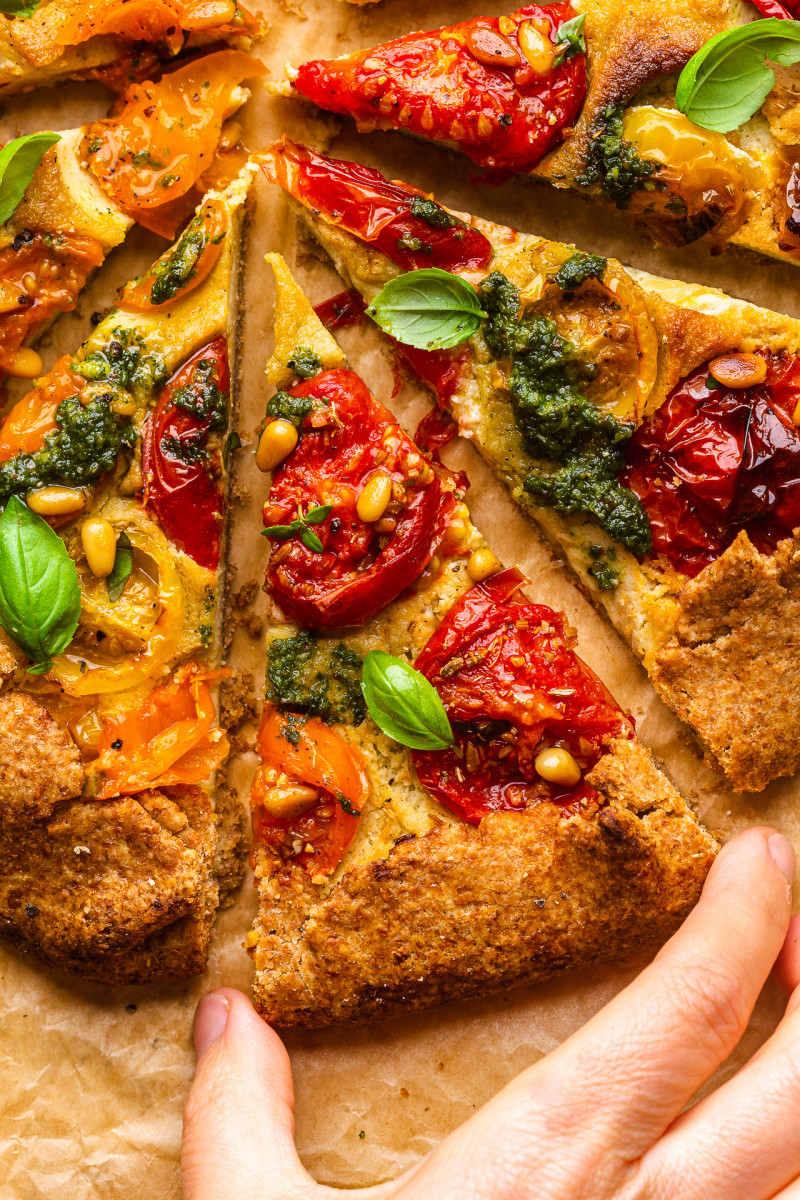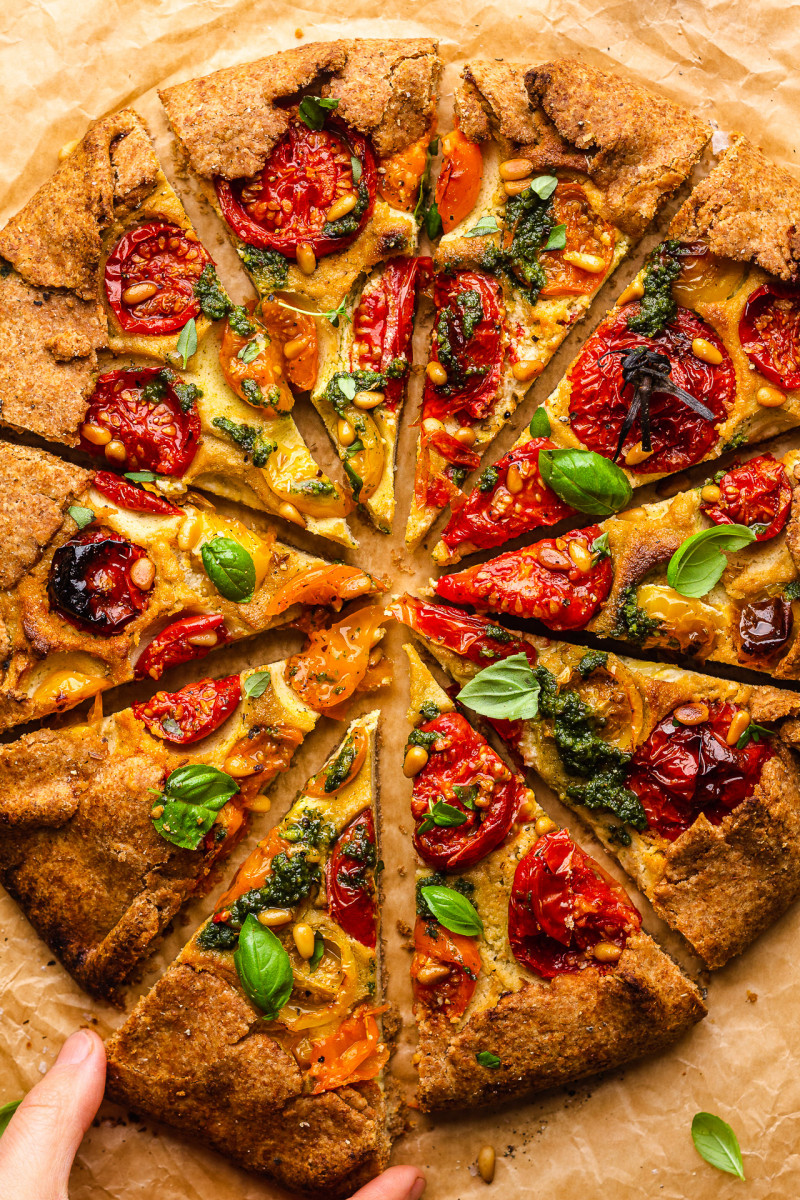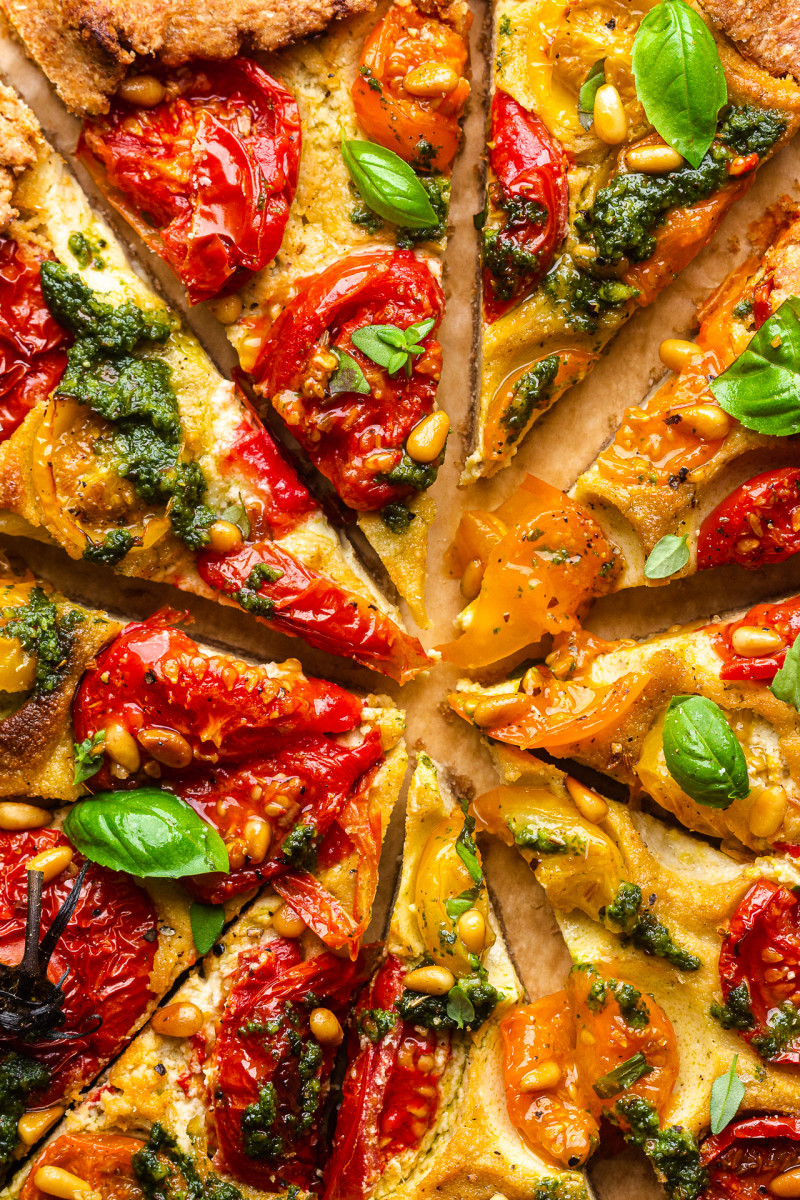 PASTRY
200 g / 7 oz (heaped 1½) cups wholemeal spelt flour*
1 tsp flaky salt
100 g / 3.5 oz (½ cup) chilled vegan butter (I used Naturli) or odourless coconut oil
2 tsp apple cider vinegar (or other acid)
ice-cold water
sweetened plant milk, to glaze
TOMATOES
500 g / 17.5 oz ripe tomatoes
salt
15 ml / 1 tbsp olive oil
1 garlic clove, finely grated
½ tsp toasted and ground fennel seeds (optional)
FILLING
200 g / 1½ cups cashews, soaked*
45 ml / 3 tbsp lemon juice + zest 1 lemon
1 raw large garlic clove (or ½ head roasted garlic)
2 tbsp nutritional yeast (optional)
2 tsp white miso paste
a handful of fresh basil leaves, more to decorate
100 ml / scant ½ cup plant milk
15 ml / 1 tbsp olive oil or more plant milk
salt and pepper, to taste
METHOD
PASTRY
Place 80 ml / 1/3 cup water in the fridge for 10-15 minutes or add some ice-cubes to it. Cut vegan butter or coconut oil into cubes/smaller pieces.
Place flour, salt and cubed fat in the food processor*.
Pulse a few times, until the fat is cut into the flour and the mixture resembles breadcrumbs (see process photos in the blog post for visual cues).
Combine 2.5 tbsp (35 ml) of chilled water with cider vinegar and pour through the chute of your food processor while pulsing the mixture. Once the mixture starts clumping together between your fingers, you don't need any more water. If it's too dry, add a tiny bit more, but add it very gradually as too much water makes the dough tough.
Empty the dough mixture onto a clean work surface (I used a mixing bowl in my photos) and bring the dough together by hand.
Gently form the dough into a disc and cover in clingfilm. Rest it in the fridge for minimum 30 minutes.
TOMATOES
Cut tomatoes into thick (approx. 60 mm / ¼ inch) slices or in half if using small cherry tomatoes.
Sprinkle them with salt on cut sides and place on paper kitchen towels to drain excess moisture. Make sure to drain both sides for sliced tomatoes.
While the tomatoes are draining, combine 1 tbsp of oil with grated garlic clove, fennel (if using) and a grind of salt and pepper in a mixing bowl. Set aside and start on the filling.
FILLING
Drain the cashews and place them in a food processor (or blender) with the rest of the ingredients. Process until smooth and adjust the seasoning to taste.
ASSEMBLY
Place an upside down stainless steel baking tray (or a pizza stone if you have one) in the oven and preheat the oven to 200° C / 390° F (no fan).
Place a large piece of baking paper on the counter, sprinkle it with a little bit of flour and place chilled pastry on top. Whack it with a rolling pin a few times to flatten. If you used coconut oil and the pastry is too hard, leave it at room temperature for a bit to soften.
Sprinkle your rolling pin with a bit of flour and gently roll the dough out into a rough 30 cm / 12″ circle.
Place the cashew filling inside the circle leaving a generous margin (approx. 5 cm / 2 ") all around the filling.
Take tomatoes off the paper towels and place them in a bowl with garlicky oil. Toss well to coat. Add more salt if needed.
Arrange garlicky tomatoes on top of the cashew filling. You can overlap them a little if you want – they will shrink in the oven.
Grab sections of the baking paper around the galette and use it to gently lift up and fold the excess pastry over the filling. Brush the pastry with plant milk.
Bake in 200° C / 390° F oven for about 45 minutes. Allow to cool down a little.
Top with more fresh basil. You may also want to add a smattering of toasted pine nuts and drizzle of vegan basil pesto.
NOTES
*SPELT FLOUR – you can use wholemeal or white AP flour, but the amount of water needed may be different as every flour has a different absorbency level. To make this crust, GLUTEN-FREE, use a well balanced gluten-free flour and ¾ tsp xanthan gum.
*MAKING CRUST BY HAND – you can make the crust by hand by cutting the fat into the flour using a pastry cutter or two knifes (as per the photos in this post). When making this dough by hand, I find that more water is usually needed, I think it's because a food processor is more efficient at incorporating the fat into the flour so the flour is already more hydrated before water is added.
*SALTING & DRAINING TOMATOES – If using small cherry or plum tomatoes, you may get away without doing this, but if using larger tomatoes this is a must. It will make tomatoes jammy and caramelised once baked instead of watery.
*SOAKING CASHEWS – soak untoasted/raw cashews (to soften them) for a few hours (even overnight) in tap water or to speed things up for 30 minutes in boiling water. Drain before using in the recipe.
NUTRITIONAL INFO
*per 1 out of 10 servings