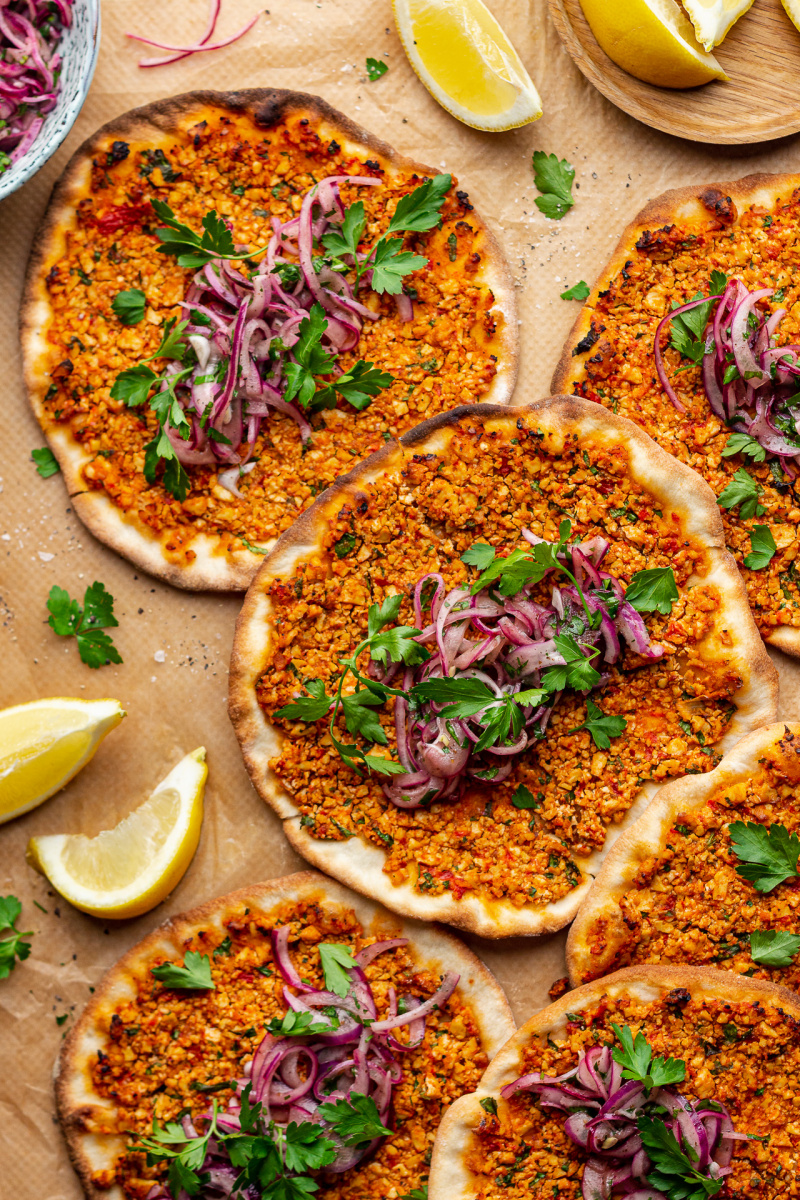 Happy Weekend, everyone! Apologies for being a bit quiet but I've had to take a few days off to concentrate on my website design as I found that the constant context switching was too challenging. Although it still requires a lot of work, Duncan has just finished coding the new homepage and things are already looking better than they do now and we are both glad that we've decided to take the plunge. Like with most things, changing something that works isn't easy as there is always a fair amount of risk and it's hard to fully appreciate the necessity of that change until things settle down and you are able to look back with some objectivity.
I find this to be true of most things. I still remember when we were leaving our familiar and comfortable life in London for rural Greece several years ago. It was scary as heck. We were both established in our well paying corporate jobs, we lived in a nice flat, we had a bunch of like-minded friends we had met over the years and things were good, but we also had this itch to see what else is there and I had a yearning for doing something more creative in my life – the mundanity and pointlessness of my corporate job had a serious impact on my mental health.
I knew something had to change but I was also really frightened as it seemed like a massive step backwards in some ways. And don't get me wrong, it was. We went from owning a flat and having everything like we wanted it to renting again and having very little control over anything, from having job security to none, but even though we ended up leaving Greece after 4 years of sea and sunshine, we now look back and are both happy we dared to 'go there'. It was in Greece that we both went vegan and that this blog was born. Little did I know that not only would I end up finding this creative outlet I've been dreaming of for all these years, but that it will also align with my core values as well as pay my bills (eventually). Duncan, who quit his job with less excitement than me, felt like his career took a hit due to his absence from a traditional workplace, but he quickly found his feet again and is now enjoying his work even more than before. Job satisfaction aside, the move taught us more self reliance and adaptability and enriched us with a unique life experience that we wouldn't have got otherwise.
Today's recipe is something I associate with our London life, but something we have not had since and I've been meaning to make a vegan version of this dish for a couple of years now but never quite got round to it. The dish in question is lahmacun (here is how to pronounce it), which is often referred to as Turkish pizza although to me, it seems more like a flatbread.
It's a super thin piece of yeast dough topped with an aromatic mince meat filling, served with salad and a squeeze of lemon, rolled up and eaten like a wrap-style sandwich. I love the flavours and the concept but I'm not so keen on the meat part, of course, so I made it my own and it's been a real winner in my house. It's not hard to make, but I recommend using a pizza stone if you have one and if you don't improvising one – my brother who makes a mean Roman-style pizza – uses an old metal (not teflon!!) baking tray and it works just as well. These pizza pies only need about 5 minutes in the oven so making sure the bottom gets cooked through well is very important. Other than that, it's super easy and a perfect weekend project. Enjoy!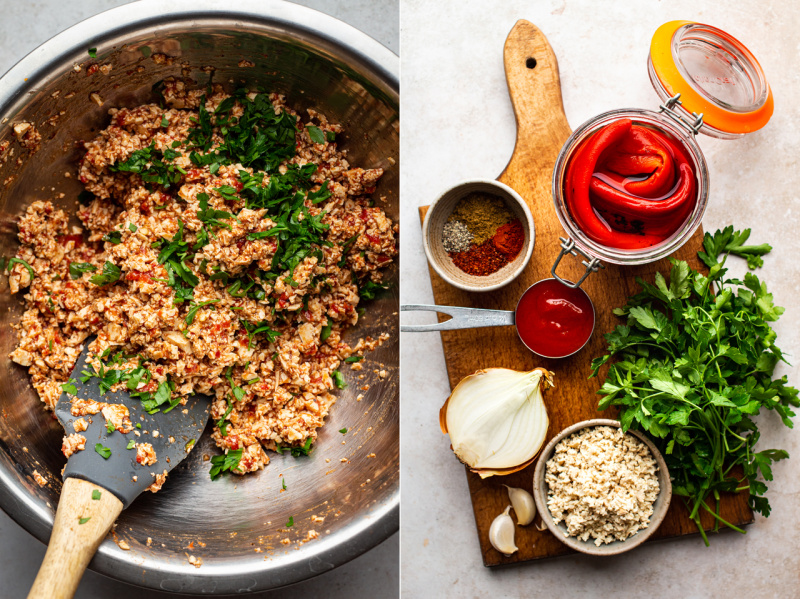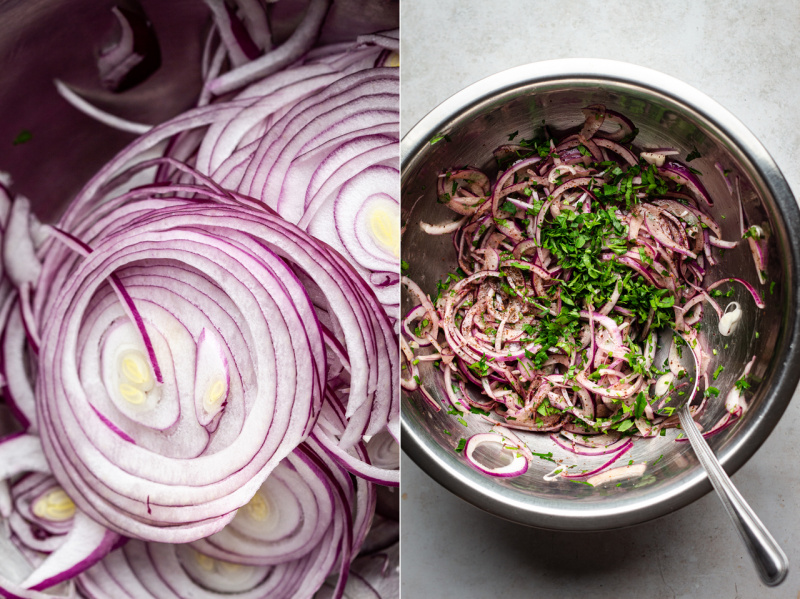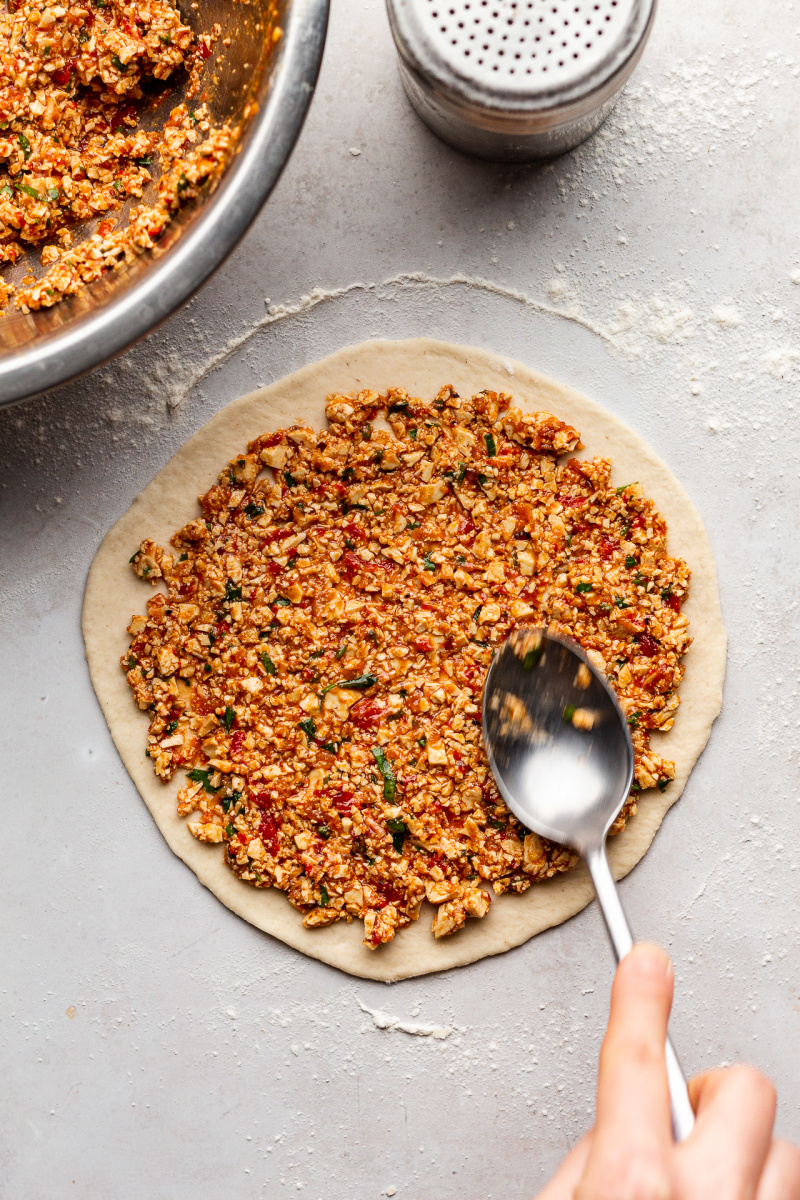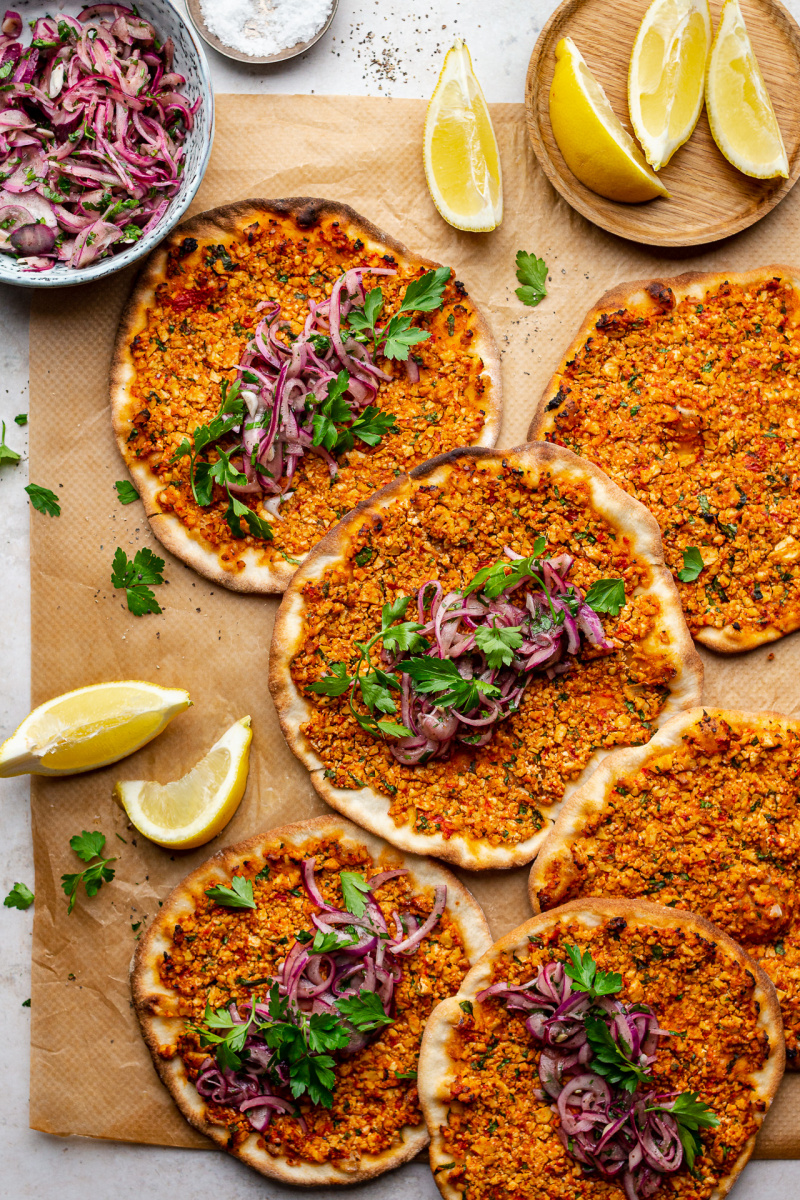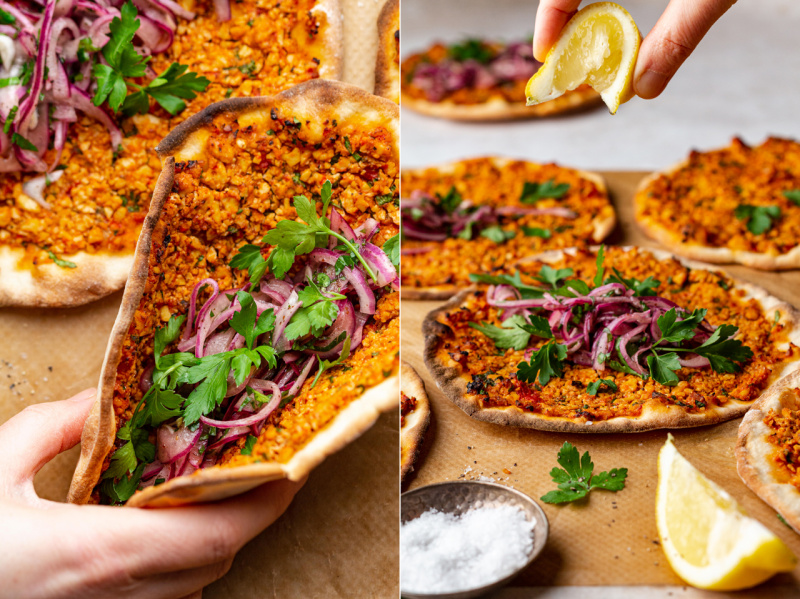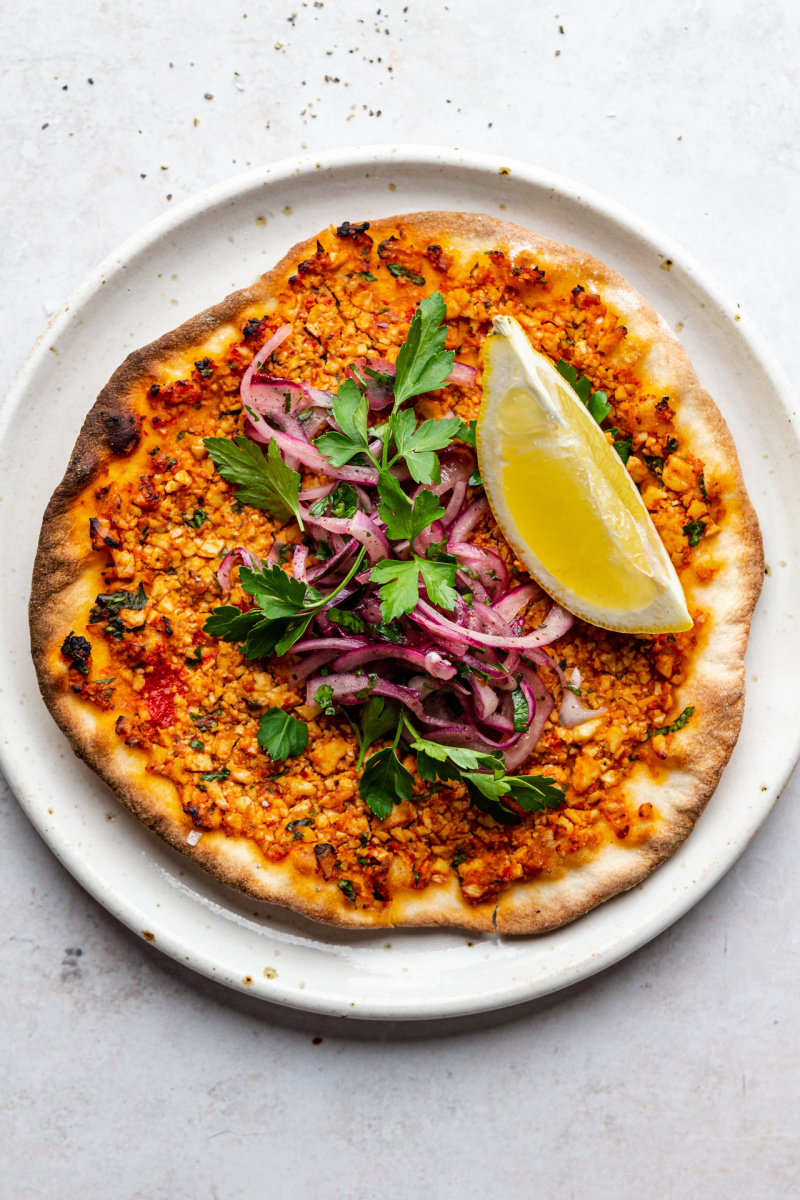 DOUGH
125 g / 1 cup white bread flour
125 g / 1 cup plain flour
¼ tsp sugar
8 g / 1¼ tsp salt
4 g / 1¼ tsp instant dried yeast
15 ml / 1 tbsp olive oil (optional)
TOPPING
½ large white onion
4 garlic cloves
100 g / 3½ oz roasted red pepper (1 large)
a handful of parsley, plus more to serve
200 g / 7 oz smoked firm tofu*
60 ml / ¼ cup tomato passata
30 ml / 2 tbsp olive oil (optional)
1½ tsp date syrup or sugar
heaped ½ tsp salt, more to taste
½ tsp black pepper
1¼ tsp cumin
½ (mild) smoked paprika
½ tsp pul biber (Turkish chilli)
6 lemon wedges, to serve
ONION SALAD** (optional)
1 red onion
15 ml / 1 tbsp olive oil
1 tbsp lemon juice
2 tsp pomegranate molasses
salt, to taste
a pinch of sugar
½ tsp sumac
3-4 tbsp chopped parsley
METHOD
DOUGH
Mix both flours, sugar, salt and instant yeast in a large mixing bowl. If using active (not instant) yeast, make sure to activate it first.
Make a well in the centre, add olive oil (if using) and approximately 150 ml / ½ cup + 2 tbsp of lukewarm (!) water. Mix everything together with a spoon and when everything comes together transfer the dough onto the work bench and knead for about 5-10 minutes, until the dough is elastic and smooth.
Place the dough ball in a clean bowl, cover with a kitchen towel and set aside in a warm place to allow the dough to rise (it should more or less double in size).
TOPPING
Grind onion (chop it roughly first), garlic, roast pepper and parsley in a food processor and transfer the mixture into a large mixing bowl. Alternatively, grate onions and garlic finely using a box grater, chop peppers and parsley super finely with a sharp knife.
Grind tofu in a food processor coarsely – take care not to over process it as you want the topping to have some texture. Alternatively mince it with a fork.
Combine onion, garlic, red pepper and parsley paste with ground tofu, tomato passata, olive oil, date syrup, salt and spices. Adjust the level of spice (pul biber) to taste. Set aside for the flavours to mingle.
ONION SALAD** (optional)
Slice red onions as thinly as you can. If you want this salad to taste milder, blanch the onions for a few seconds in boiling water and drain straight away.
Mix olive oil, lemon juice, pomegranate molasses, salt and sugar. Stir this dressing through the onions, sprinkle with sumac and finely chopped parsley.
ASSEMBLY
45 minutes before you are ready to bake, place a pizza stone in the oven and preheat the oven to 250° C / 480° F, with the fan function switched on.
Divide the dough into 6 equal portions using scales or eyeballing it. Form each portion into a ball, with a seam at the bottom.
Next, roll it out as thinly as you can on a well floured surface.
Top the rolled out dough with a thin layer of the filling, spreading it almost all the way to the edge.
Using a pizza peel or a homespun replacement, place the lahmacun on the pre-heated pizza stone and bake for about 5-6 minutes.
Remove from the oven and proceed with the remaining dough balls in the same manner. To keep the pizzas pliable, stack them and cover the stack with a large upside down bowl.
Top with fresh parsley, onion (or other) salad and a squeeze of lemon, roll up and consume.
NOTES
*I used tofu that doesn't require pressing, if yours does make sure you press it or at the very least squeeze it out well before using.
**If you are not a fan of raw onions, a simple salad of assorted greens (such as rocket, gem lettuce, spinach) radishes, fennel etc. would also work well.