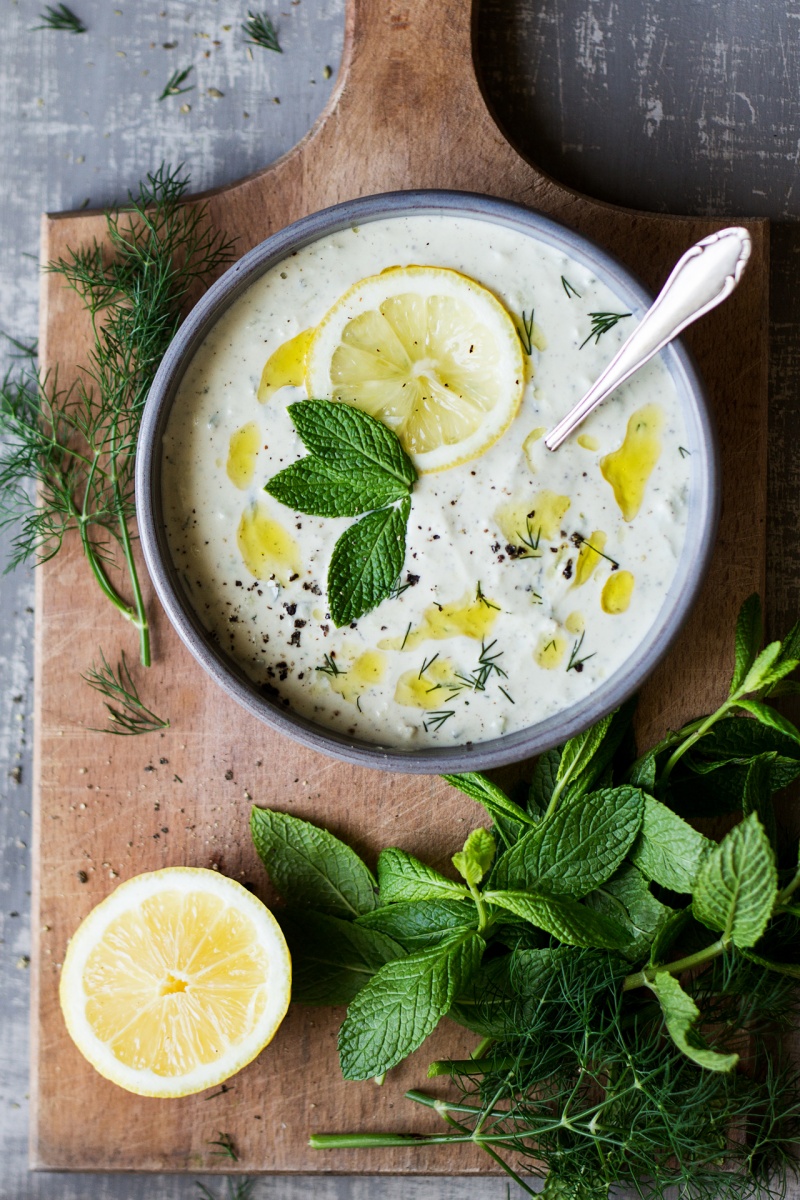 After Friday's dessert bonanza, today I have a simple side dish recipe for you. It's an iconic Greek mezze that is famous the world over and something that I really missed once I quit dairy.
In the unlikely event of you not being familiar with it, tzatziki is a traditional Greek dip based on the soothing combination of creamy Greek yoghurt, cooling cucumber and mint. It's seasoned with liberal amount of lemon and garlic. It's a staple of Greek cuisine and it goes well with so many things – grilled vegetables, souvlaki, gyros and it's almost impossible to visit Greece without being served it at one point or another.
As I am a massive garlic fiend and really like tangy flavours, this dish is right up my street. With good vegan yogurts being almost impossible to find here, I had to think of an alternative. Silken tofu has too much of an aftertaste for me and I don't think that the flavours of this dish are able to conceal it sufficiently. Cashews, on the other hand, are neutral in flavour and naturally creamy so they work really well here. A few hours of chilling in the fridge is essential to give this dip the correct consistency.
My initial idea was to team this recipe up with another dish that I've been working on as the two make a die-for combo, but in the interest of keeping things simple, I've decided to publish tzatzki as a standalone recipe, especially that it is such a versatile dish and can really be enjoyed on its own.
But don't worry, you will not have to wait long, the sequel is coming this Friday and I cannot wait to share it with you.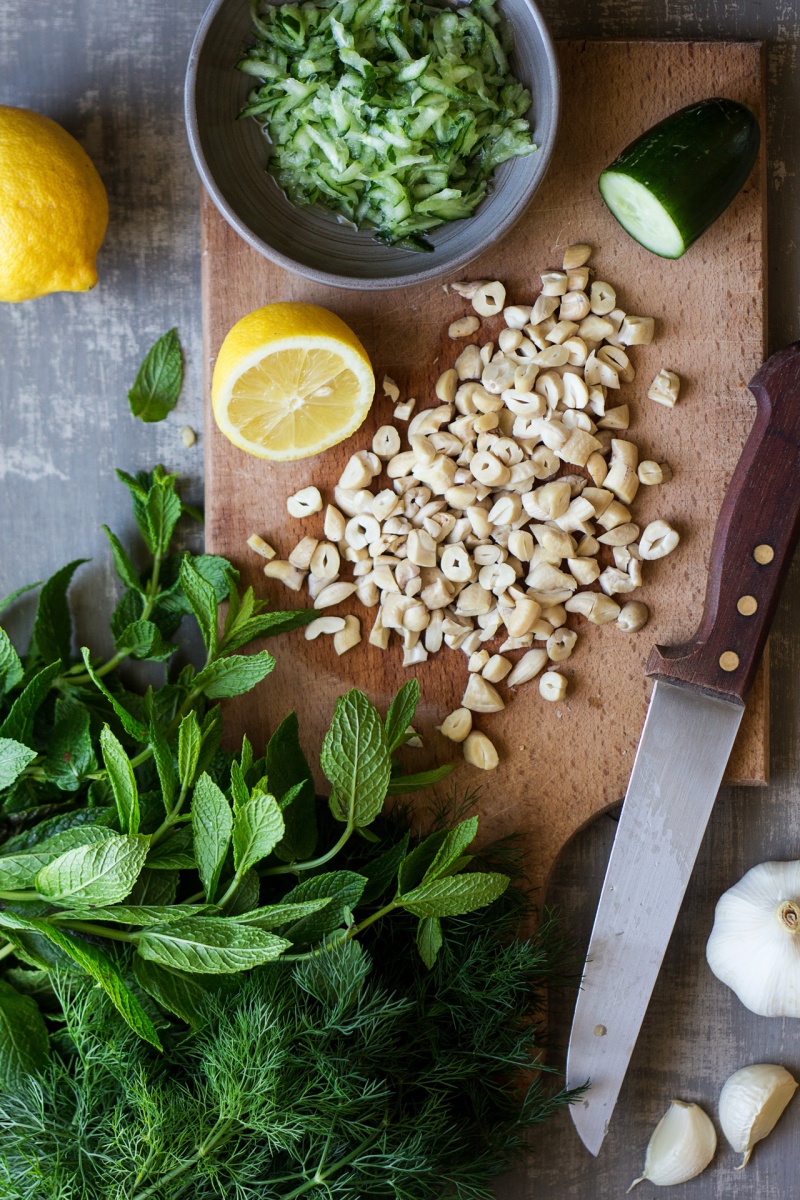 1 Lebanese (short) cucumber
2 tbsp chickpea flour
½ cup cashews, soaked overnight
2 small garlic cloves
2 tbsp lemon juice
2 tsp apple cider vinegar
1 tbsp extra virgin olive oil
1 tsp dried mint, adjust to taste
a few pinches of salt, adjust to taste
¼ tsp white (or black) pepper, adjust to taste
METHOD
Wash the cucumber and grate it coarsely – there is no need to peel it!
Squeeze the water out of the cucumber using a muslin cloth or a fine sieve and a spoon to press the grated cucumber down. Save the water as it will come in handy later.
Place chickpea flour and 6 tablespoons of water in a small pot. Simmer it on a low-medium heat, stirring frequently, until it transforms into a thick roux. It takes about 5 minutes.
Drain the cashews and chop them roughly. Divide into 4 rough potions. This step helps to blend the cashews without adding too much liquid.
Place lemon juice, cucumber juice and olive oil at the bottom of your blender. Add a portion of chopped cashews and blend until smooth.
Add another portion of cashews, blend until smooth. Follow in the same manner with the remaining two portions of cashews.
Finally add chickpea roux and blend well.
Season with raw garlic, salt, pepper, dry mint (or fresh dill if you don't like mint) and some apple cider vinegar for extra acidity.
Transfer to a container and mix in grated cucumber. Place in the fridge for about 3-4 hours to allow the dip to thicken.
NOTES