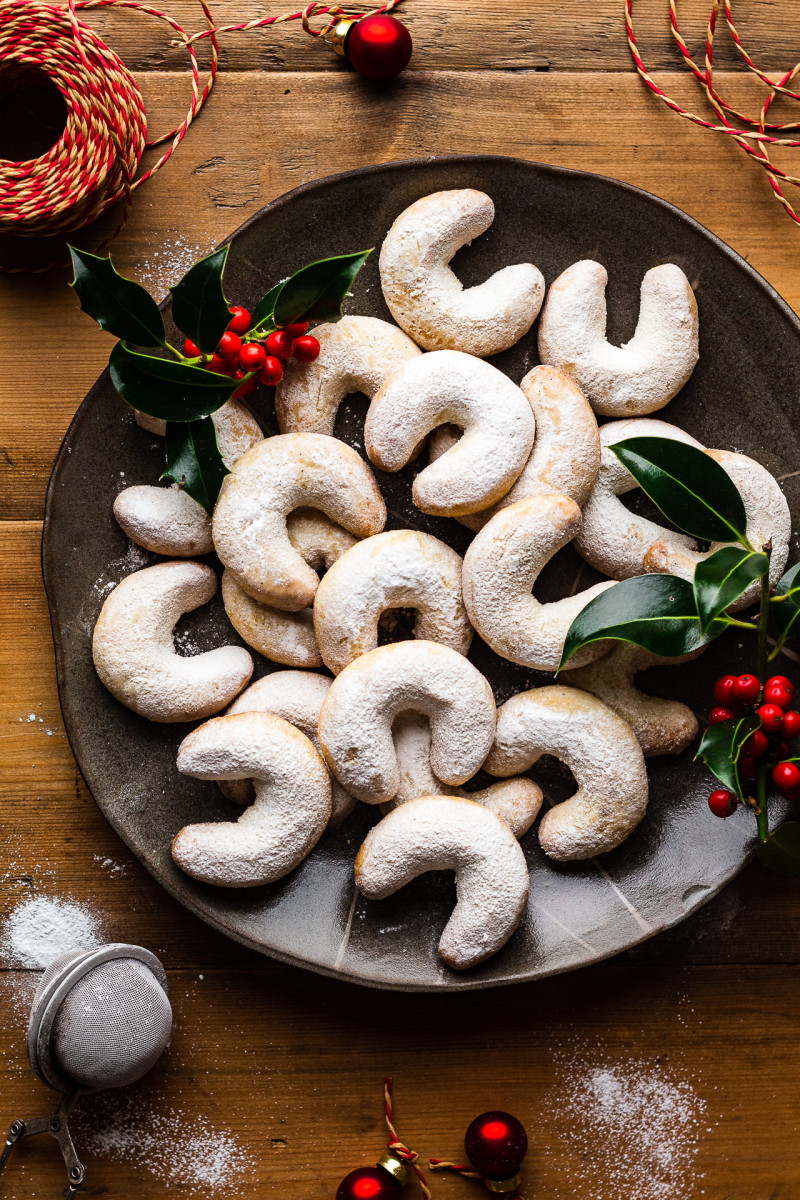 I spent last weekend in London catching up with an old friend, shopping at a big pottery market, learning about drawing anime characters from my friend's kids, getting tipsy with her neighbours, eating good food and sampling delicious vegan cheeses. It was a lot of fun and I hope we can do a repeat soon. Now that I am back, after much needed relaxation, I'm eager to do some baking and cooking again. I hope to bring you a few more festive recipes before I put my feet up until the end of the year.
Today's cookies known as vanilla crescent cookies in English (my gran used to call them waniliowe rożki) were my childhood Xmas cookie staple. My maternal grandma used to make at least a dozen of different cookies every Xmas and there was no talking her out of it, even when she was in her mid to late 80's. Her daughters pleaded with her to take it easy but she was uncompromising and adamant that there needs to be a lot of variety on her Xmas table.
I rang both my mum and my auntie asking for this recipe and I ended up with two quite different recipes despite them apparently coming from grandma…and so delightfully imprecise too. If I was to publish a baking recipe this vague, I think I would get a lot of angry emails 🙂 . I concluded that either gran must have had another (secret) recipe notebook or she simply held all her recipes in her head, which is admirable given that she only made these for Xmas and they were always to die for.
These delicate vanilla-scented almond cookies originated in Austria but since Krakow (where my gran was born and lived all her life) was a part of Habsburg Empire (known as Austrian Galicia), they became part of Polish Xmas tradition too. They are delicious and not hard to make at all. I find that they are the easiest and quickest to make in a food processor. You can, of course, make the dough by hand too, but be sure to treat the dough gently (like you would any shortbread) so that you don't allow much gluten to develop in the process. I have taken the liberty to add a small amount of ground cardamom to my version, which not sure my gran would approve of, but I like its floral flavour in these simple cookies and I hope you'll too. If you are not a cardamom fan, leave it out.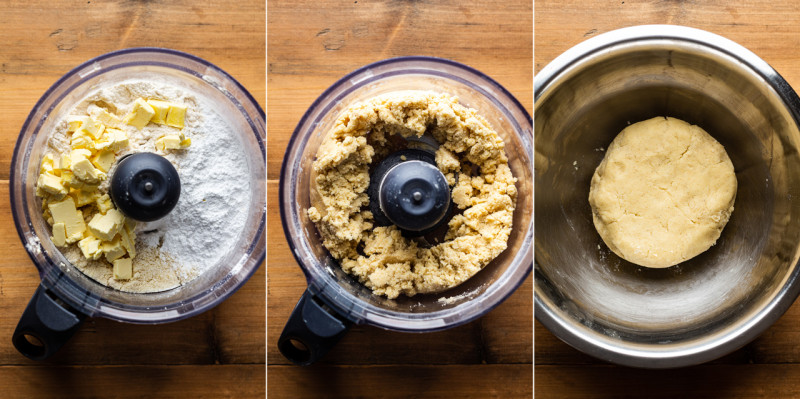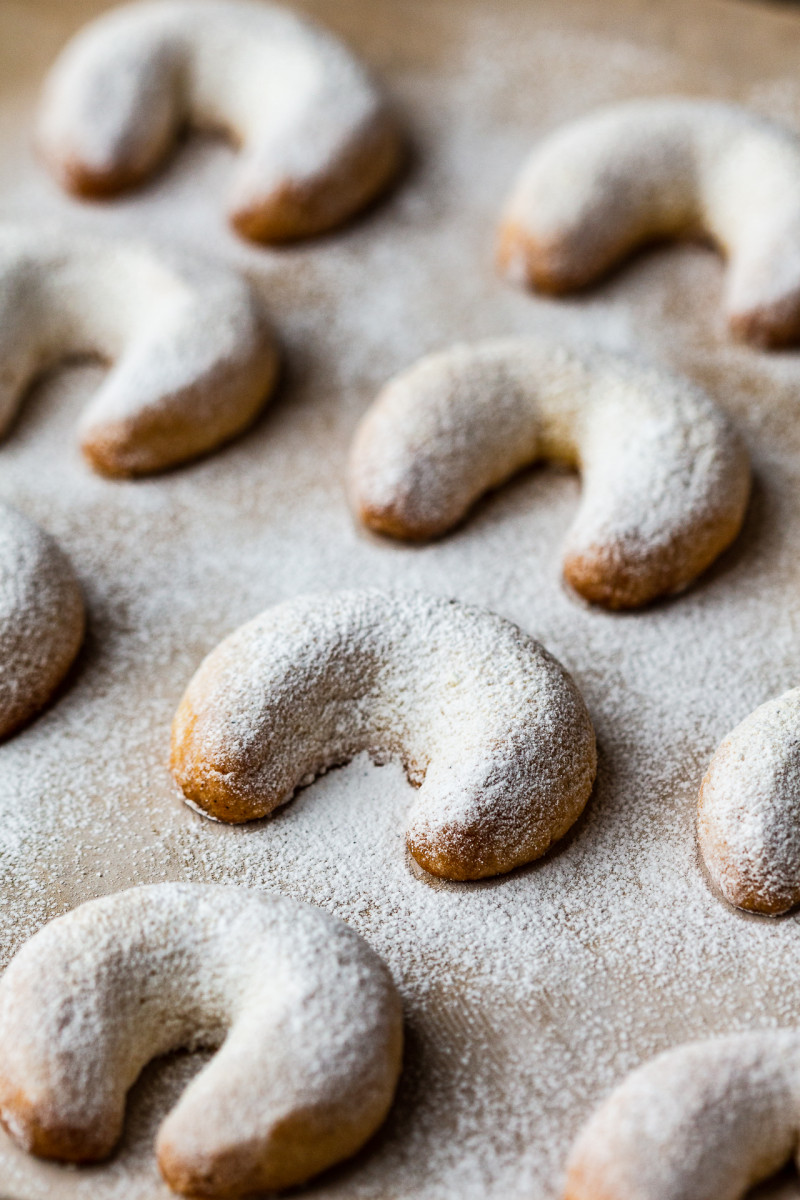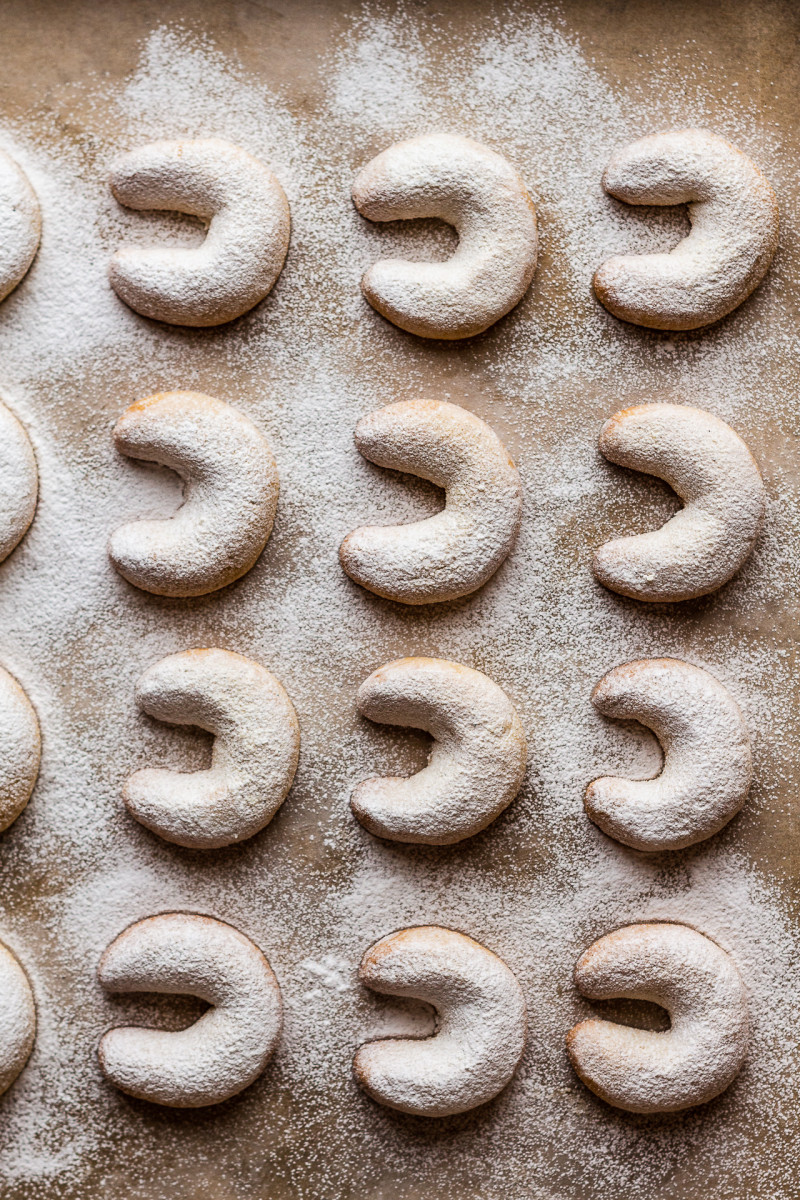 METHOD
If making gluten-free version, hydrate psyllium husks in 2 tbsp water, set aside to jellify.
Cut vegan butter (vegan block) or coconut oil into small dice. Use refined coconut oil for a coconut free taste. Use only 80 g (2.8 oz) of butter for gluten-free version or else the dough will be too wet and crumbly.
Place 40 g / ¼ cup icing sugar, flour, almond flour (or ground almonds), salt and cardamom (if using) in a food processor together with cubed fat. Pulse a few times, until the fat gets evenly distributed and the mixture sticks together when you pinch it. Alternatively, you could make the dough by hand, using a pastry cutter (or two knifes) first and then your fingers.
Next, add in vanilla extract or paste, almond essence and (if making these gluten-free) rehydrated psyllium husks and pulse again. If using powdered vanilla, you may need to add a teaspoon of water if the dough is still too dry to come together. Transfer to a bowl and shape the dough into a disc. Wrap in clingfilm or baking paper and refrigerate for at least 60 minutes (or longer). I found that the gluten-free version needs a bit longer in the fridge (4 hrs or longer).
While the dough is resting, mix icing sugar with vanilla powder or vanilla seeds (from a pod) to dust the cookies with as soon as they leave the oven. If you only have the liquid form of the vanilla, skip and simply use icing sugar on its own. Prepare a baking tray.
15 minutes before the cookie dough is ready to roll, preheat the oven to 175° C / 345° F.
Divide the dough into 4 equal portions, roll each into a finger width snake, cut into 7.5 cm / 3 inch segments and shape into crescents. Alternatively, using scales – form crescents out of 15 g / ½ oz portions of the dough.
Arrange the crescents on a paper-lined baking tray and bake until lightly golden, about 10-12 minutes.
Dust them with vanilla icing sugar whilst still warm and allow them to cool down completely before removing from the baking tray. Store in an airtight cookie jar.
NOTES
*ALMONDS: Both skin-on and blanched almonds work well, skin on, roasted ones impart more flavour though. For convenience, you can also use almond flour / meal.
*CARDAMOM: Skip if you aren't a fan or sub with cinnamon.