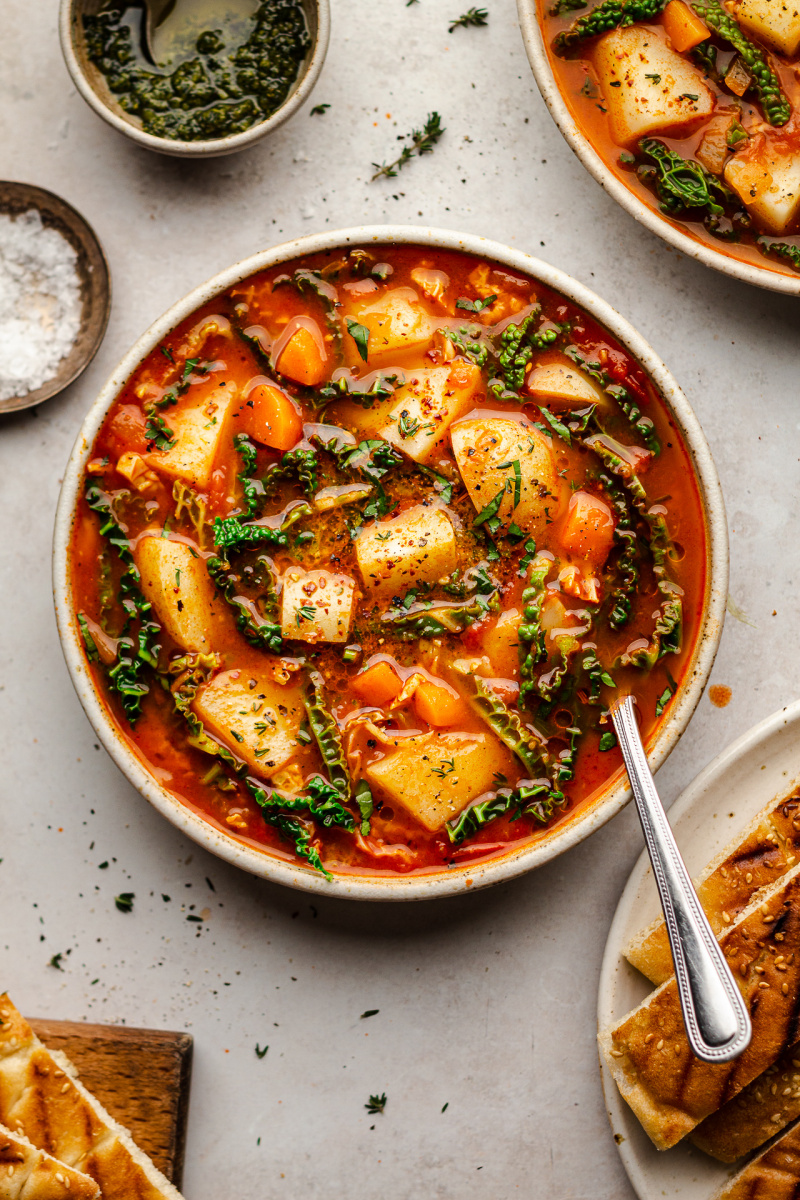 While I am not a massive soup eater at any other time of the year, winter is an exception. Being someone who appears to feel cold quite easily and acutely, I crave all the comfort I can get. This year we have been literally living on one particular type of soup that we both enjoy (we have quite different soup tastes…) and which I have been making on repeat every two days or so for weeks at a time.
A bowl of filling, chunky soup is a particular saviour when you come back in after a run in the cold, which we both tend to break up our 'stuck inside' days with. Duncan runs every day and I every other day and knowing that I have a pot of bubbling soup to return to always makes me more excited about my run.
It also helps us to avoid arguments as we are on slightly different schedules to each other in the mornings and our hunger cues are often quite misaligned. Duncan tends to get up ravenously hungry while I have all the time in the world to eat my breakfast, as I rarely feel hunger first thing in the morning. I am a natural owl (twit twoo), I've always been like that – to my mum's despair. Getting me out of bed in the mornings was always highly annoying (sorry mum – love you!!) and sometimes I would get up and then fall asleep on the toilet while leaning against the wall…True story!
These days, I wake up, do some meditation, followed by some online procrastination (which I am trying to stop) and a 30 minute back yoga and only then I'm ready to have my breakfast and my morning coffee by which time Duncan is already starting to idly think about his lunch. A ready made pot of soup allows us each to reheat ourselves a portion and no one feels starved or forced to eat because of the other person and by evenings our appetite and timing usually falls back in sync.
This soup is really simple to make. I chop all the veggies (apart from garlic which I like diced finely) quite roughly so it only takes about 5 minutes and other than that all you need to do is to give the soup a stir every now and then so that it doesn't catch. You can get on with other things while the soup makes itself bubbling cheerfully on the stove. Super simple, delicious, filling and healthy! And lastly, I want to dedicate this soup to my long time friend, Magda, as it was our conversation last week that prompted me to write this recipe up on the blog. Hope she and everybody else who decides to make it enjoys it as much as we do.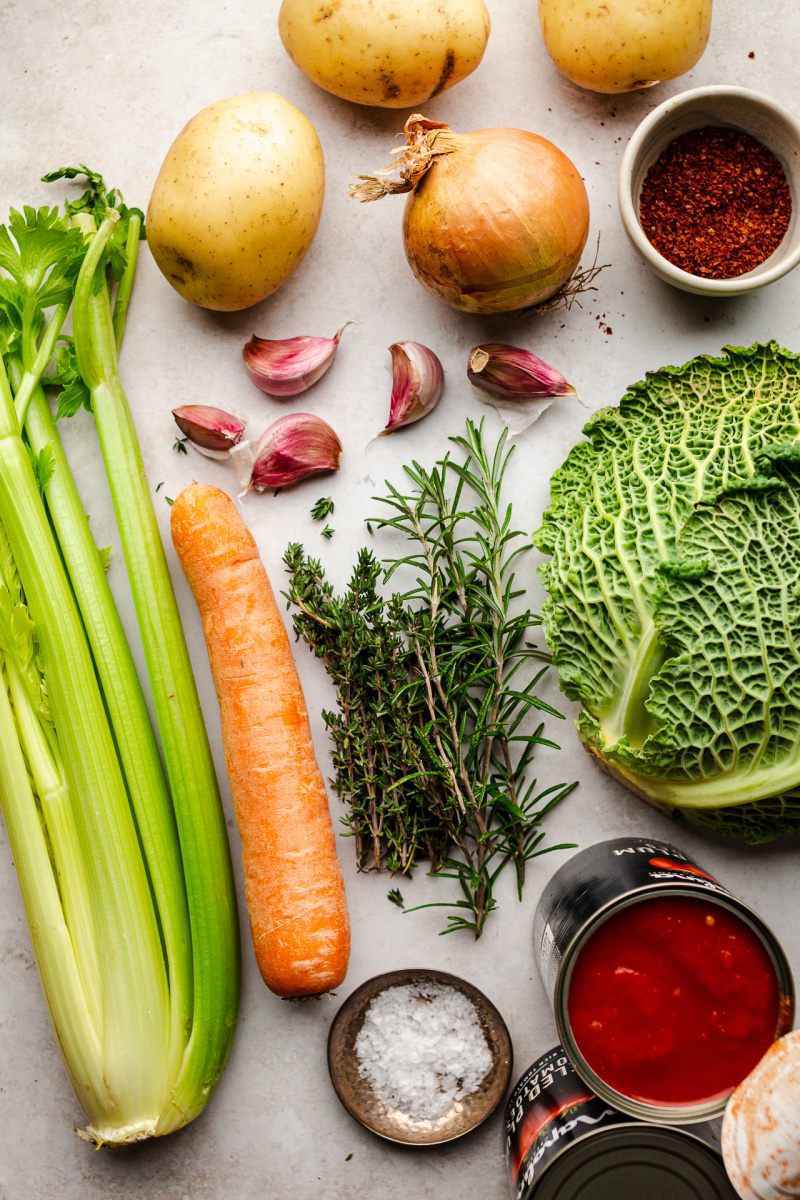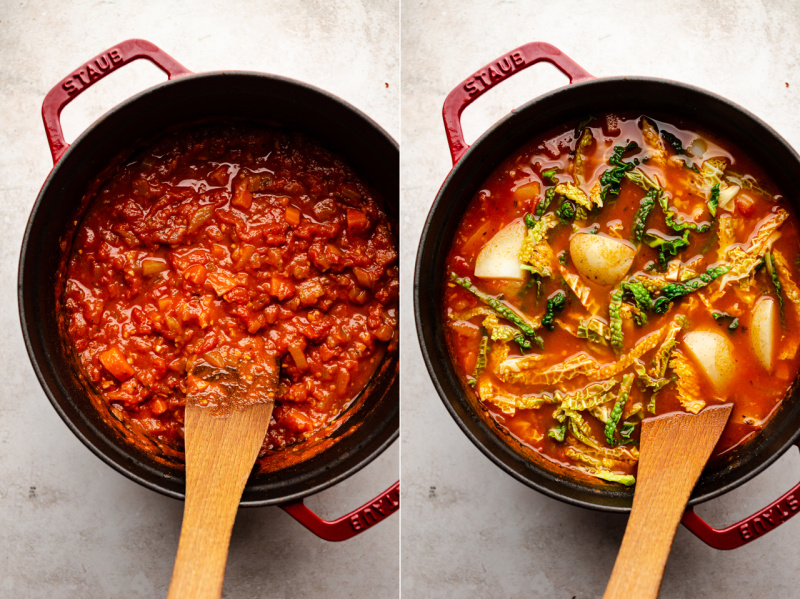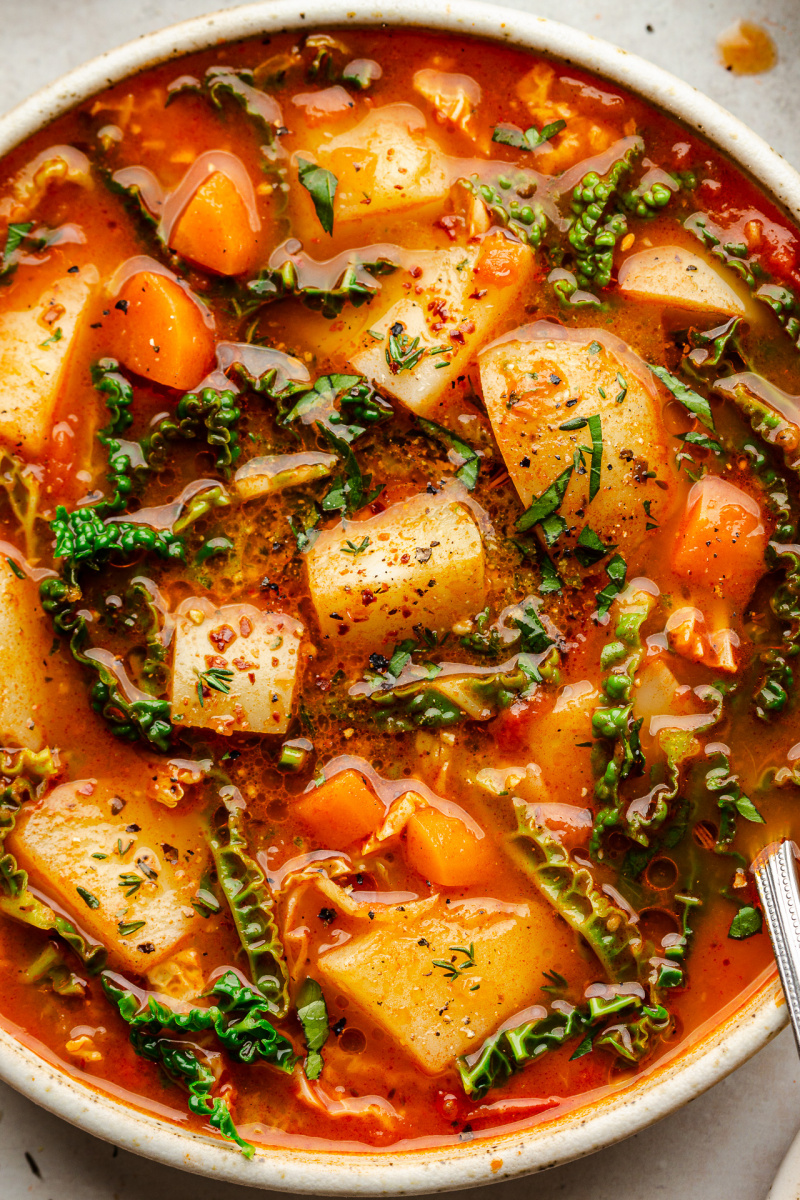 2 tbsp / 30 ml extra virgin olive oil (or vegan stock for oil-free version)
1 large onion, finely diced
6 garlic cloves, finely diced
2 fresh rosemary twigs, leaves chopped finely or 1 tsp dried
4 fresh thyme stalks, leaves picked or ½ tsp dried
2 celery stalks, roughly diced
2 carrots, roughly diced
1½ tsp sweet smoked paprika
1¼ tsp salt, adjust to taste
½ tsp black pepper
¼ tsp chilli flakes (optional), adjust to taste
2 x 400 g / 14 oz cans peeled plum tomatoes*
2 bay leaves (fresh if you have one growing in your garden)
500 g / 17½ oz (5 medium) potatoes, scrubbed clean and cubed into 2 cm / ¾" dice
250 g / 8¾ oz (½ small) savoy cabbage, shredded very finely
METHOD
Heat up the oil in a large, heavy bottomed pot. If you want to keep this soup oil-free, use veggie stock and add it in together with diced onion.
Once the oil gets hot, throw in diced onion. Sauté on a very medium-low heat until soft (approx. 5 minutes).
Next, throw in garlic and herbs. Sauté for another 2-3 minutes, stirring frequently.
Once the garlic is fragrant, add in roughly chopped celery and carrot. Sauté for another 5-10 minutes, stirring frequently.
Stir in smoked paprika, salt, pepper and chilli flakes if you like a bit of heat.
Add plum tomatoes to the pot, squashing them with a wooden spoon or a potato masher once they are in the pot but before adding water as otherwise they will splash everywhere.
Add 0.5 litres / 2 cups of water and bay leaves. Cover and simmer for about 45 minutes, until the tomatoes are falling apart. Top up with more water if the pot is looking dry. Make sure to give the pot a good stir every 15-20 minutes to make sure nothing gets caught at the bottom. You are ready to go to the next step once the tomatoes have broken down nicely and the soup looks more or less uniform and thick (see photo above). If not, add another 250 ml / 1 cup of water, cover and continue simmering for another 15 minutes.
Add in about 0.75 litres / 3 more cups of water and the cubed potatoes. Once the soup comes to a simmer, allow the potatoes to simmer in the soup for about 10 minutes.
Next add finely shredded cabbage and allow the soup to simmer for a further 5 minutes, until potatoes are fully cooked through (check with a skewer or a sharp knife) and cabbage is no longer raw.
Taste, adjust the seasoning. You may want to add a touch (½-1 tsp or so) of sugar if your tomatoes are too tangy.
Ideally, allow the soup to 'cure' overnight (it will taste better) before serving but that's not necessary. If you plan to make it for more than one meal, what tends to happen is that the cabbage absorbs all the extra liquid while the soups stands around so make sure to add some more water (go by your preference) when heating it up to bring it back to the consistency you like.
Once in bowls, garnish with a dollop of vegan pesto to impart even more flavour.
NOTES
HOT TIP
: If you have time to make this soup a day ahead (which I recommend), make it until step 7 and allow it to cool down. Finish the remaining steps (8-11) just before serving – that way your vegetables won't be overcooked and discoloured.
*If you prefer your soup less tomato-y, use one can and some vegetable stock or more water to compensate. It will be thinner though.