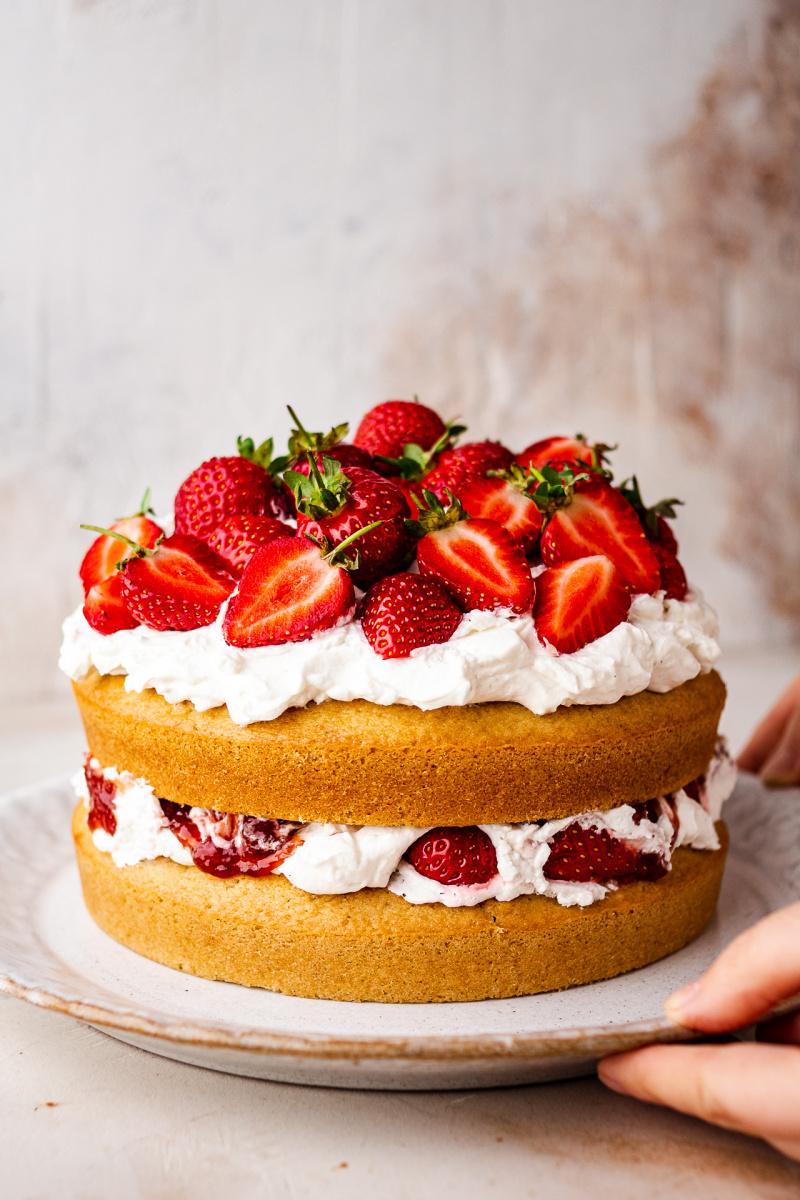 Happy weekend, guys! Hope you have some relaxing things planned? We are really excited as finally, after almost a month (we started on 2nd August), we will be able to take a proper shower tomorrow morning. It's funny how some deprivation makes you appreciate basic comforts again, like warm water pouring on your face from a height without the need for a bucket, a pouring jug, a garden hose or any other mechanisms we've had to employ to keep ourselves acceptably clean for a month 😉 .
Yesterday we had the walls grouted and they look magnificent. We did make a last minute decision to change the grout colour we've been planning on using and we are really glad we did. The original grout – called beige but looking more like medium brown – looked fine on a small sample I made, but I was really worried that it will look too dark and oppressive once the lines are repeated every 6.5 cm (2½"). The new grout has a warmish light grey tone to it and the tiles are looking great – their shape is nicely accentuated but doesn't feel like the grout lines are closing in on you, if you know what I mean.
The taps went on yesterday and they look smashing. Today, we get to finally see our custom vanity unit go in and that's probably something I am most excited about as only just over a month ago it was an idea floating around in my head that I wasn't even sure is possible. With the help of the ever enthusiastic Duncan and our can-do bathroom guy, it's happening and I have high hopes for it making the bathroom look really special. I'll be holding my breath all day until I can see it in place…
Since having this project finally finished feels like a massive milestone, I made a big cake to celebrate and also because the British strawberry season is finally coming to an end, I figured I want to make something special with the last few punnets I buy. I baked a vegan version of a British classic – Victoria sponge.
Two layers of vanilla sponge, sandwiched by simple frosting, some quality strawberry jam and crowned with fresh straws. It's beautiful to look at and delicious. The traditional versions tend to be simply dusted with icing sugar instead of cream and strawberries but I wanted the strawberries to shine here. Typically, this kind of cake is frosted with simple butter cream – butter whipped with icing sugar. You can do that with vegan butter too, if you wish, but I opted for vegan whipped cream as it works really well and requires far less work. Alternatively, you could also make a simple cashew frosting instead if you'd rather use wholefood ingredients.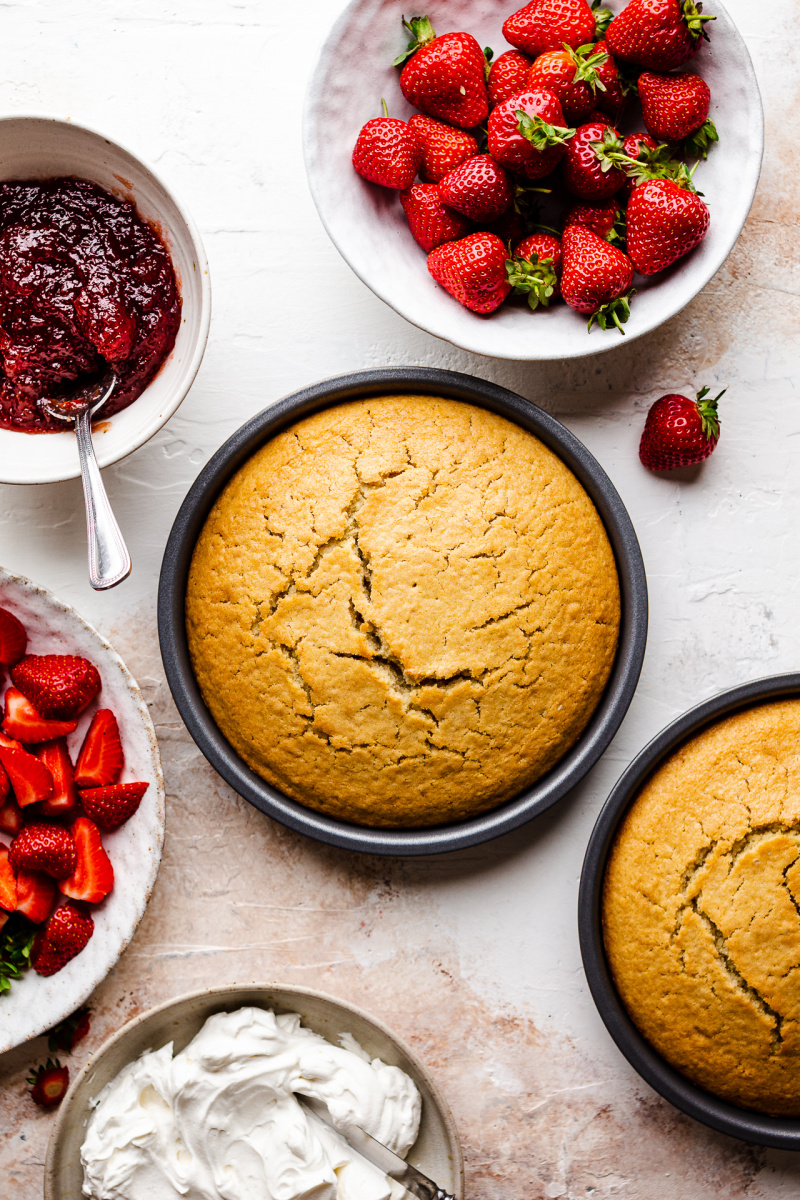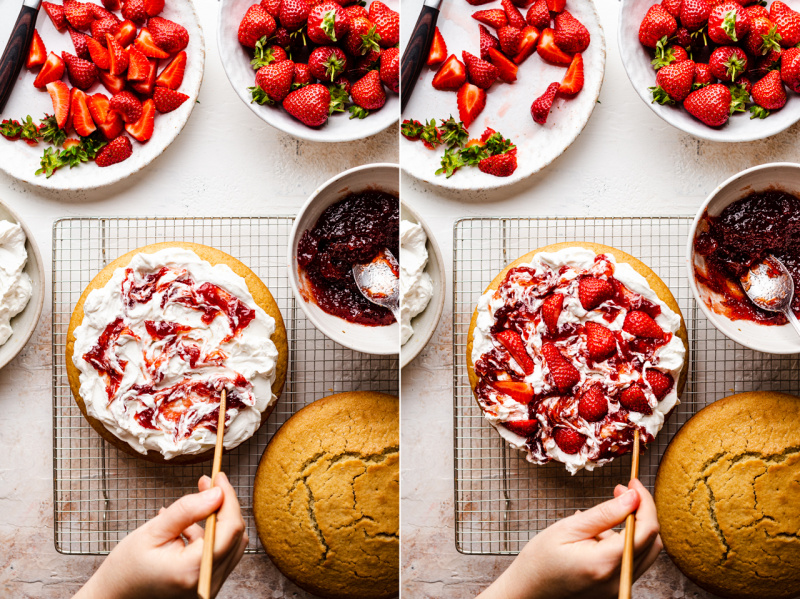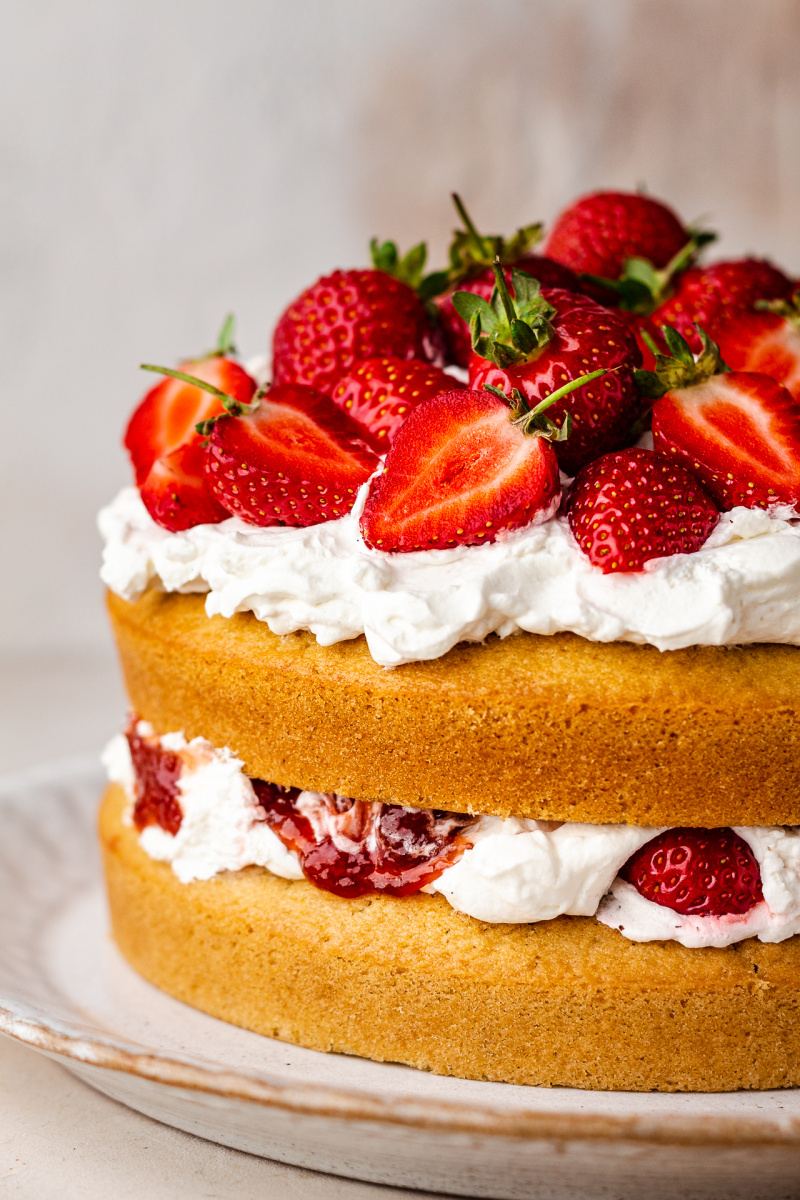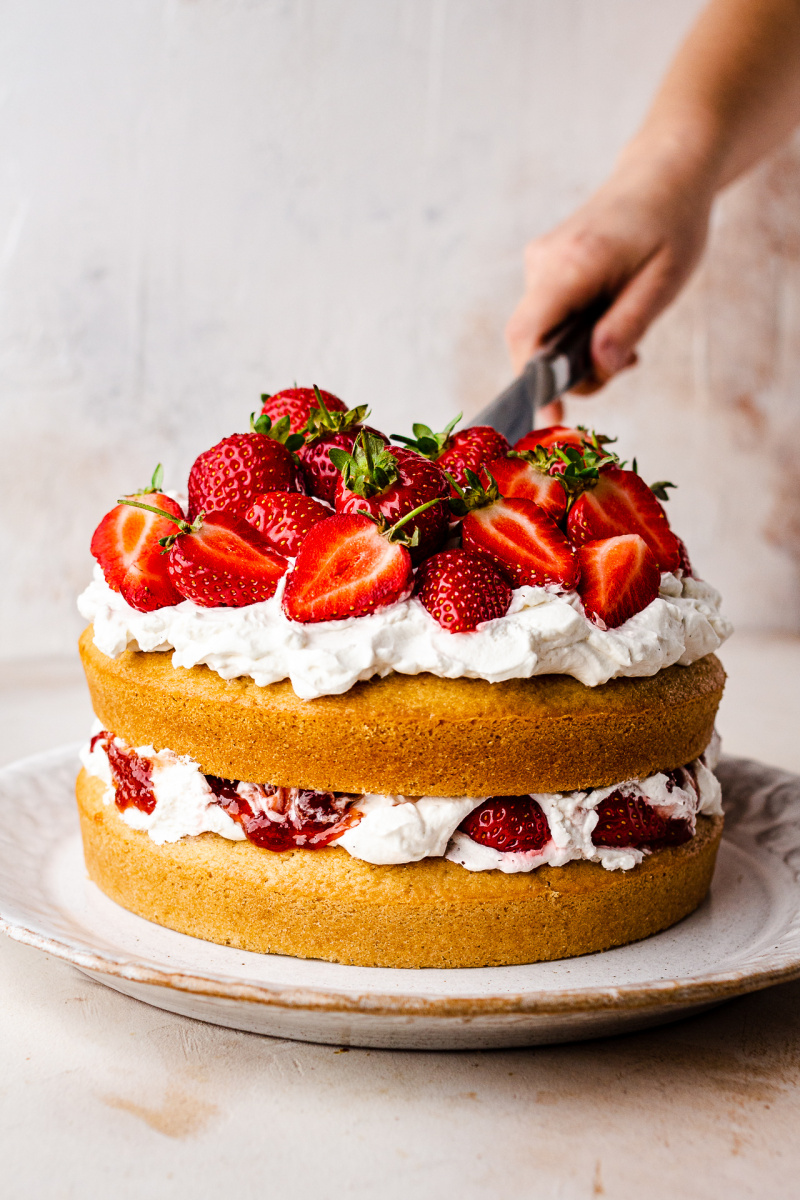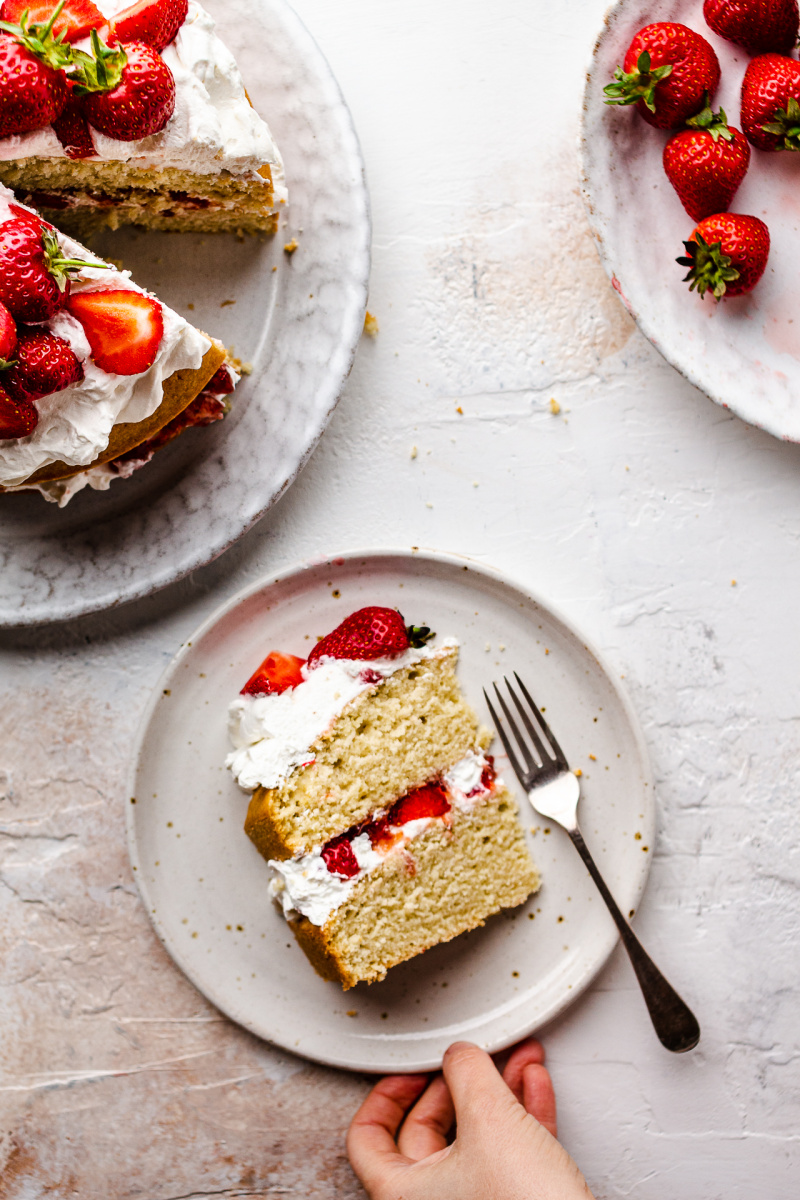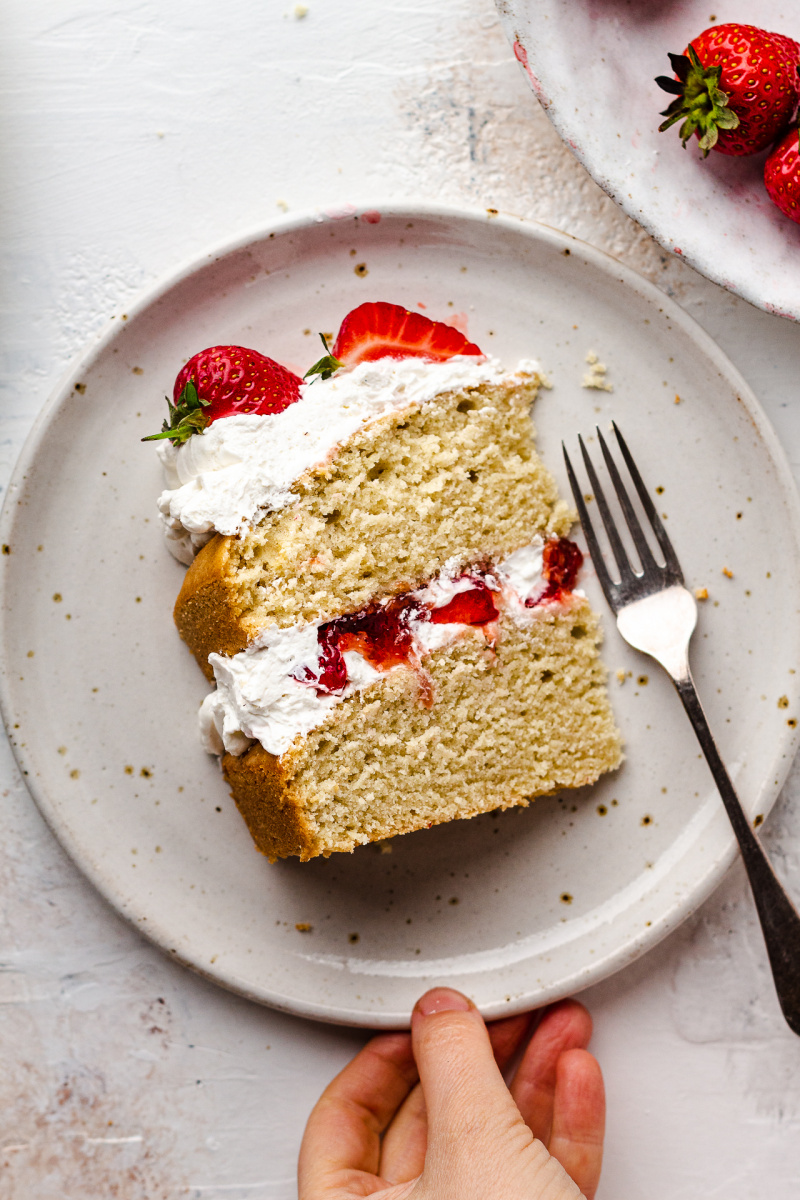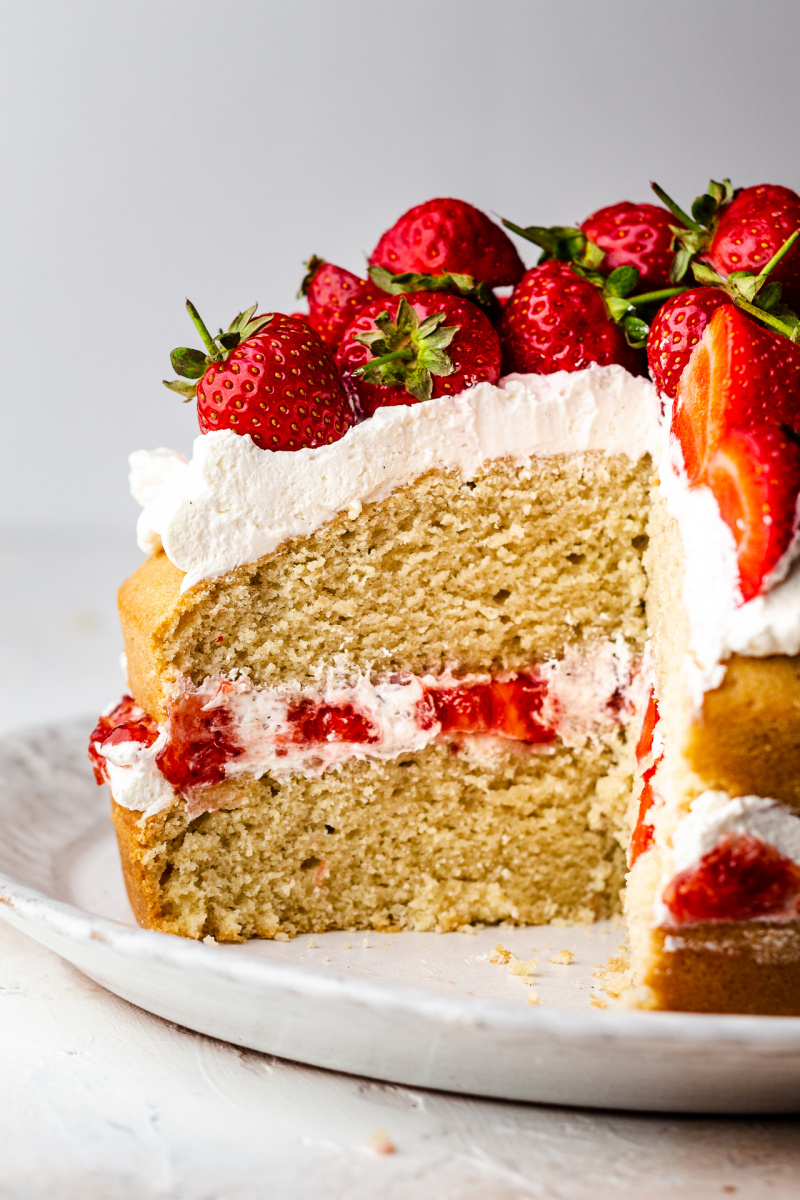 CAKE
FILLING / TOPPING
250 ml / 1 cup vegan whipped cream (like Oatly)*
2 tsp vanilla extract or paste
2 tbsp icing sugar, to taste
160 g / ½ cup quality strawberry jam
500 g / 1 lb fresh strawberries
METHOD
Heat up the oven to 180° C / 355° F (without the fan function) and grease and line two 20 cm / 8″ round cake tins.
Combine soy milk and lemon juice in a small pot and warm up until just barely lukewarm. It will curdle – that's what it is meant to do.
Beat softened coconut oil (or vegan butter) and sugar with an electric mixer until nice and fluffy.
Once whipped, fold in about a third of the lemon soy milk mixture and both extracts.
Place a sieve over the bowl and sift in approximately a third of flour and all of the cornflour. Gently fold dry ingredients into the wet ingredients by making small circles in the middle of the bowl with your spoon to minimise lumps. It will take a while to incorporate well, don't rush this step. Alternating dry and wet ingredients like this prevents the batter from being too runny to begin with and therefore lumps from forming.
Next, fold in another third of soy milk, followed by another portion of sifted flour.
Finally, add the last of the soy milk followed by both raising agents, salt and xanthan gum (for GF version) with your third batch of flour. Fold really gently so that you don't knock too much air out of the batter.
Divide the mixture between two tins and bake until a toothpick comes out clean of cake crumbs, about 30-32 minutes.
Allow the cakes to cool down completely before removing from the tins and icing.
FILLING / TOPPING
Whip chilled vegan whipping cream in a clean bowl according to the instructions on the packet. Add vanilla and a bit of sugar to taste.
ASSEMBLY
Spread jam and cream on top of the first sponge cake, decorate with a few fresh strawberry halves.
Top with the second sponge cake, decorate the top with more cream and strawberries or if you are after a more traditional look, simply sprinkle the top with some icing sugar.
NOTES
*SOY MILK works best but other thin plant milks will work too.
*FROSTING if you'd rather use a wholefood frosting, this one wholefood frosting here (replace some of the lemon juice with plant milk) or this one will work well too.
*XANTHAN GUM – only needs to be used if using gluten-free flour mix that doesn't already contain xanthan (or other) gum.