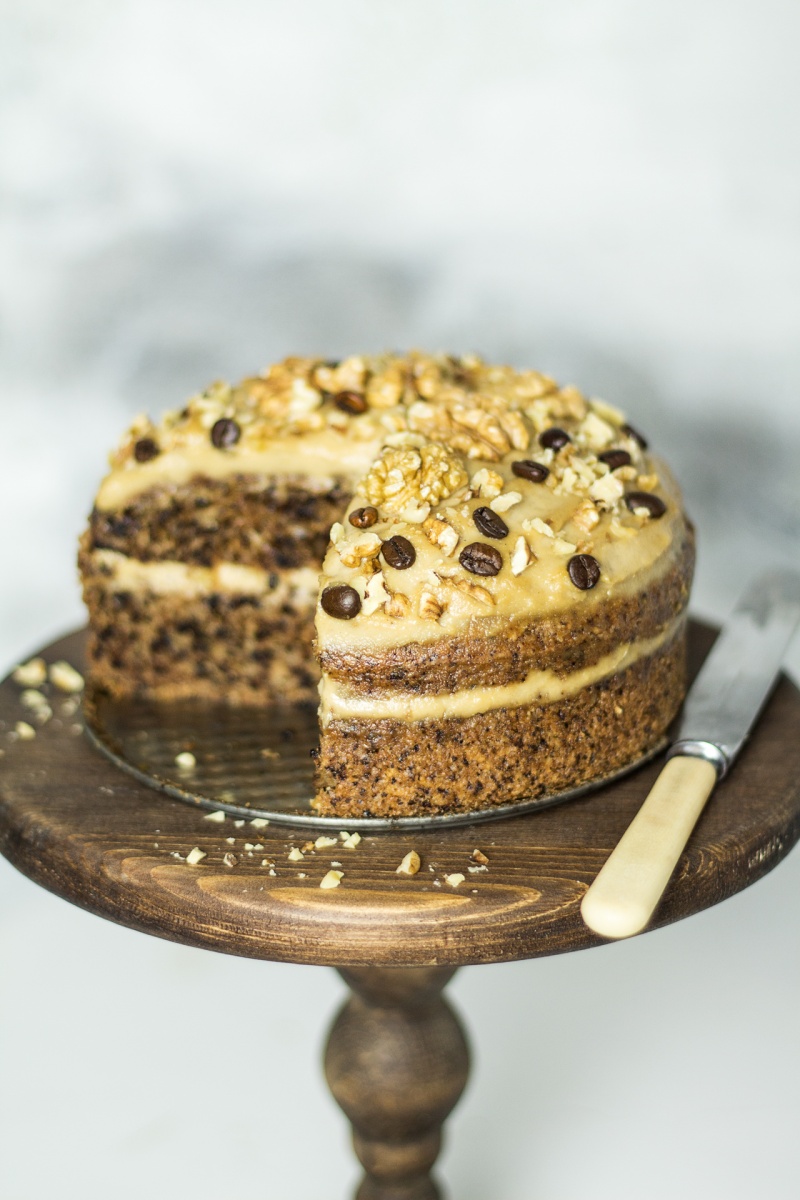 A big Friday slice of vegan walnut cake with coffee frosting anyone? Walnut coffee cake is one of my firm favourites as it combines my two loves…Nuts and coffee. I've been dreaming of making it for a while, but I have somehow managed to stop myself throughout the whole of January as I was trying to curb my insatiable sweet tooth.
I succeeded but I kinda failed too as instead I got myself quite addicted to a particular type of slightly salty dark chocolate and whenever I am in my local supermarket, I instinctively grab at least 5 bars at a time. Don't panic, I don't inhale them all in one sitting and Duncan helps A LOT, but they don't exactly last me for ages either…So it's sweet tooth 1, Ania 0.
This vegan version of a classic cake is dedicated to Duncan's cousin, Sydney who confesses to loving this flavour combo as much as I do. Plus she is generally a lady after my own heart and loves any good cake, lucky she lives nearby, right? She sometimes pops round for tea or to taste test stuff for the blog.
When she was here this week, I roped her into walking our cat, Tina. Something that has earned me the nickname of a 'helicopter mum'. Okay, I haven't completely lost my marbles. I try to accompany Tina in our garden to give her more confidence to face the bully cat next door I wrote about a couple of posts back.
Syd and I were standing outside, 'praying' for the sunshine while Tina investigated the garden. Sydney was rocking a hot cup of tea in one hand and a fluorescent super soaker in the other – a device we acquired to dampen the other cat's enthusiasm for trying to rip poor Tina's head off. We haven't had to use it yet, but I fear that it may come in handy as that cat is relentless and even me standing around Tina does not stop him from chasing her away from her own backyard.
So while Syd, the super-soaker and I had probably more fun than petrified Tina, we managed to get her out of the house, chasing some leaves in the wind, feeling the sunshine on her face and getting her confidence up. She has started asking to be let out now, even if it's only for 5 minutes or so, instead of running away and hiding whenever I open the conservatory door, so I think that my plan is working and it forces me to take a breather from my work too. Plus, I love seeing how happy she is once she forgets about the bully cat and starts enjoying herself outside.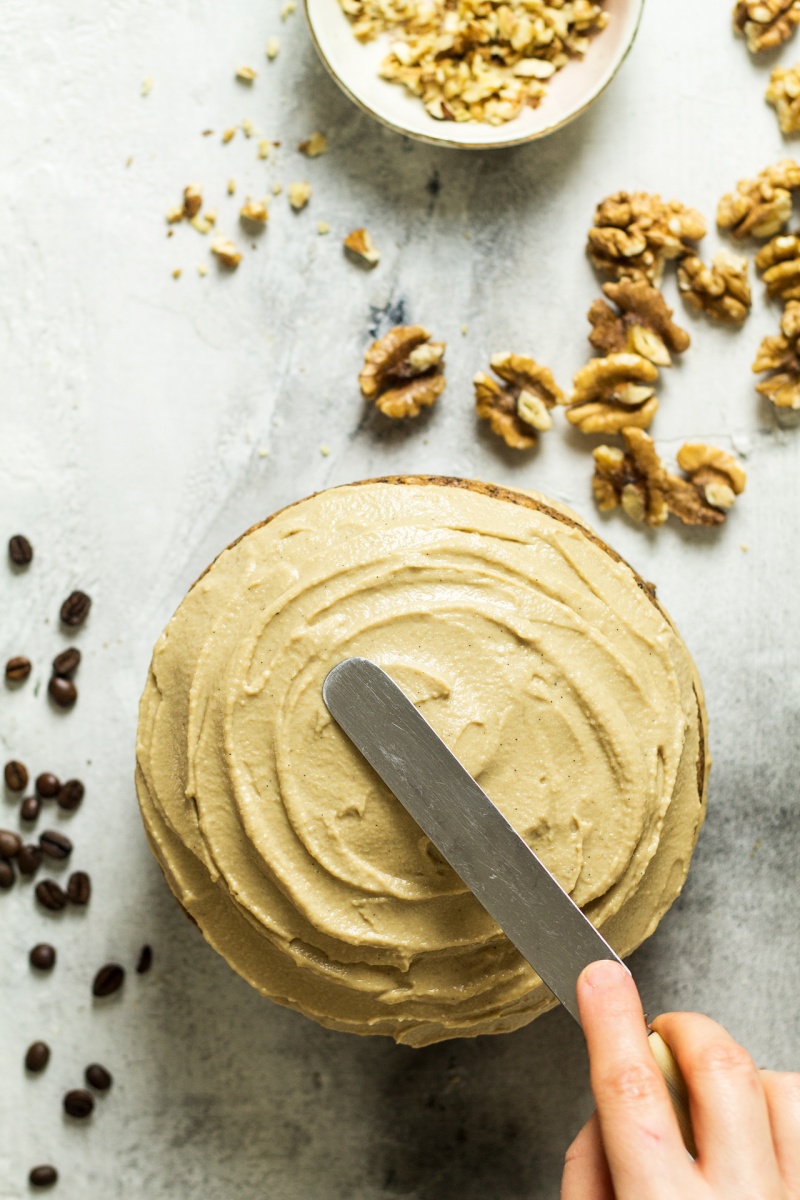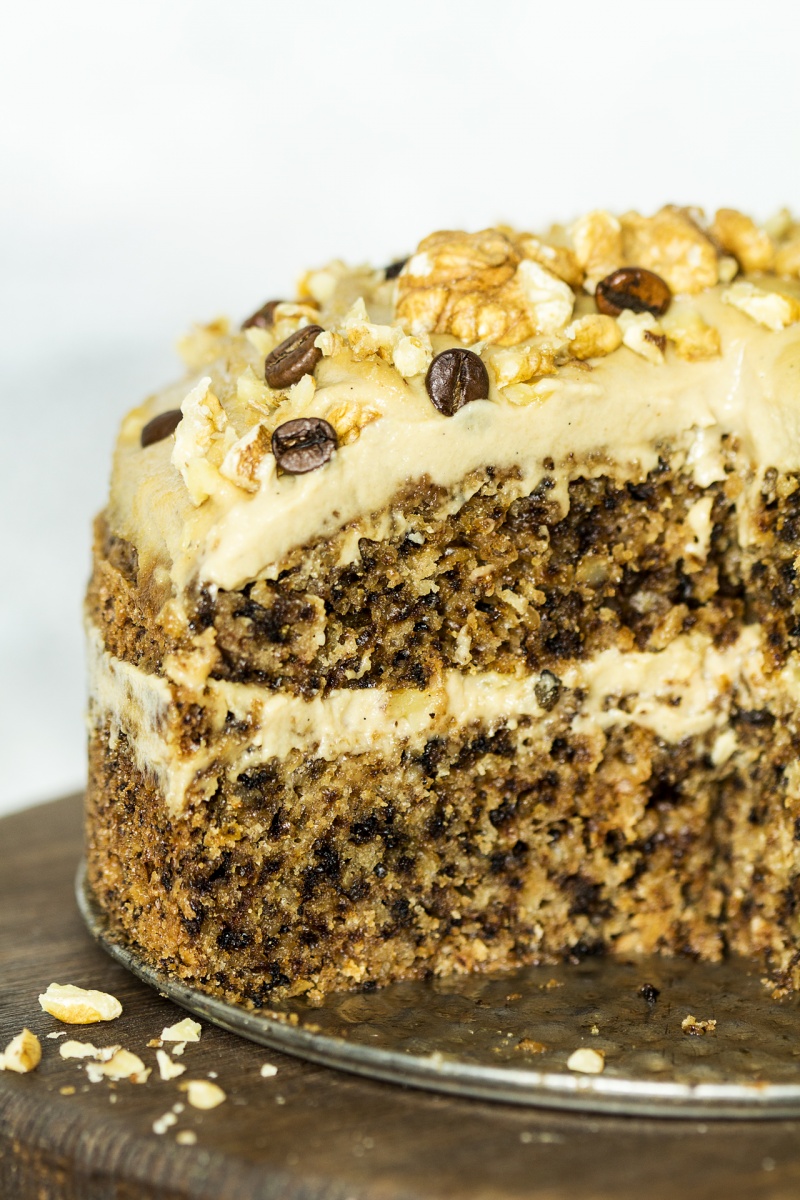 COFFEE 'BUTTERCREAM' (make it a day ahead if you can!)
120 ml / ½ cup maple syrup or other liquid sweetener
3 tsp instant coffee, dissolved in 2 tsp warm water
1½ tsp vanilla extract or 1 vanilla pod, seeds scraped
16 g / 2 tbsp refined coconut oil, melted
300 g / 2 cups raw cashews, soaked overnight*
30-60 ml / 2-4 tbsp plant milk (optional, see instructions)
WALNUT CAKE
Dry ingredients
200 g / 1½ cups + 1½ tbsp** all purpose white flour
100 g / 1 cup finely ground walnuts
½ heaped tsp baking soda
1 level tsp baking powder
175 g / ¾ cup + 2 tbsp caster sugar
Dry ingredients (gluten-free version)
Wet ingredients
240 ml / 1 cup plant milk, lukewarm
60 ml / ¼ cup brewed coffee
60 ml / ¼ cup melted refined coconut oil (or other mild tasting oil)
DECORATIONS and EXTRAS
coffee beans
walnuts, halves and chopped
METHOD
COFFEE 'BUTTERCREAM' (make it a day ahead if you can!)
Put maple syrup, dissolved coffee, vanilla extract and melted coconut oil at the bottom of a blender. Add approximately one quarter of the drained cashews (discard the water) and blend until super smooth.
Proceed to blend the cashews until super smooth, quarter by quarter. If your blender is getting stuck and breaking an air pocket that tends to form under the mixture of the surface with a spatula does not help, add a touch of plant milk, but no more than 2 tbsp of thin milk (like almond) or 4 tbsp of thick, full fat coconut milk. This should help your blender churn the thick mixture.
Refrigerate for a few hours, ideally overnight, for the mixture to thicken and for the flavours to develop.
CAKES
Set the oven to 170° C / 340° F (150° C / 300° F fan forced). Grease a 16.5 cm / 6.5″ spring form round tin.
Sift the flour into a large bowl, add the remaining dry ingredients (ground walnuts, baking soda and baking powder) and fine caster sugar. Mix everything well.
Add all the wet ingredients and fold them gently into the dry ingredients. If using gluten flour, please take care not to overmix as otherwise the cake will be tough.
Fill the tin with the batter – it should be thick but still pourable – and place in the preheated oven for 60-65 minutes, until a toothpick comes out clean.
Let the cake cool down completely before removing it from the tin and cutting it into two round slices with a serrated knife.
ASSEMBLY
Put a layer of cashew frosting on top of the bottom slice. You may want to sprinkle some chopped walnuts on top of the icing at this point.
Place the second slice on top and frost the top of the cake and the sides (optional) with more cream.
Decorate with chopped walnuts and coffee beans (remove these before consumption).
NOTES
*If you forgot to soak your cashews overnight, soak them in boiling water for 30 minutes or so (the longer the better) before blending.
**1½ cups of all purpose flour is only 188 grams so adding an extra 1½ tablespoon (12 g) is required here if not using metric measurements.