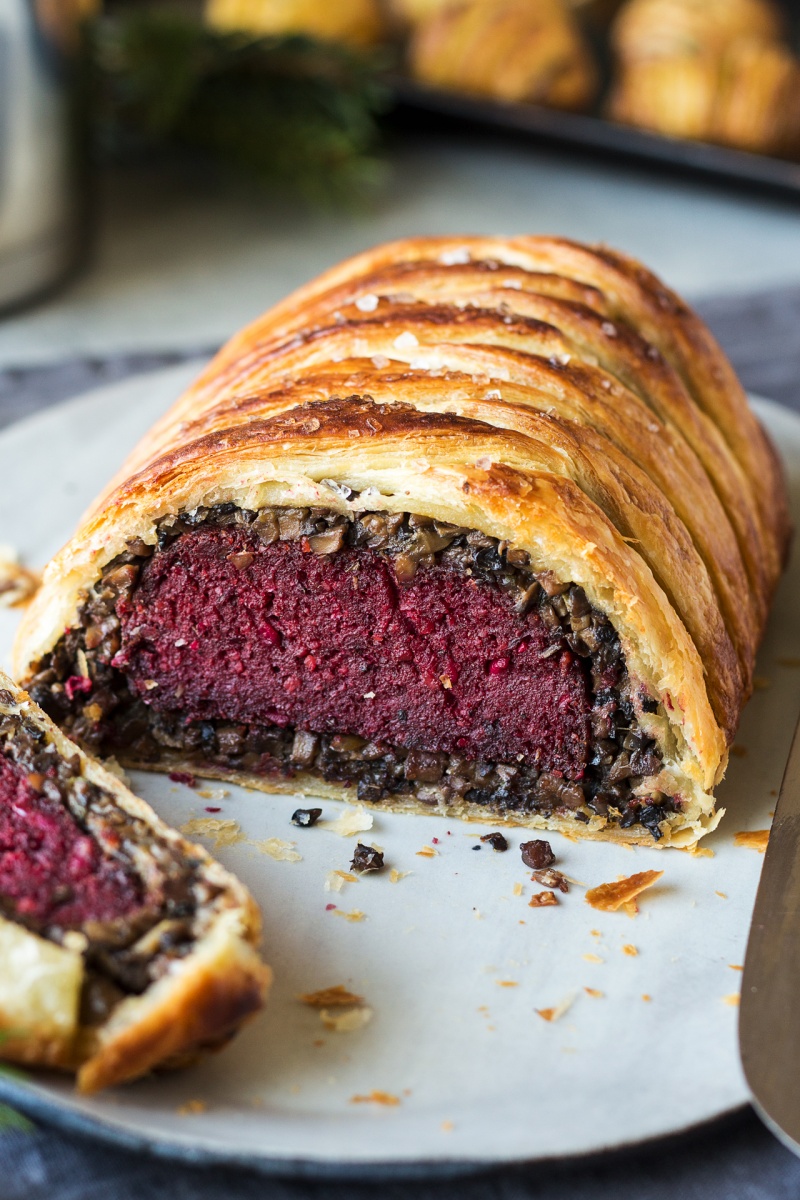 Ho, ho, ho, only a week and a half to go! Can you believe it? It's gone so fast for me. Time to have a good think about what to cook for the Xmas table, I think. This year's Xmas "pièce de résistance" is a Beet Wellington with a twist.
I made a beet Wellington two years ago and while I still stand by that recipe, I decided to shake things up a little while keeping the general theme and flavour profile the same. Inspired by my vegan sausage rolls recipe, I swapped the beet filling for a combination of firm smoky tofu for texture, nuts, herbs, aromatics for depth of flavour and a baked beetroot for colour. This version has a bit more of a bite and tons of umami. It has quickly become our household's latest favourite. We've eaten it several times already this autumn and we will be bringing it to our Xmas dinner this year too.
Our lovely friends, Annette and Jeff, have invited us over for Xmas dinner this year. Not only that, they are not vegan, but volunteered for the dinner to be completely vegan! They initially offered to cook everything themselves, but that just felt so unfair, especially as they have a very energetic toddler to look after , so we've decided to split the workload. We will be bringing the centrepiece and a dessert while they will be tackling all the side dishes.
We are so touched and are really looking forward to our get together. It is not easy being vegan at Xmas and most people are so attached to what they habitually eat, that we would not dream of talking someone into not cooking their usual Xmas staples for our sake. So we are really really grateful to them for being so open-minded and welcoming. It's so nice!
As you can see, this recipe is a little more complicated than what I usually tend to share, but it is Xmas so we are pulling out all the stops. If you have the time, I would encourage you to cook the filling (both the beet and mushroom components) and the gravy the day before as their flavours will have a chance to develop and the overall taste of the dish will be improved hugely. Well, I really hope you won't be put off by a bit of process and you'll make my Wellington for Xmas or, if you don't celebrate it, a special occasion that warrants a bit of a treat. And I hope you'll enjoy it as much as we have!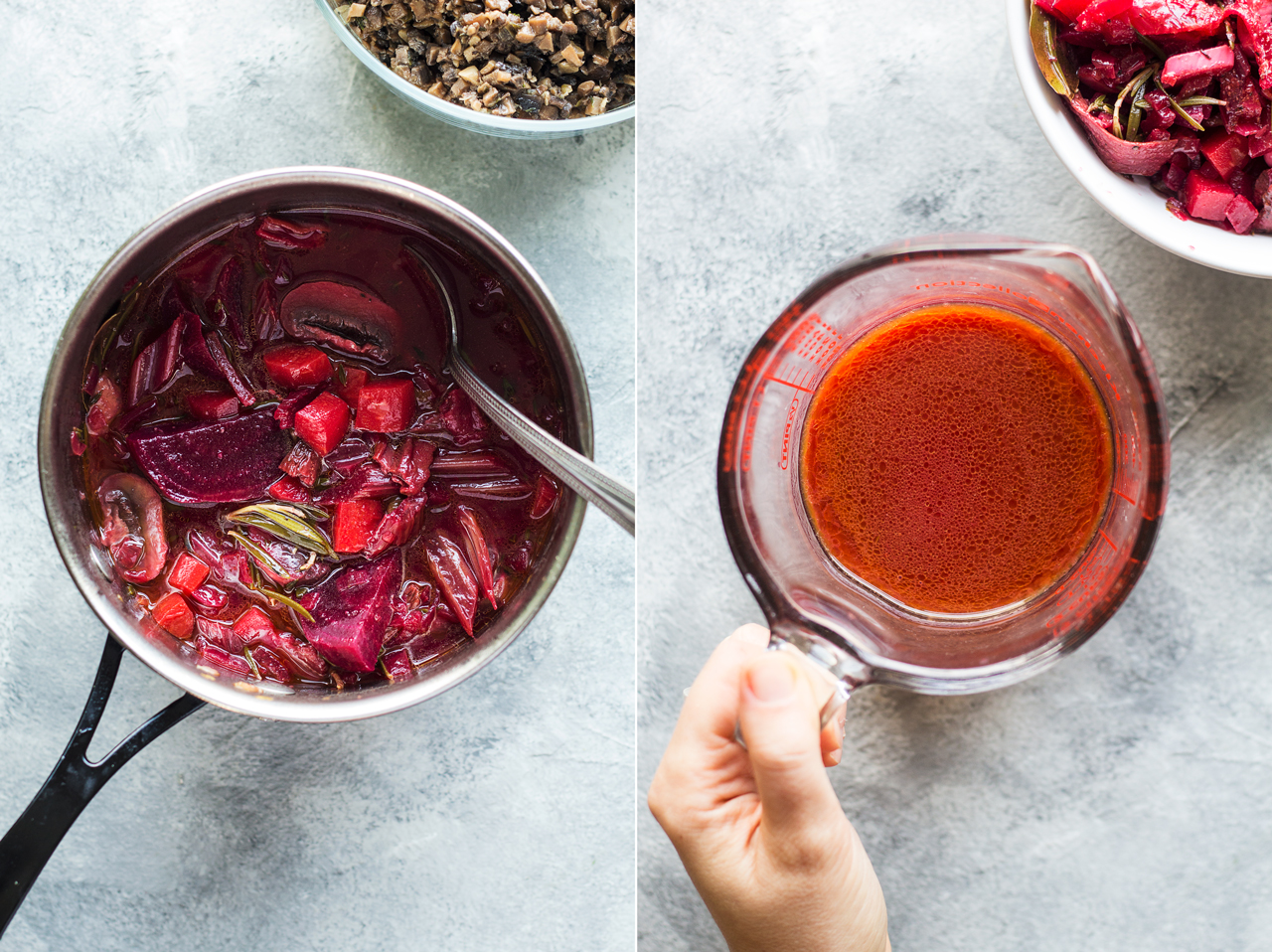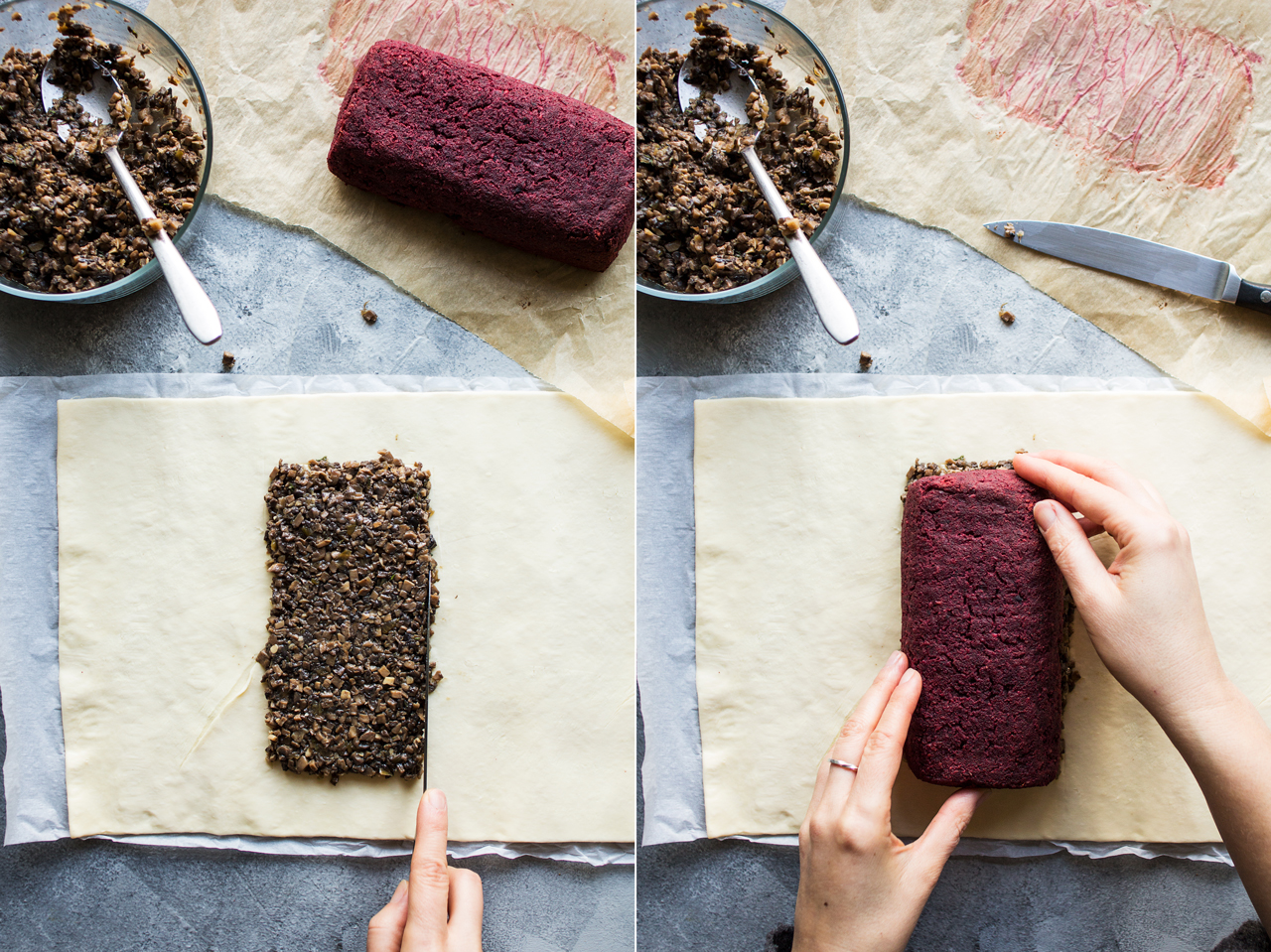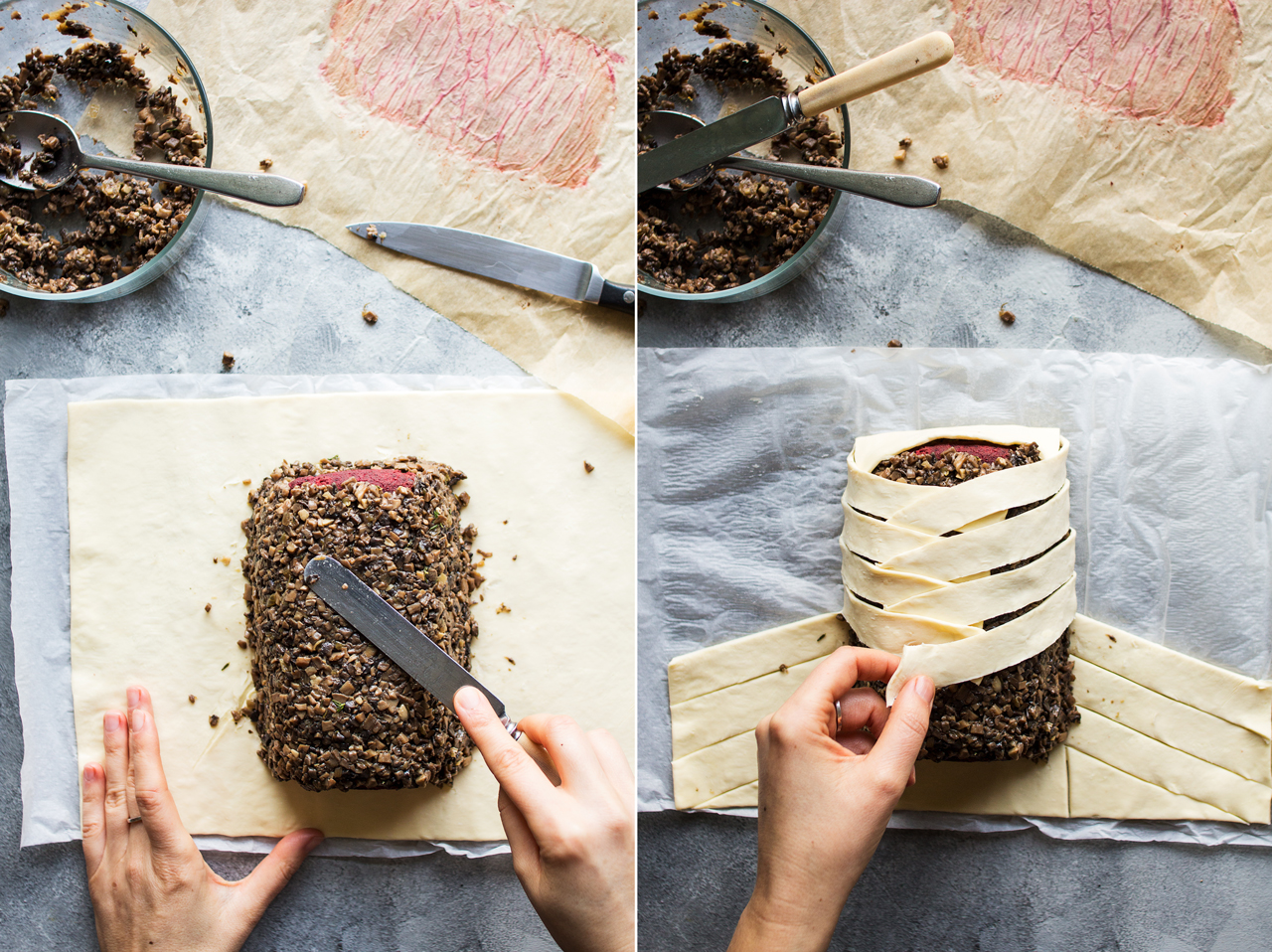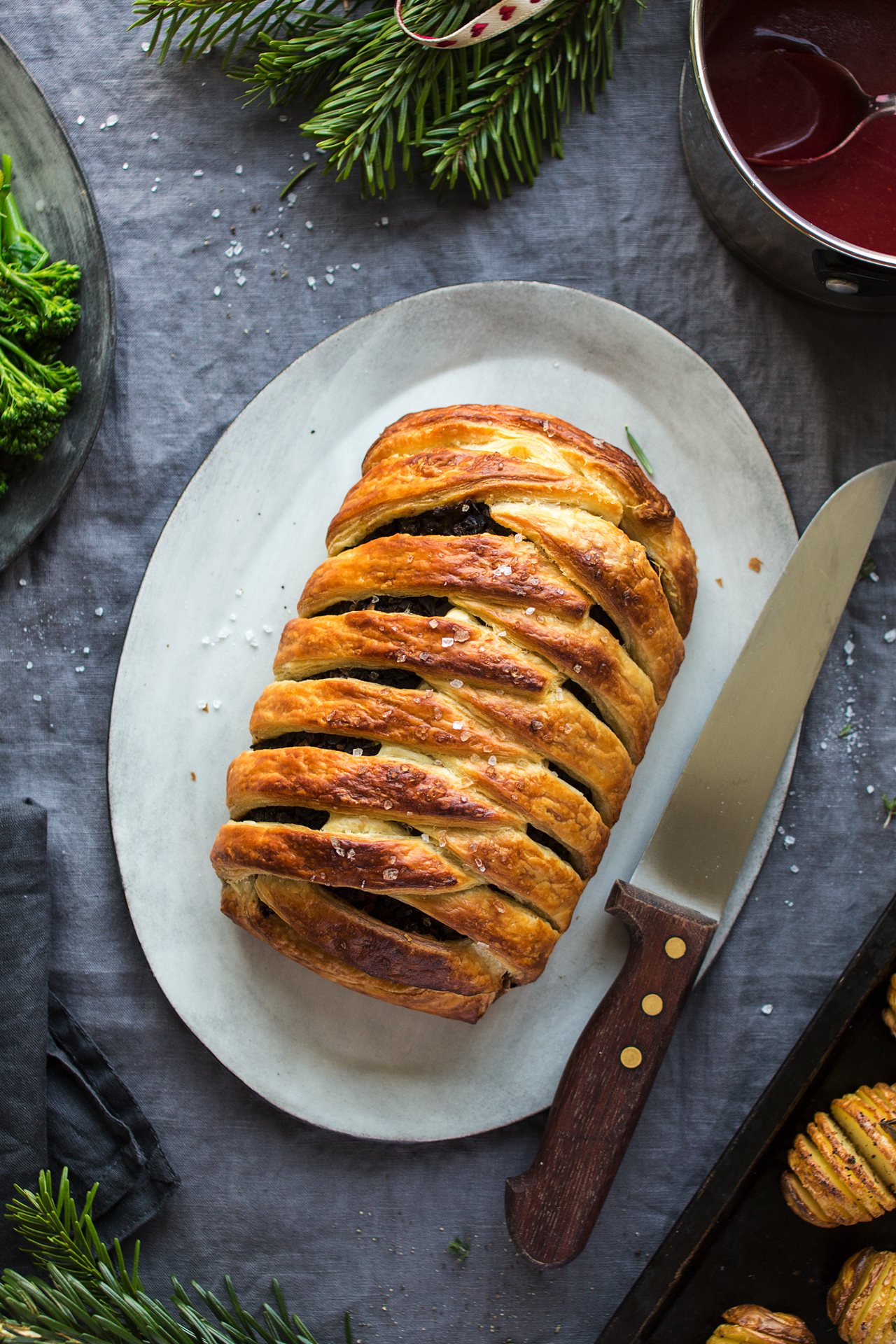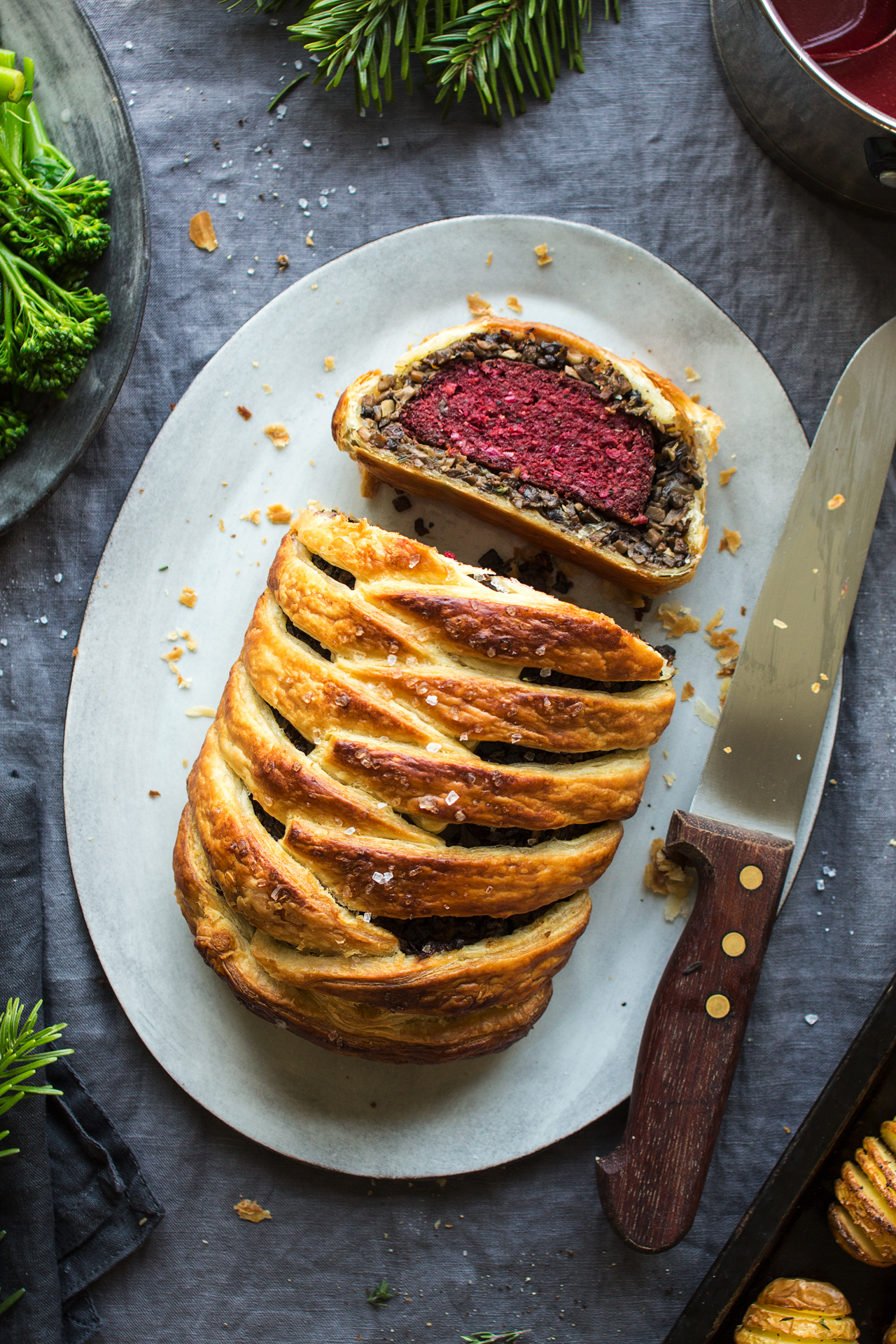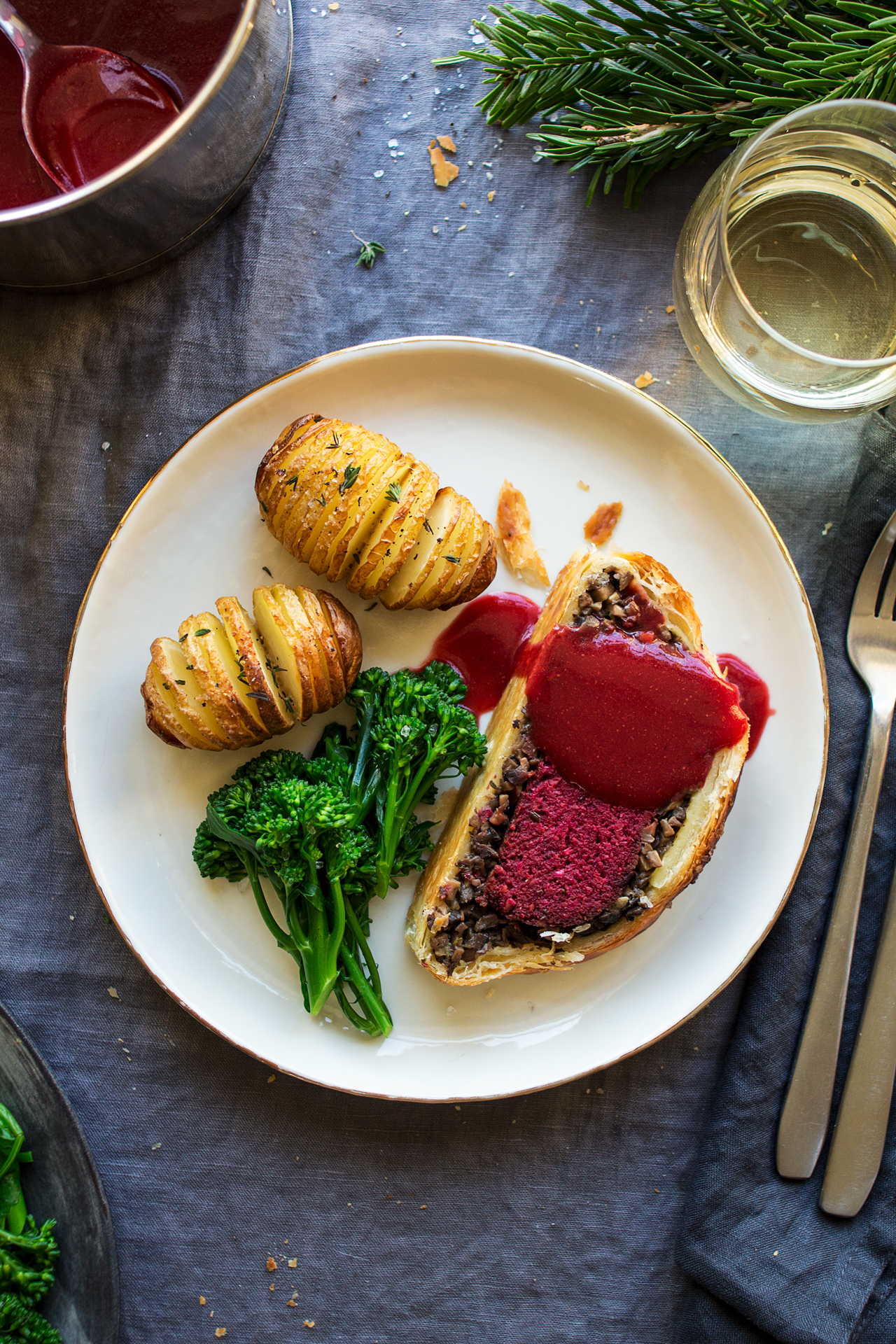 SMOKY BEET FILLING
2 tbsp olive oil
3 shallots or ½ onion, finely diced
2 garlic cloves, finely diced
3 tsp finely minced fresh rosemary leaves or 1 tsp dried
2 tsp thyme leaves or 1 tsp dried
75 g / ¾ cup toasted (optional but recommended) walnuts
1 medium-large baked (or cooked) beetroot*
240 g / 8.5 oz pack of firm smoked tofu, pressed**
¼ tsp smoked paprika
1 tbsp nutritional yeast
1 tbsp balsamic vinegar
1 tsp maple syrup
salt (approx. ½ tsp) and pepper, to taste
2 tbsp flour, I used GF flour
1 sheet vegan puff pastry***
1 tbsp soy (or other thin plant) milk, to glaze
coarse sea salt, sesame seeds or poppy seeds, to garnish (optional)
GRAVY
2 tbsp olive oil
3 shallots, roughly diced
2 garlic cloves, sliced
1 carrot, roughly diced
2 celery sticks, roughly diced
15 g / 0.5 oz dried porcini mushrooms, well rinsed
4 button or chestnut mushrooms, sliced
1 medium beetroot, peeled and sliced
a few sprigs of thyme
a few sprigs of rosemary
1 bay leaf
1 tsp red miso paste
1 tbsp nutritional yeast
240 ml / 1 cup white (or red) wine
salt and pepper, to taste
1 tsp sugar
2 tsp cornflour / cornstarch, dissolved in 1 tbsp water
DUXELLES (MUSHROOM PATE)
600 g / 21 oz button mushrooms
2 tbsp olive oil
2 shallots, finely diced
2 garlic cloves, finely diced
a few springs of thyme, leaves picked
salt and pepper, to taste
METHOD
SMOKY BEET FILLING
Heat up 2 tbsp of olive oil in a heavy bottomed pan. Add the finely diced shallots and fry on a low-medium heat until soft and translucent. Add the chopped garlic, rosemary and thyme, gently fry for a few minutes until softened and fragrant. Allow the mixture to cool.
Place the walnuts in a food processor and process until fine. Transfer the walnuts out of the food processor.
Heat up the oven to 180° C / 355° F and line a baking tray with a piece of baking paper.
Add the beetroot to the food processor and process until finely shredded. Then add the drained tofu, onion and garlic mixture, smoked paprika, nutritional yeast, balsamic vinegar, maple syrup and salt / pepper. Process until you get a homogeneous mixture. Finally add in the flour and ground walnuts. Process some more.
Empty the contents of the food processor onto the prepared tray and form the mixture into a compact, uniform 16 cm / 6.25″ long log with a spatula or your hands.
Bake for about 30 minutes and allow it to cool down.
GRAVY
Heat up 2 tbsp of olive oil in a heavy bottomed pan. Once the oil comes to temperature, add the roughly diced shallots, garlic, carrot and celery sticks. Sauté on a low-medium heat gently until caramelised, stirring often.
Next add in the porcini and button mushrooms, beetroot, herbs, bay leaf, miso paste, nutritional yeast, wine and 1 cup (240 ml) of water.
Allow the mixture to simmer gently for about 30 minutes.
Season with salt, black pepper and sugar (if needed). Set aside for the flavours to infuse (ideally overnight if you have time).
Strain the mixture and squeeze all of the juice out of the veggies.
Return the liquid to a small pot. Taste and season to taste.
Bring the gravy to a gentle simmer. Thicken it a little by whisking the cornflour slurry in slowly while it simmers.
DUXELLES
Clean all of the mushrooms and dice them finely. I don't recommend using a food processor for this as it is really easy to overprocess the mushrooms and lose all of the texture.
Heat up 2 tbsp of olive oil in a heavy bottomed pan. Add the finely diced shallots and fry on a low-medium heat until gently soft and translucent. Add the chopped garlic, stir-fry until softened and fragrant.
Add in all the diced mushrooms, thyme leaves and a good pinch of salt and pepper.
Allow the mushrooms to cook gently, stirring them from time to time.
Once cooked, taste the mixture and adjust the seasoning to your taste. Allow the mixture to cool off completely before assembling the Wellington. In fact, it will stick to the filling better after some refrigeration time.
ASSEMBLY
Allow the roll of puff pastry to sit at room temperature for 10 minutes before rolling it out and assembling your dish.
Heat up the oven to 220° C / 425° F and prepare a small baking tray. Pre-heat another baking tray (old fashioned metal one) upside down in the oven to stop the bottom from getting soggy.
Place the sheet of pastry in front of you so that the longer edge runs parallel to the work bench (I used a Jus Roll puff pastry sheet, which measures 23 cm / 9″ by 35 cm / 13.5″ cm).
Designate an area in the middle of the pastry that is of the same size as the base of your beetroot log. Place a compact layer of duxelles in that area.
Place your beetroot log onto the duxelles.
Using a butter knife, a supple spatula or simply your hands, cover the log with the rest of your duxelle mixture, making sure you compress the mixture gently as you go along (so that it doesn't fall off the log).
Once the filling is in place, make a series of 2.5 cm / 1″ incisions in the pastry on both sides of the stack at a slight diagonal (see photos in the post). The resulting strands of pastry will be braided at the top of our Wellington.
Fold both end (top and bottom) flaps up, like you would wrap a present and then braid the strips over the top of the filling, alternating sides. If you end up with big gaps at either of the ends, patch them up with leftover pastry. The tiny gaps in between the braids allow the steam to escape and prevent the Wellington from bursting while in the oven.
Brush the pastry with plant milk and sprinkle with coarse salt, sesame seeds or poppy seeds.
Bake for about 35 minutes, until the pastry is beautifully puffed and golden. Serve with your favourite sides and the beet gravy on the side.
NOTES
 *If you want that beautiful deep pink colour, I recommend using a fresh baked beetroot rather than the vacuum packed, pre-cooked one. I bake my beetroot wrapped in foil at 200° C / 390° F until soft (about an hour for a medium size beetroot).
**I used a UK brand of tofu that comes in a 240 g (8.5 oz) packet, but I realise that is a bit unusual. It's fine to use 200 g / 7 oz of tofu instead – simply compensate by using a little more walnuts and flour.
***I know that Jus-Rol and Pepperidge Farm are definitely vegan and that Dufour definitely isn't. If in doubt, check the packet for more details.
This amount of filling makes a Wellington of the following dimensions 20 cm x 6 cm x 13 cm / 8″ x 2.4″ x 5″, which is enough for 8 people. If you wish to make this dish larger, simply multiply all the ingredients by 1.5 apart from the pastry, which should be big enough for a larger log – I had lot of offcuts.