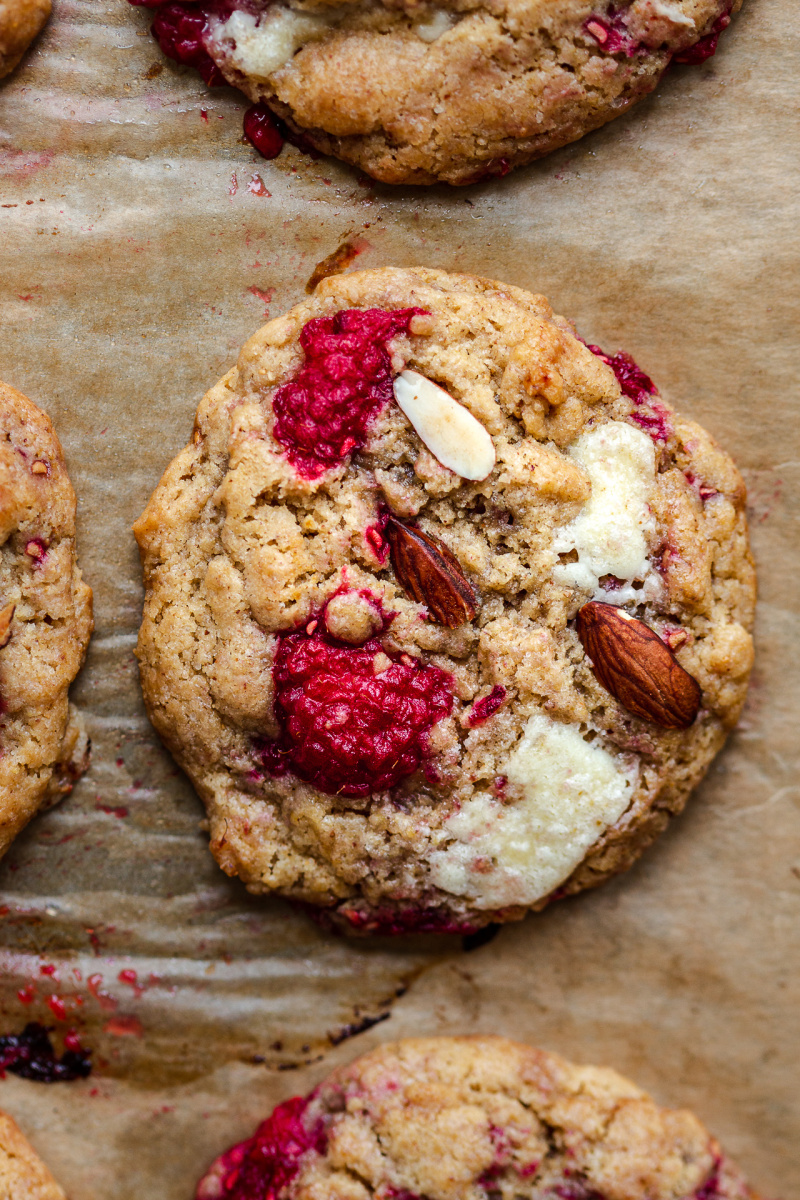 I'm making a very brief appearance on the blog as I'm in the middle of some self-induced household chaos and despite my best efforts, I've gotten a little stressed.
First, it was little niggles like the fixtures not matching each other despite being purchased from the same range, necessitating countless calls and emails to customer service and having to explain and send photos of the same thing again and again before anything gets actioned while the contingent renovation milestones got dangerously close.
Then, we found out about our rotten floor joists (which are now fixed, phew). Yesterday the electricians showed up and knocked the air out of us with another piece of not good news. It turns out that our electrics are toast and the house needs a complete rewire. I could not believe this was real. Not only does a job like this carry a very hefty price tag, but it means so much destruction…including the rooms we've only just finished and were so happy tick off our long 'to renovate' list. We were both gutted to say the least. I got a second opinion this morning just to be sure and the second electrician largely agreed with the diagnosis of the first, there is no escaping this. So I've felt a lot of pressure and guilt over not anticipating this, not getting the electrical survey done before buying etc. – self-blame is something I am really good at and so I've felt a lot of anxiety as a result.
Recipe-wise I bring you some cookies and that's all I was able to test while fielding questions from our bathroom fitter, fretting about the state of electrics and chasing the exchange of our shower trim. They are easy to make and use one of my favourite summer berries: raspberries. Raspberries are in peak season and they are delicious right now and I love how they burrow into the cookies creating tangy pockets that contrast so nicely with sweet pools of melted white chocolate. I hope you'll enjoy them too. x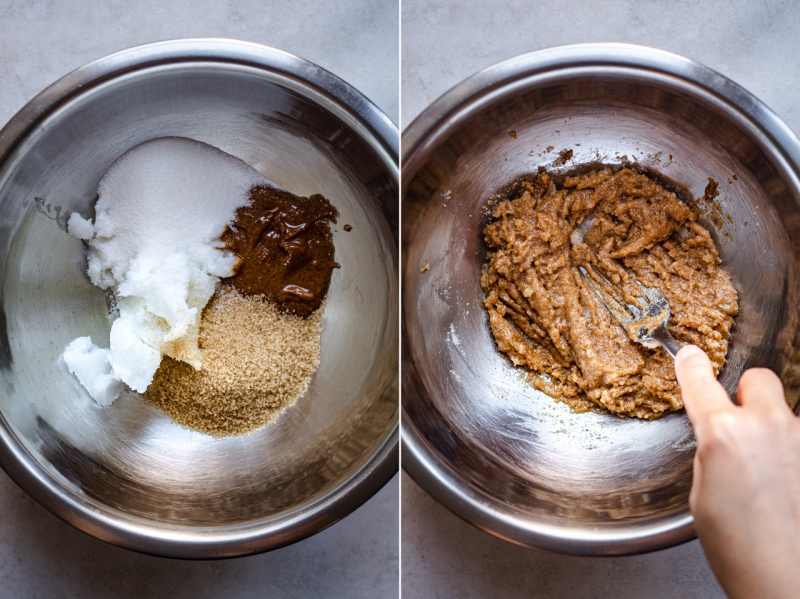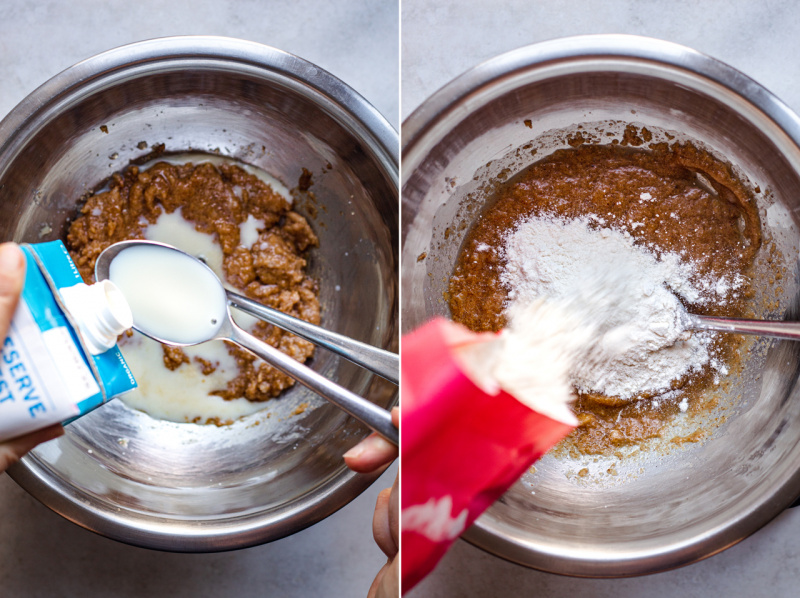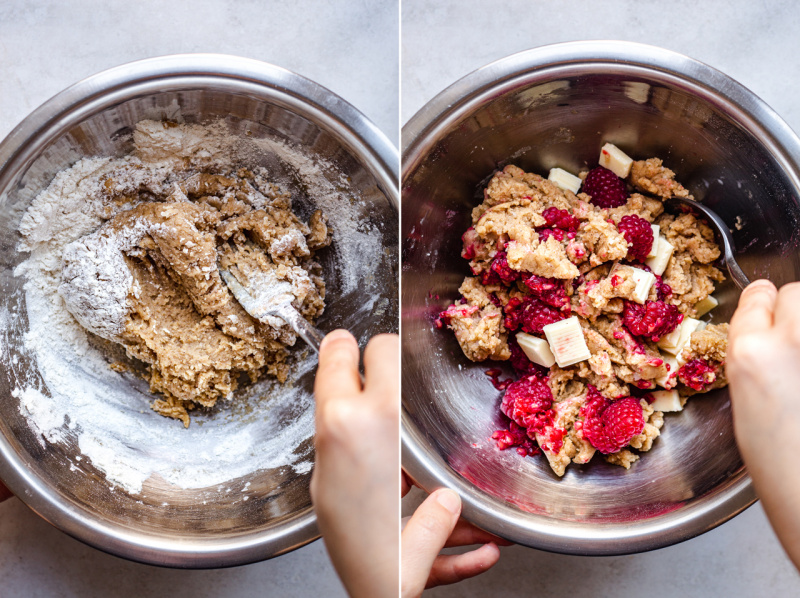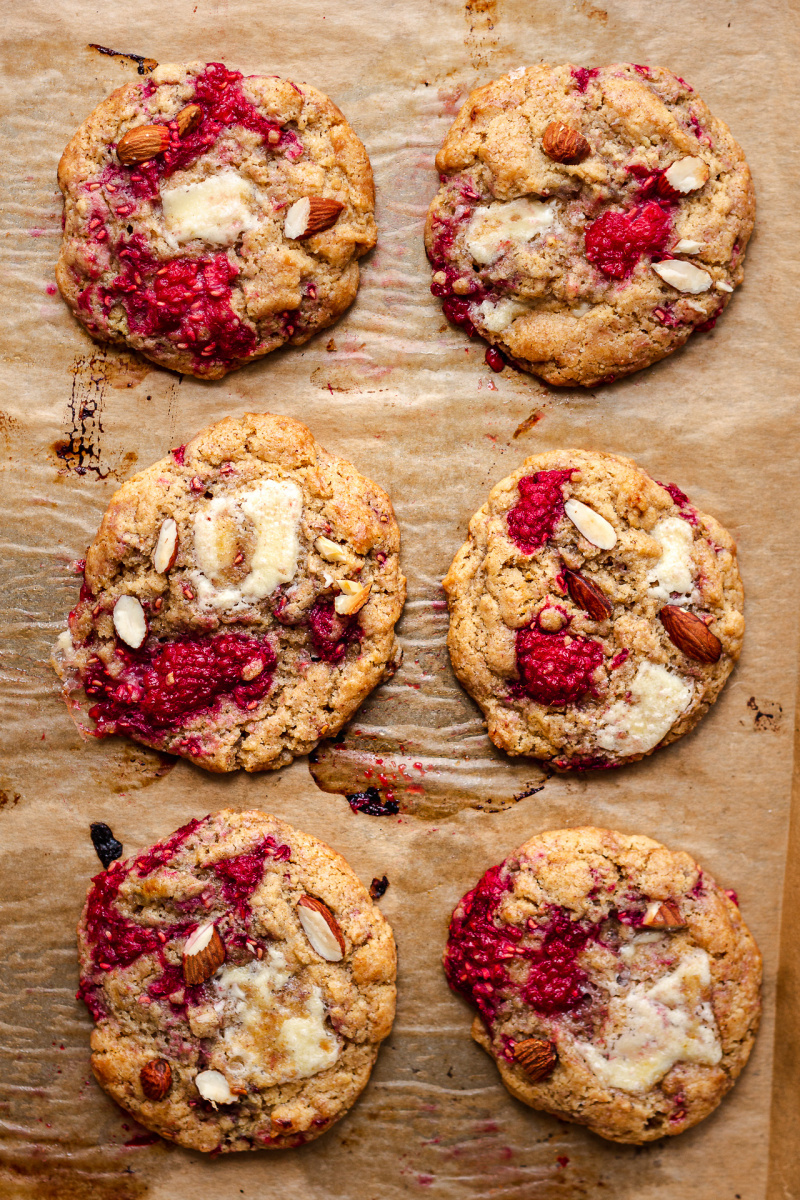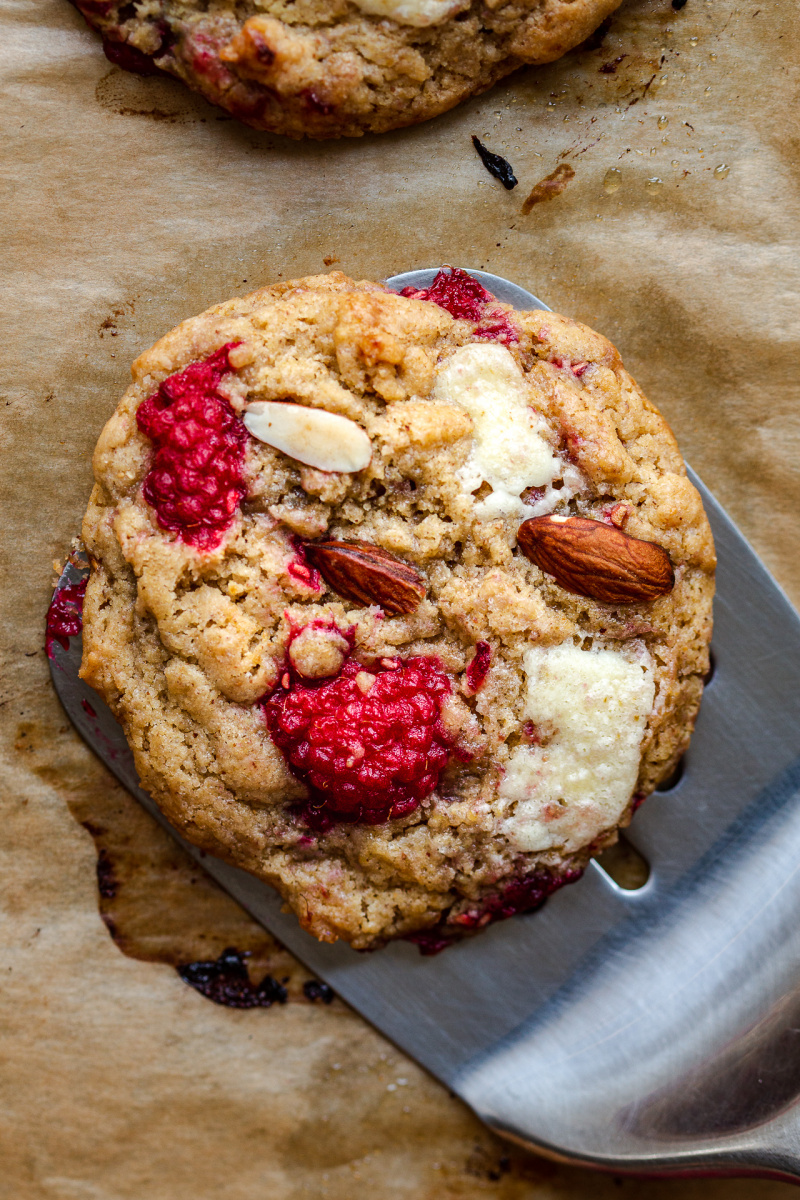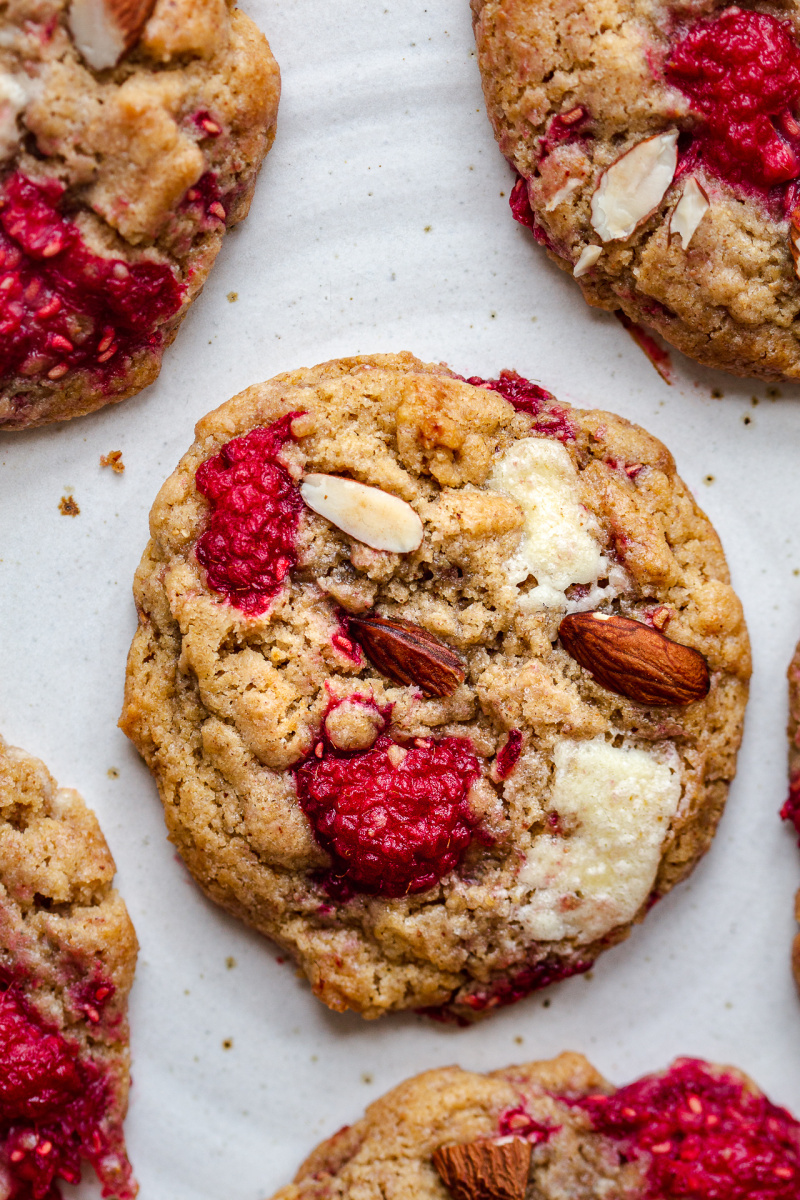 100 g / ½ cup softened fragrance-free coconut oil or vegan butter
50 g / ¼ cup almond butter (or other nut butter, like cashew)
170 g / heaped ¾ cup sugar (I used mixture of caster and demerara)
1 tsp vanilla extract
90 ml / 6 tbsp soy milk*
250 g / 2 cups all purpose flour or GF flour mix like this
½ tsp fine sea salt
½ tsp baking powder
½ tsp baking soda (GF certified if needed)
75 g / 2¾ oz vegan white chocolate, chopped coarsely
100 g / 3½ oz raspberries
50 g / 1¾ oz chopped almonds
METHOD
Place coconut oil, almond butter and sugar in a mixing bowl. Using a fork work fat into the sugar.
Once thoroughly mixed, add vanilla extract and soy milk.
Mix in flour, salt, baking powder and baking soda. Combine into uniform dough, first using a spoon and then your hands.
Gently fold in raspberries, most of the white chocolate and almonds. Use a spoon and be careful not to mash all of the raspberries too much, the cookies are nicer if some are left whole.
Chill the dough in the fridge for about 30-45 minutes.
15 minutes before you are ready to bake the cookies, preheat the oven to 180° C / 355° F and line a large baking tray with a piece of greaseproof paper.
Divide the batter into 12 equal size pieces, place them apart on the baking tray leaving a lot of space around each – you may need to bake them in two batches. Squash them down a little but don't worry too much as they will spread. Decorate the tops with leftover chocolate and almonds.
Bake for about 12-13 minutes, until the edges get lightly browned.
Allow the cookies to cool off for a bit before picking them off the baking tray – they are fragile whilst hot. They are best on the day they've been baked as due to the presence of raspberries, they do tend to get a little soft the next day.
NOTES
*SOY MILK: in my experience works best due to high protein content. I haven't been able to test others but I'm pretty sure they will work fine too. I did test
aquafaba
(chickpea brine) and it worked well also if you have any handy.