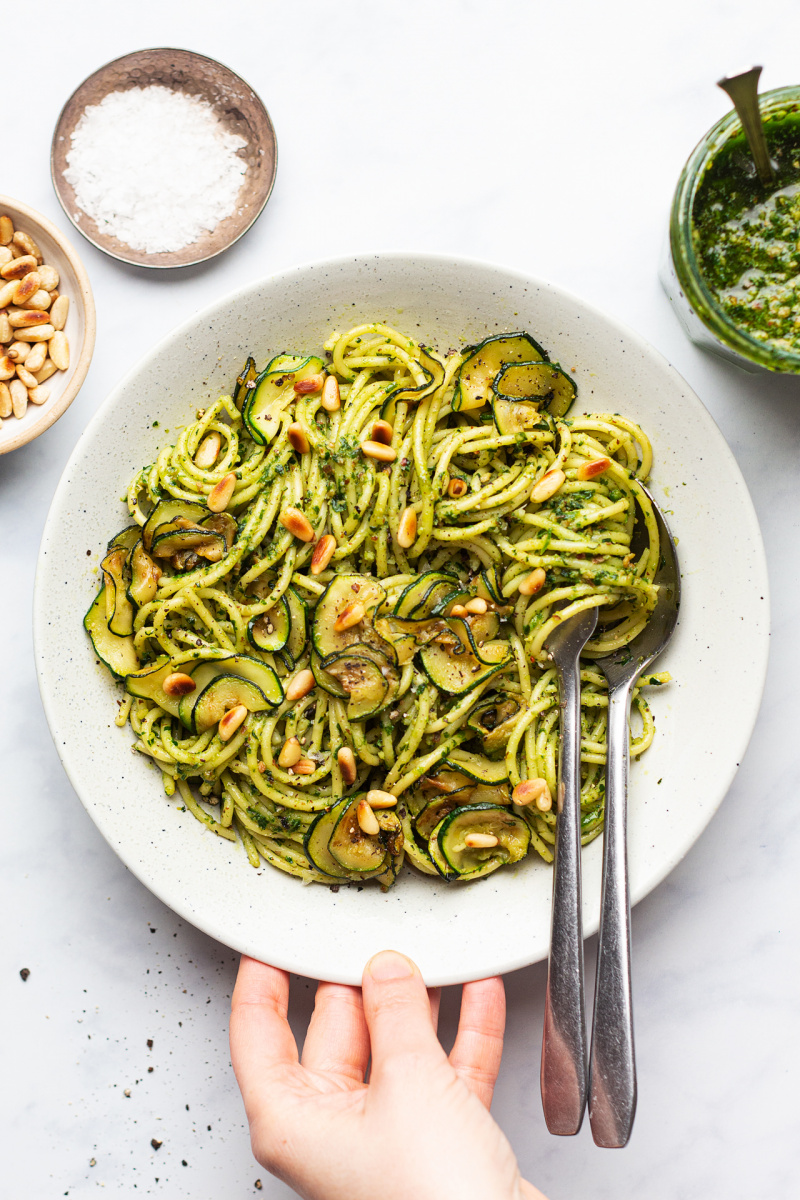 While things are upside down right now, I am trying to look for a silver lining in this unprecedented situation. One upside is that the sun has been shining beautifully here this week and while this may be a trivial point for a lot of you, sunshine is never to be taken for granted in the UK, no matter what time of the year. So I am grateful for the weather as it has made the whole idea of confinement way less miserable.
Our cat, Tina, is thrilled about this new phenomenon of both us being at home all day and our willingness to sit outside with her whenever we take a food or coffee break, which is often – let's face it not having that much on isn't great for your waistline… Tina's visible contentment and her cat antics have definitely helped us keep our spirits up.
Being able to go for a walk or run is another highlight of our days. We are lucky to be living near a big park and so I went there yesterday to get my blood flowing and boost my mood. It was gorgeous out, quite a few people enjoyed the same freedom but everybody was courteous and sticking to the rule of not crowding anyone else. As it's wild garlic (ramsons) season, I combined my walk with a spot of foraging. I found a secluded patch and collected enough to make a jar of pesto, which I tend to put on nearly everything.
If you are lucky enough to have this nature's gift on your doorstep, be sure you know what the leaves look like before you pick anything, as an inexperienced person could potentially confuse it with another plant, lily of the valley, which is unfortunately poisonous. Also please be sure to forage responsibly by leaving the bulb (root of the plant) in the ground and only just snipping the leaf off and by not over-harvesting in one spot so that the area looks bare.
Wild garlic leaves are really aromatic and they make a lovely, garlicky pesto when blended with roasted nuts (or seeds) and a generous amount of oil. I added capers and nutritional yeast to mine for an extra flavour punch, purely because I had these things in my cupboard. If you do not, please do not worry – salt, pepper and a squeeze of lemon juice will do a great job too.
Now, if your local stores are out of pasta, don't despair, this pesto is also delicious on some new potatoes, boiled or roasted or even stirred through beans. It is super versatile and keeps for a long time provided it is stored in the fridge and covered with a layer of olive oil, which prevents the mould from setting in. Hope you'll enjoy and please obey the social distancing rules at all times – that's the only hope we have of kicking this horrible virus to the curb at some point.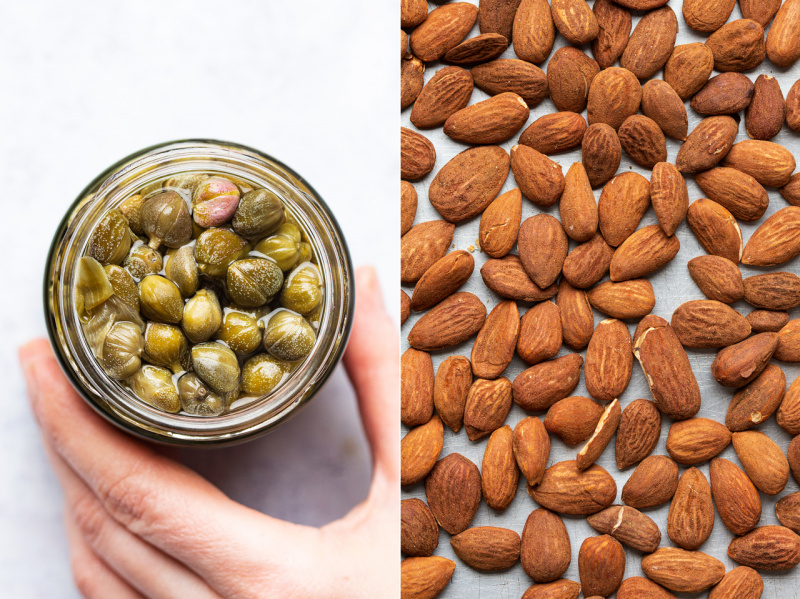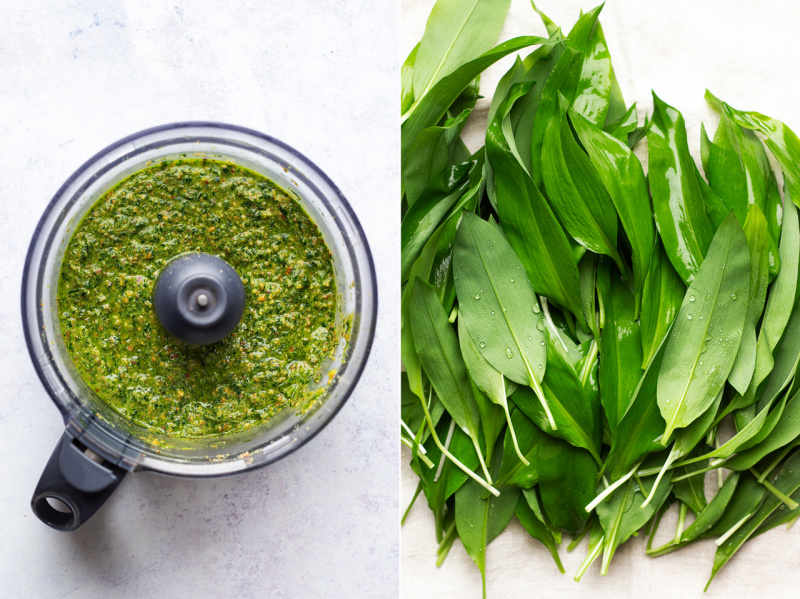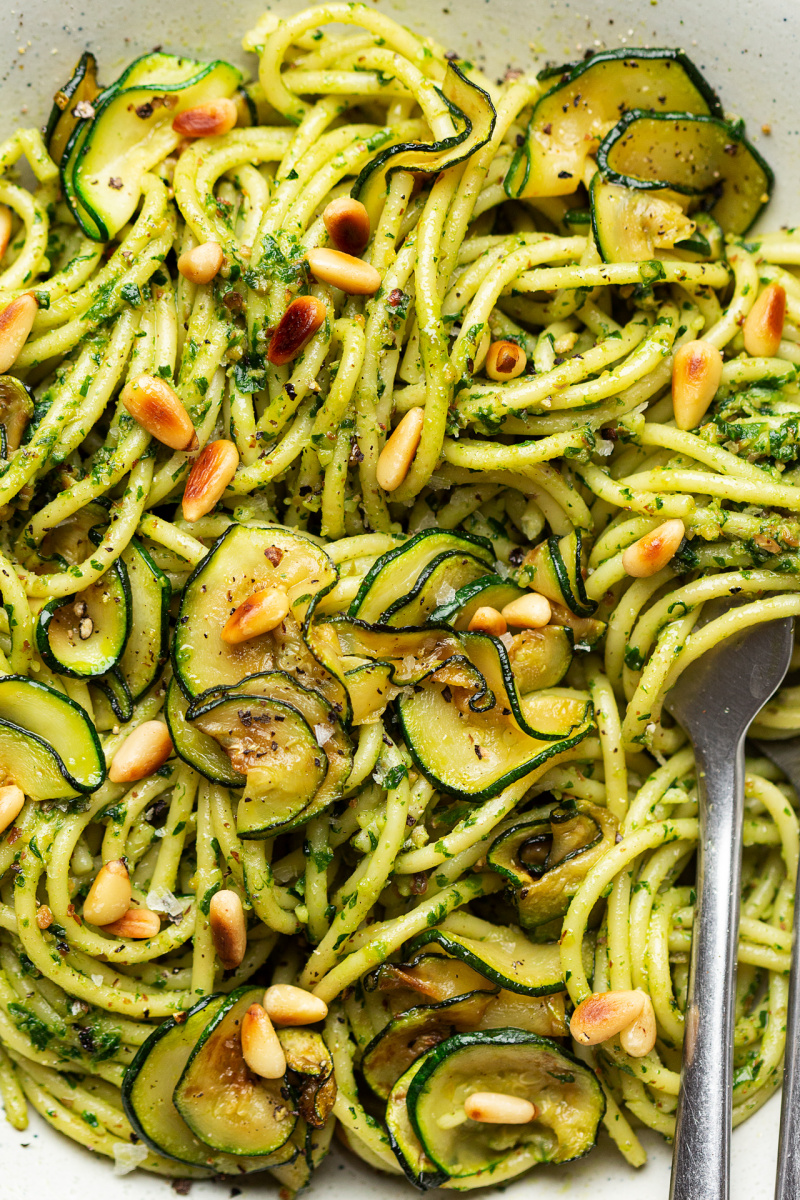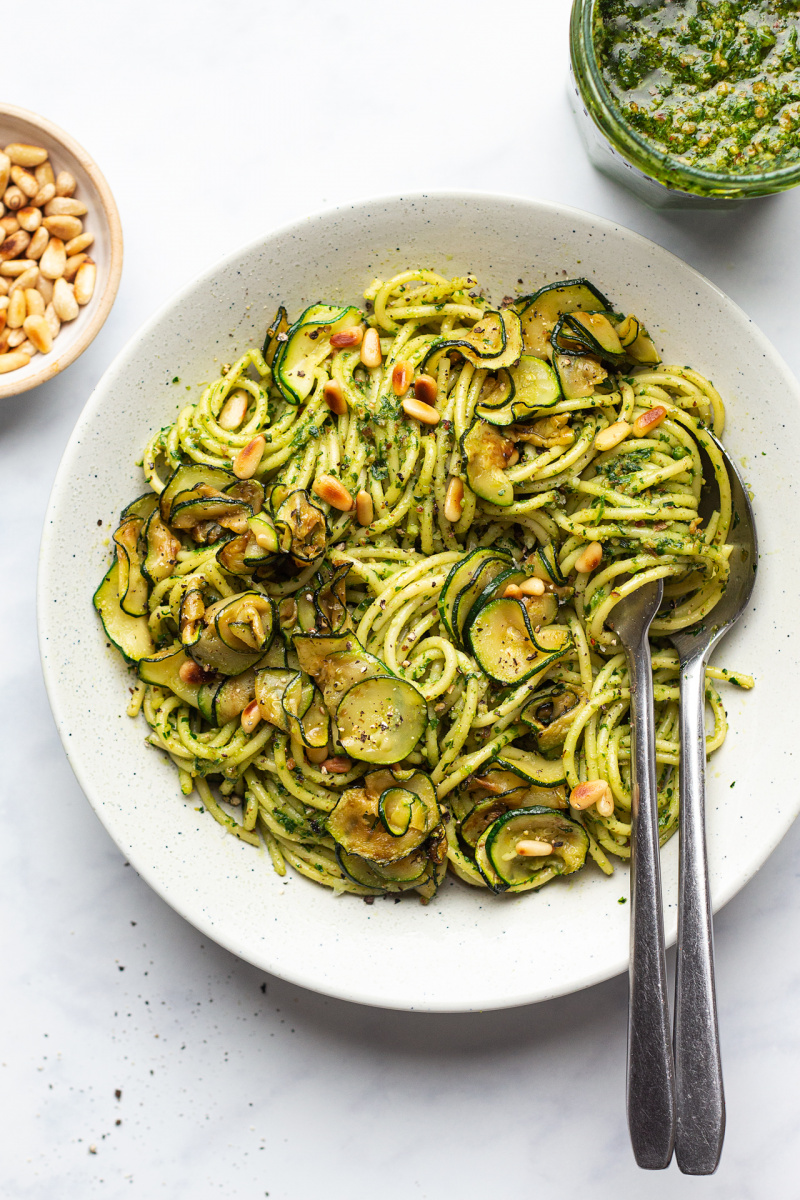 PESTO (makes enough for 500 g / 17.5 oz pasta)
100 g / 3.5 oz wild garlic leaves (or spinach, kale leaves + 2 garlic cloves)
70 g / ½ cup almonds (or walnuts, pecans, hazelnuts, pine nuts, pistachios, hemp seeds, sunflower seeds or pumpkin seeds)
1 unwaxed lemon*, zest and juice
4 tbsp / ¼ cup drained capers or green pitted olives (optional)
4 tbsp nutritional yeast (optional)
approx. 120 ml / ½ cup extra virgin olive oil
salt and black pepper, to taste
REMAINING INGREDIENTS
1 large courgette
2 tsp olive oil
200 g / 7 oz pasta (GF if necessary) or boiled potatoes
mild chilli flakes (optional), I like to use Korean chilli flakes
METHOD
Wash wild garlic leaves really well and blot them with a kitchen towel or simply leave to air-dry.
Dry-roast your almonds (or any other nuts or seeds). You can either do it on a hot, dry pan making sure you shake it regularly so that they do not burn. They are done when lightly charred in places and fragrant. Alternatively, you can roast them in a 180° C / 355° F oven but be aware that this works better for larger quantities or else they burn rather quickly. I tend to roast 2 cups of nuts at a time for about 10-12 minutes. Allow them to cool down completely before blending in the pesto.
Grind almonds first, then add all the remaining ingredients apart from olive oil and salt and blitz well. I used 4 tbsp / ¼ cup of lemon juice in my pesto, as I like things to be lemony, so you may want to adjust the amount to your taste. Once everything is minced well, start trickling in olive oil while the motor is going. Taste and add salt to taste – if using capers, you will only need a touch, otherwise more like 1 tsp.
Slice your courgette really thinly using the lowest setting on a mandolin.
Heat up 2 tsp olive oil on a large steel frying pan and add courgette slices. Saute lightly, stirring frequently until no longer raw and browned in places.
Cook pasta al dente, reserving a little of the pasta cooking water just before draining.
Coat the drained pasta in a few tablespoons of pesto, adding a little pasta cooking water to loosen things up a touch. Divide between two plates, top with courgette slices and toasted (and chopped if large) nuts / seeds and chilli flakes if you like.
Transfer the remainder of your pesto to a clean jar and top with an extra tablespoon of olive oil to prevent mould from setting in. Store in the fridge for 2-3 weeks.
NOTES
*If using zest, make sure you scrub your lemon really clean, then place it in a coffee cup and pour boiling water over it. Leave it immersed for a few seconds to sterilise it – this is especially important right now.
This recipe is based on my earlier wild garlic pesto recipe.