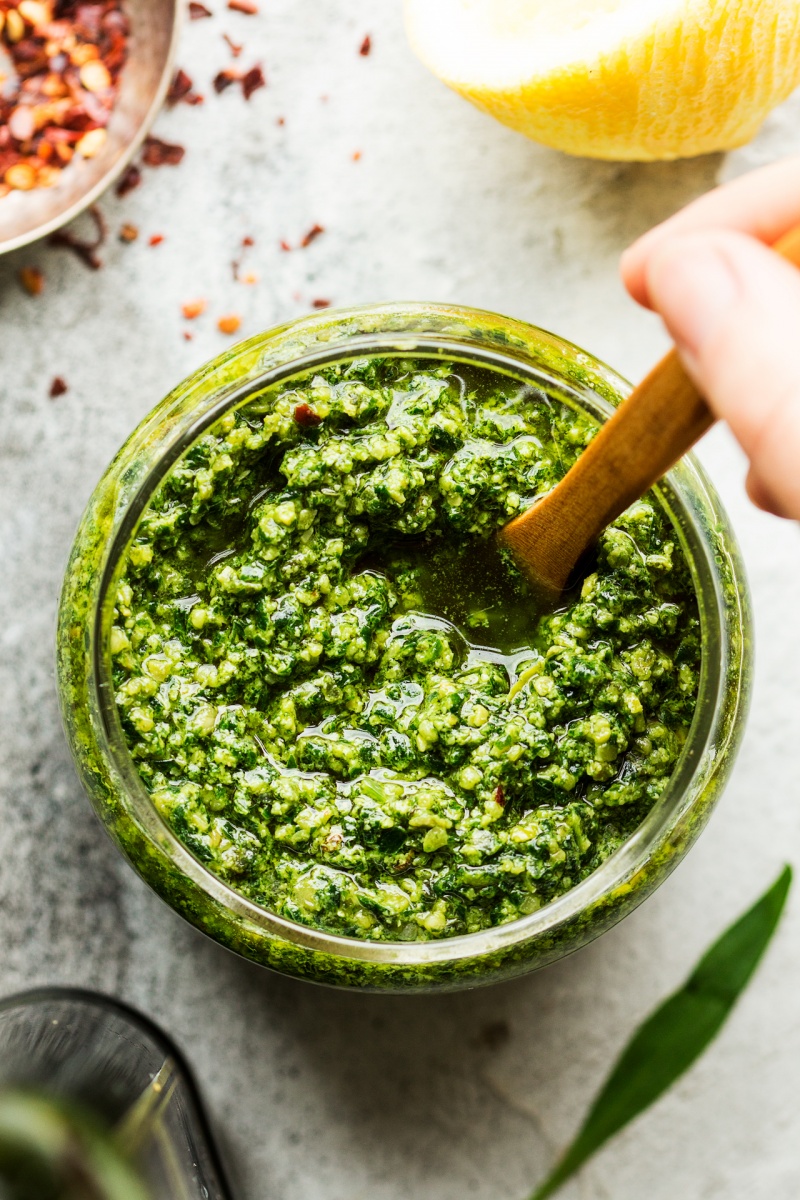 When hiking the hills of North Devon recently, we noticed that the forest had a mild chive-like aroma to it. We looked around and realised why. Every single patch of soil that hadn't already been taken by the trees was overgrown with wild garlic (also known as ramsons). Its delicate, pointy leaves looked gorgeous scalloped on top of each other, creating an intensely green, dense carpet on the forest floor.
I got really excited about incorporating it into my cooking but, as luck would have it, it chucked it down on the morning of our departure and given that it was already very muddy when the weather was dry(-ish), we decided against wild garlic picking in such miserable weather. Oh well, maybe we will come across it elsewhere, we thought.
The next day I went running in the small woods near my house and I was astounded to see it overgrown with the very plant I had to go all the way to Devon to notice on my own doorstep. I was amazed how I managed that. I came up with a plan and a few days later, equipped in a pair of grippy shoes and a pair of scissors, I went wild garlic foraging.
It was a bit tricky as since the woods are frequented by all sorts of dogs, big and small, I had to climb onto the muddy banks in order to find healthy looking specimens that hadn't been trodden on (or worse 😉 ) . It was slippery, so a bit precarious, but I was hooked. I even got heckled by one lady, who as soon as she saw me, announced loudly that she doesn't like garlic and does not understand why people are going so crazy for it. 'What are you going to do with it, petal?' she asked…'Pesto', I replied, thinking that she probably won't approve of that either…Tough crowd!
Even though this wasn't something I set out to do here, this pesto is done on a shoestring with nature's gift of wild garlic leaves and pumpkin seeds, which happen to be dirt cheap (especially in comparison to the classically used pine nuts, which you would need to remortgage your house to buy 😉 ). The only premium ingredient is extra virgin olive oil but you are welcome to replace it with another type of neutral-tasting oil instead. This pesto is delicious on pasta, steamed spring veggies, drizzled into hummus, dolloped over a soup or smothered over boiled new potatoes. However you chose to have it, make it please – it will put a smile on your face, promise!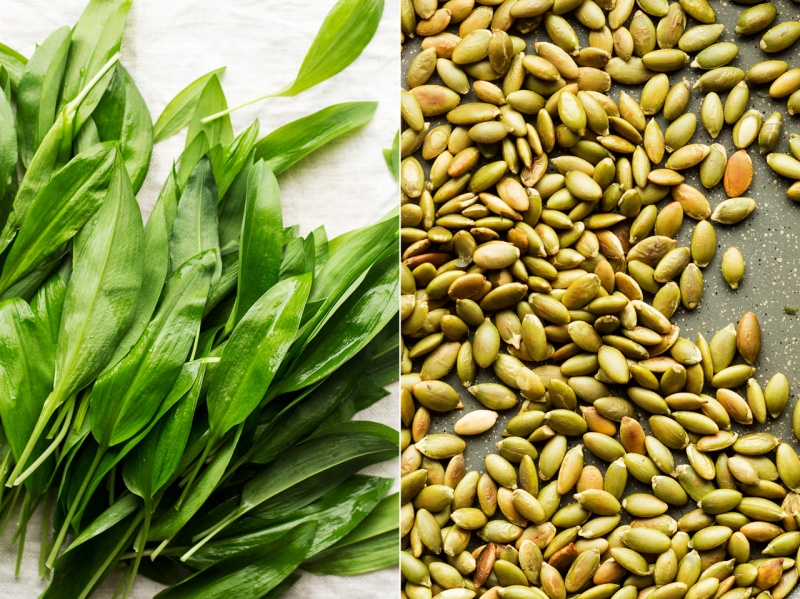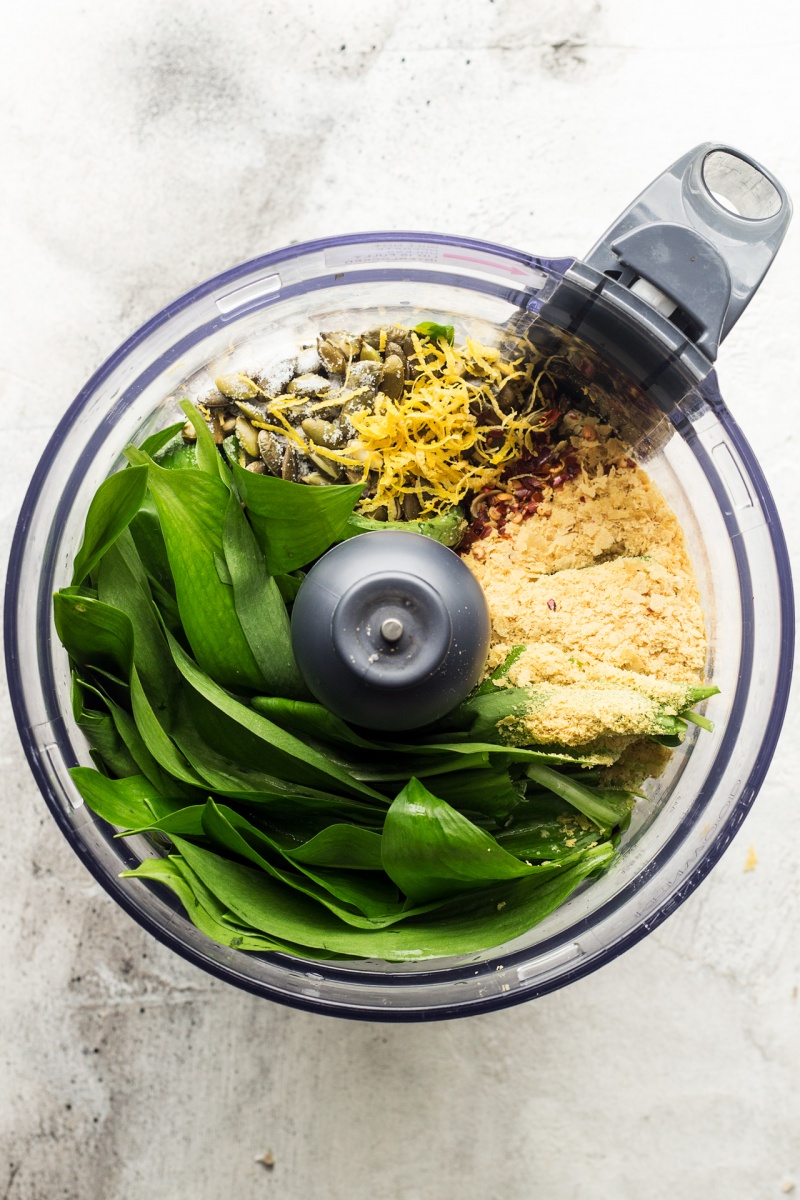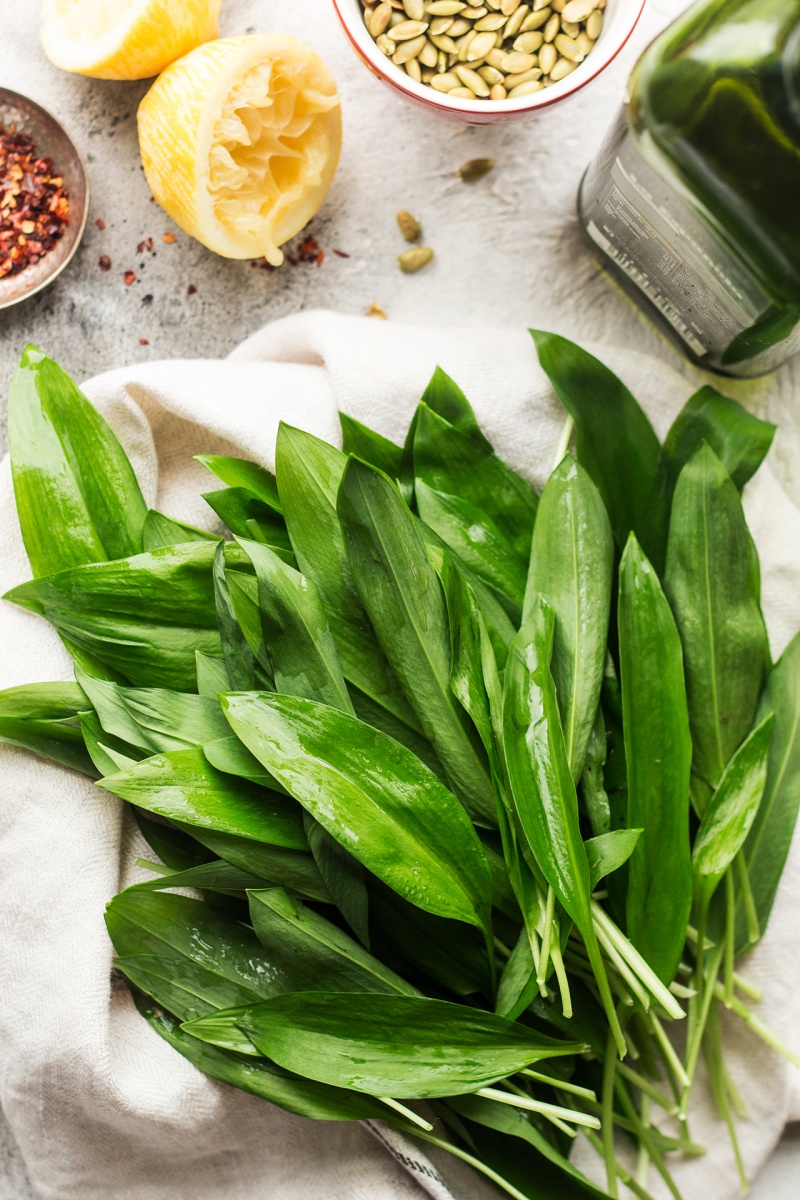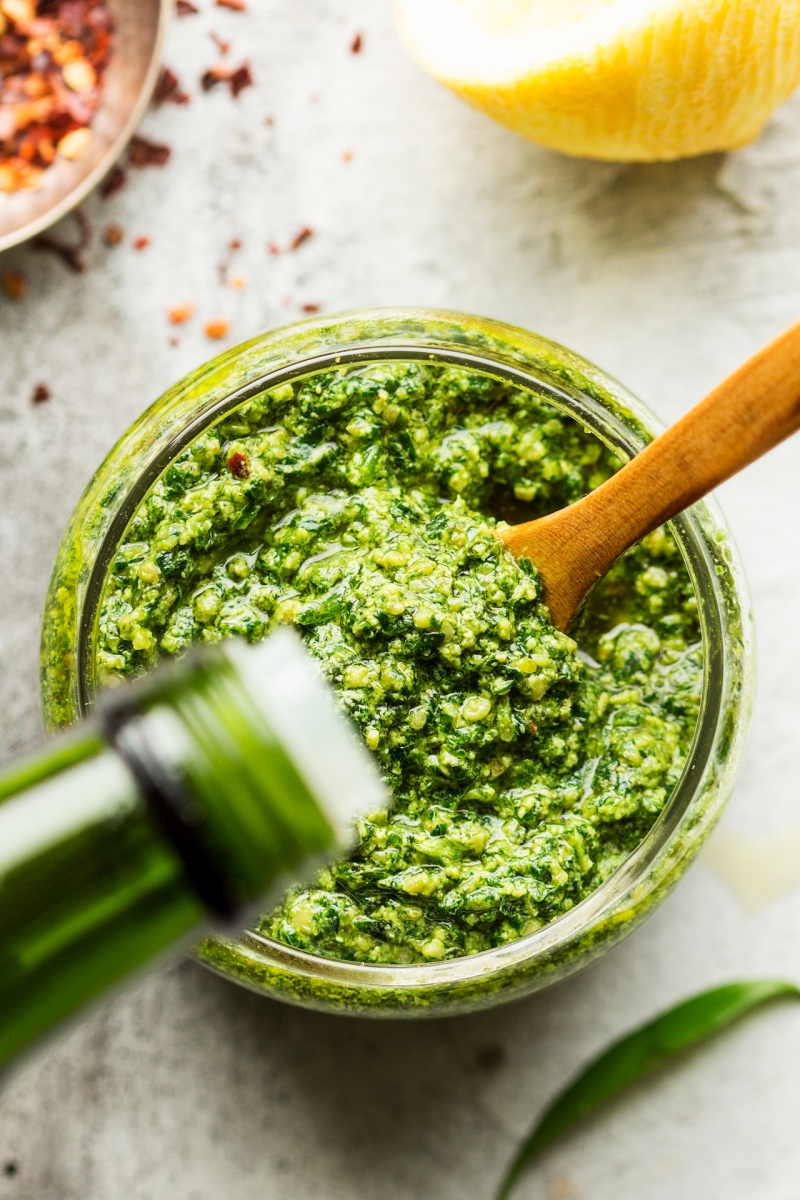 65 g / ½ cup pumpkin kernels / pepitas*
100 g / 3.5 oz wild garlic leaves**
1 unwaxed lemon, zest and juice
½ tsp salt, more to taste
4 tbsp nutritional yeast (optional)
black pepper, to taste
120 ml / ½ cup extra virgin olive oil
a generous pinch of chilli flakes (optional)
METHOD
Wash wild garlic leaves really well and dry them in a salad spinner (if you have one), blot them with a kitchen towel or simply leave to air-dry.
Dry-roast the pumpkin kernels in a hot pan on a low-medium heat. While they are toasting, they'll making crackling noises, some seeds will start getting golden brown and the skin on some varieties will crack. Make sure you stir them the entire time as they burn very easily. Allow them to cool down completely before blending in the pesto.
Place all the pesto ingredients apart from the olive oil and chilli flakes into a food processor. I used 4 tbsp / ¼ cup of lemon juice in my pesto, as I like things to be lemony, so you may want to adjust the amount to your taste. Process until chopped small and then start trickling in olive oil while the motor is going.
Add chilli flakes to taste and adjust the seasoning to your linking.
Transfer the pesto to a clean jar and top with an extra tablespoon of olive oil to prevent mould from setting in. Store in the fridge for 2-3 weeks.
NOTES
*Many nuts (almonds, walnuts, pecans, pistachios and hazelnuts) or
hemp seeds
or
sunflower seeds
will work well too.
**Please familiarise yourself with the shape and smell of wild garlic leaves before you set out as it is quite similar to another plant, lily of the valley, which is deadly poisonous.