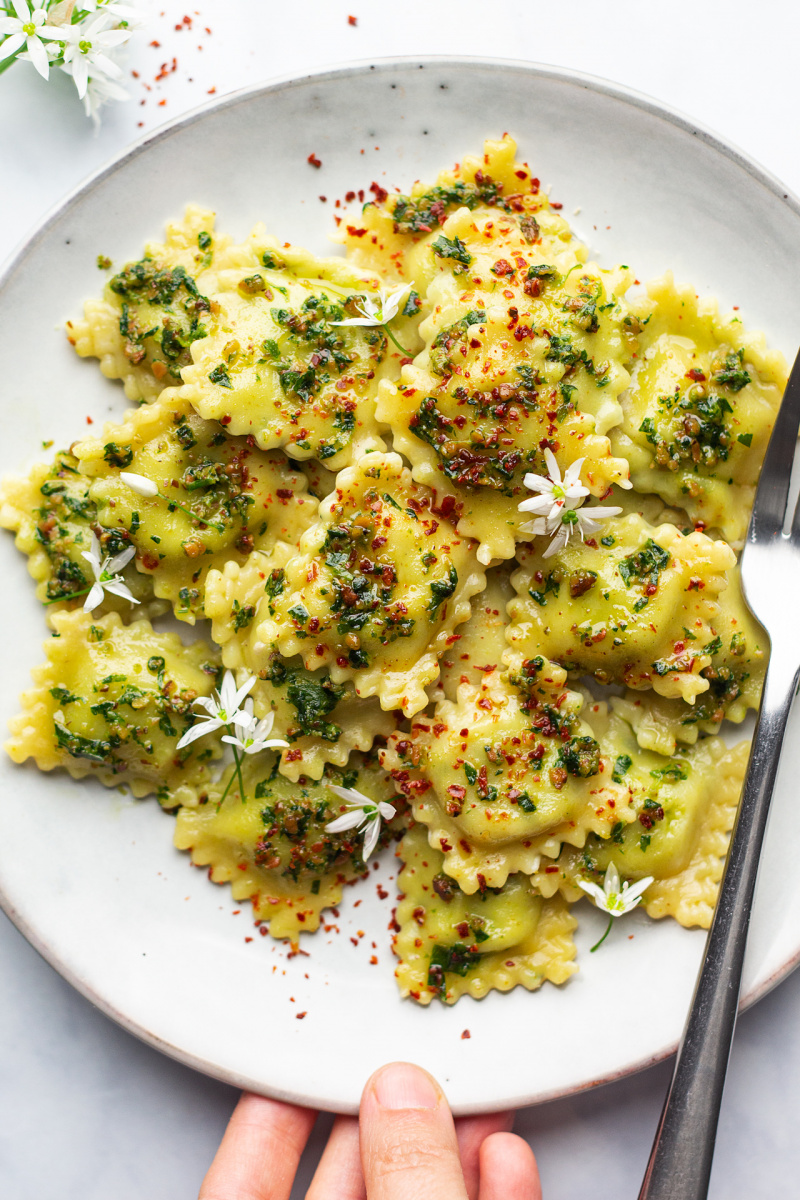 Happy weekend, guys! Wait, do you actually even know what day of the week it is!? Despite some conflicting and downright nonsensical government advice this week (I often wonder how do these people still have a job?!), most of us are still in a semblance of a lockdown so it's all a bit of a blur.
Duncan will continue to work from our spare bedroom for the next 5 weeks, at the very least. This is also where our wardrobes happen to be for the time being so, every morning, I have the thrill of making a half-dressed cameo in one of his work Zoom team calls. You find your entertainment where you can 😉 . In all honesty, it's nice having him around (Tina is having the time of her life), but some aspects of this are beginning to wear me down especially once I realise how ridiculous it is that thousands of people are permitted to arrive in the UK without any health checks while we all continue to live like monks. We are all in this together, but some of us are only worried about keeping up a pretence.
Personally, we made big strides in our recovery this week. We went running for the first time since falling ill with the virus at the end of March and it went as well as we could have hoped. Obviously, we weren't able to do our pre-illness distance or speed, but we completed the workout without stopping (me, Duncan never does) and felt well during and afterwards. We plan to go again today and get back to our former cardiovascular health, little by little.
Today's recipe is a seasonal plate of ravioli using a gift of nature which we have plenty of on our very doorstep. This recipe is as wholesome as they get. I set out in the early afternoon to the local woods to pick some wild garlic and by midnight (shooting these things takes a loooooong time) I had a stack of wild garlic filled pockets of pasta garnished with some wild garlic pesto, ready to serve for dinner another time. It was a very satisfying cooking session indeed and I recommend making these your weekend project, especially that the wild garlic season is coming to an end soon. And if you are one of these people who does not like garlic (who are you!? 😉 ), I am here to get you out of your predicament – instead of wild garlic, use basil, mint, rocket or spinach. Or a combination of all four if you are feeling adventurous. Now, roll your sleeves up and channel your inner pasta master. Enjoy!
For vegan AND gluten-free ravioli dough, see THIS RECIPE.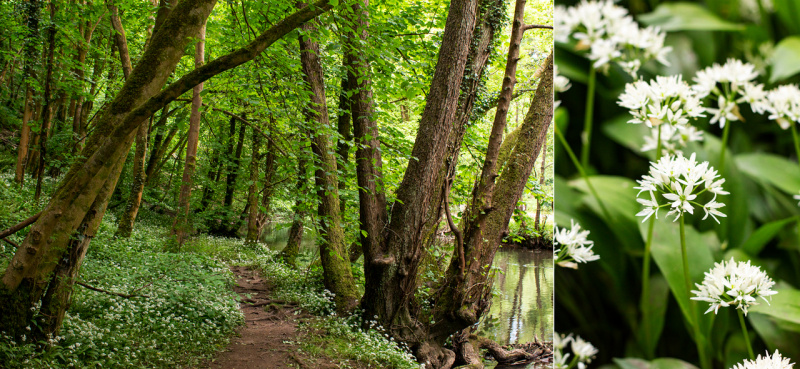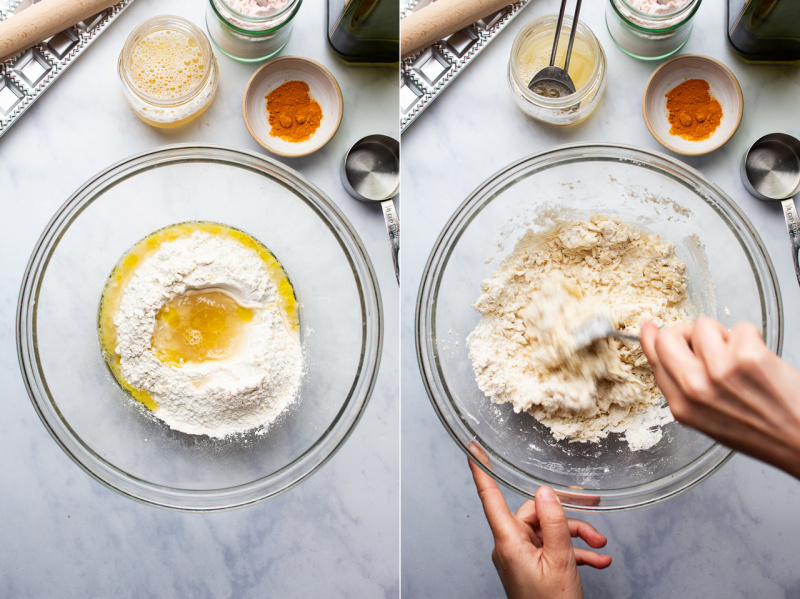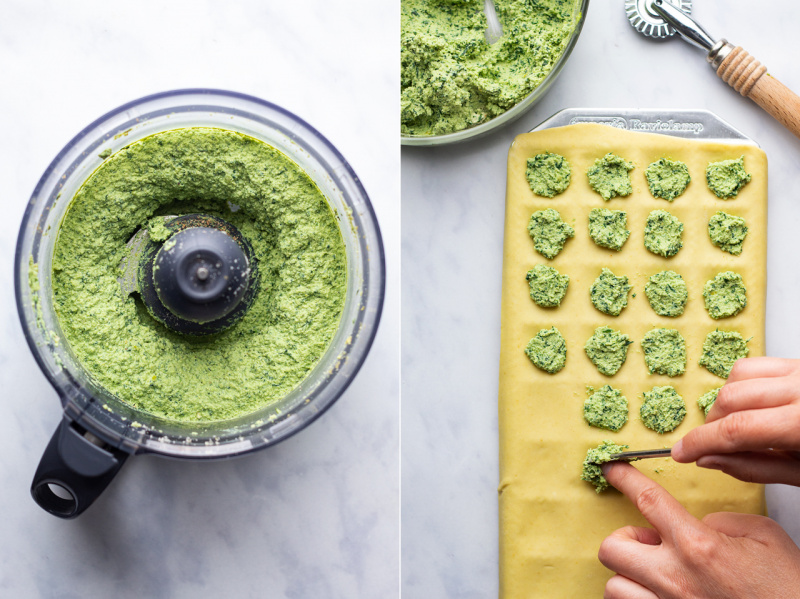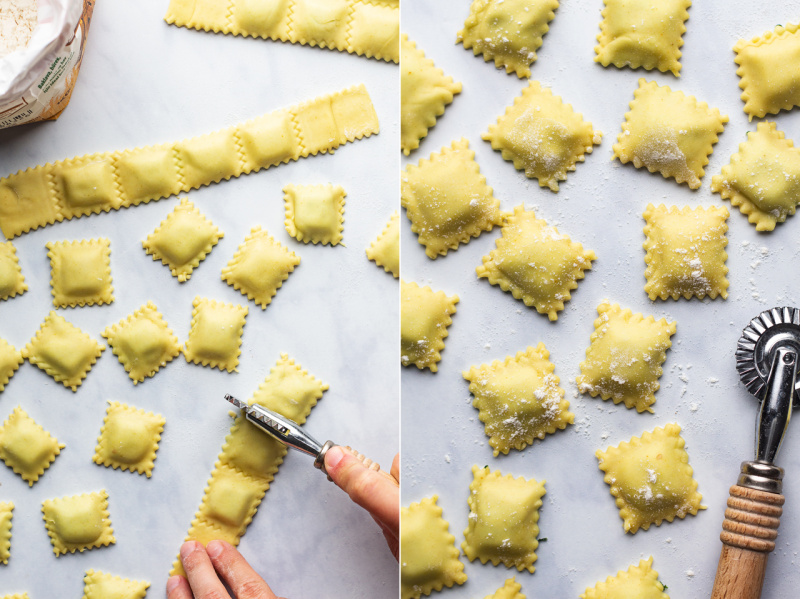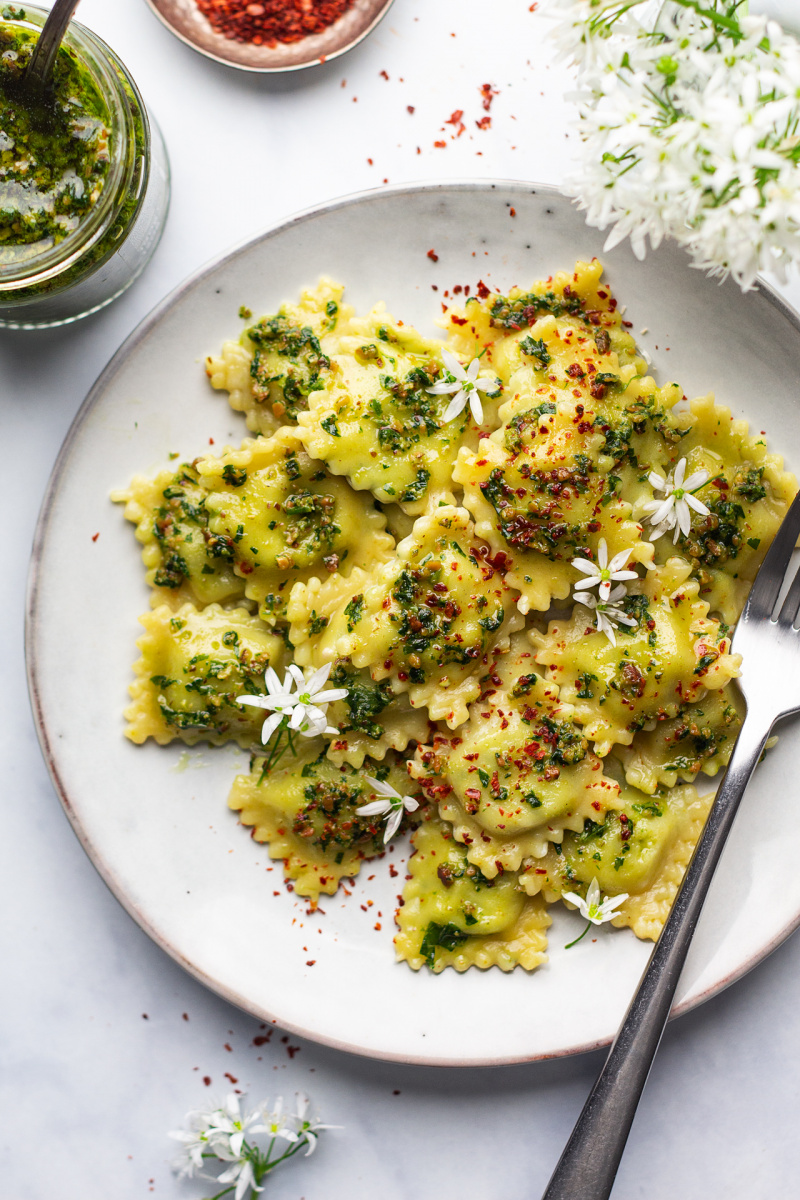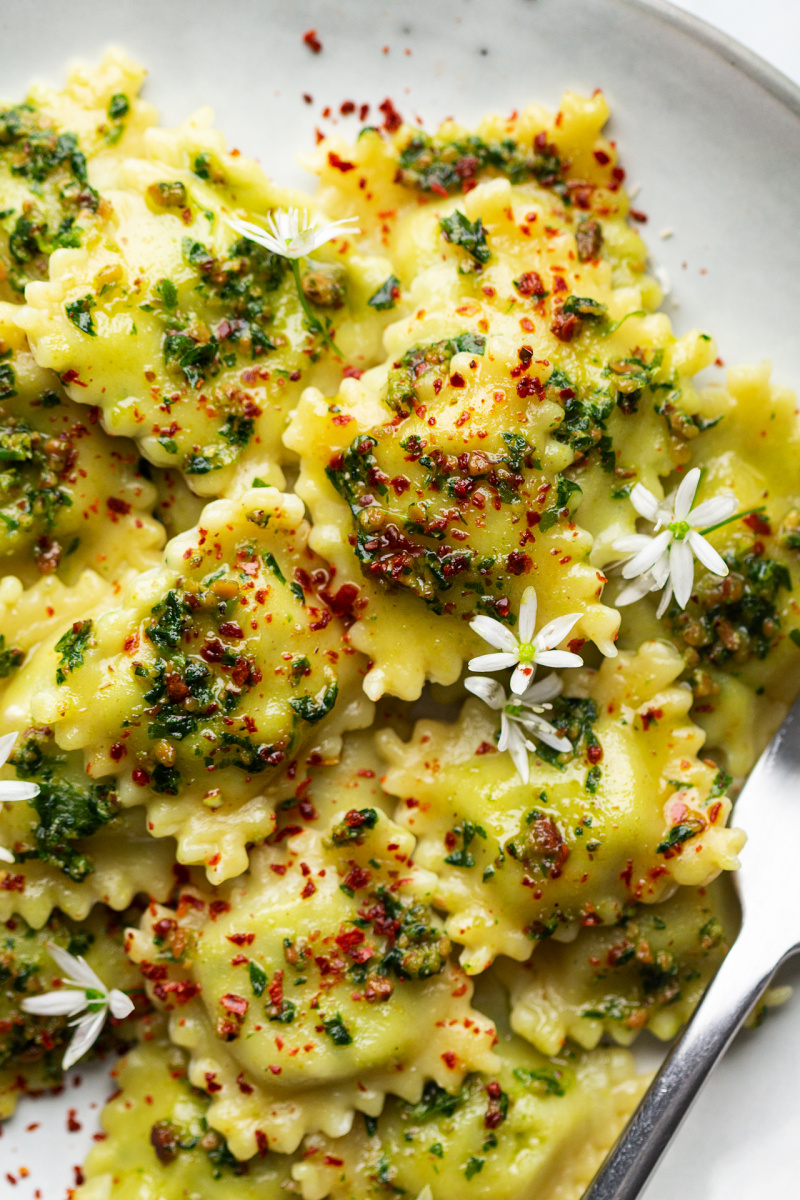 PASTA (for GF dough see
THIS RECIPE
)
250 g / 2 cups all purpose wheat flour*, (type 00 if you can find it)
1 tsp salt
1/8 tsp turmeric (optional)
15 ml / 1 tbsp extra virgin olive oil
150 ml / ½ cup + 2 tbsp aquafaba**
FILLING
150 g / 5 oz firm (cotton) tofu
50 g / 1.7 oz wild garlic leaves
1 small garlic clove (optional)***
zest of 1 unwaxed lemon + 15 ml / 1 tbsp lemon juice
1 tbsp nutritional yeast
ground nutmeg (I used about 1/8 tsp), adjust to taste
heaped ¼ tsp sea salt, adjust to taste
black pepper, adjust to taste
25 g / ¼ cup almond flour (or breadcrumbs)
FOR SERVING
METHOD
FILLING
Place all the filling ingredients (apart from almond flour or breadcrumbs) in a food processor. Process until smooth. Adjust seasoning to taste.
Add enough almond flour (or breadcrumbs). I found that 25 g / ¼ cup almond flour is enough – you may need even less, if you are using breadcrumbs.
DOUGH
In a mixing bowl, combine flour, salt and turmeric (if using). Make a well in the centre and add olive oil and aquafaba. Mix it all with a spoon until it roughly sticks together. You may need to add a touch more aquafaba if the dough is too dry, if too wet, add a bit more flour.
Knead the dough for at least 5 mins and then set aside for 30-60 minutes under a damp kitchen towel so that the dough doesn't dry up.
Once the dough has had a chance to rest, take a portion of the dough and roll it out with a rolling pin on a lightly floured surface. Roll it out as thin as you can (2-3 mm), the thinner the dough the tastier the ravioli. You can obviously use a pasta machine to roll out your dough if you have one (I don't). Cut the sheet in half – you will need two matching pasta sheets to form the top and bottom side of your ravioli.
I used a ravioli mould (like this) but you can also just make them by hand, using a knife, pasta stamp or a cookie cutter instead. Place one pasta sheet on a lightly floured surface. Make small blobs of filling in neat rows leaving plenty of space around each blob so that each raviolo can be comfortably sealed. Place second pasta sheet on top, draping it over the blobs of filling. Press the pasta around each filling down with cupping hands to seal. Cut into individual ravioli with a knife or a pasta crimper. Double check each raviolo is sealed well.
Put the finished ravioli on a lightly floured surface and cover them with a kitchen towel while making the rest so that they don't dry out. Continue in the same way until you have used up all the dough and / or all the filling.
Bring a medium pot of water to boil. Once the water boils, place a few ravioli (do not overcrowd the pot) in the boiling water and cook, on a rolling boil, for about 5 minutes. After the time is up, fish cooked ravioli out with a slotted spoon, shaking excess water off gently, and place them on a plate. Cook all the remaining ravioli in this way.
To serve, baste them in olive oil, wild garlic pesto or make a simple creamy pasta sauce instead.
NOTES
*As we are in the middle of a pandemic and it's been impossible to get most flours for weeks now, the only flour I was able to find is a Turkish 405 type all purpose flour. It's a flour traditionally used for pastries like borek or baklava. That's what I used here and it turned out great, but please be sure to adjust the level of liquid to the type of wheat flour you have. Add liquid in gradually, your flour may need a little less or more than what my flour needed.
**You can use water instead. I find that aquafaba works better though, the pasta has a nicer mouthfeel. It's not necessary for your aquafaba to be gelatinous (like egg whites), mine was quite thin this time, but it helps if it is.
***Wild garlic leaves vary in strength depending on when they get picked. They are at their most aromatic (garlicky) before the plant flowers so if you are a garlic fiend (like I am) you may want to add an extra garlic clove for good measure 😉 .