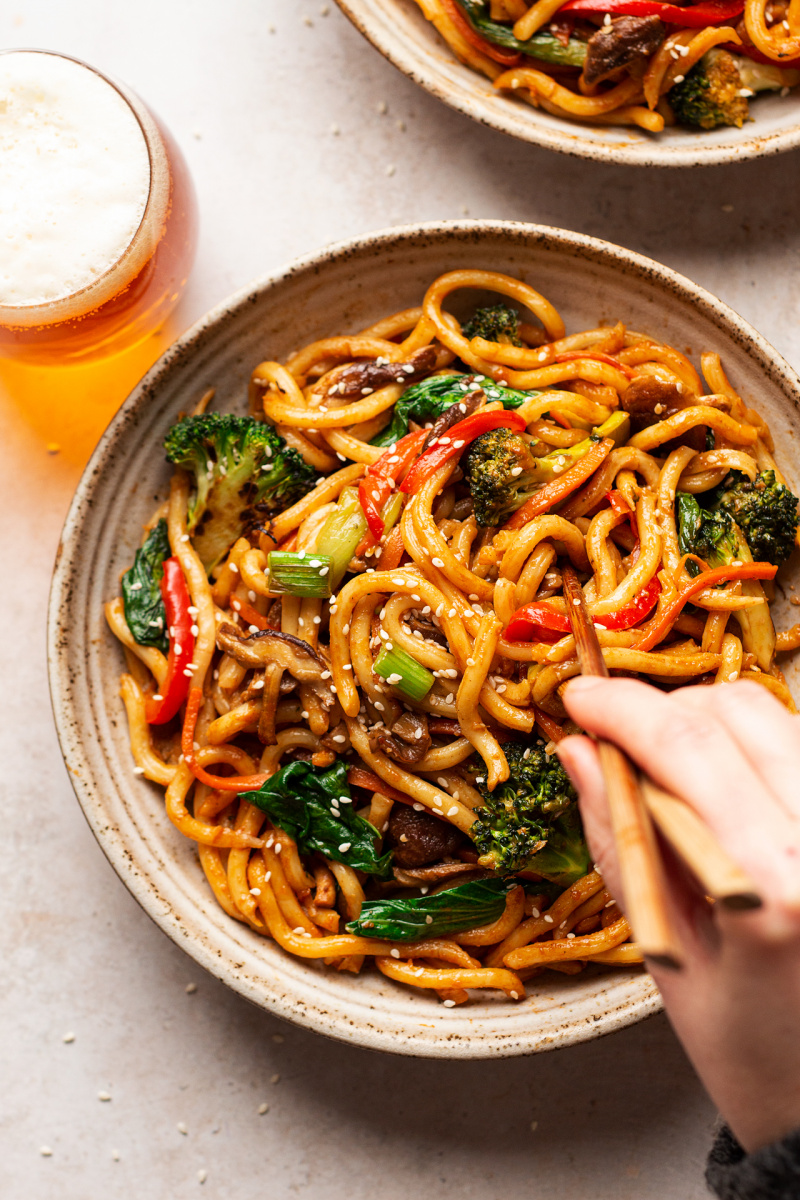 While Wednesday is often referred to as hump day, it's been a good day so far. After feeling the wrath of two super storms – Ciara and Dennis – for the past two weeks, the sun is out and the wind has calmed down a lot – which is a relief, I did not think our roof was going to stay intact. We have finally had our downstairs floor finished, kitchen island moved back, sink reconnected and last night we found a sofa we like, of the right dimensions for the living room and one that is not filled with bird feathers.
Did you know that this is now a common thing? Sofa cushions (and settees often too) are now topped up with duck (or other birds') feathers for extra comfort. What a mad world we live in? I'm glad I stumbled across this piece of information before we bought anything as I was not aware that finding a vegan sofa is going to be a challenge at all. I assumed that most sofas are automatically free of animal products, unless upholstered in animal skin or wool, of course, but I was wrong. Going against the accepted norms does get exhausting sometimes. So yeah, it took as ages to find something suitable, but we did and we are planning to order it this week once we have decided on the material, colour etc.
We are excited as our living room is finally taking shape and it is now only a matter of 6 more weeks (hopefully) before we have a little bit of the comfort we so missed, especially over the winter. We both dream of spending a weekend watching a movie while sitting on a comfy sofa with our Tina, in front of a fire. While it may get too warm for the fire before we get the sofa delivered, the rest is in our future, I can smell it! 😉
The floor is staying the way it is, btw. I know I said I was unsure about my choice, but I made it and I will live with it. It is growing on me anyway… The thing is I know myself and I am not 100% sure that if I had chosen walnut, I would not have ended up in the exact same place. I am terrible (and I mean terrible) at decision making. I do not trust myself, I change my mind (a lot) and once I decide I always feel that I made a mistake. It is something that has caused me a lot of misery over the years and I am acutely aware of it. I am thinking of getting some counselling to help me with that but the trouble is I cannot decide (funny that, eh?) on a counsellor either.
Foodwise, I have a new, exciting midweek recipe for you today. It comes together quickly, it's delicious and very satisfying. It's my vegan take on a Japanese classic – yaki udon. It's easy to make and full of umami. Like any stir-fry type dish, it is very flexible – use any veggies you like, but make sure you add hardier vegetables to the wok first. The aromatic sauce (and the right amount of it) and chunky udon noodles are key elements here. You could cook the noodles from dry, but if you want to speed things up, use precooked noodles like I did. I found mine in an Asian section of my local supermarket so you should be able to find them with ease too.
This dish goes well with a light beer according to craft beer aficionado – Duncan. He likes to treat himself to a beer with his meal after his Tuesday track night and he was well chuffed to come back to a plate of these noodles last night after he ran his heart out for an hour, in the freezing cold. Bless! I forever admire his unrelenting fortitude and often wish I loved running in the cold as much as I like eating 😛 .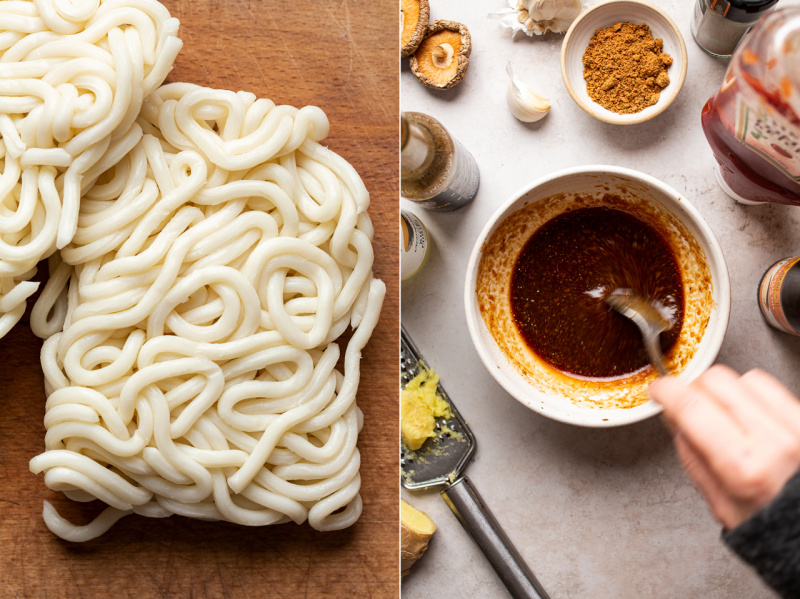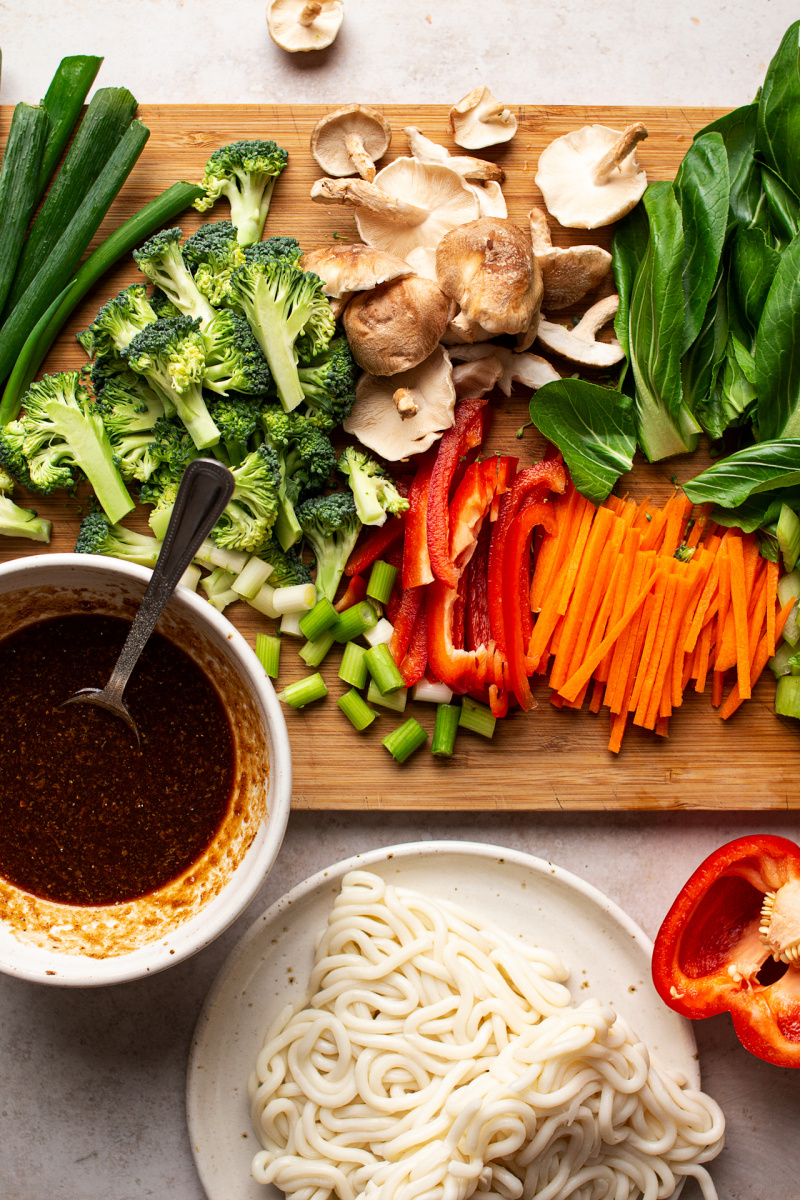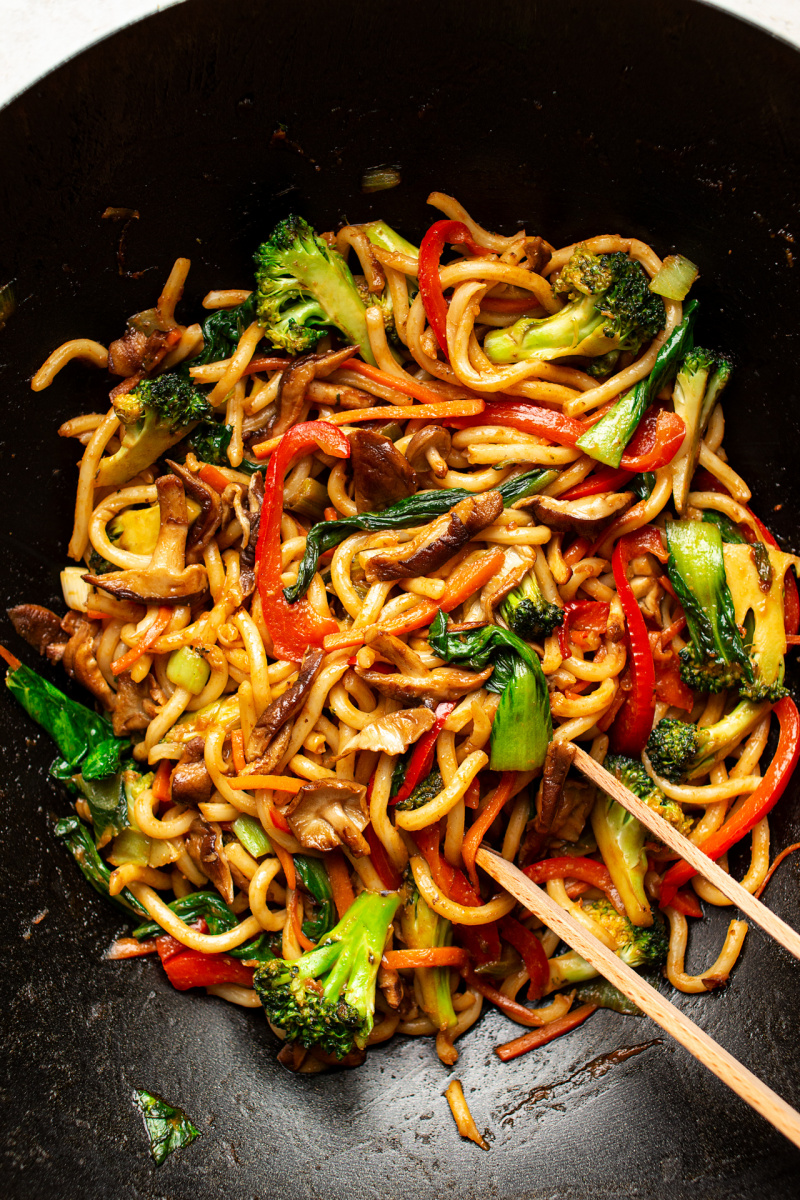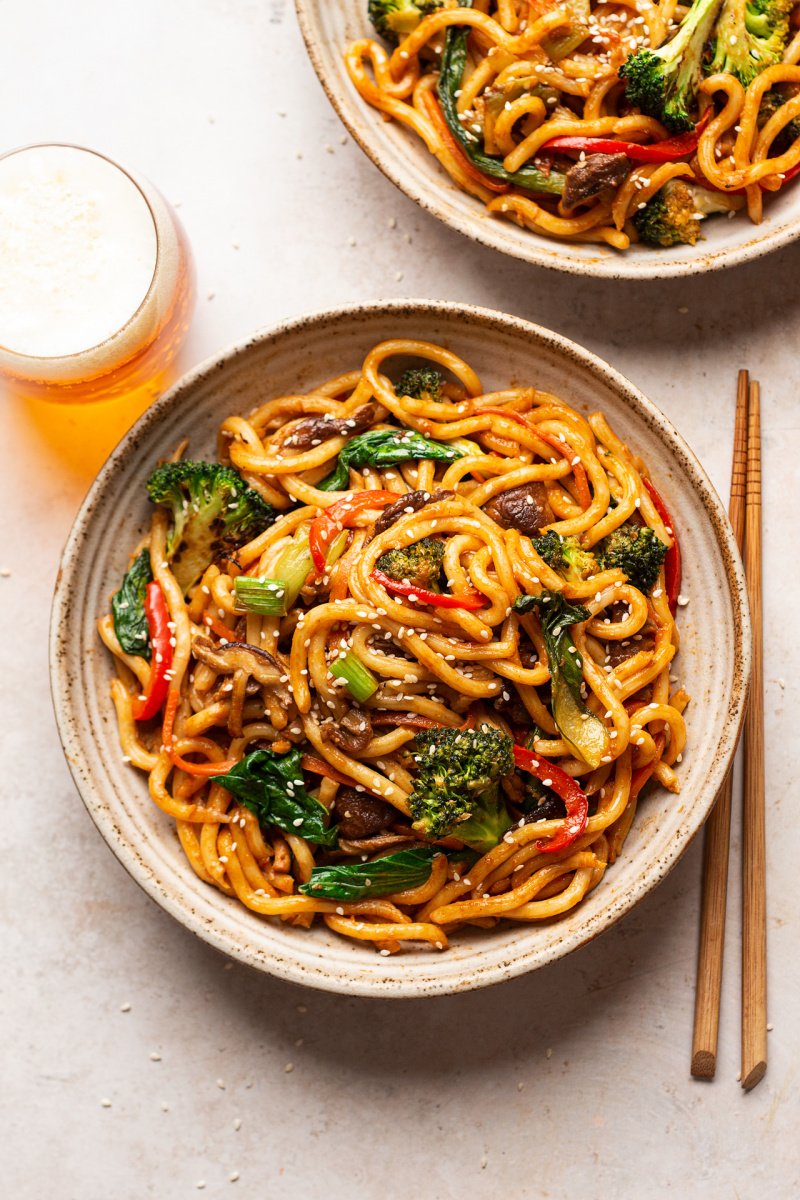 SAUCE
REMAINING INGREDIENTS
100 g / 3.5 oz fresh shiitake (or chestnut) mushrooms
½ large broccoli
2 small pak choi / bok choi
½ bell pepper
1 carrot
3 spring onions / scallions, white part thickly sliced
4 tsp high smoke point oil (I use rice bran)
400 g / 14 oz precooked udon noodles or 200 g / 7 oz dry, cooked per packet instructions
1 tbsp toasted sesame seeds, to garnish
METHOD
Mix all the sauce ingredients together in a small bowl. I added nutritional yeast and finely grated (and sifted) a dry shiitake mushroom into the sauce to give it more umami, in the absence of umami-filled (non-vegan) Oyster sauce. You could also add some seaweed powder if you have it. Set the sauce aside to infuse while you prepare the rest of the meal.
Slice the mushrooms thickly, divide broccoli into small, evenly sized bite-pieces. Cut white, firm parts of pak choi into thick slices, gather the green leaves together and cut them in half (if large). Slice red pepper thinly and cut carrot into matchsticks. Arrange the veggies on a large plate or chopping board in this order: mushrooms, broccoli, pak choi white parts, red pepper, carrot, spring onion white parts, pak choi leaves.
Heat up a wok on a medium heat until just smoking. Add 2 tsp of oil and allow it to get really hot – until it starts shimmering.
Add in mushrooms and stir-fry for one minute, until sealed. Next add in, broccoli, stir fry for about 2 more minutes.
Push everything to a side, add another 2 tsp of oil – allow it to heat up, then add firm bits of pak choi, red peppers, carrot matchsticks and spring onions. Stir-fry for 2 minutes and finally add pak choi leaves and allow them to wilt slightly.
Push all the veggies to the side of the wok and add in the sauce to the bottom of the wok. Allow the sauce to bubble a few seconds and then add the noodles.
Mix the noodles into the sauce. If using precooked noodles, handle them gently – shaking the wok back and forth which will allow the noodles to soften from the heat and slowly unravel into the sauce. Mix everything well, ensure the noodles are fully cooked before taking the wok off the pan.
Divide between two bowls. Serve topped with toasted sesame seeds.
NOTES