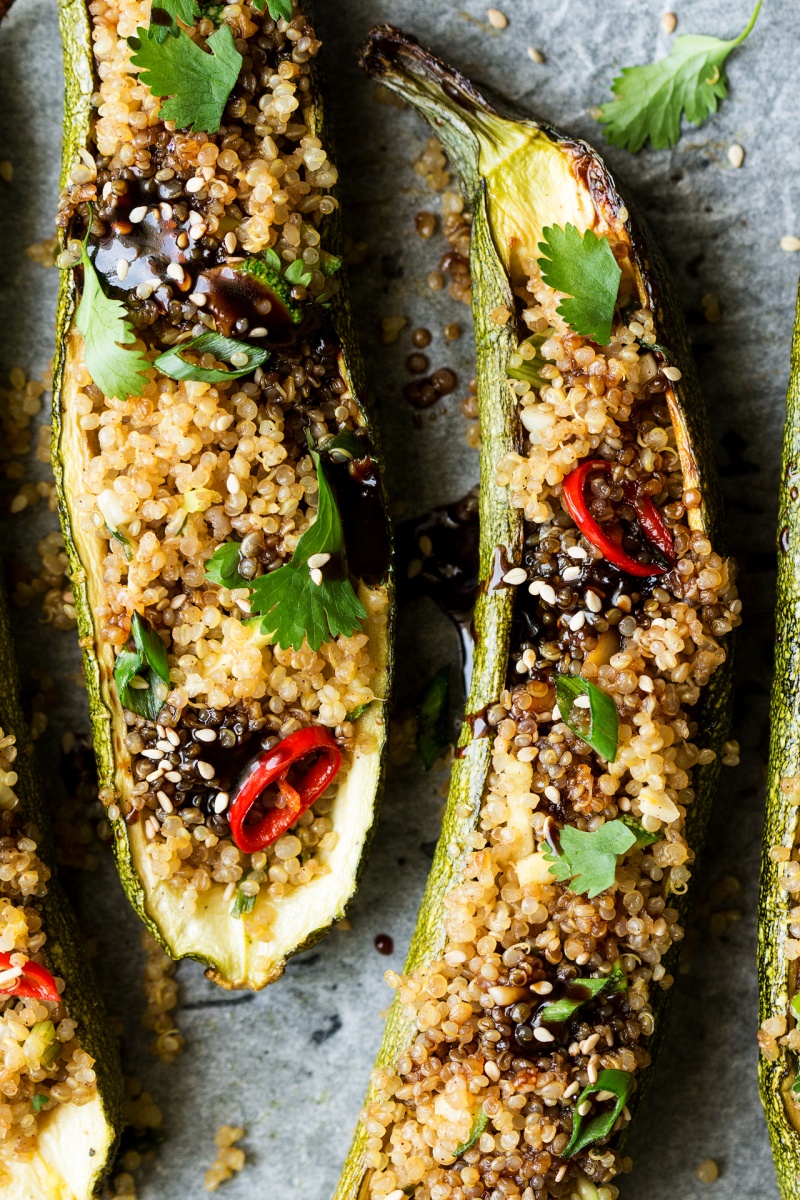 Today's recipe is a bit of a fusion dish – a result of chronic indecision, which has plagued me ever since I was a child 😉 . As our weather is definitely on the summery side these days, our local veg store has started carrying piles of beautiful, young zucchinis. As soon as I saw them, I had to buy some.
My initial idea was to prepare a twist on Mediterranean-style, stuffed zucchinis involving things like tomato sauce, capers, parsley, lemon rind etc. but then I really fancied some Asian flavours… I was torn.
Finally, I decided to throw caution to the wind and marry the two ideas together. I also had lots of cooked quinoa that I completely forgot about at the back of the fridge and, as soon as I discovered it, I knew it would fall prey to my zucchini experiment.
So this dish is an oven baked zucchini, stuffed with quinoa, flavoured with chilli, garlic, ginger and a hint of Chinese five spice and served with a drizzle of soy-sesame glaze and some fresh coriander.
I'll be honest, I was a bit apprehensive at first, but we both really enjoyed this creation. I'm hoping you'll be down with it too!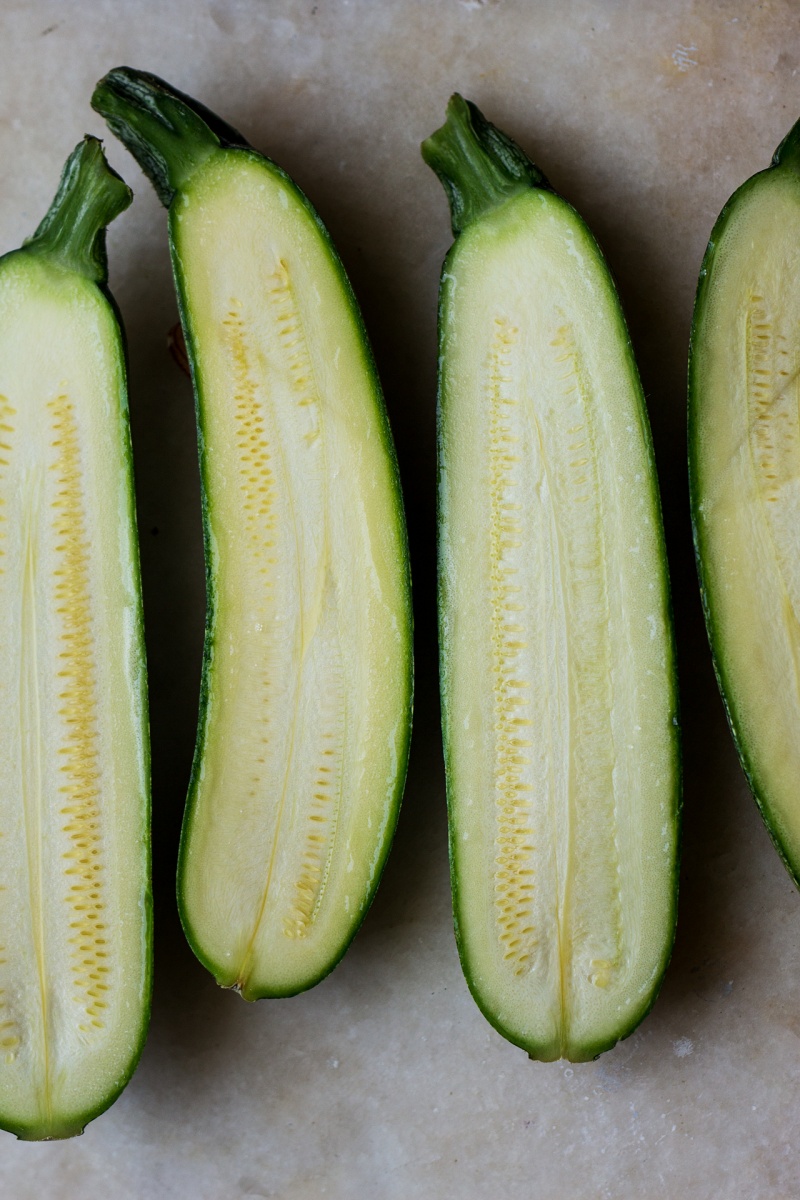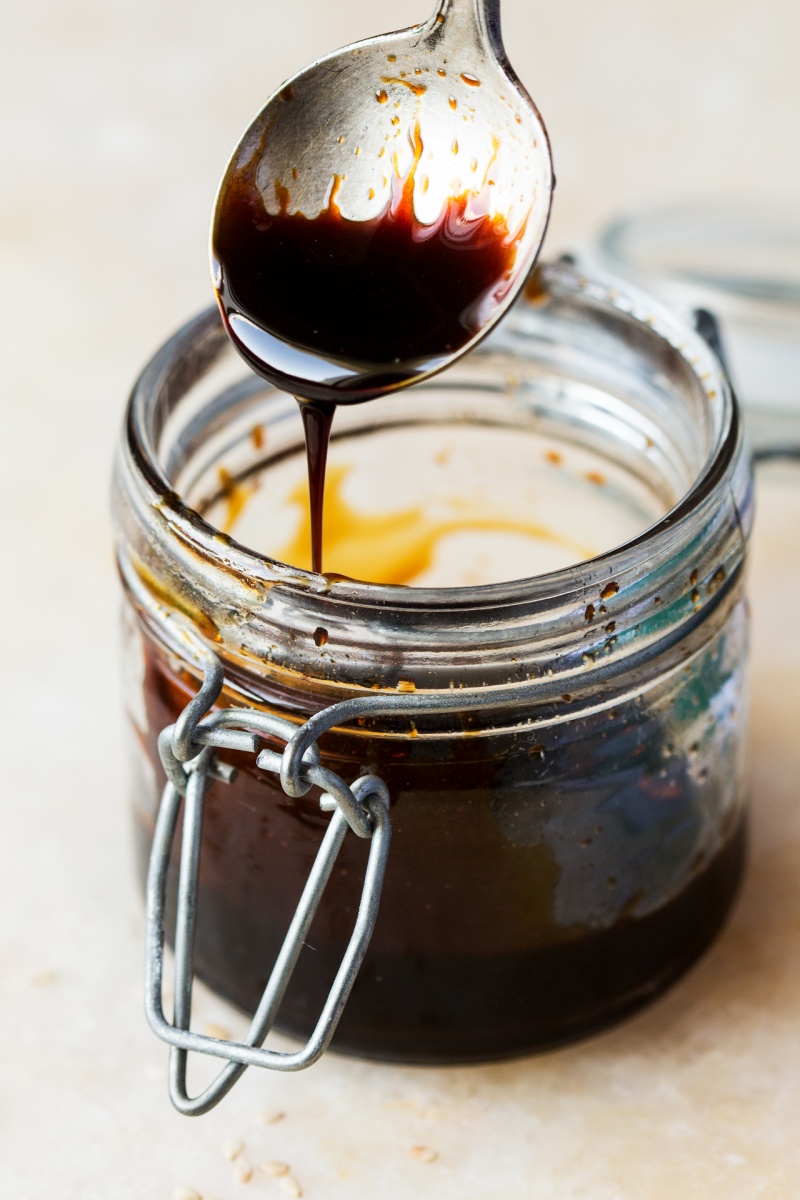 STUFFED ZUCCHINIS
2 medium zucchinis
2 cups cooked (2/3 cup dry) quinoa
2 tbsp vegetable oil
2 spring onions, finely sliced
2 garlic cloves, finely chopped
½-1 hot red chilli, finely chopped (adjust amount to taste)
small knob of ginger, finely chopped
1 tbsp lime juice or rice vinegar
4 tsp soy sauce (or tamari for GF option)
¼ tsp Chinese five spice
a handful fresh coriander, chopped
sesame seeds, dry-roasted on a pan
SOY-SESAME GLAZE
METHOD
Set the oven to 180° C / 355° F and line a baking tray with a sheet of baking paper.
Cut the zucchini in half lengthwise, scoop some of the inside using a melon baller or a sharp spoon to make space for the filling. Brush prepared zucchini with a little oil, season with salt and pepper.
Pop zucchini halves onto the prepared baking tray and bake for 35-40 minutes until soft and lightly browned in places.
Meanwhile, place glaze ingredients into a very small pot. Bring them to a simmer and then simmer gently (I used setting 1 out of 6) until the glaze thickens and turns into a thick syrup. It will take about 25-30 minutes of simmering. Be aware that once the glaze cools down it will thicken further, so be careful not to over reduce. If you do that, you can bring the glaze back by adding a few drops of water.
Heat up 2 tbsp of vegetable oil in a large pan, on low-medium heat.
Add sliced spring onions, chopped garlic, ginger and red chilli and fry for about 3-4 minutes – until softened and fragrant – stirring frequently.
Mix in Chinese five spice and fry off gently for about a minute.
Add in cooked quinoa and mix well. Season with soy sauce and rice vinegar.
Place warmed-up quinoa mix on top of the cooked zucchini boats. Serve drizzled with soy-sesame glaze, sprinkled with sesame seeds and chopped coriander.