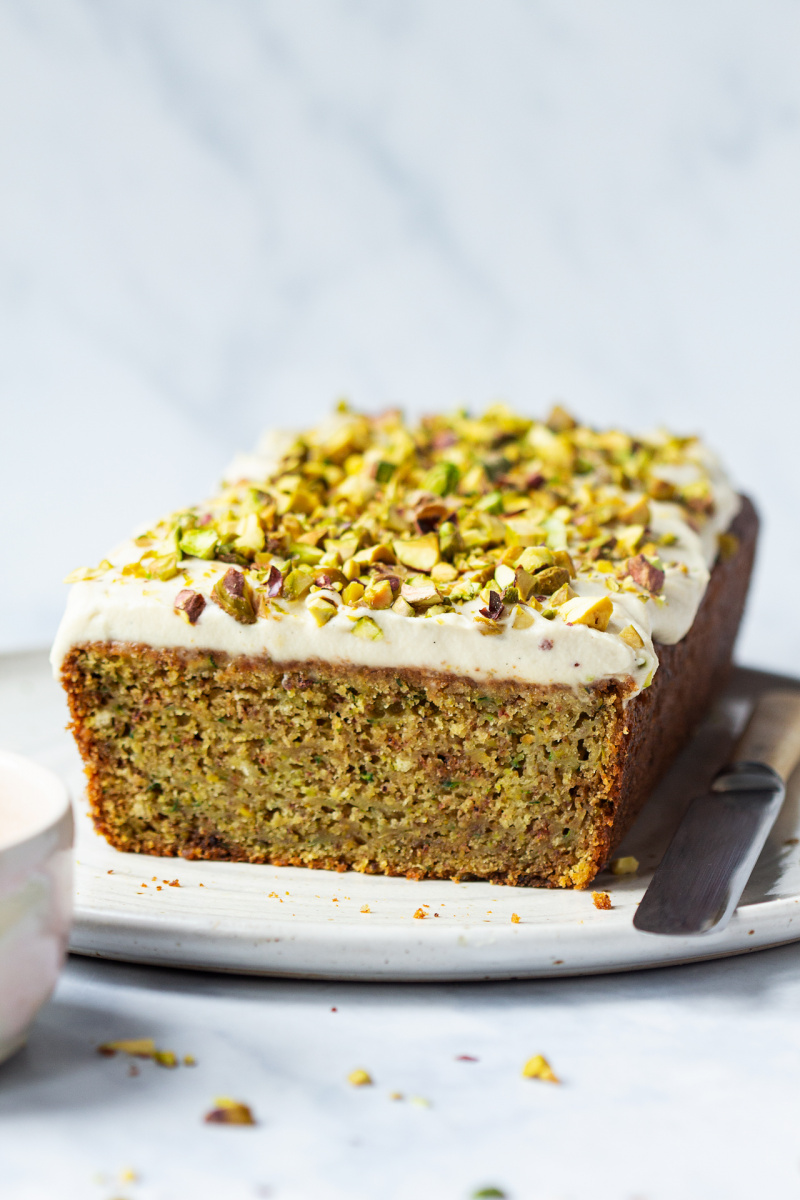 This past week has seen me making (and eating 🙂 🙁 ) A LOT of cakes and processing about a ton of apples. Our newly acquired (it's our first summer in the new house) apple tree has surprised us with an unusually early and abundant apple crop, so I had no choice but to learn one thing I swore to myself I would never bother with when I grow up – the art of canning. What's happened to me?
Despite giving some apples away, storing the unblemished ones in the salad compartment of my fridge, freezing as much apple sauce as I could fit in my tiny (and already full) freezer and canning tens of jars, I still ended up with lots of apples that had nowhere to go, so I developed a new apple cake recipe and it's a real winner, but I shall share it with you when the summer fruit is truly over and apples take more of a centre stage. Watch this space.
Don't be bummed though, as I do have a cake recipe today. It uses one of the summer's most prolific and versatile vegetables, the almighty zucchini (or courgette for those of you who live in the UK). While I heard people complain of its propensity for blandness, I personally think that its super mild flavour is one of the zucchini's super powers. It escapes being vegetable typecasted 😉 . It belongs just as well in salad, a summer pasta or these Greek-inspired zucchini fritters as it does in a cake. I swear!
To prove my point, I made a moist zucchini and pistachio cake fragrant with zesty lime, which simply screams summer. Not only do I love its handsome greenish hue, but its nutty and sweet and tangy lime flavour had me at my first test bake, even though the first attempt was far from perfect. It took a few more goes to get the ratios spot on and here it is: zesty zucchini and pistachio cake topped with an optional, but recommended, cashew cream icing for a more luxurious summer treat.
If you cannot be bothered making icing, use a tub of thick vegan coconut yoghurt instead. I tried to cater for a lot of preferences in this recipe so this cake is entirely sweetened with maple syrup. It can also be made without oil and gluten-free too, if you so wish. It works well as a loaf cake and as individual muffins too. I tested them all so take your pick from the options outlined below. Enjoy! x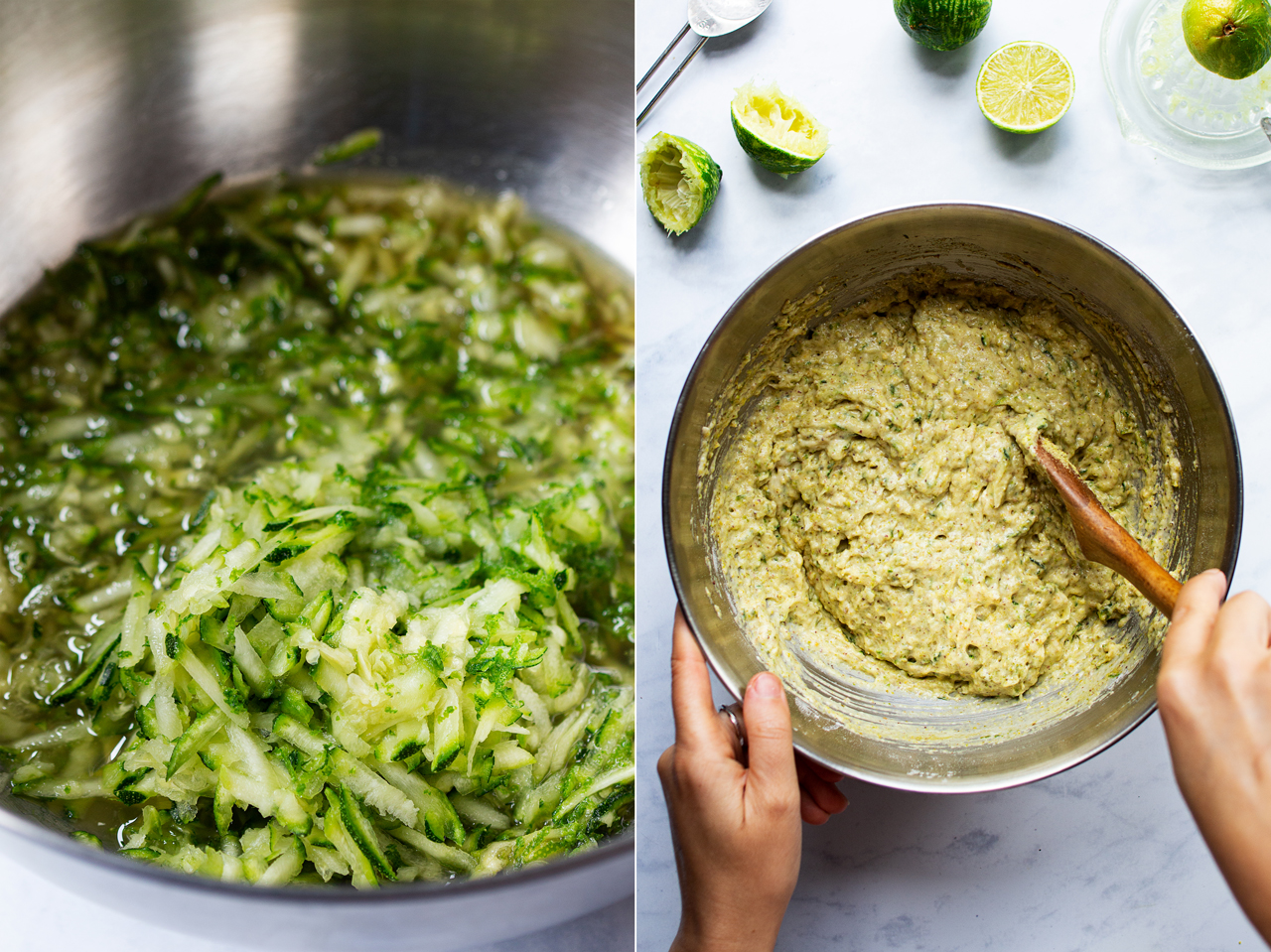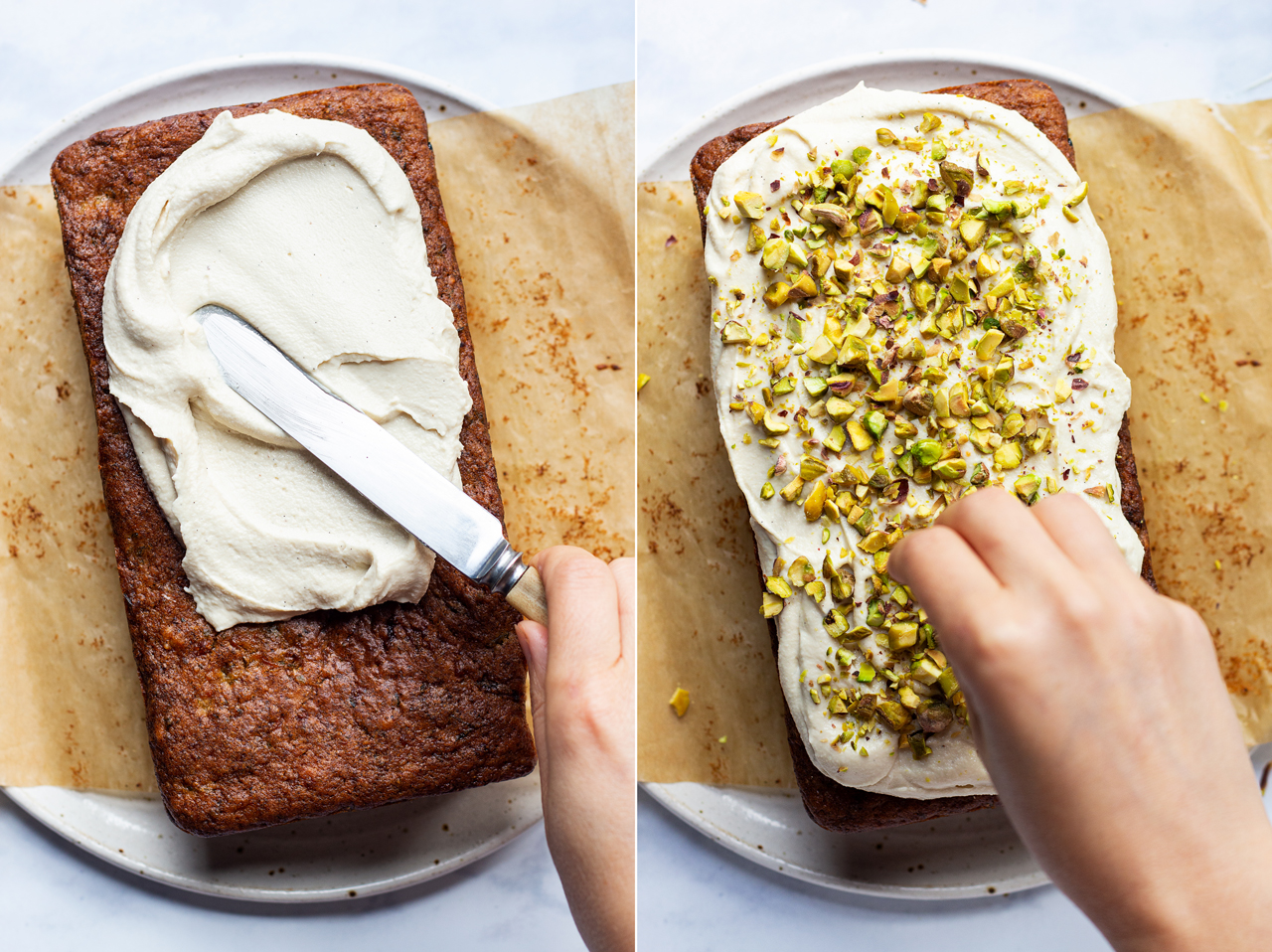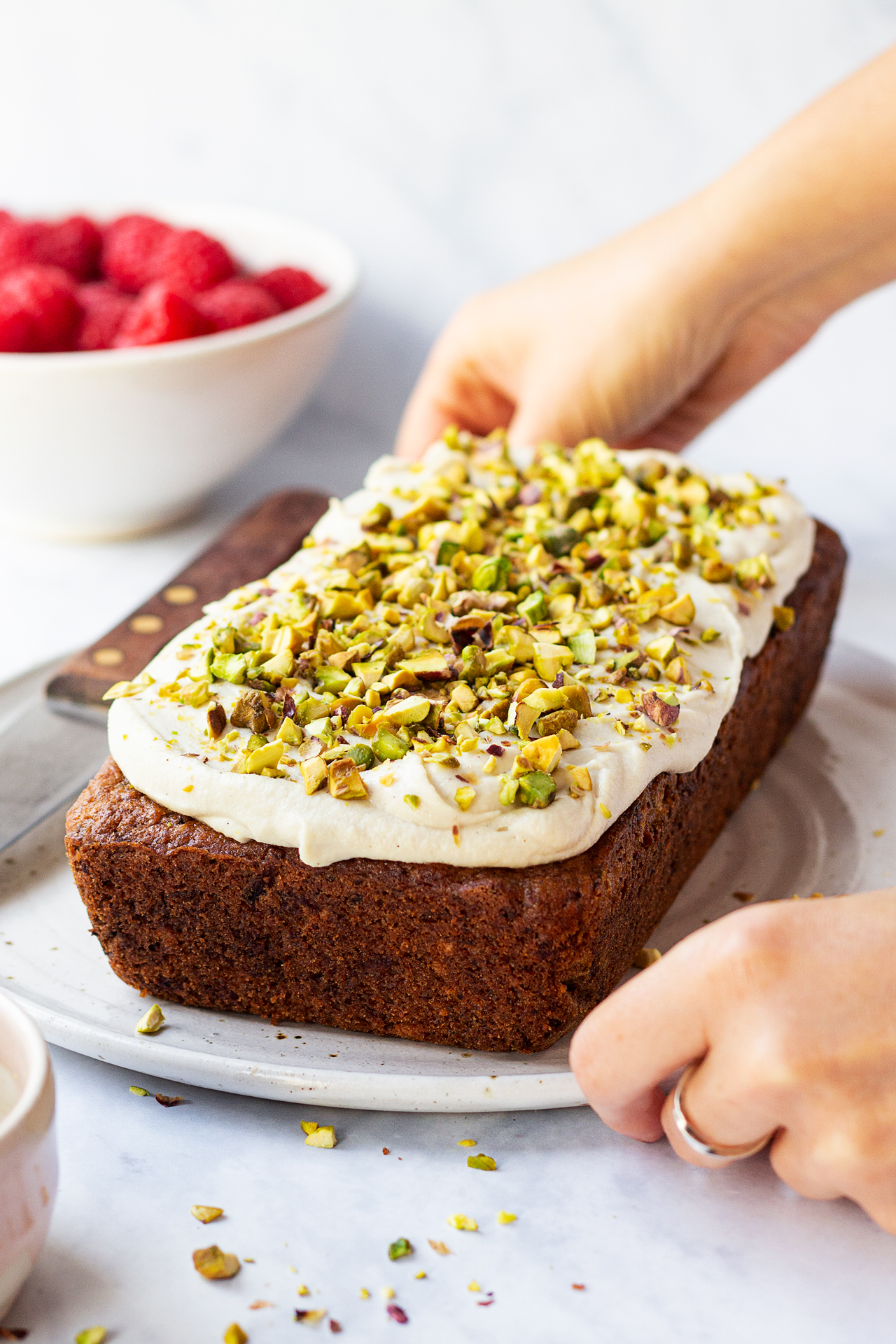 CAKE
WET INGREDIENTS
180 ml / ¾ cup maple syrup or other liquid sweetener
50 g / ¼ cup refined coconut oil, melted but cooled or 60 g / ¼ cup smooth almond butter
60 ml / ¼ cup lime juice
240 g / ½ lb / packed 1½ cup, coarsely grated zucchini
DRY INGREDIENTS
190 g / 1½ cups all purpose flour or GF all purpose flour mix (I use this one)
¾ tsp baking soda
1¾ tsp baking powder
zest of 3 limes
100 g / 1 lightly packed cup finely ground pistachios / pistachio meal*
CASHEW FROSTING (makes 1½ cups)
30-45 ml / 2-3 tbsp coconut milk (I use this brand) or thin plant milk
4 tbsp maple syrup, adjust to taste
3 tbsp lime juice
1 tsp vanilla extract
195 g / 1½ cups raw cashews, soaked in boiling water for 20 minutes
chopped nuts, for decoration
METHOD
CAKE
Set the oven to 180° C / 355° C. Grease a 1kg / 2lb cake tin with a bit of oil or line it with a piece of baking paper.
In a large bowl mix all the wet ingredients (apart from the grated zucchini) together.
Next, mix in the grated zucchini.
Place a sieve over the bowl with wet ingredients and sift the first three dry ingredients in. Fold them into the wet ones using a spatula and a gentle clockwise folding motion until no flour pockets remain.
Finally fold in lime zest and ground pistachios until you get a uniform, thick cake batter.
Transfer the batter into a baking tin. Bake for 55 mins (depending on your oven). It's done when a toothpick comes out fairly clean. Let it cool down completely before removing from the tin and icing.
Once cool, remove from the tin and decorate with chilled frosting and chopped nuts.
CASHEW FROSTING (I recommend making a day ahead!)
Place all the liquids at the bottom of your blender. Start off with 2 tbsp of coconut milk, add the 3rd one later (if needed).
Add about half of the drained and rinsed cashews. Blend until smooth, adding more cashews as the mixture gets thicker and thicker.
At some point, the mixture will become very thick and heavy and your blender may struggle to turn. To remedy this, start making circles on the surface of your mixture (in the direction of the turning blades) with a spatula to prevent air pockets forming under the mixture's surface. Be careful not to dip the spatula in too deep as you don't want to accidentally touch the turning blades. If you follow the technique I've described above, there is enough moisture in this recipe not to have to use any more liquid, which means you'll end up with a smooth, creamy and thick frosting.
Place the mixture in the refrigerator (or freezer for 30 mins or so if in a rush) for a few hours to firm up.
NOTES
You can also bake these as muffins, divide between 12 muffin cases and bake for 25 minutes at 180° C / 355° F.
*If you cannot get pistachio flour in shops, grind them up finely in a coffee grinder or a food processor. Take care not to overprocess as natural oils will release and the flour will start turning into a nut butter.
I used a 2 lb / 900 g cake tin of the following dimensions: 18.5cm x 8cm x 6cm (like this). It holds 8 cups / 2000 ml liquid (to the brim), but the batter should fill no more than 2/3 – 3/4 of the 2lb cake tin or else the cake may not raise.