Hope you guys have had a good week and are ready for the weekend! We certainly are. It was Duncan's birthday on Wednesday and we are having some friends over to celebrate, which we are looking forward to immensely as we have not seen them in over a year.
Duncan is particularly excited as being able to celebrate this birthday this year makes a nice change. Last year he was in bed with Covid for his birthday and the year before that, while we went away to Devon for it, he got bad news about a job he was really keen on. He got through all the stages of the interview process to be told, the day before his birthday, that it's a no and the reasons seemed quite vague too. It was very raw and he felt a little low even though hiking in gorgeous Devon cheered him up a little.
I'm planning on making one of his favourite cakes – a new, improved version of my walnut and coffee cake (which I shall post soon, promise) and an alternative little one for my friends' 4 year old as she is already pretty energetic and I don't think coffee would be advisable 😉 , plus a pastitsio and a big green salad for lunch – that's probably all I can muster in the time I have and there might be some leftovers of this zucchini galette too if we don't devour it all by then!
I was hoping to release this recipe before Easter but I ran out of time. Still, it's a very timely dish that is perfect for any gatherings like picnics or garden lunches, which as lockdown lifts and more and more people get vaccinated we will all be keen on, I imagine. It's really easy to make and quite versatile so you can easily replace zucchini with charred asparagus or a mound of garlicky spinach. What is really nice about a galette is how easy it is to make, there is no need for a tart case or any time consuming shaping, yet it delivers the satisfying crunch of pastry against the softness and indulgence of the soft and creamy centre.
I used spelt flour as it makes a delicious savoury pastry and some homemade dukkah as I like little pops of flavour here and there. You can use some crushed hazelnuts and fennel seed mixed in with salt instead too. I also opted to heap an entire grilled zucchini on top at the end because it looks really pleasing but you can opt for a lower effort option and cook thinly sliced zucchini rounds directly on top of the galette. Whatever you choose, make it and I bet you that people will be fighting for scraps!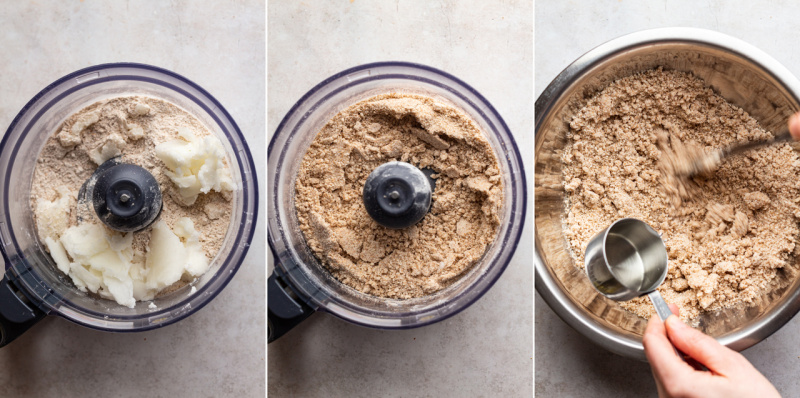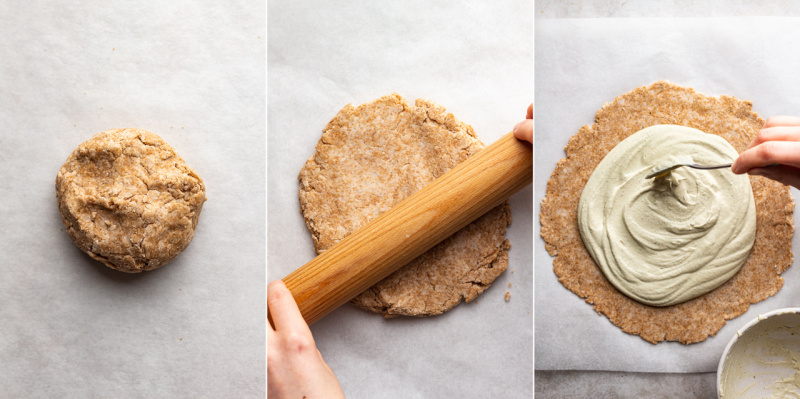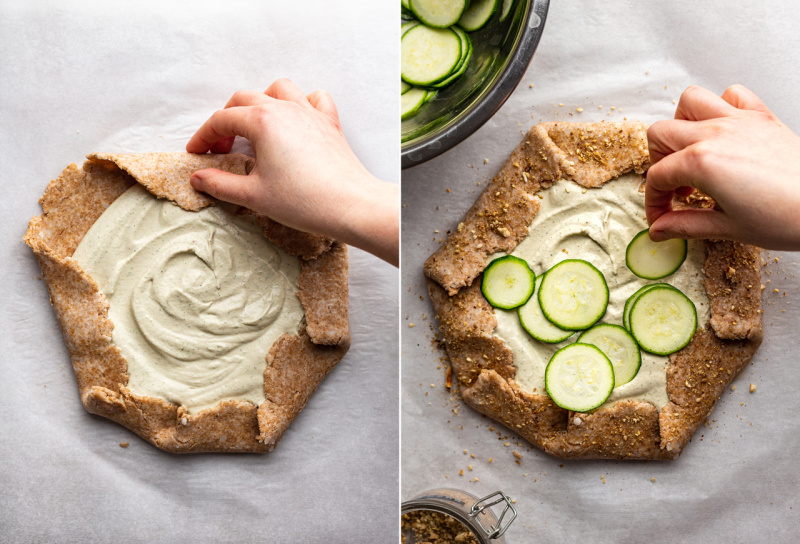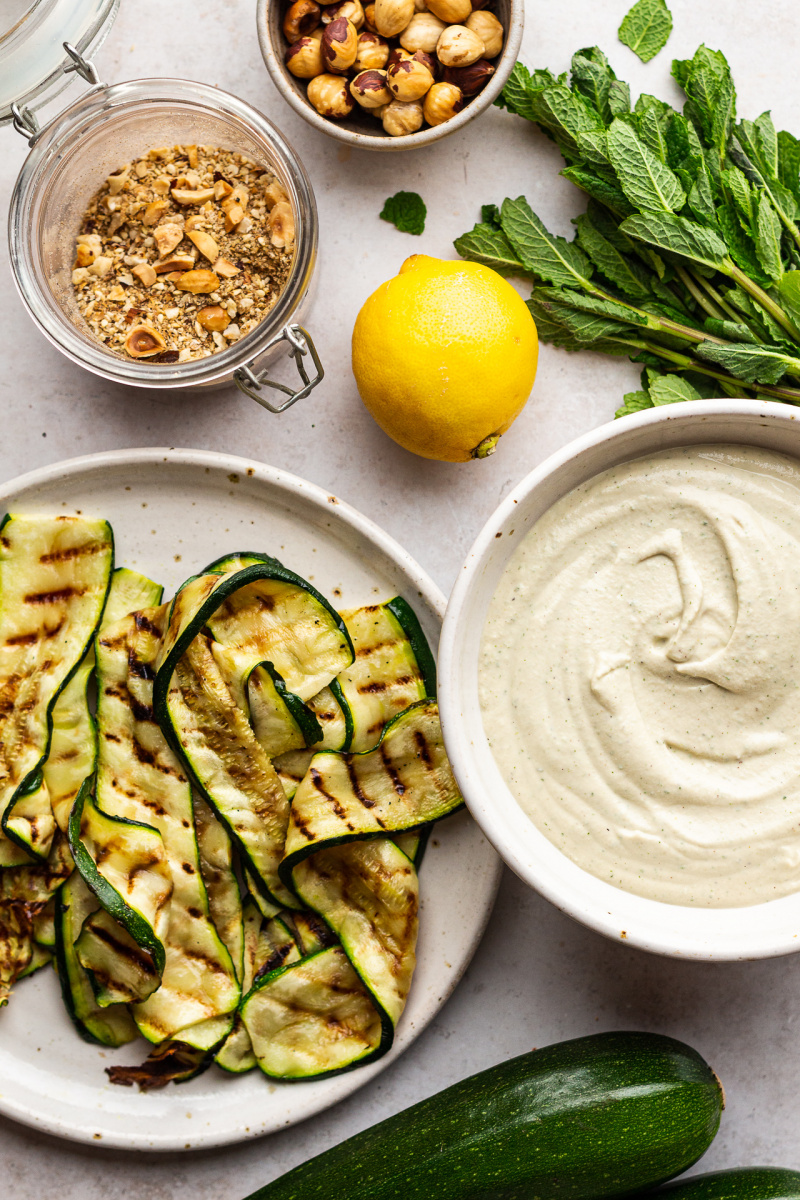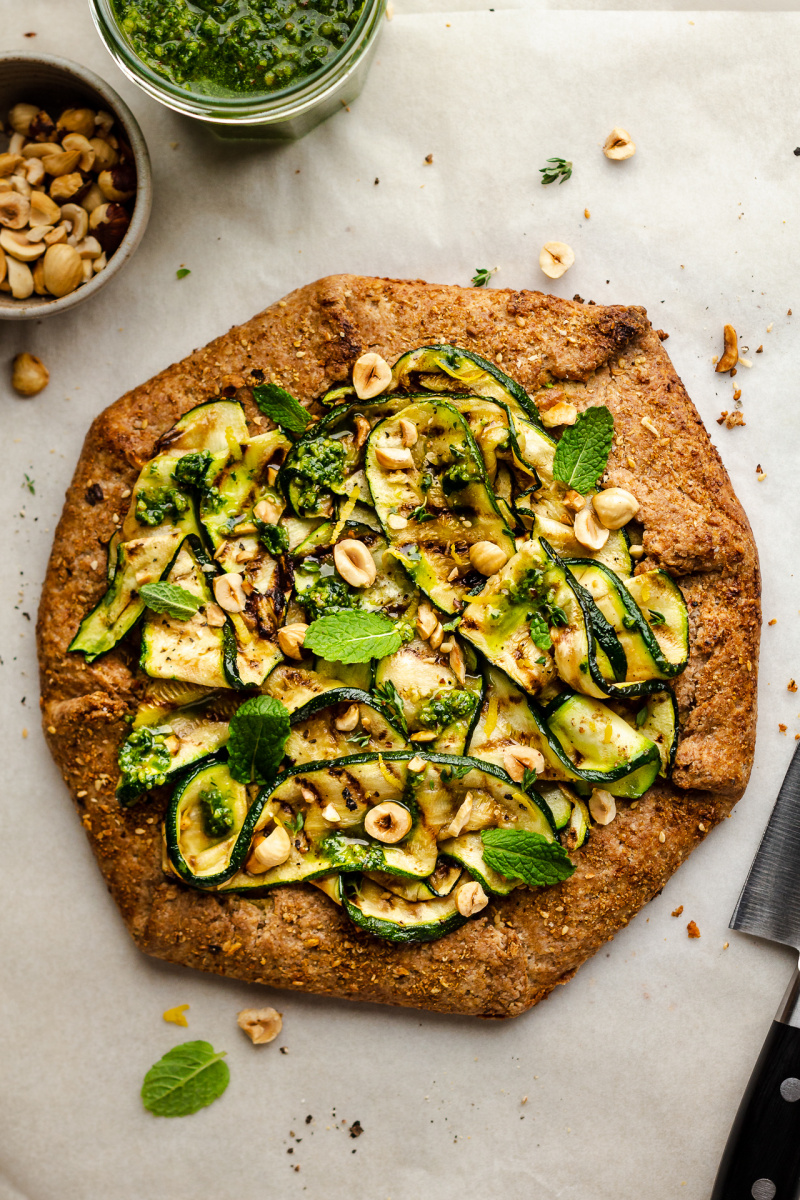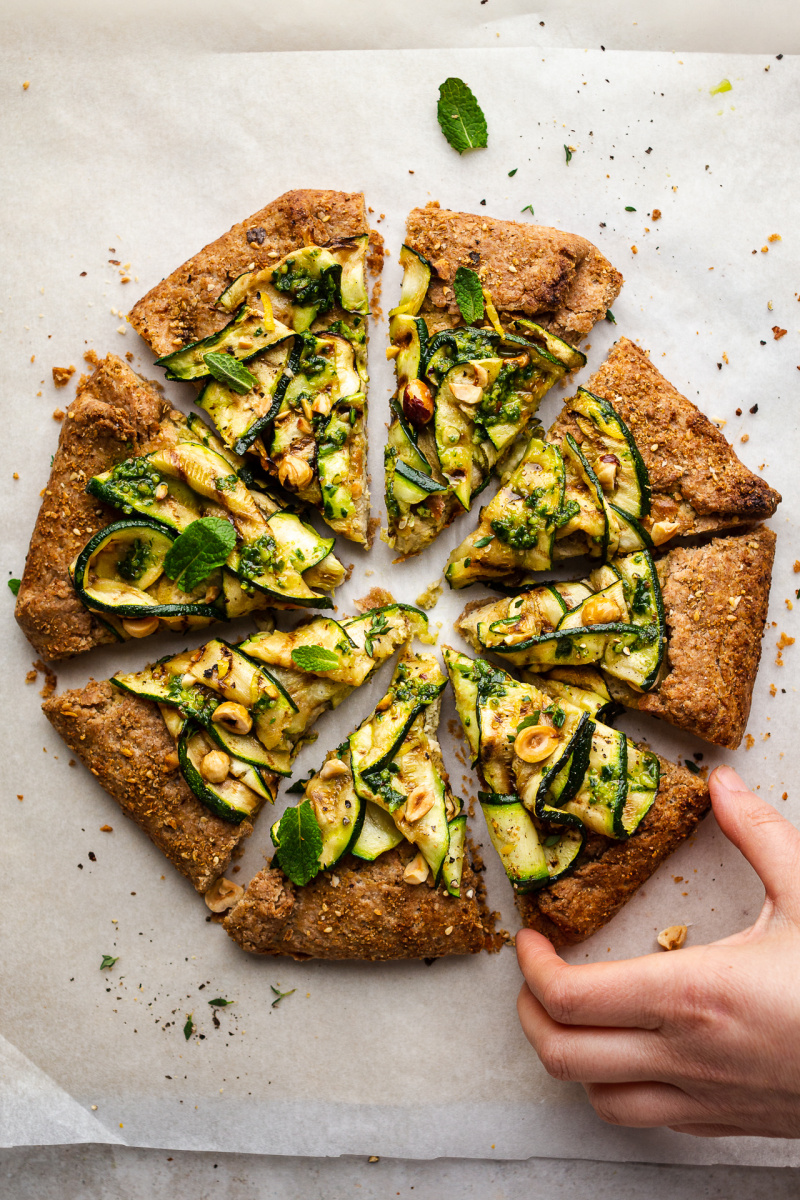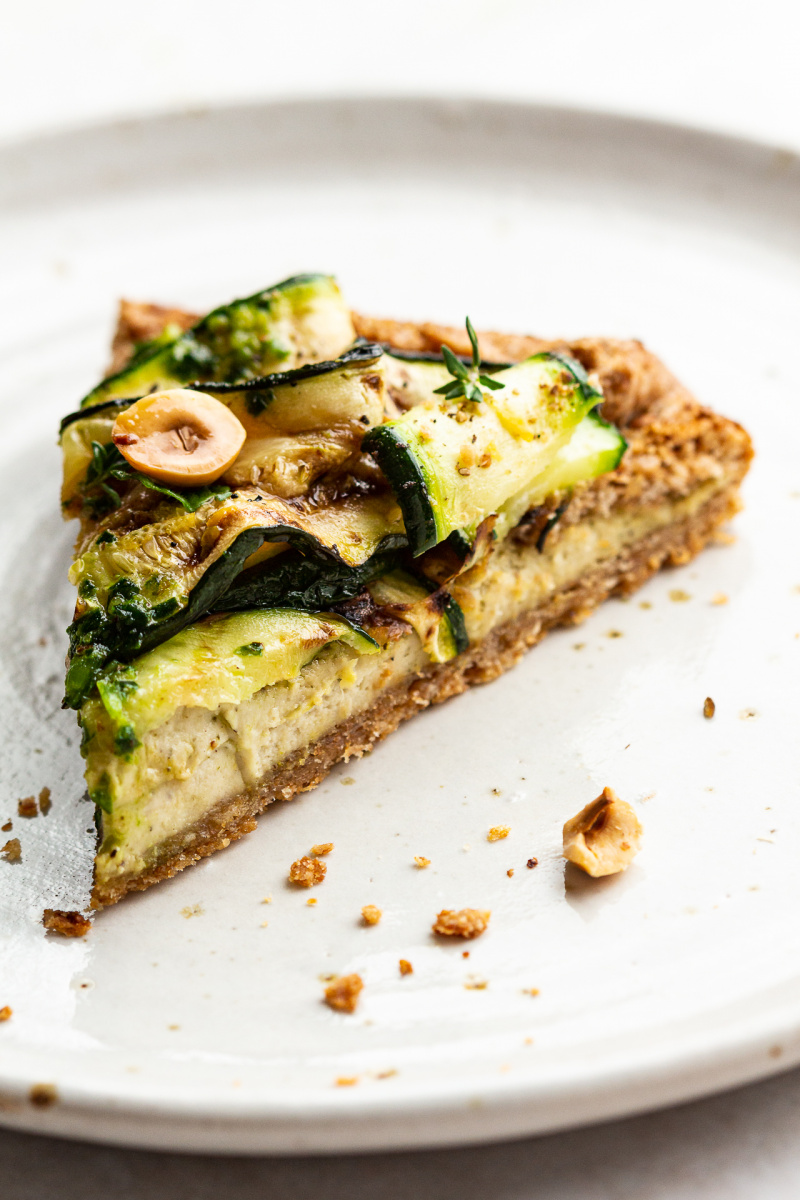 PASTRY
150 g / 1¼ cups wholemeal spelt flour*
½ tsp salt
75 g / 1/3 cup solid odourless coconut oil or vegan butter
75 ml / ¼ cup + 1 tbsp fridge-cold water
1 tsp apple cider vinegar (or other acid)
sweetened plant milk, to glaze
dukkah (optional)
FILLING
150 g / 1 heaped cup cashews, soaked in boiling water for at least 30 minutes
30 ml / 2 tbsp lemon juice + zest 1 lemon
120 ml / ½ cup almond milk
4 roasted garlic cloves (½ head) or 1 raw clove
½ tsp salt
¼ tsp pepper
1 tsp white miso paste
a handful of mint or basil leaves (optional)
2 courgettes / small zucchini
1-2 tsp olive oil
DECORATION (optional)
METHOD
PASTRY
Place flour, salt and solid coconut oil in the food processor (or rub the oil into the flour and salt using pastry cutter / two knives and later your fingers).
Pulse a few times, until coconut oil is cut into the flour and the mixture resembles breadcrumbs.
Transfer the mixture to a mixing bowl.
Measure out 70 ml / ¼ cup + 2 tsp of cold water and add apple vinegar to it. Gradually, add the water to the dough bringing the dough together with a knife, but do not knead. If the dough is too dry to bring together, you may need to add a touch more water, but add it very gradually, teaspoon by teaspoon. I found that the ideal amount is about 70 ml / ¼ cup + 2 tsp of water, plus 1 tsp vinegar but I always weigh my flour, if you use cups to measure you may need a touch less or more. Rest the pastry in the fridge for at least 30 minutes.
FILLING
Drain the cashews and place them in a blender with the rest of the ingredients, holding back some of the salt. Process until very smooth and adjust the seasoning to taste.
Slice one zucchini thinly and toss in 1-2 tsp of olive oil – these slices will bake in the oven, on top of the galette. Slice the other zucchini lengthwise (or into round slices if you prefer) as thinly as you can. Brush with olive oil before arranging on a griddle pan. Leave it alone for a few minutes and once the char marks appear on one side, flip it over and char on the other. Season and set aside.
ASSEMBLY
Preheat the oven to 200° C / 390° F (no fan). Place a large piece of baking paper on the counter, sprinkle it with flour and place chilled pastry on top. Whack it with a rolling pin a few times to flatten.
Slowly and gently roll the dough out into a rough circle.
Place the cashew filling inside the circle leaving a generous margin all around the filling. Cover the top with zucchini slices and season with salt.
Fold the excess pastry over the filling, brush the pastry with plant milk and sprinkle with dukkah, if using.
Bake in 200° C / 390° F oven for about 35-40 minutes.
Top with grilled zucchini slices, crushed hazelnuts, fresh herbs and a drizzle of your favourite vegan pesto or olive oil.
NOTES
*GLUTEN-FREE: If you would like to make the pastry gluten-free, use a good GF flour mix (one that includes starches) and ¾ tsp xanthan gum to help with binding. The amount of water needed is likely to be a bit different so go by feel, adding little at a time.