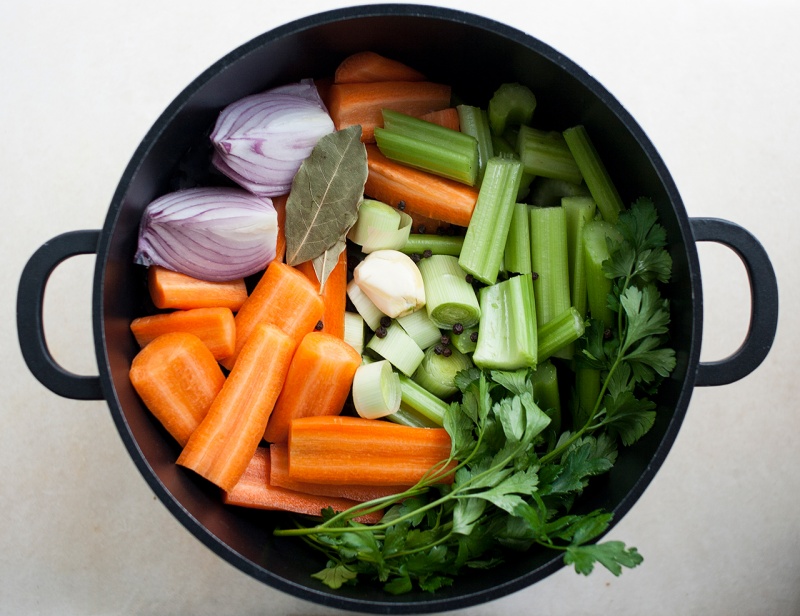 Years ago, I used to think that making your own stock is super time consuming and complicated and because of that I never used to bother. My first attempt did nothing to change my mind as I somehow got it into my head that all vegetables need to be cut into a very fine dice – effectively a mirepoix – which took absolute ages (and put me off even more).
I resumed my stock making attempts earlier this year and was pleasantly surprised not only at how easy it was but also at how much of a flavour booster a homemade stock can really be.
I also like the fact that when you make it yourself, you know exactly what is in it. Even though commercial stock cubes claim to contain only dehydrated stock, salt and seasoning, I am sure there is some nastiness lurking there somewhere. We live in the world where they coat lemons in the secretion of a Thai beetle (Laccifer lacca) to make them shiny… Really, who the hell asked for shiny lemons in the first place?!
To make vegetable stock, be sure to wash all the vegetables thoroughly to get rid of all the grit (and unexpected guests). Sand likes to sit between the layers of leek, in the crevice of celery stalks and other unsuspecting places. There is nothing worse than realising that you hadn't properly cleaned the veg half way through dinner. Chop all vegetables roughly, NO FINE DICE REQUIRED, and put into a pot with spices, cover with water and simmer for at least hour. Once it has cooled, sieve it and store in the fridge – it will keep for about 3-4 days.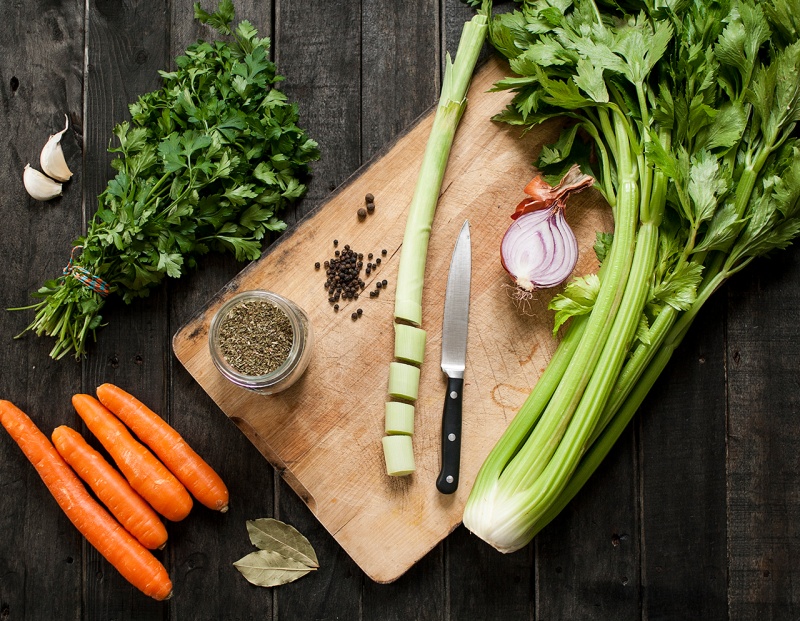 3 carrots
6 celery stalks
½ an onion
1 garlic clove, crushed with a knife edge
1 tsp oregano
1 tsp thyme
small bunch of fresh parsley
1 leek, green part
2 bay leaves
3 whole allspice berries
½ tsp of peppercorns
water
METHOD
Wash all the vegetables thoroughly
Peel the onion and garlic (although if you are sure they don't have any grit in them – you could leave the skins on) and quarter the onion. Put the garlic clove on a side and crush it with the blunt edge of your knife
Chop washed carrots (no need to peel them), celery stalks and leeks very roughly
Put all the ingredients into a pot and add enough water to cover all the veg in your pot. The more water you add the less intense your stock is going to be.
Simmer with a lid on for 1.5 hours
Let it cool, put through a sieve and pour the liquid into a jar/fridge container. Keep refrigerated.