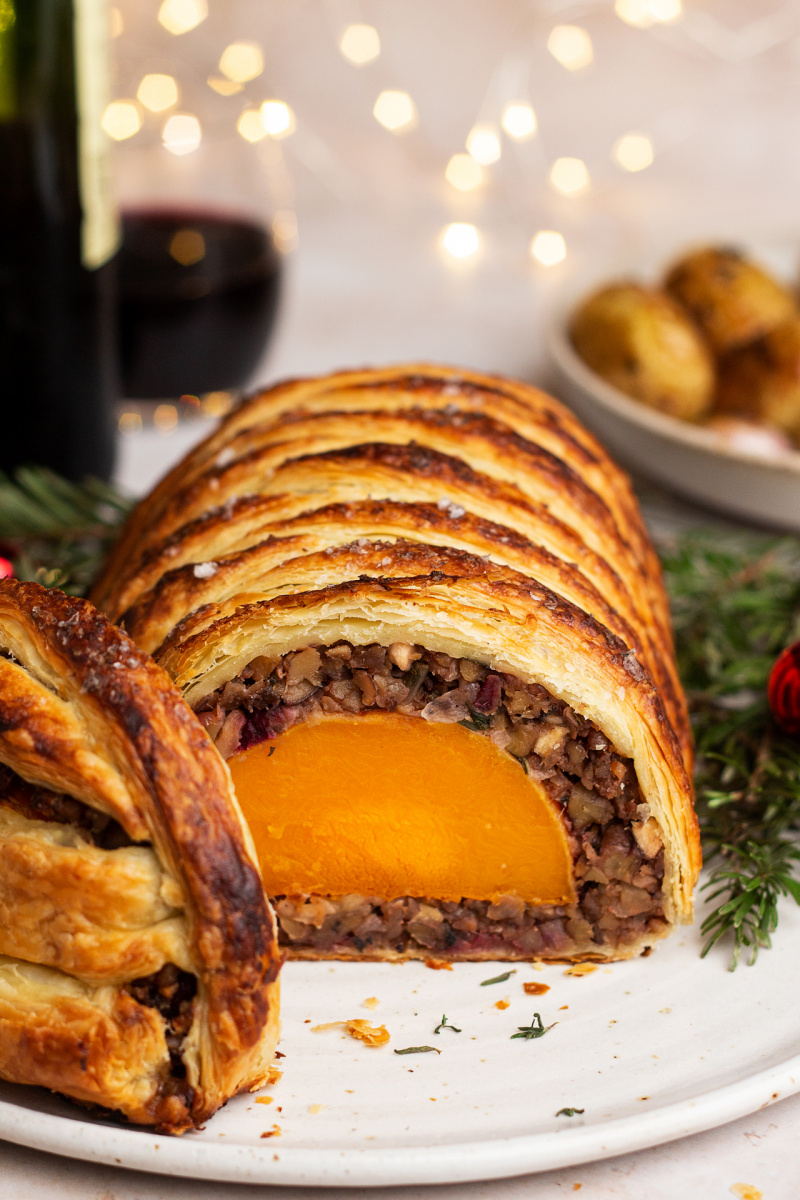 And it's almost Christmas again…how did that happen? We are spending our last evening in Krakow before we go to my parents. I'm down for helping my mum prepare some vegan dishes for Christmas Eve dinner, which is the most important meal of Christmas here.
As we will spend the next 5 days cooped up inside, with a run (or a family walk maybe) thrown in for good measure, we are making the most of the thriving vegan food scene in Krakow before we leave. The standard of vegan food in this city is really great so it's been a pleasure so far. Before we board the train tomorrow, we are booked in for a delicious vegan sushi lunch and I plan to consume my body weight in rice 😛 .
In case you are still on the fence when it comes to a Xmas centrepiece, I am coming at you with a new suggestion that is roughly based on something that I published 2 years ago – butternut squash Wellington.
This one has a different stuffing, based on chestnuts and comes with a lush cider gravy. Like most dishes of this type it is a bit more time consuming to make but it's worth it, I promise! You won't have anyone complaining if you serve them a slice of this golden pastry-wrapped plant goodness with a velvety umami-filled gravy.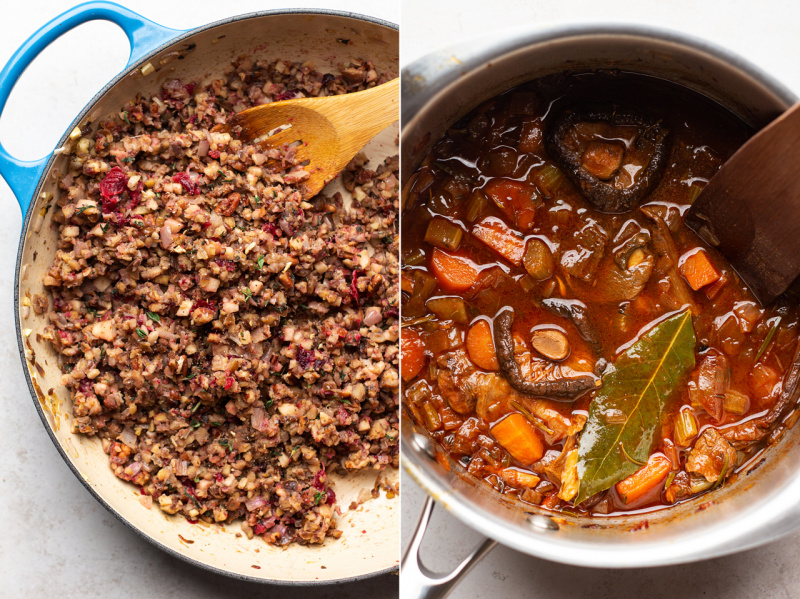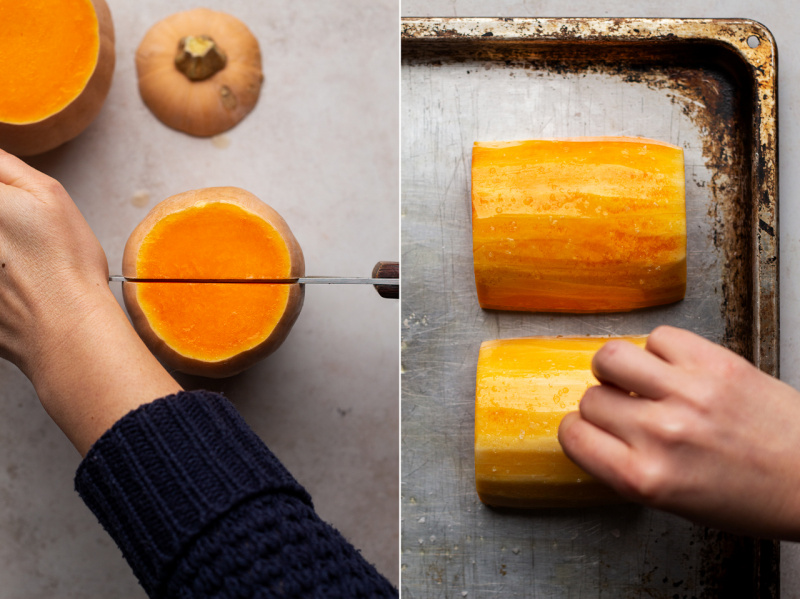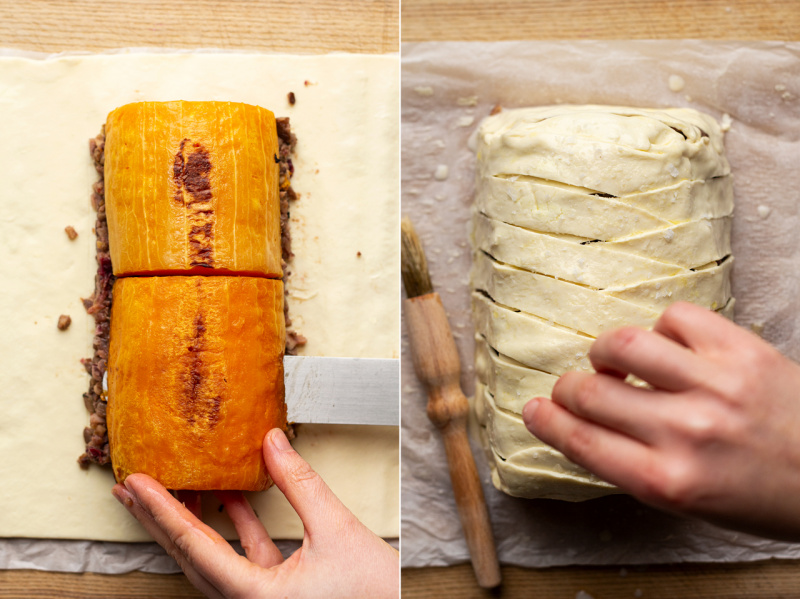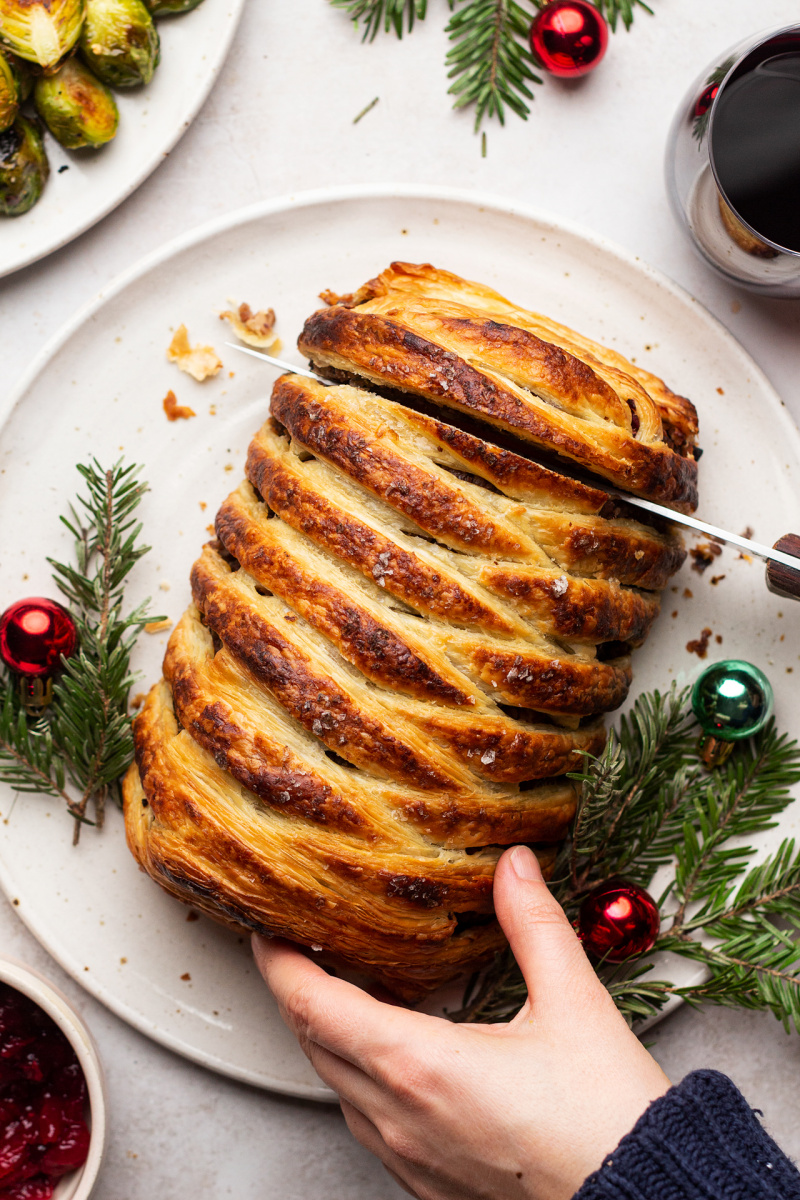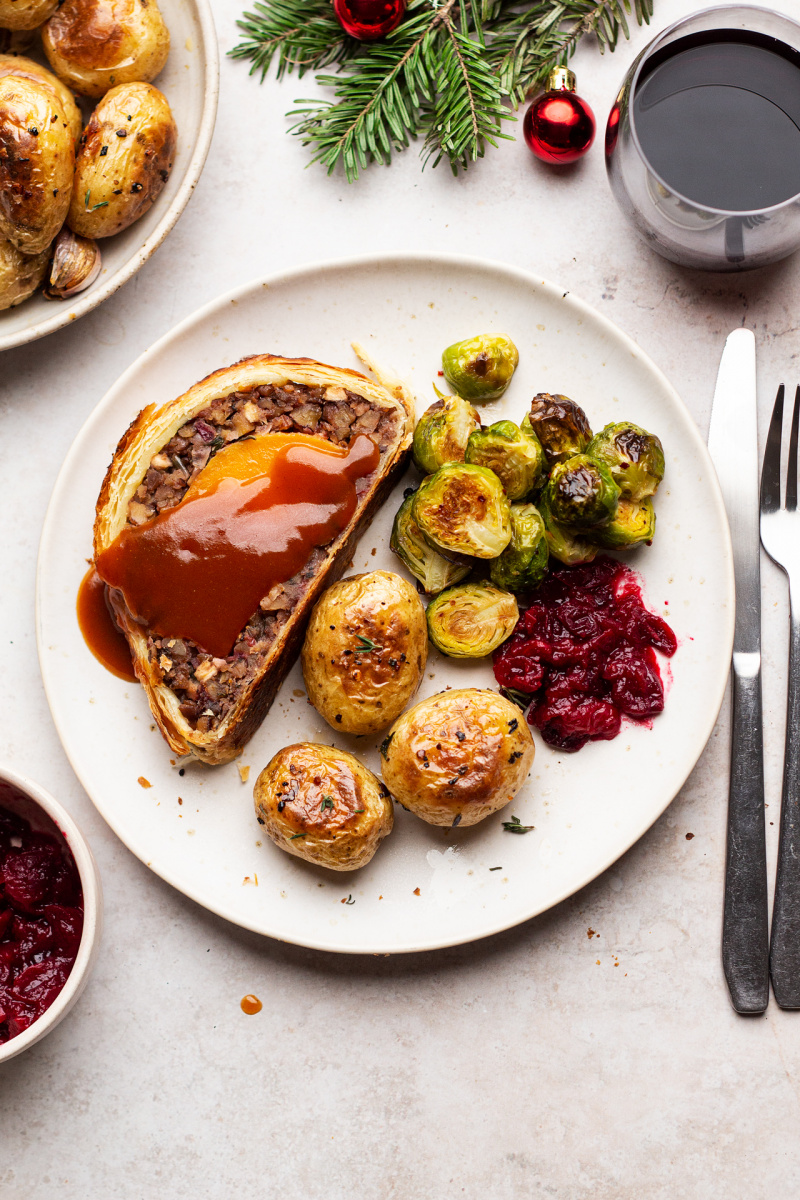 15-20 cm / 3-4″ neck of butternut squash*
3 tbsp olive oil
1¼ tsp salt flakes, adjust to taste
3 escallion shallots (or 6 small shallots), finely diced
20 fresh sage leaves, chopped finely
4 thyme leaves, leaves picked
2 rosemary sprigs, leaves finely chopped
6 garlic cloves, finely diced
1 Bramley (sour) apple, finely diced
¼ tsp black pepper, adjust to taste
¼ tsp grated nutmeg, adjust to taste
2 tbsp maple syrup
300 g / 2 cups ready roasted chestnuts
100 g / 1 cup toasted pecans
2 tbsp cranberry sauce or oven roasted cranberries
1 sheet vegan puff pastry**
1-2 tbsp soy milk, to glaze
CIDER GRAVY
2 tbsp olive oil
2 escallion shallots, finely diced
4 garlic cloves, unpeeled and crushed
1 large carrot, peeled and roughly diced
2 celery sticks, roughly diced
a good pinch of caraway seeds
1 tbsp tomato paste
1 tbsp mushroom soy sauce or vegan Worcester sauce
20 g / 7 oz dry mushrooms (I used a mixture of porcini and shiitake), well rinsed
1 bay leaf
10 black peppercorns
240 ml / 1 cup vegan cider
salt, to taste
1-2 tbsp apple cider vinegar
1 tbsp maple syrup or sugar
1-2 tsp cornstarch / cornflour
METHOD
FILLING
Heat up the oven to 200° C / 390° F (180° C / 355° F fan) and line a baking tray with a piece of baking paper.
Cut off the bulbous part of your butternut squash (save it for another use), peel the solid part and cut it in half lengthwise. Brush the two halves with a bit of olive oil on both sides, season with salt and bake in the pre-heated oven for about 35-40 minutes (depending on size), until just cooked all the way through but not too soft. Let the two halves cool down completely.
Heat up 3 tbsp of oil in a heavy bottomed pan. Add finely diced shallots, chopped sage, thyme and rosemary. Fry on a low-medium heat until gently caramelised. Add chopped garlic, stir-fry until softened and fragrant.
Add chopped apple and stir-fry until apple has softened.
Season with salt, pepper, nutmeg and maple syrup.
Add in finely chopped chestnuts and toasted pecans. Stir really well to combine.
Add cranberry sauce so that the mixture is moist (but not soggy) enough to hold around the butternut squash. Taste and adjust the seasoning to your liking. Allow to cool completely.
CIDER GRAVY
Heat up 2 tbsp of olive oil in a heavy bottomed pan. Once the oil comes to temperature, add shallots, garlic, carrot, celery sticks and caraway seeds. Sauté gently on a medium heat until lightly caramelised, stirring often.
Next add in tomato paste and vegan Worcester sauce, stir well and allow it to cook until caramelised (not burnt) – stirring from time to time.
Next add in porcini, bay leaf, peppercorns, cider and 1 cup (240 ml) of water.
Allow the mixture to simmer gently until it reduces by about half (30-45 minutes).
Season with salt, apple cider vinegar and maple syrup (if needed). Set aside for the flavours to infuse (ideally overnight if you have time).
Strain the mixture and squeeze all of the juice out of the veggies.
Return the liquid to a small pot. Taste and season to taste.
Bring the gravy to a gentle simmer. Thicken it a little by whisking the cornflour slurry in slowly while it simmers.
ASSEMBLY
Place the sheet of pastry in front of you so that the longer edge runs parallel to the work bench (I used a Jus Roll puff pastry sheet, which measures 23 cm / 9″ by 35 cm / 13.5″ cm). You will place your filling in the horizontal middle of the pastry. The width of the area designated for the filling is determined by the width of your butternut squash (mine was 8 cm / 3″ wide).
Mould some of the filling in a rectangle.
Place the two halves of the butternut squash on top of the filling so that the cut ends touch each other in the centre – you may need to trim them so that they aren't longer than the filling area.
Mould the rest of the filling over the butternut squash using your hands, making sure you compact the filling as you go along.
Once the filling is in place, make a series of 2.5 cm / 1″ diagonal incisions in the pastry on both sides of the stack to be able to create a braid at the top. See photos and video under this post for more details.
Fold both end (top and bottom) flaps up, like you would wrap a present and then braid the strips over the top of the filling, alternating sides. If you end up with big gaps at either of the ends, patch them up with leftover pastry. This method works great here as it prevents slack in the pastry and allows for tight wrapping despite the slightly irregular shape of the filling. The tiny gaps in between the braids allow the steam to escape and prevents the vegetarian Wellington from bursting while in the oven.
Brush the pastry with soy milk.
Bake for about 50 minutes, until the pastry is beautifully puffed and golden. Serve with gravy and your favourite sides.
NOTES
 *When choosing a butternut squash, bear in mind the dimensions of your pastry sheet. Mine was 23 cm / 9″ wide so I needed a filling that does not exceed 19 cm / 7.5″ so that there is a sufficient pastry margin left at both ends. You can either use the solid part (i.e. cut off the bulbous part where the seeds are) of a very long squash or two solid halves of a short one put together like I did here.
**I know that Jus-Rol and Pepperidge Farm are definitely vegan and that Dufour definitely isn't. If in doubt, check the packet for more details.