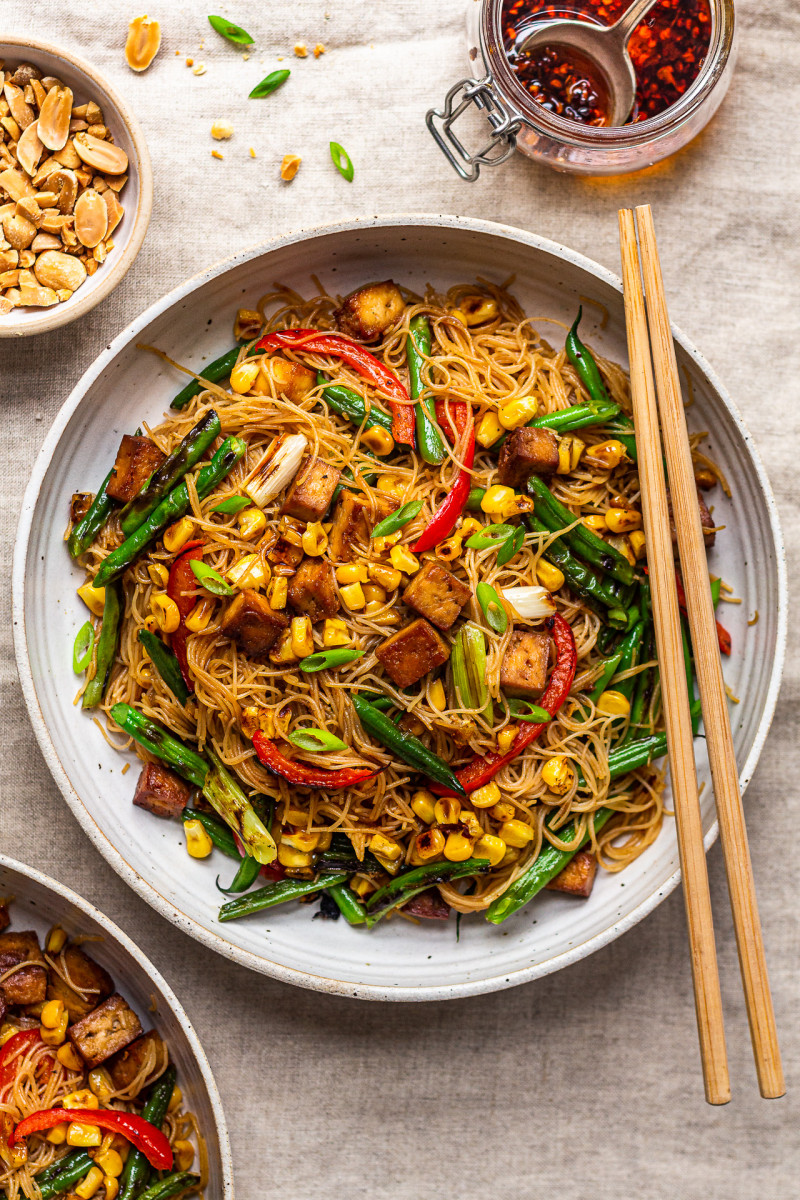 And 'bam' just like that, winter is coming…can you feel that chill in the air, the sun is low in the sky, and the leaves are starting to swirl in the blustering winds. If you are feeling the cold and are in need of some low-effort comfort, I have a perfect recipe for you today – vermicelli noodles. This simple bowl of noodles has been one of my favourite lately. It's really easy and quick to make, full of satiating fibre and plant-based protein (in either the form of peanuts or tofu if you want to go the extra mile). All in all, these vermicelli noodles are super satisfying and, this is the best bit, all of the action takes place in a single wok. Perfect, right?
What I love about these vermicelli noodles, flavour and texture alone, is how quickly and easy they are to make. If you want – especially if roasting peanuts or baking tofu for several days – you can use your oven for the peanuts or tofu. This makes this component pretty much hands off and, in the case of tofu, much healthier as less oil is needed. But if you are making this dish without an oven like if you are in a rented apartment or are having your kitchen renovated (oh how I dream of having mine done at some point), you can simply toast your peanuts or fry your tofu in the same wok ahead of making the noodles.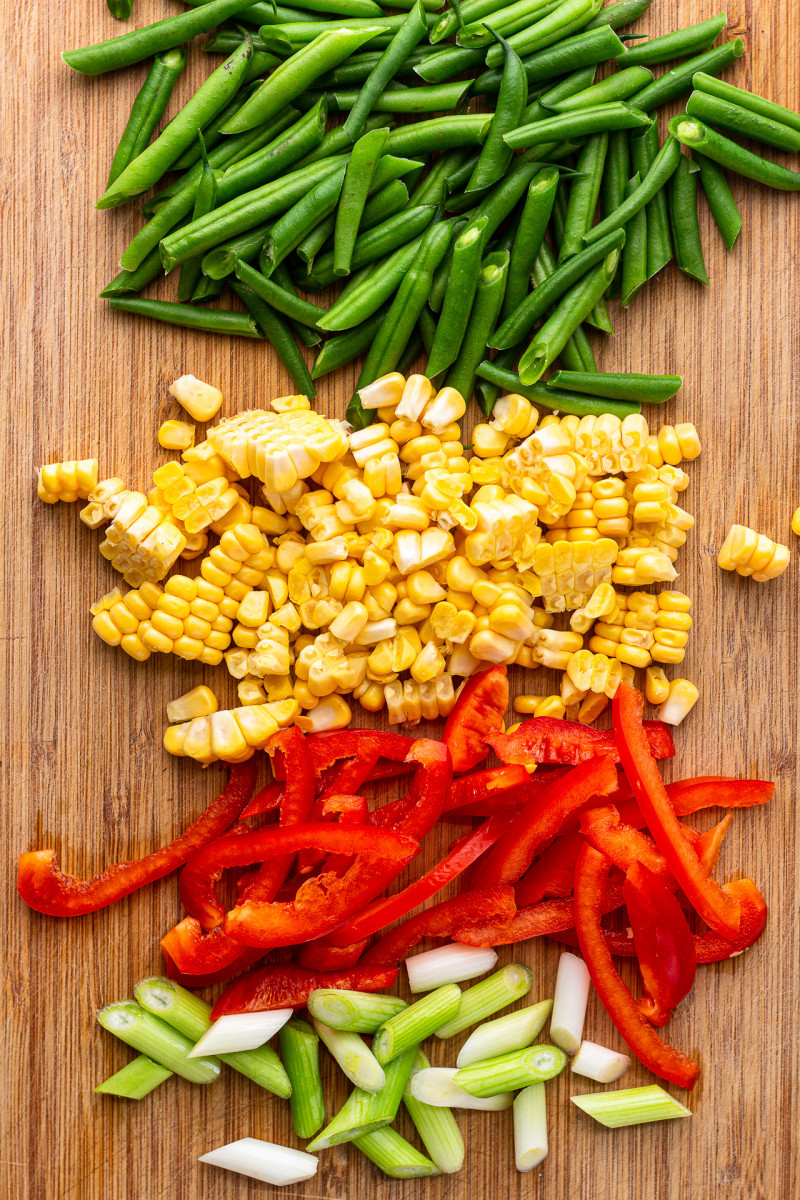 MORE ABOUT THE INGREDIENTS
VEGETABLES: This part is very flexible, use any fresh, seasonal vegetables you like and have access to. Aside from the ones I've listed, I also made this meal with carrots matchsticks, young cabbage and tenderstem broccoli.
RICE NOODLES: I used thin vermicelli rice noodles to make this dish quick and convenient. Rice vermicelli (this is the brand I used) are sometimes referred to as vermicelli noodles as they do not require any precooking. I simply cook them in a little water in the wok until tender, season and toss with stir-fried vegetables and that's it.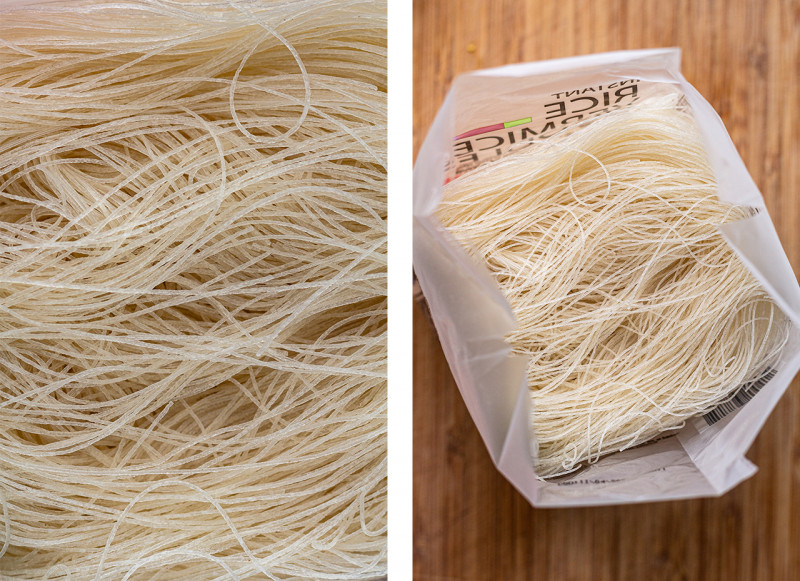 PEANUTS: Peanuts not only just add a delicious crunch, but they are also an excellent source of protein – 100 g of peanuts has 26 g of protein. I recommend roasting them gently in the oven (or in a pan/wok) to intensify their taste. As roasted peanuts keep for ages, I tend to roast a big batch at once and add them to various dishes that call for a sprinkling of roasted peanuts. If you cannot have peanuts, sub them with cashews.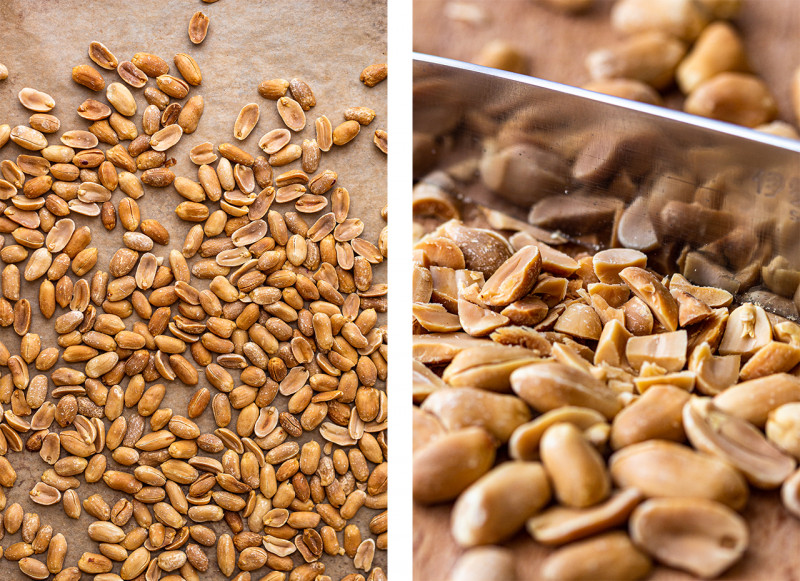 SOY SAUCE I use all purpose soy sauce to marinate the tofu and to create a simple dressing. If you want to keep these vegan rice bowls gluten-free, use tamari instead.
RICE WINE VINEGAR I like to use a little acidity to the dressing by adding a splash of rice wine vinegar, but you can also just use a squeeze of lime instead.
MAPLE SYRUP I use a small amount of maple syrup to have a counterpoint to the acidity in the dressing, sugar will work just as well.
TOASTED SESAME OIL A small amount of toasted sesame oil gives the dressing a bit of viscosity and beautiful nutty flavour.
GARLIC A small amount of garlic adds a lot of flavour and aroma to the dressing. You can also incorporate some freshly grated ginger if you wish but it's not necessary.
CHILLI SAUCE I like a little kick in my dressing so I add a but of chilli sauce to the dressing, but you can skip it if hot food isn't your thing.
TOFU: To make this simple stir-fry even more satiating and richer in plant protein, I sometimes use firm tofu which I marinated just in soy sauce for ease. I bake it in the oven when I want a healthier meal or pan fry it until crispy if I feel like something more indulgent. For pan-frying, I recommend lifting the tofu out of the marinade, coating it in cornstarch / cornflour on all sides, arranging on a thin layer of pre-heated oil and frying until golden on all sides.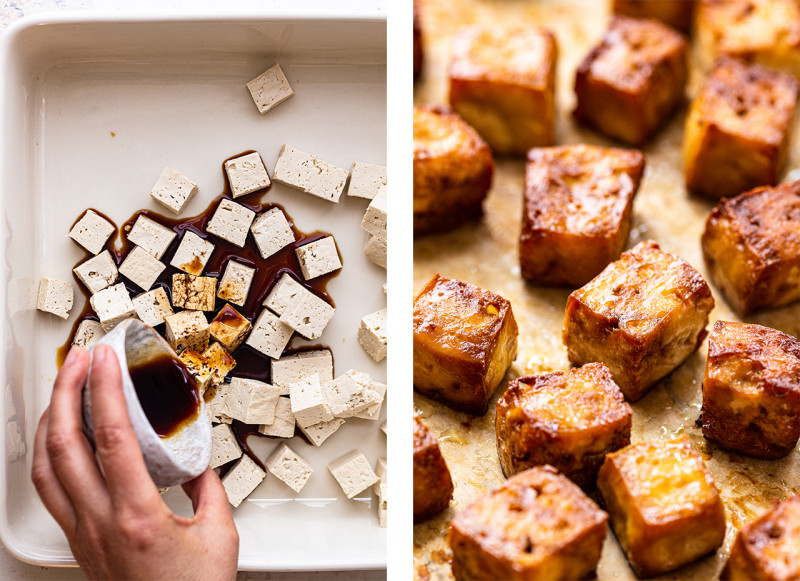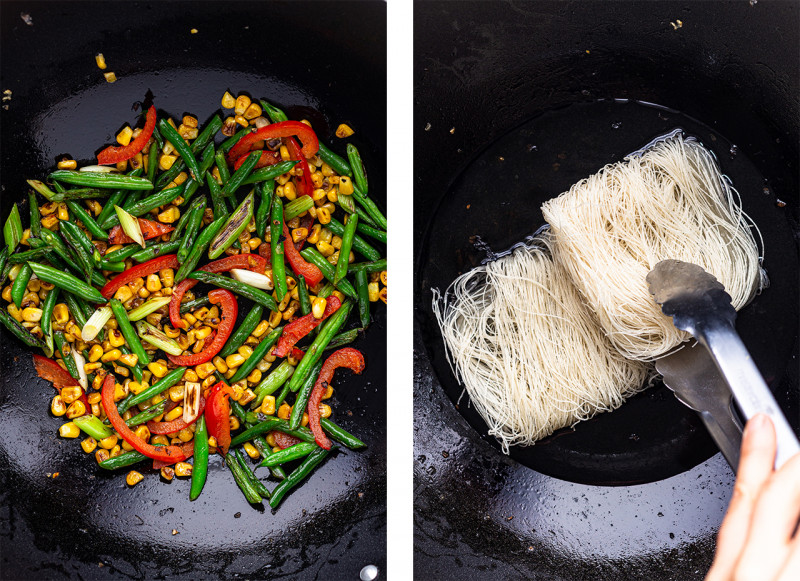 Stir-fry all of the vegetables in the preheated wok, starting from the hardiest (beans) to the softest (spring onions). Stir-fry until lightly charred, no longer raw but still a little crunchy. Transfer stir-fried veggies out of the wok and set aside, fill wok with water and add vermicelli noodles.
Cook the noodles in the water, agitating them regularly, until all of the water has been absorbed, the noodles are pliant and almost completely cooked through. Stir the sauce through then add the veggies back in.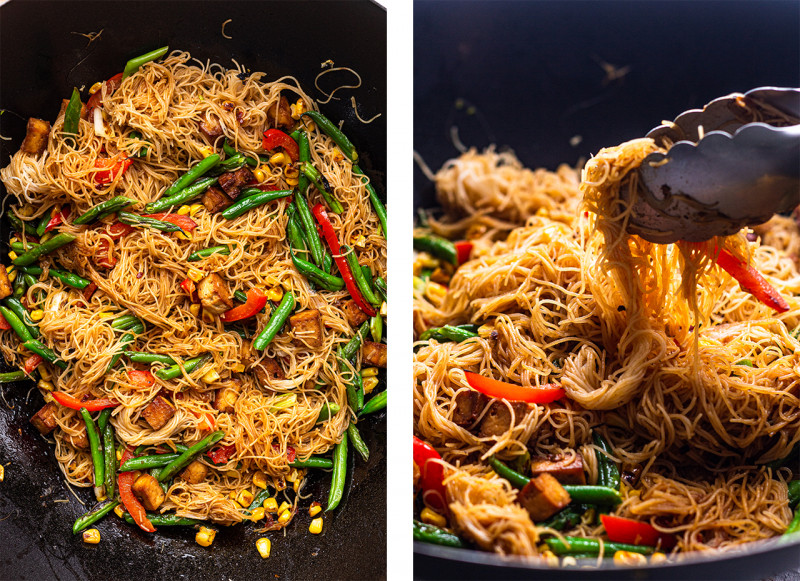 Warm everything up, divide between the bowls and top with roasted peanuts and baked/fried tofu (if using).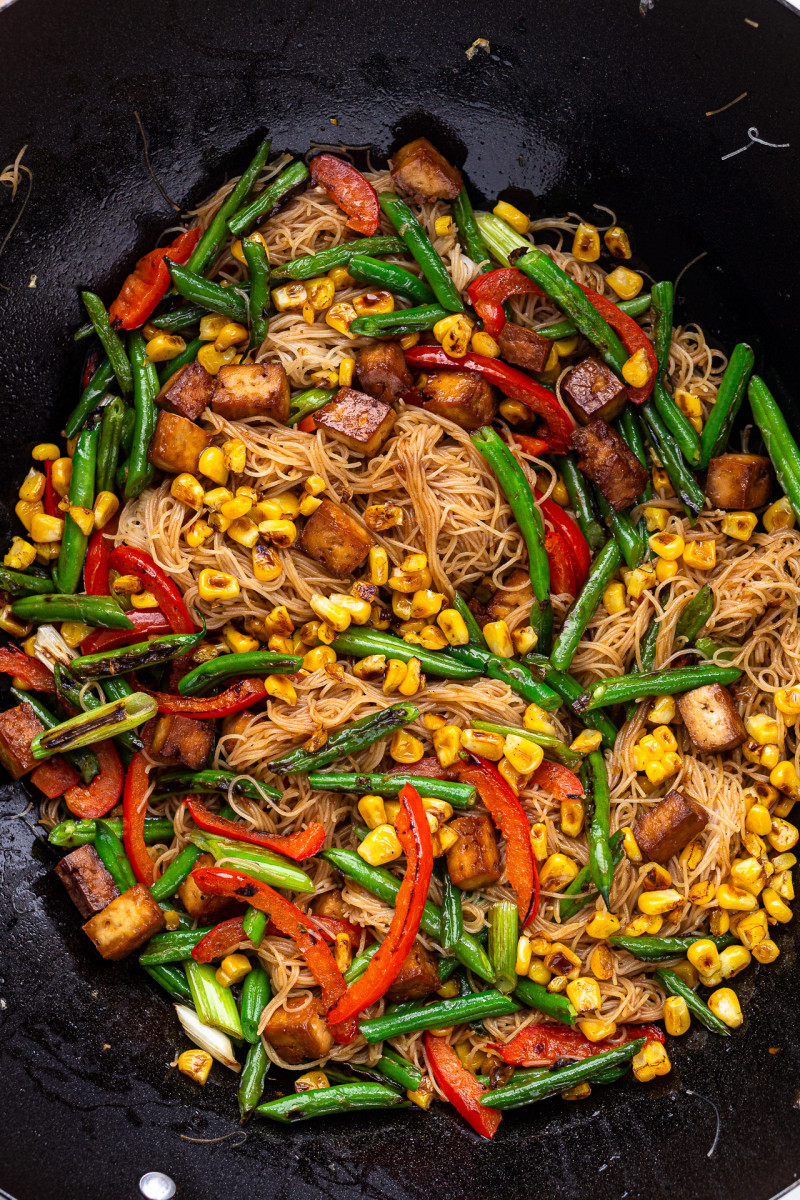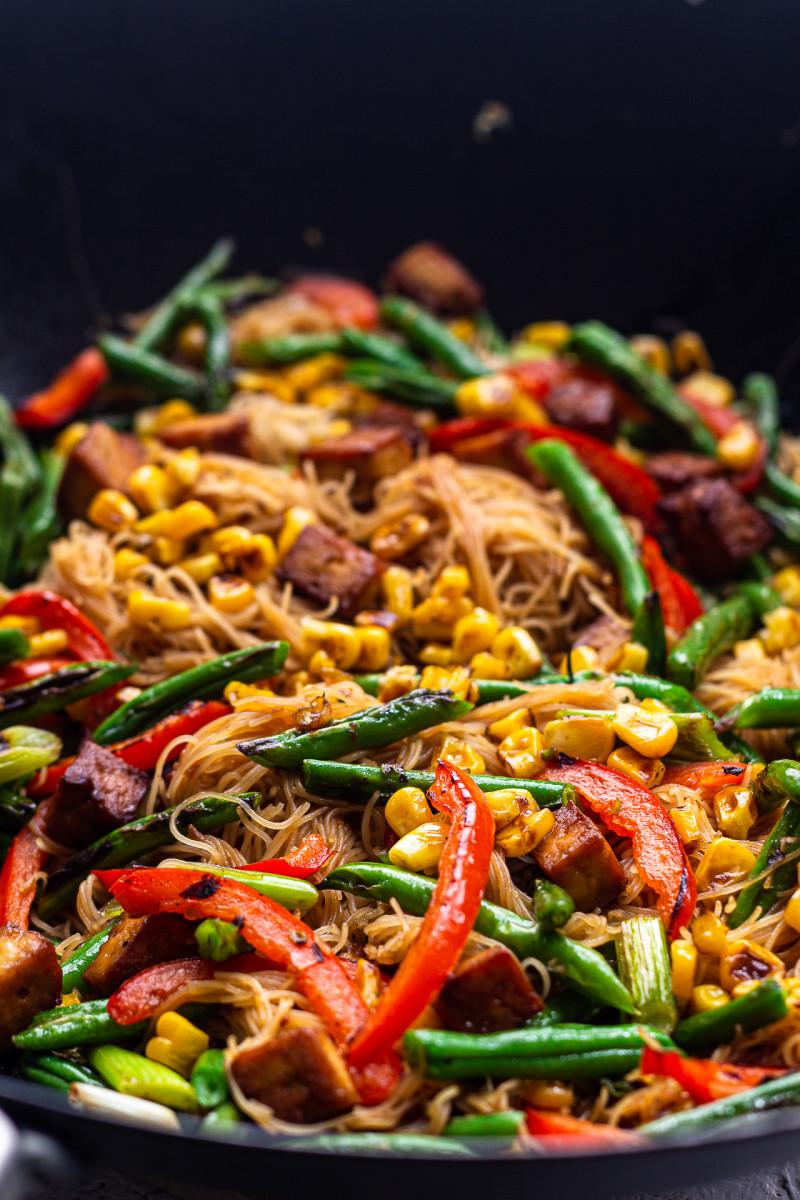 STIR-FRY SAUCE
30 ml / 2 tbsp soy sauce (or tamari if GF)
10 ml / 2 tsp dark soy sauce (for colour)
20 ml / 1½ tbsp rice wine vinegar
10 ml / 1 tsp maple syrup (or sugar), adjust to taste
5 ml / 1 tsp toasted sesame oil
1 garlic clove, finely grated
5-10 ml / 1-2 tsp chilli sauce (like Sriracha), adjust to taste
NOODLES
3 spring onions / scallions
½ bell pepper
1 cob of corn OR ½ cup canned/defrosted corn kernels
150 g / 5.3 oz green beans
15 ml / 3 tsp high smoke point oil (I use bran rice)
100 g / 3.5 oz rice vermicelli noodles
60 g / scant ½ cup roasted peanuts (or cashews)
TOFU (optional)
300 g / 10.5 firm tofu (I use smoked tofu but regular works well too), pressed
20 ml / 1½ tbsp soy sauce (or tamari if GF)
10 ml / 2 tsp oil
METHOD
STIR-FRY SAUCE
Place all of the ingredients in a jar, screw the lid on and shake well to emulsify. Leftovers keep well in the fridge for 1-2 weeks.
NOODLES
Cut white and light-green parts of spring onions into 1.25 cm / 0.5 inch segments. Slice one dark green top finely for serving and leave the rest for another dish.
Cut pepper into thin strips, shave corn kernels off the cob, top and tail the beans and cut into 2 cm / 0.75″ segments.
Preheat a wok until starting to smoke lightly. Add a teaspoon of oil, swirl it around and add the beans. Stir-fry for 1-2 minutes before adding pepper, corn and finally spring onion segments. Add another teaspoon or two of oil to the wok when it's is looking dry. Carry on stir-frying until all the veggies are no longer raw (but still a little crunchy) and charred in places.
Remove the veggies from the wok and set aside. Pour 360 ml (1½ cups) of water (or stock) into the wok and place the noodles on top. After a few seconds, flip the noodles using kitchen tongs.
Carry on cooking the noodles (use kitchen tongs to help the noodles untangle) until all of the liquid has been absorbed and the noodles are pliant yet with a little bit resistance left. Taste a tiny bit to be sure and if your noodles are still tough, add a splash more water and carry on cooking them for a little longer.
Stir the sauce through the softened noodles, add vegetables back to the wok (and tofu if using). Stir-fry everything for a few seconds – just to warm up – then divide between bowls, top with peanuts and spring onion tops.
TOFU (optional)
Cut pressed tofu into 1.25 cm / 0.5″ cubes. Combine soy sauce and 1 tbsp (15 ml) of water in large, flat bottomed dish and coat tofu cubed in the liquid. Allow to marinate for at least 1 hr, stirring every now and then.
Heat up the oven to 200° C / 390° F (or 180° C / 355° F with fan) and grab a large baking tray. Lift tofu out of the marinade and arrange it on a lined baking tray, bake for about 15 minutes.
Stir oil through the tofu and return to the oven for another 15 minutes (if using an already pressed brand of tofu, like Tofoo, 5-10 minutes is enough).
NOTES
*PEANUTS: if you only have raw peanuts, you can either roast them in the oven or on a hot skillet. To roast them in the oven, spread 150-300 g (1-2 cups) of peanuts on a paper lined baking tray and roast them at 180° C / 355° F (no fan) until golden – about 10 minutes depending on the amount of peanuts. To roast them on the hob, place a single layer of peanuts on a pre-heated dry pan and toss them frequently until charred and fragrant. Allow to cool after roasting. If you are allergic to peanuts, replace them with cashews.