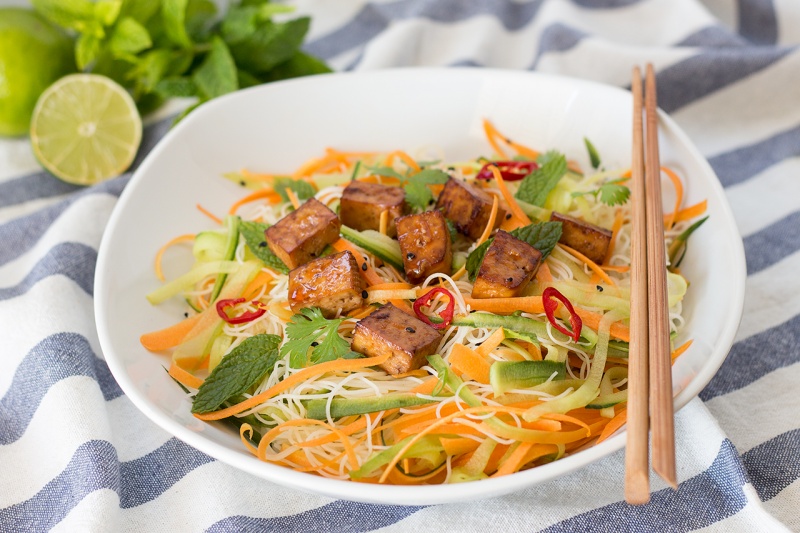 A few years ago, I flew to Singapore to visit a friend of mine who had moved there. During my stay, she took a couple of days off work and together we flew to Vietnam. This was my first, and so far, the only visit to this amazing country and it blew me away completely. The lush scenery of vibrant green countryside, the energy of beautiful Hanoi, the constant buzz of ubiquitous motorbikes and the food.
The food was spectacular. My favourite places to eat were these cute little restaurants with no menu, no choice and only one dish on offer. This was before I was vegan so my most memorable of these was a fish dish that came out. It was cooked wonderfully, flavours fresh and beautifully balanced and I could not get enough of these amazing flavours of lime, mint and chilli.
Sadly my trip to Vietnam was too short and I did not manage to see much of it, but it was long enough to get me hooked and I dream of being able to go again.
This dish is inspired by the Vietnamese cold noodle salad that I've also had in Vietnam for the very first time. It's simplified and adapted a little as the original uses fish sauce, but I like its fresh flavours. It's a treat to eat on a hot summer day when your body craves light and hydrating food.
If you are making it on an extremely hot day, you'll probably want to skip the tofu as it needs to be baked in an oven. Don't forget to lavish this salad with plenty of mint and coriander as it's the fresh herbs that make it taste so good.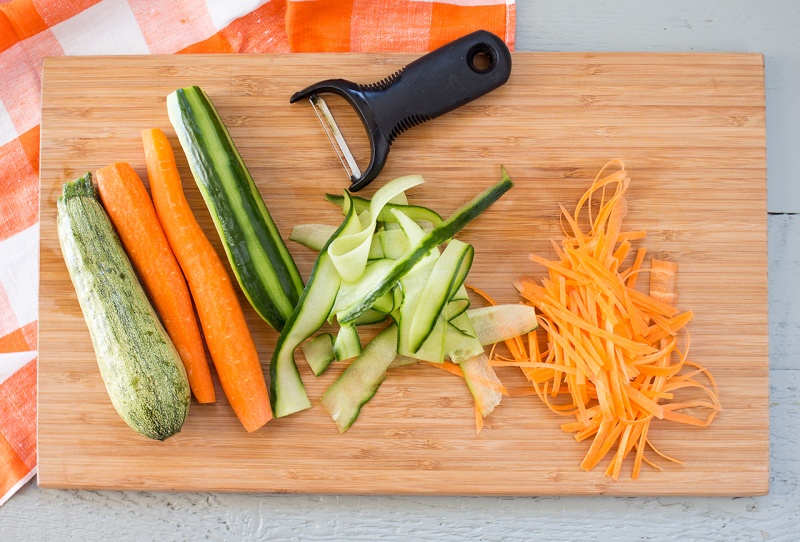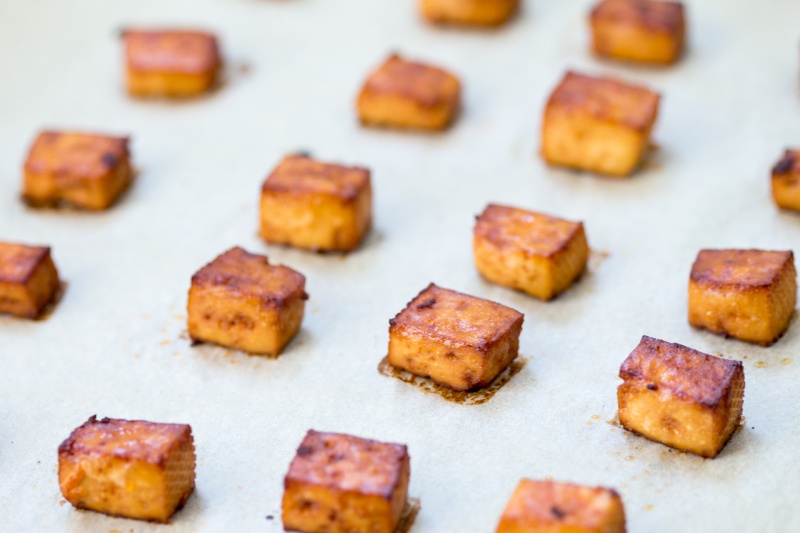 SALAD
125 g vermicelli rice noodles
2 carrots
1 small (Lebanese) cucumber
1 small courgette (optional)
1 x 200 g firm tofu
handful of fresh mint
handful of fresh coriander
hot red chilli, finely sliced (optional)
DRESSING AND TOFU MARINADE (2 in 1)
4 tbsp rice vinegar
4 tbsp maple syrup/brown sugar
1 tbsp sesame oil
4 tbsp lime juice
4 tbsp tamari (for GF version) or soy sauce
1 garlic clove, minced
1-2 tsp Sriracha or a few pinches of hot chilli
2 tsp grated ginger
METHOD
Start by draining the tofu for at least 2 hours. The best way to do that is to put it on an upside down breakfast bowl and put a tray/ large plate underneath to catch draining liquid. Wrap the tofu in a kitchen roll, place it on the top of the breakfast bowl and put something heavy on top of the tofu, like a tin of coconut milk. Every 30 mins or so, swap wet kitchen towel for a new one.
In a mixing bowl, mix together dressing/marinade ingredients apart from sesame oil. I basically combined the two to save you time.
Once you have drained your tofu, cut in into equal size cubes and place it in the marinade for another hour or so (the longer it marinates the better). Do not throw the marinade afterwards as it doubles up as a salad dressing. Once you transfer the tofu to a baking tray, mix in 1 tbsp of sesame oil to the marinade/dressing liquid.
Set the oven to 180 º C / 360 º F. Place marinated tofu cubes on a paper-lined baking tray and bake for 25 mins, flipping the cubes once with a pair of tongs 15 mins in.
Prepare rice noodles according to the instructions on the packet. Let them cool down once cooked.
Using a speed peeler or a sharp knife, cut vegetables into thin strips (do not use the core of the cucumber or courgette as they are both very watery) and then cut them into thin matchsticks.
Combine cooked noodles with vegetables and herbs, pour dressing on top and scatter with baked tofu.