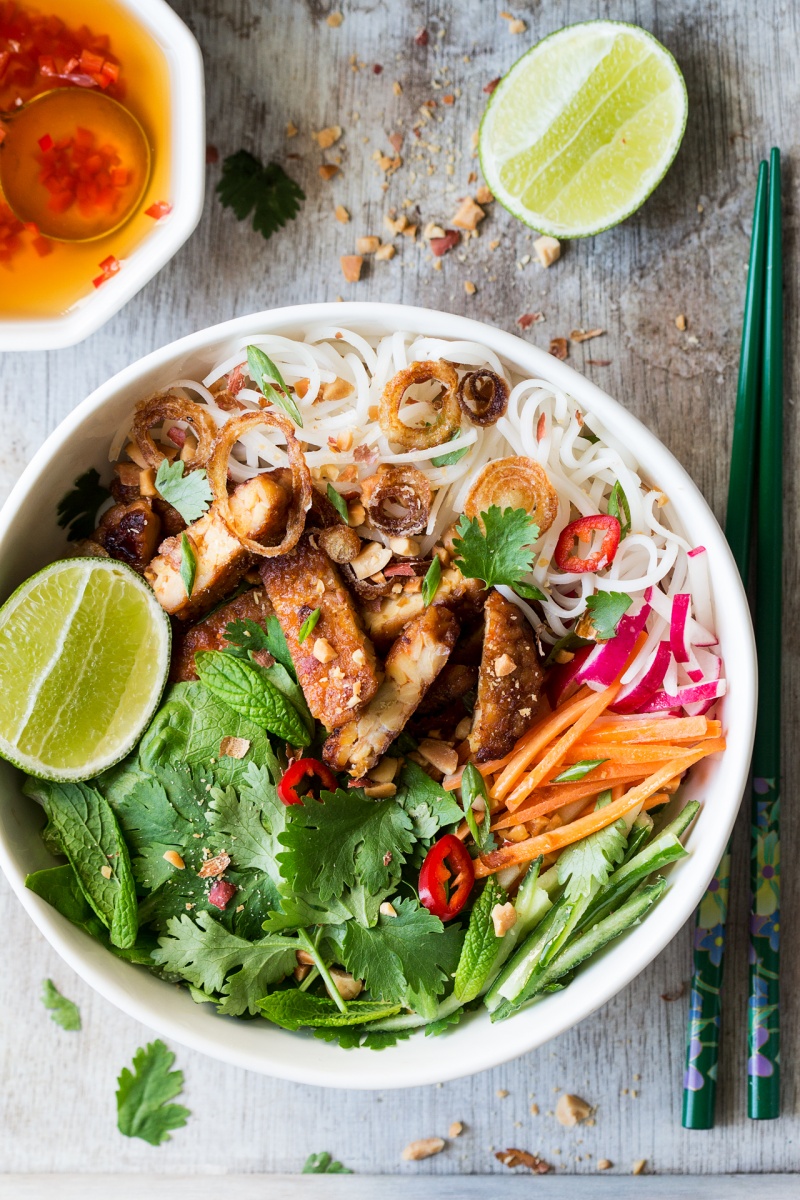 Summer is here, finally!! It's getting so hot that when I sneak to the beach after my photoshoot, it's still pretty warm despite it being 5pm. Even the sea water is warm enough for me, which is not something I say lightly, given my permanently cold extremities.
Cats are slumped all over the shady bits of our front porch. Cicadas are rehearsing like crazy and there is no stopping them until October. Chirpy little birds that set up shop just on the outside of our bedroom window seem to have pressing matters to discuss at 4am daily. Tempers (and pitches) appear to run quite high, which, on top of sweltering heat, makes sleep challenging. When I get up to close the window, they eye me up suspiciously 'what are you doing in my house, giant?'
Sunset yoga on the terrace is out of the question as ferocious mosquitoes insist on feeding on your flesh while you're in a balancing pose. Our veg shop is colourful with summer produce: zucchinis, aubergines, tomatoes, heaps of stone fruit, especially my favourite cherries, juicy melons and watermelons. The greatest Greek invention – espresso freddo is our drink of choice and we start fantasising of impromptu, late night gelato trips in an effort to cool down.
On the downside, there is a lot more cars on the roads and the driving is worse than ever (who on earth needs indicators, eh? ). That's our Paros summer in a nutshell.
So as I feel that I need to bring my body temperature down badly, I am all about salads and meals that are best eaten cold. This Vietnamese-inspired tempeh noodle salad loaded with crunchy vegetables and fragrant herbs fits the bill perfectly.
If you cannot find tempeh, feel free to swap it for firm tofu or oyster mushrooms – both will work equally well.
To give this dish another texture dimension, I fried some shallots coated in cornflour, but if you want to minimise your time in the kitchen, feel free to skip this extra step as crushed nuts already give this dish a pleasant crunch.
The crucial bit is to pack this beauty with loads of colourful veggies, fresh herbs, sprinkle with crunched peanuts and douse it liberally in sweet'n'sour nuoc cham dipping sauce 🙂 .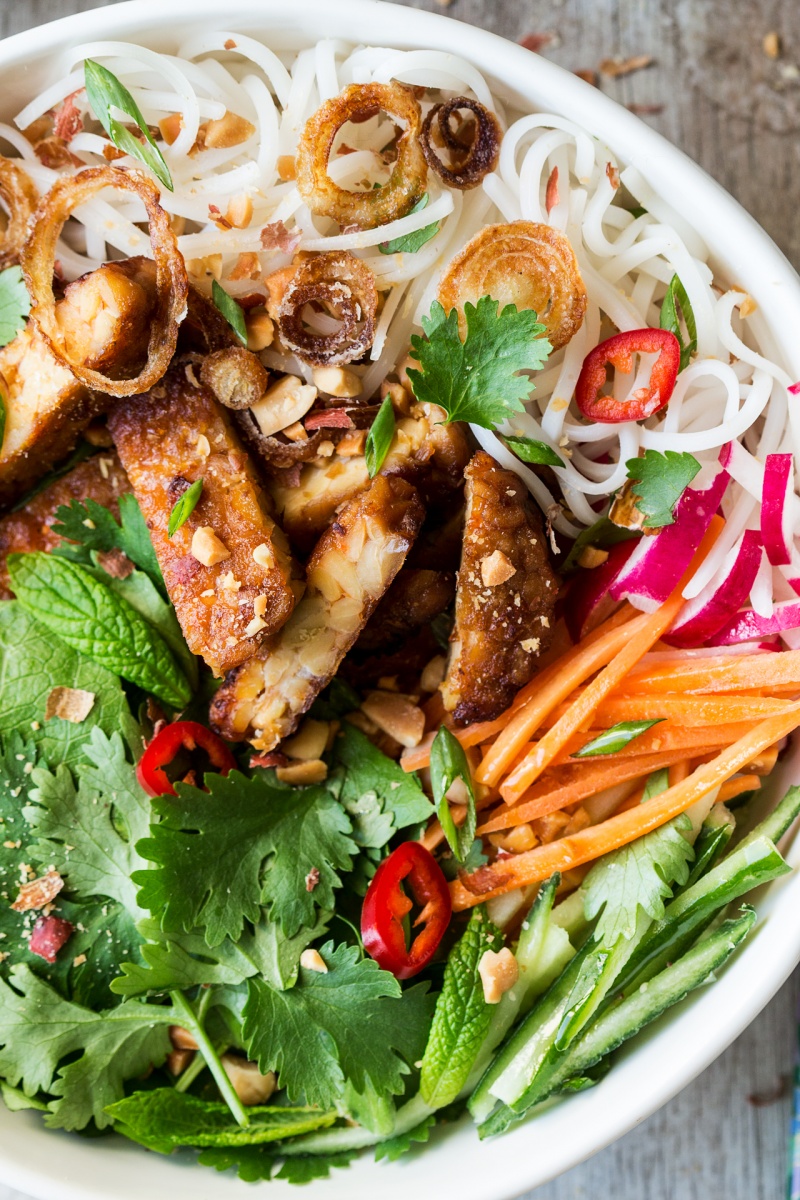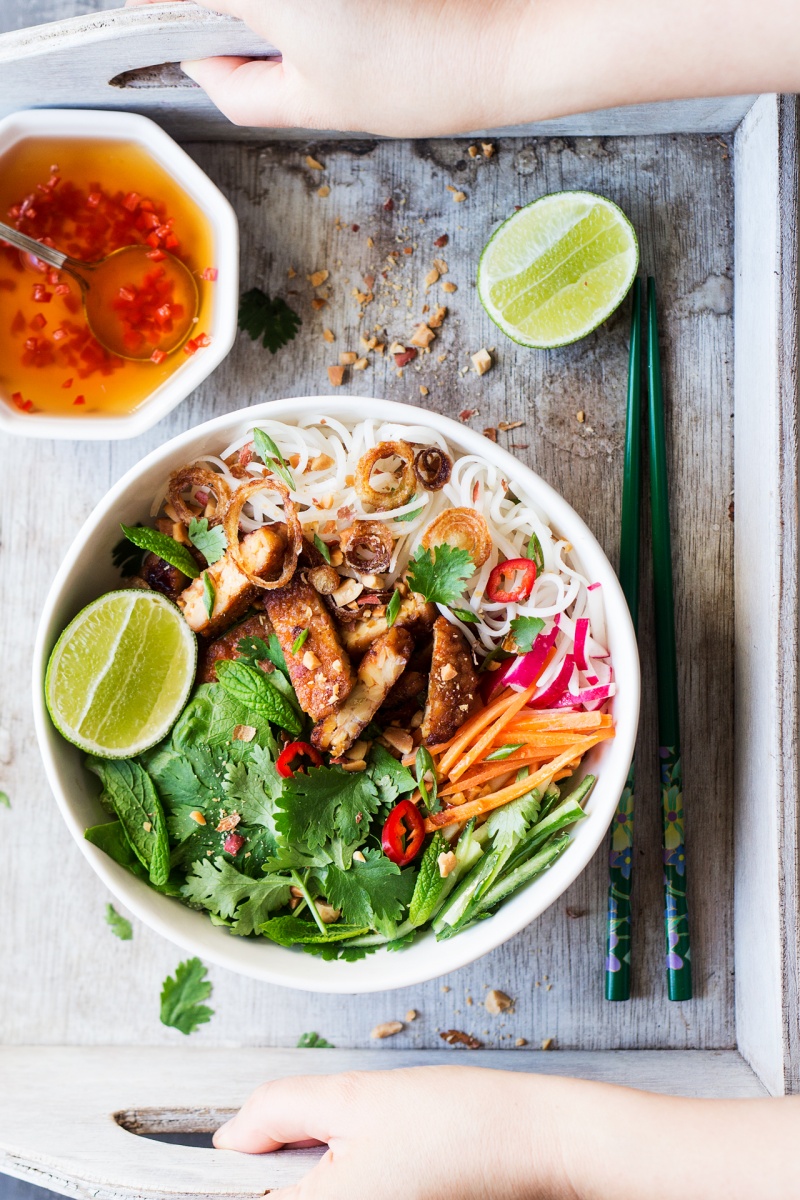 TEMPEH
SALAD
NUOC CHAM SAUCE
FRIED SHALLOTS (optional extra)
METHOD
Prepare your tempeh by placing it in a small pot of boiling water and simmering it for 10 minutes. Once the time is up, take it out of the water and allow it to cool.
Prepare tempeh marinade by mixing tamari, sambal oelek, rice vinegar, maple syrup and grated ginger together in a large, shallow container.
Slice cool tempeh into 0.5 cm / 0.25″ rounds and place them in the marinade. Spoon the marinade over the tempeh so that it's flavoured evenly. Leave it in the marinade for at a least 30 minutes.
Heat up 2 tbsp of peanut oil in a medium, non-stick pan (or wok). Remove the tempeh from the marinade. Just before you are ready to place it on the hot oil, sprinkle a thin layer of cornstarch over the top of it.
Place tempeh (you will need to fry it in batches) on the hot oil and fry until golden brown on one side, then flip and continue frying until golden brown on the other side. Slice into smaller pieces for serving if you wish.
Cook your noodles according to the instructions on the packet. Refresh under a cold tap and set aside.
Cut your carrots, cucumber and radishes into thin match sticks or rounds if you prefer. You may want to leave the watery core of the cucumber aside.
Mix sauce ingredients together with about 3 tbsp of water. Adjust the amount of chilli to taste.
Divide cold noodles, fresh veggies, shredded lettuce, sliced spring onions and herbs between two bowls. Top with fried tempeh, crispy fried shallots and peanuts.
FRIED SHALLOTS (optional extra)
Peel shallots and slice them into thin slices.
Heat up a small pot of oil. You will need at least 1 cup of oil as these need to be deep-fried.
Blot the slices very well on a piece of absorbent kitchen towel.
Just before the oil comes to temperature, toss the first portion of shallots in a little cornstarch (you could also use regular wheat flour). Shake off excess flour and pop shallots into the hot oil.
Fry until golden brown. Fish fried shallots out and place them on a piece of kitchen towel. Sprinkle with sea salt. Continue with another batch.
NOTES