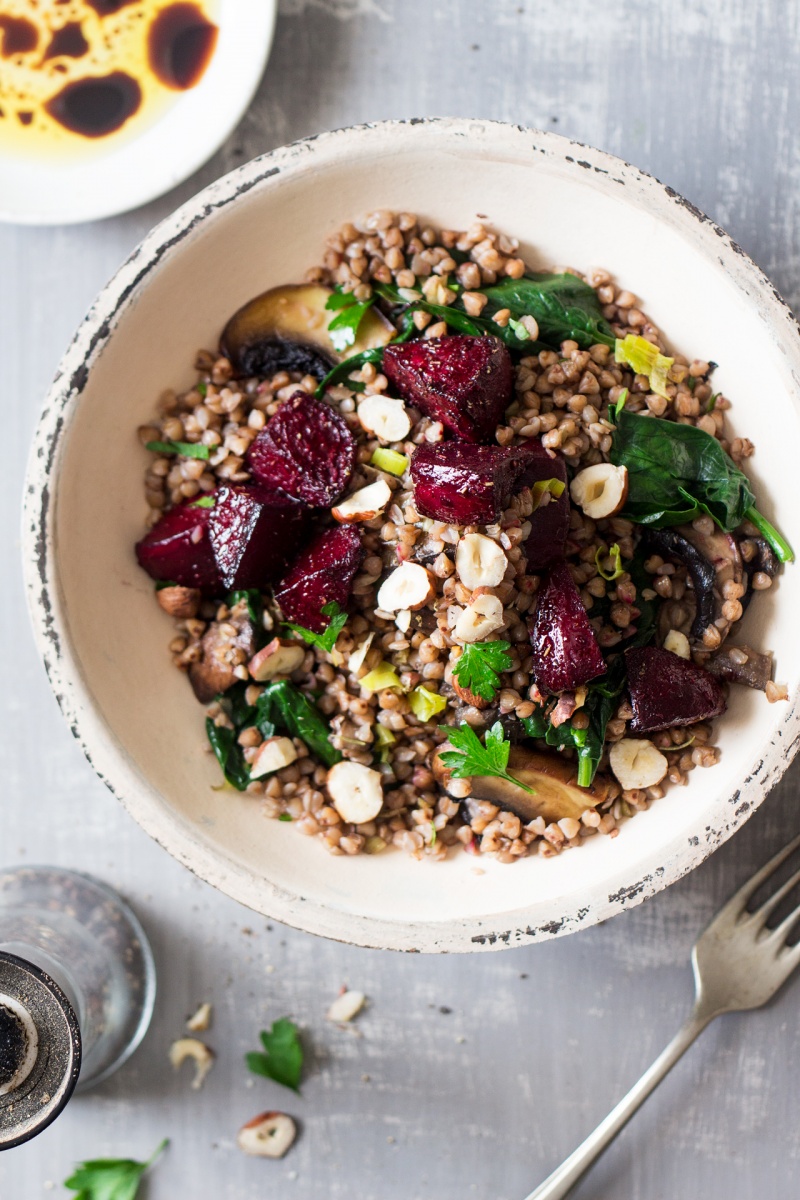 This recipe will make my mum happy. She is a big buckwheat fan and she keeps on telling me how healthy it is (she is right) and that I should come up with a buckwheat recipe.
Relatively unknown in certain countries, buckwheat has always been a very popular thing to eat in Poland. In fact, its widespread popularity predates the popularity of potatoes, which most Poles consider to be traditional fare despite the fact that they were completely unknown in Poland until the seventeenth century.
One of our classic buckwheat dishes is a cooked, toasted buckwheat (which has an earthy, slightly nutty flavour), topped with fried egg, wilted spinach and accompanied by a 'refreshing' mug of sour milk drink, which is valued for its probiotic quality. I put 'refreshing' in brackets as I used to absolutely hate this dish (and the drink in particular) as a child (which did not mean I was allowed not to eat it…) and because of this negative connotation I was not drawn to buckwheat for a very long time.
Now that I've finally put that hated dish behind me, my taste buds must have matured a little and I enjoy having buckwheat quite often actually. Especially in winter as it goes so well with the earthy flavours of mushrooms and beetroots, the sweetness of caramelised leeks and a touch of balsamic vinegar.
This buckwheat and beetroot salad is light, high in protein and low in calories, filling and naturally gluten-free too, so it is perfect if you happen to have made any diet-related New Year's resolutions 😉 . I know I have…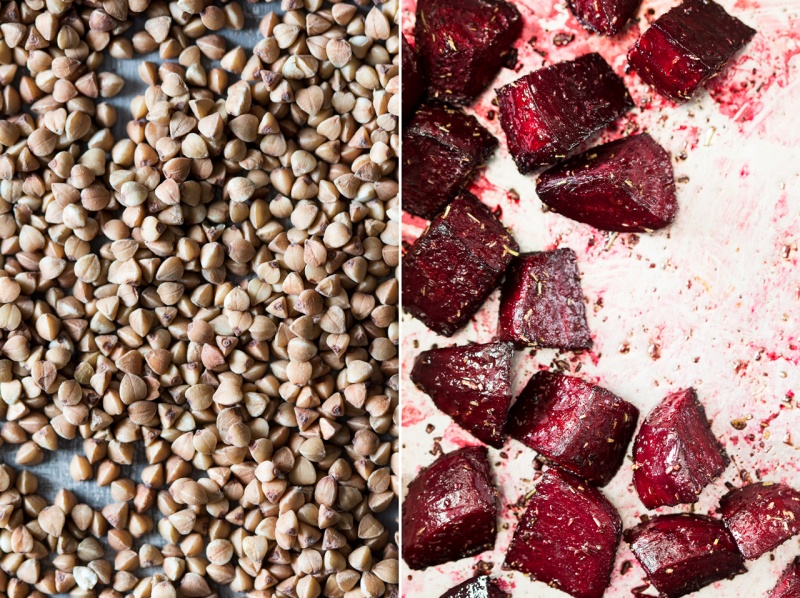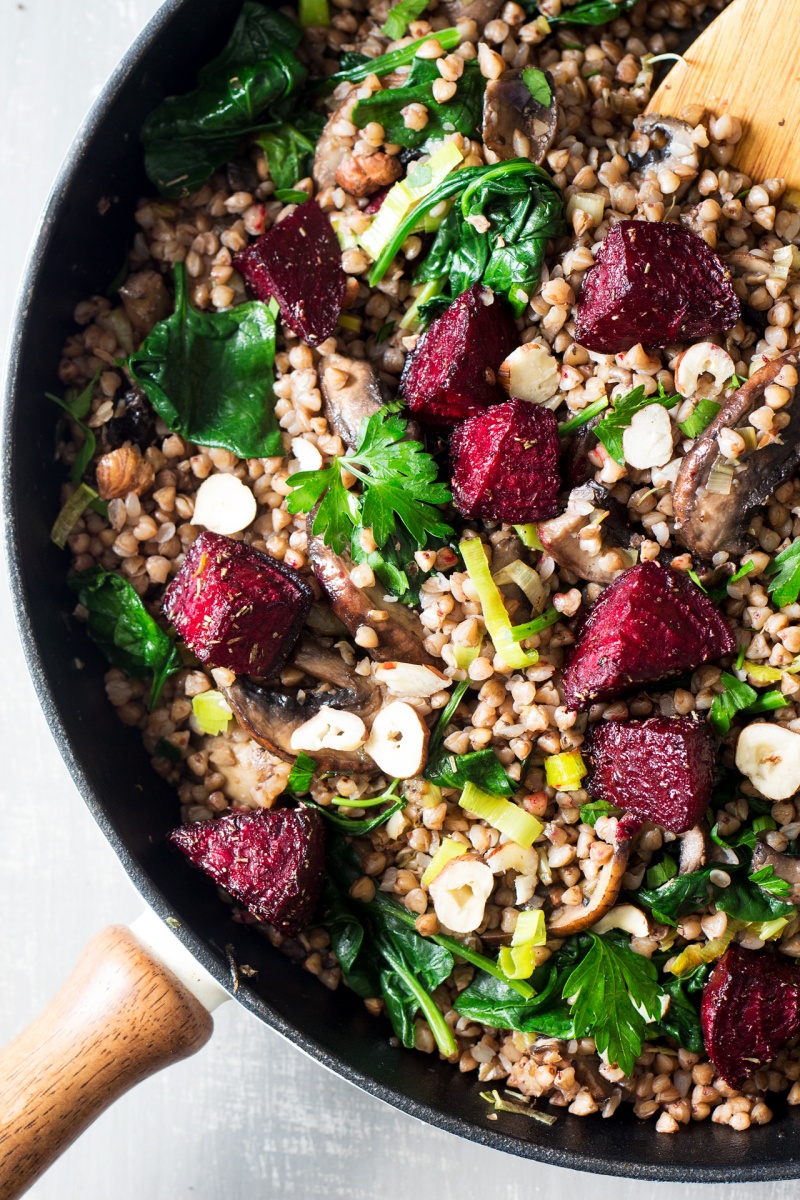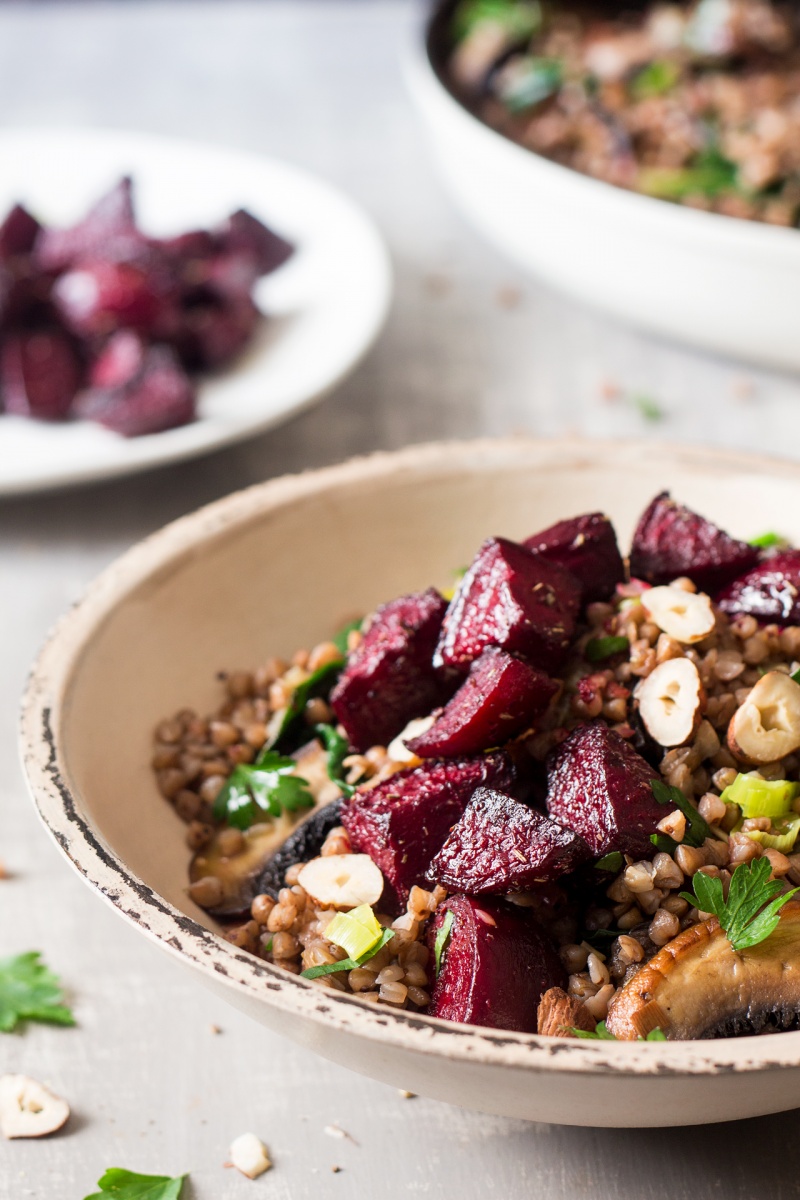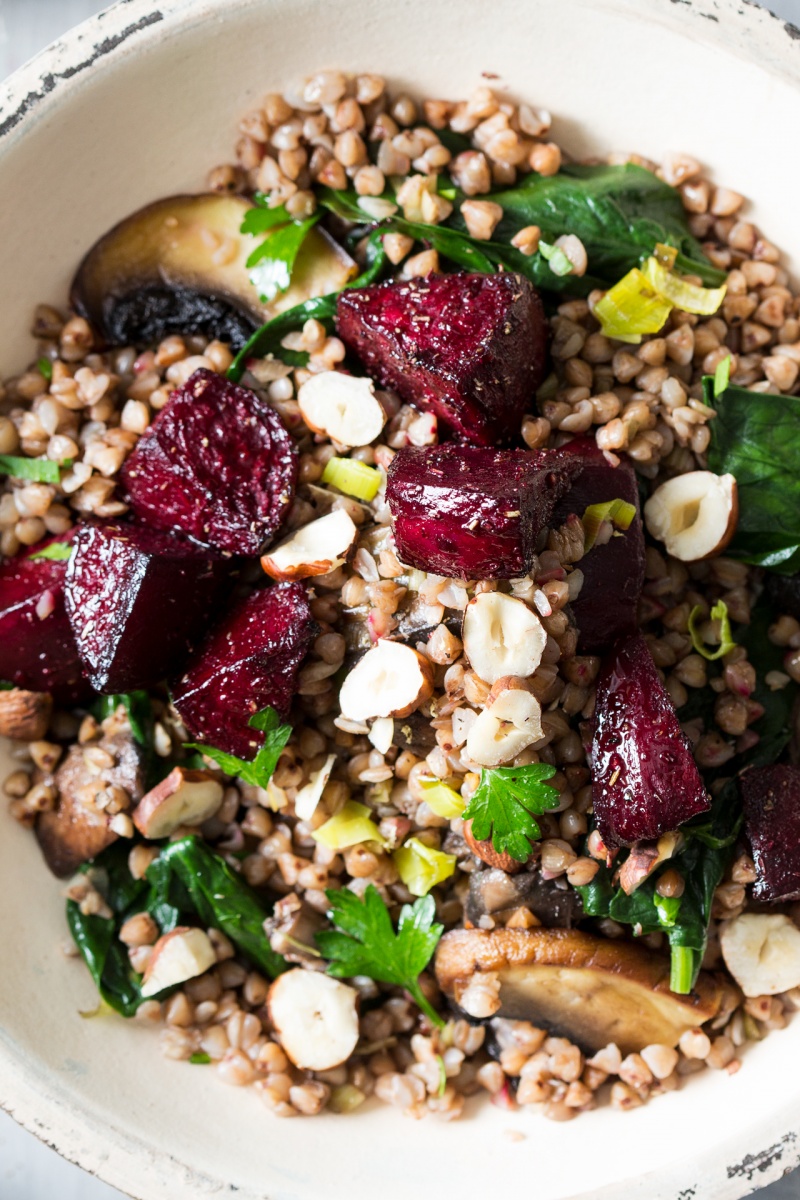 2 cups roasted buckwheat (also known as kasha)
3 large beetroots
50 g / 2 oz baby spinach
2-3 large mushrooms (I used portobello ones)
½ leek, white and green part, sliced
2 large garlic cloves, finely diced
1 tsp dried rosemary
1/3 tsp coarse sea salt
black pepper
2 tbsp hazelnuts, chopped
3 tbsp olive oil
1-2 tbsp balsamic vinegar
fresh parsley, to serve
METHOD
Heat up the oven to 200° C / 395° F. Peel beetroots and chop them into a large dice.
In a pestle and mortar, make rosemary salt by pounding dry rosemary and sea salt until you get a fine powder.
Place beetroot chunks in a bowl. Coat in 1 tablespoon of olive oil and 1 tablespoon of balsamic vinegar and season with rosemary salt and pepper. Bake for about 40 minutes, until tender.
Carefully check buckwheat for small stones and debris (I advise against rinsing it though as it becomes mushy). Put buckwheat into a small pot with a glass lid and add 3 cups / 720 ml of water, cover with a lid and bring to the boil. Do not salt it until it's been cooked as salt negatively affects buckwheat's texture. Once the water comes to the boil, turn the heat down to low and cook on a low heat until all the water has been absorbed (to check, tip the pot to see if water is coming out from underneath the buckwheat, but DO NOT LIFT THE LID). Once the water has been fully absorbed, rest the pot for another 10 minutes (with the lid firmly on) so that the buckwheat finishes cooking in its own steam.
Heat up the remaining two tablespoons of olive oil in a pan. Add sliced leeks and fry, on a low heat, until almost soft. Add diced garlic and fry until translucent and fragrant. Add sliced mushrooms and fry until cooked. Season with salt and pepper and a tablespoon of balsamic vinegar. Allow it to cook out. Add spinach and allow it to wilt into the salad. Finally add cooked buckwheat. Mix well and adjust the seasoning.
Divide between bowls, top with roasted beetroot chunks, hazelnuts and some fresh parsley.