Thai-inspired butternut squash soup
Thai-inspired butternut squash soup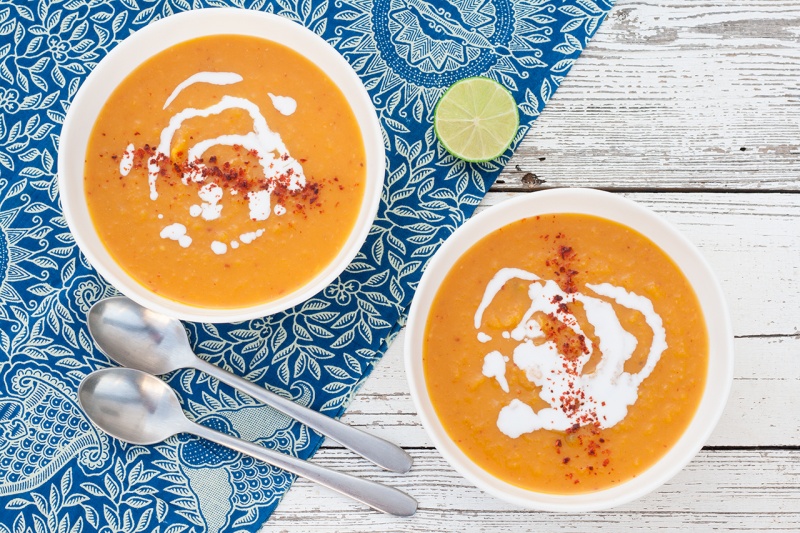 I love autumn! The light has a beautiful warm tinge to it, there is a subtle bonfire smell in the air and colder evenings invite you to reunite with your favourite chunky knits (even if your boyfriend calls you names for wearing them…).
The vegetable stalls strain under truck loads of squashes and pumpkins, which is music to my ears. I'm always quick to pounce and buy as many as I can physically carry. They are delicious, super versatile, lend themselves to all sorts of desserts, soups, stir-fries, stews – and keep for ages. I often call upon my old trusty butternut squash when all other veg have either been devoured or gone bad (although I rarely let that happen) to make me a deliciously filling pot of butternut squash soup. The only challenge is preparing this puppy (not literally) for oven roasting as it takes big mitts (sadly, I have baby hands), strength and a sharp knife. My solution is to outsource this task to my lovely boyfriend in exchange for dinner.
Last minute update: if you don't have any professional squash chopper at hand, it is enough if you simply quarter it lengthwise, scoop out the seeds with a spoon and bake the quarters whole (without peeling). Once the edges are slightly caramelised and the inside is soft, scoop the baked flesh out with a spoon and straight into a pot with onion mixture.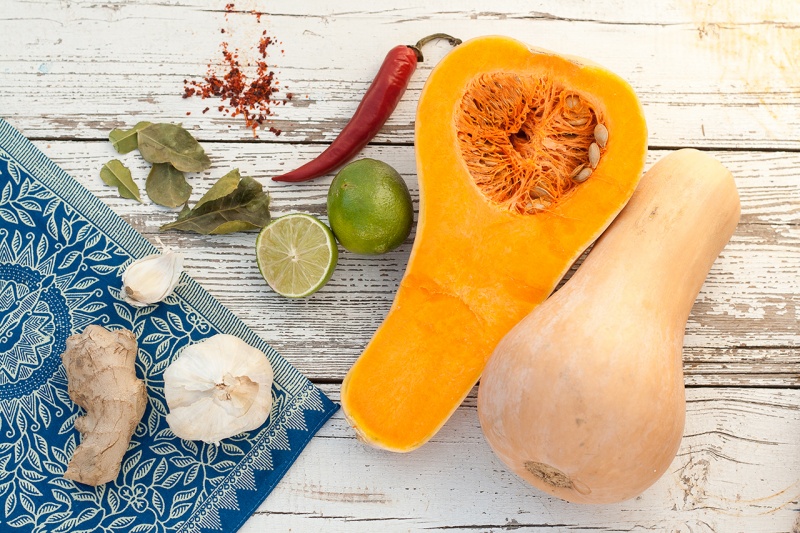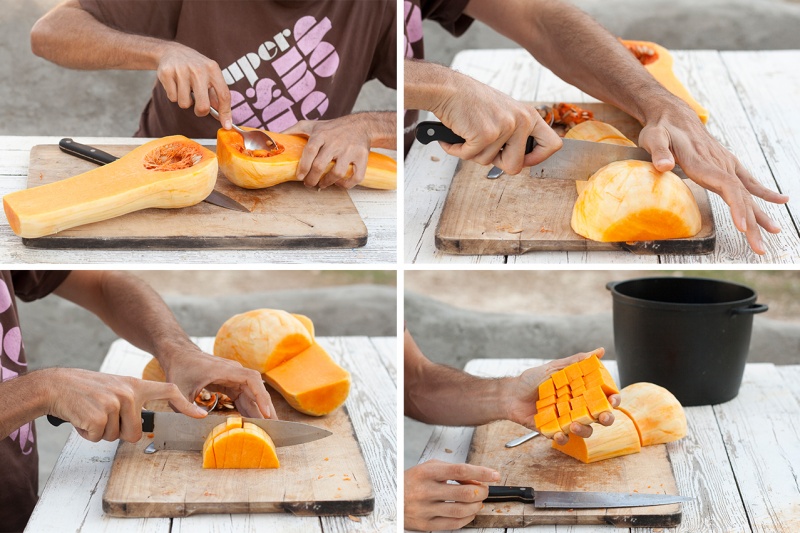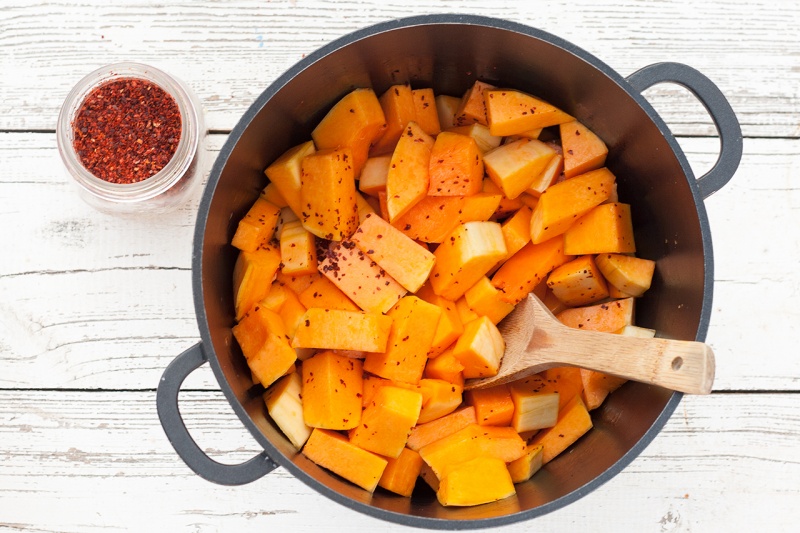 1 medium butternut squash (weighs approx. 2 kg once peeled and cored)
1 small red onion
1 ½ garlic cloves
2 tsp of fresh ginger, finely grated
1 tsp of chilli powder
3 tsp of ground cumin
Juice of ½ lime
3 dried kaffir lime leaves
1 litre of vegetable stock, unsalted
4 tbsp of olive oil
1 tsp of sea salt, adjust to taste
½ cup of coconut milk (plus extra for garnish)
freshly ground pepper to taste
red chilli flakes for garnish (optional)
METHOD
Pre-heat the oven to 225° C / 435° F while you prepare the squash.
Prepare the squash by peeling it, cutting it in half lengthwise and removing the seeds with a tablespoon. Cut each half into 2 cm wide slices and divide each slice into smaller chunks. Alternatively, leave it unpeeled, cut into half, scoop out the seeds, cut each half into two.
Coat squash in 2 tbsp of olive oil, give it a generous sprinkling of chilli, cumin and salt. Bake for 40-50 min, until squash is cooked all the way through.
Chop the onion and garlic. Heat the remaining 2 tbsp of oil in a pot and add in the onion. Cook it for a minute or so then add in chopped garlic and grated ginger. Keep on stirring the mixture frequently so that the garlic doesn't burn.
Once the squash is roasted, add it to the pot and coat it in the onion, garlic and ginger mixture.
Take off the heat and puree until smooth using a hand-blender.
Add vegetable stock, Kaffir lime leaves and lime juice, adjust spices and seasoning to your liking.
Bring the soup to a simmer and continue for 5 minutes or so.
Remove and discard kaffir lime leaves and add a swirl of coconut milk to each bowl before serving.
DON'T MISS A SINGLE RECIPE
Join our mailing list and we we will let you know when we publish a new recipe. You'll receive our DELIGHTFUL DESSERTS E-BOOK as a thank you for supporting us.