Chilled watermelon gazpacho
Chilled watermelon gazpacho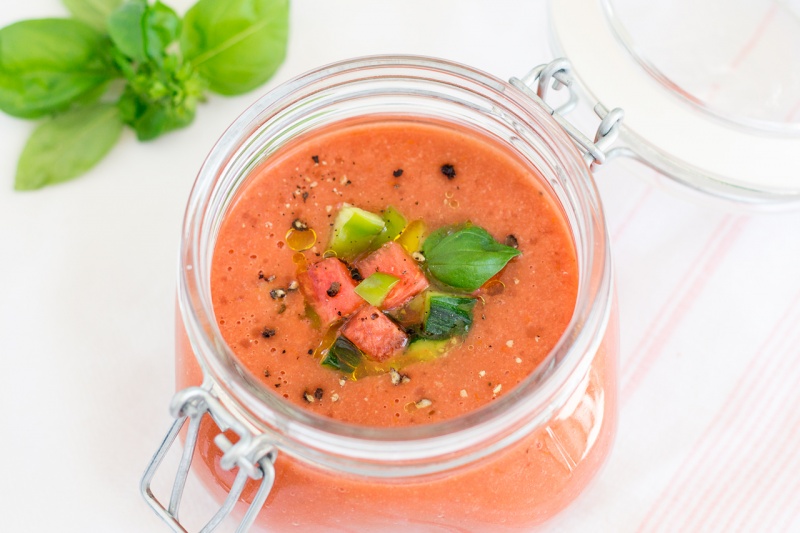 Many people have an issue with a soup that is served cold. I guess people from the colder climes tend to associate a bowl of soup with comfort – it warms them up when the weather outside is vile. Comfort is a relative thing, though. When Greece puts on its stellar summer with relentless heat pouring from the sky day in, day out (and not an ounce of breeze), you are way past your comfort zone too. At times like that, all you want to do is to put your head in the fridge and stay there. For days. This is where chilled watermelon gazpacho soup is like a dream. It brings you much needed relief and comfort.
This is not a conventional gazpacho. Apart from juicy tomatoes, it features a big helping of sweet Greek watermelon, which adds heaps of freshness and a bit of sweetness. I have always been a massive watermelon fan. One of my earliest memories is a family holiday in Greece when I was quite small. All I remember from that trip is sitting on a donkey and eating lots of juicy watermelon – often scooping an entire half with a spoon. Courtesy of my dad, I even have this sweet photo that sums up my memories perfectly (please excuse my excessive nudity and 80's plastic footwear).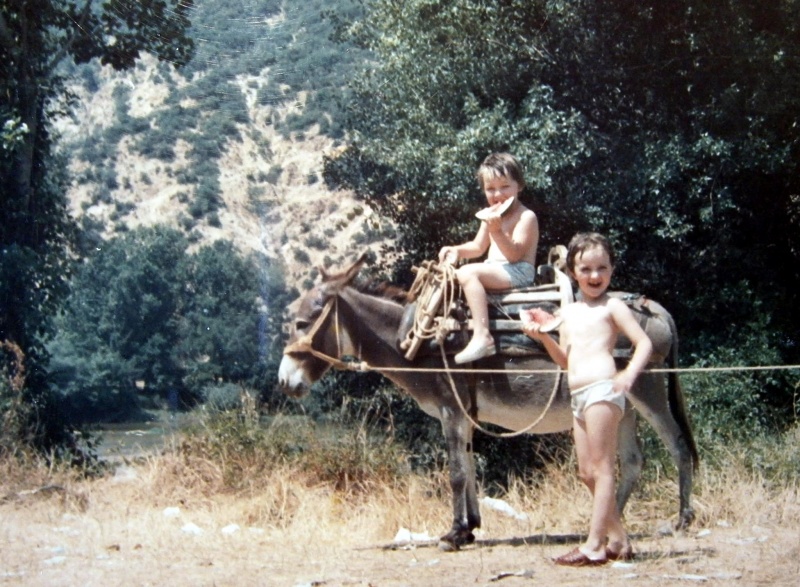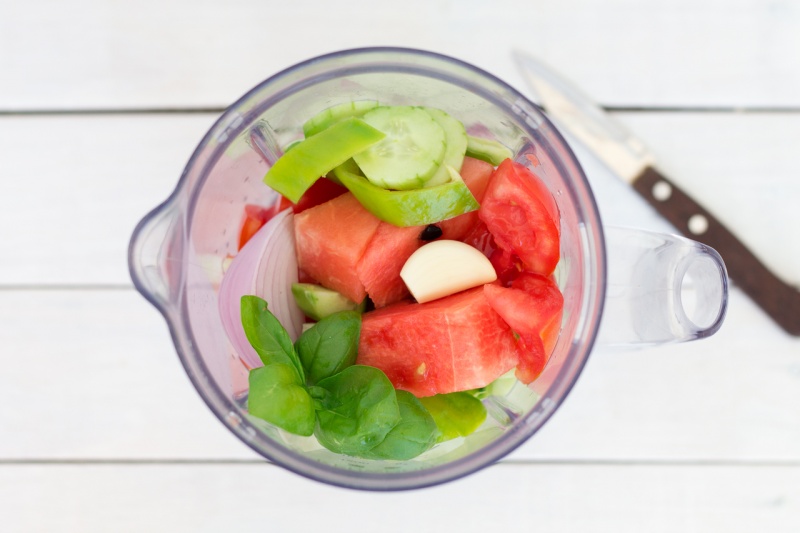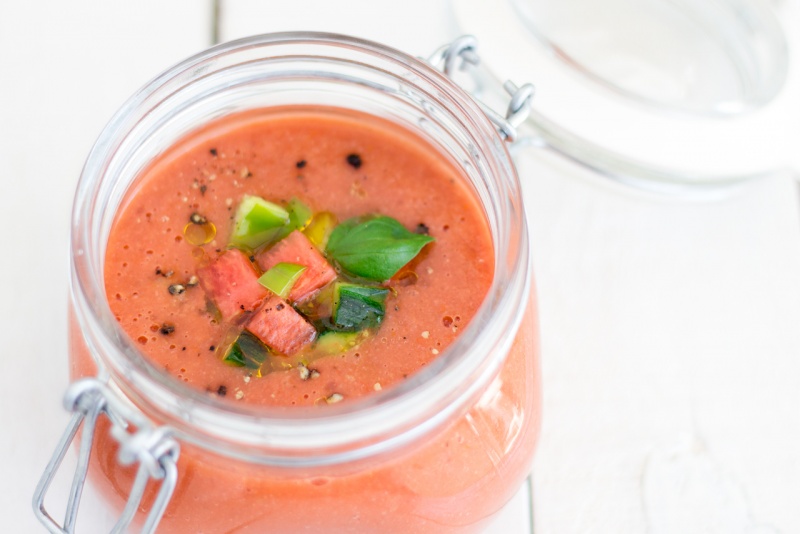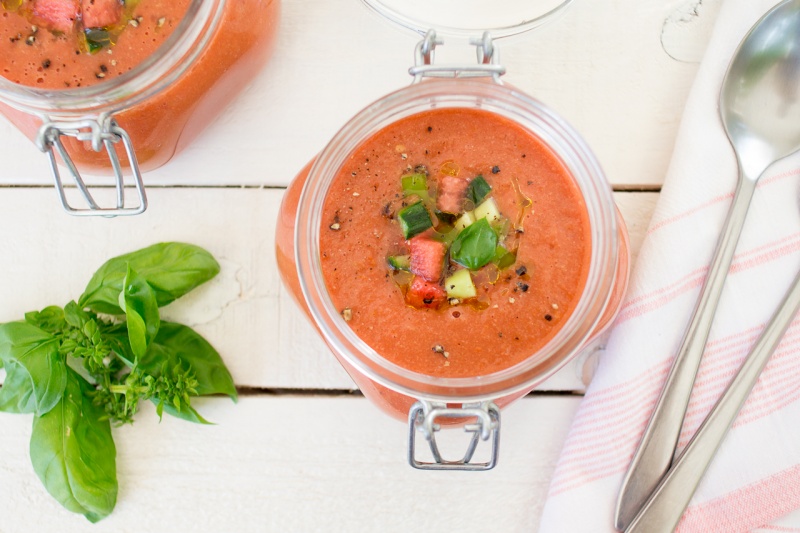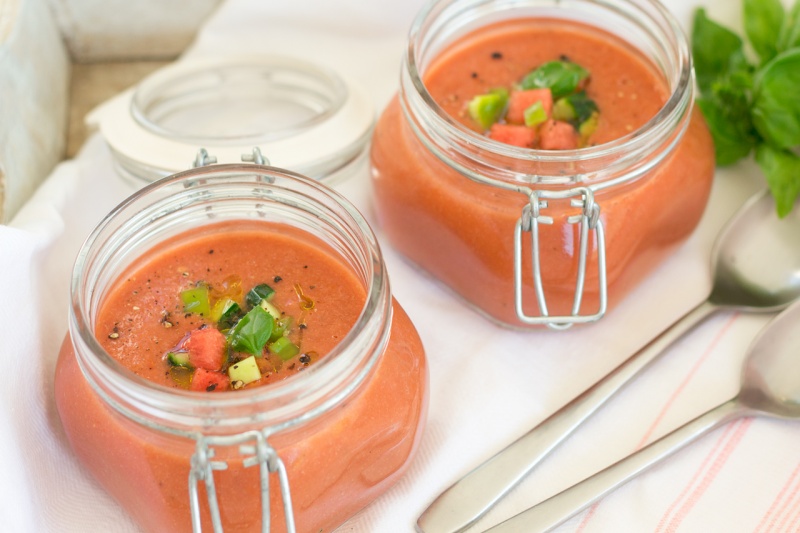 2 cups of diced watermelon
500 g / 3 medium ripe tomatoes
15 cm of  cucumber, peeled
¼ small red onion
1 small garlic clove
½ green pepper (I used a pointy one)
handful of fresh basil
1 tsp Tabasco
2 tsp balsamic vinegar
20 ml extra virgin olive oil
1 slice of crusty stale bread (optional)
salt & pepper, to taste
METHOD
Roughly chop tomatoes, cucumber and pepper. Remove seeds from watermelon.
Chuck all vegetables, basil and olive oil into a blender and blend until smooth.
Season with Tabasco, balsamic vinegar, salt and pepper.
OPTIONAL: If you want a slightly thicker texture, immerse a slice of stale bread in the blended soup for 5 mins and then blend it into the soup.
Put the soup in the fridge for at least an hour before serving. Garnish with fresh basil, tiny cubes of cucumber and watermelon, a drizzle of olive oil and freshly ground pepper.
DON'T MISS A SINGLE RECIPE
Join our mailing list and we we will let you know when we publish a new recipe. You'll receive our DELIGHTFUL DESSERTS E-BOOK as a thank you for supporting us.