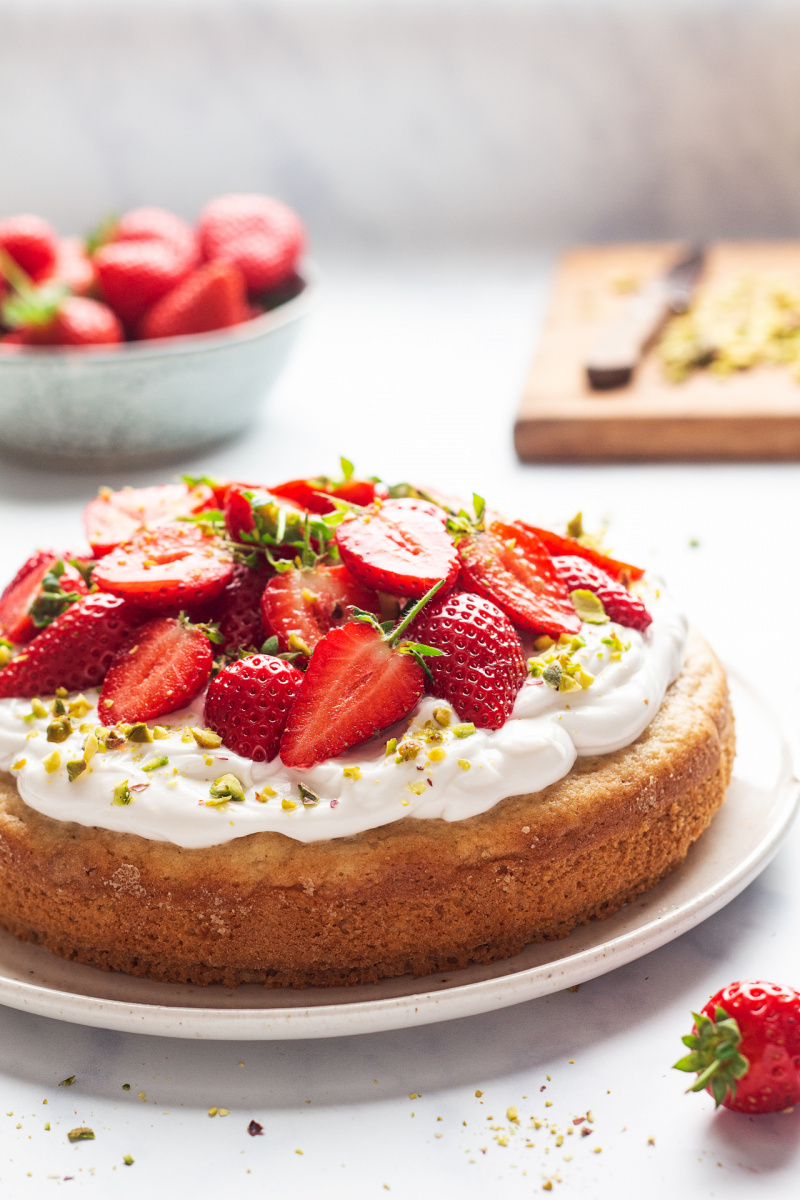 Hope you guys are having a lovely weekend? We are receiving a generous amount of sunshine and if not for the fact that we still have a serious amount of DIY to do, I would ideally spend the entire weekend in my hammock, with a book and a Greek-style iced coffee in hand.
Despite predictions of the second peak in the UK, the country is poised for some serious lockdown easing and so that sofa of ours, which we've been looking forward to getting for over a year, might be arriving soon. Before it arrives, we need to install new skirting boards in the room and that's a big job as all we have right now are 3 meter (10 feet) long planks that need to be cut to size and painted before installation. We bought a serious chop saw as we intend to do all our custom cabinetry ourselves including a cat shelf (Tina is going to love it) extending from an unusually shallow sill in our living room's bay window.
I'll be honest, this is not the recipe I was planning to share with you today, but after 2 days of non-stop testing I still was not 100% happy with the result (even though it felt like I was 'this' close) and so I've had to abort the mission with a view to testing it some more, but not under so much pressure and bring the recipe to you at another time, hopefully.
It happens sometimes, especially when I try to veganise something that isn't even remotely vegan. It's wasteful (that's the part I dislike the most) and exhausting and I always end up eating way more than just mere taste testing as I tend to be a 'frustrational snacker' – I made this one up, but I'm sure you get the gist. The worst is when at the end of it you end up with nothing worthy of publishing. I guess that is a food blogger's version of a 'bad day at the office'…It used to really crush me when I first started blogging. I am much better at dealing with it now, but it still sucks.
It's sunny and since I bought 6 punnets of strawberries for testing purposes I decided to make a simple sponge, flavoured with white chocolate and cardamom and topped with luscious coconut yoghurt and juicy stawberries instead. It is a simple summer dessert that anyone, vegan or not, can get behind. It would make a great addition to a BBQ or lunch al fresco so I hope you'll make it and share the joy with someone whose company you like.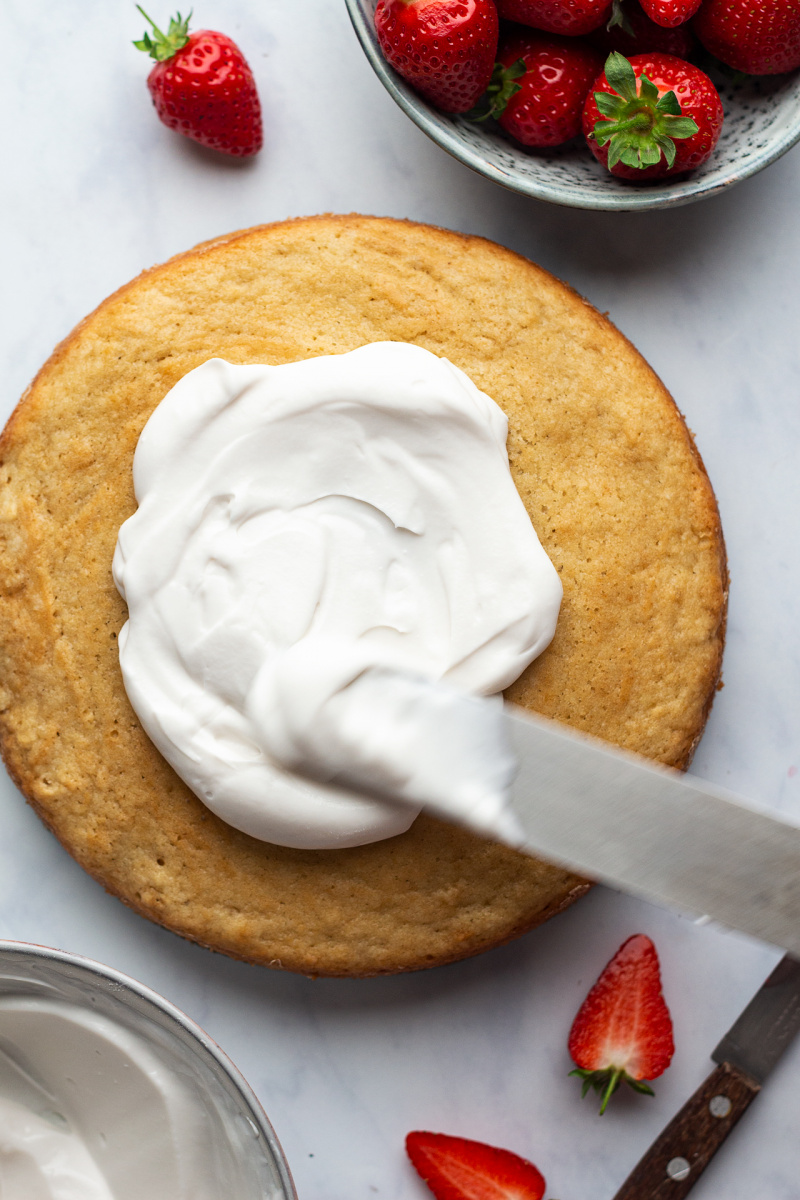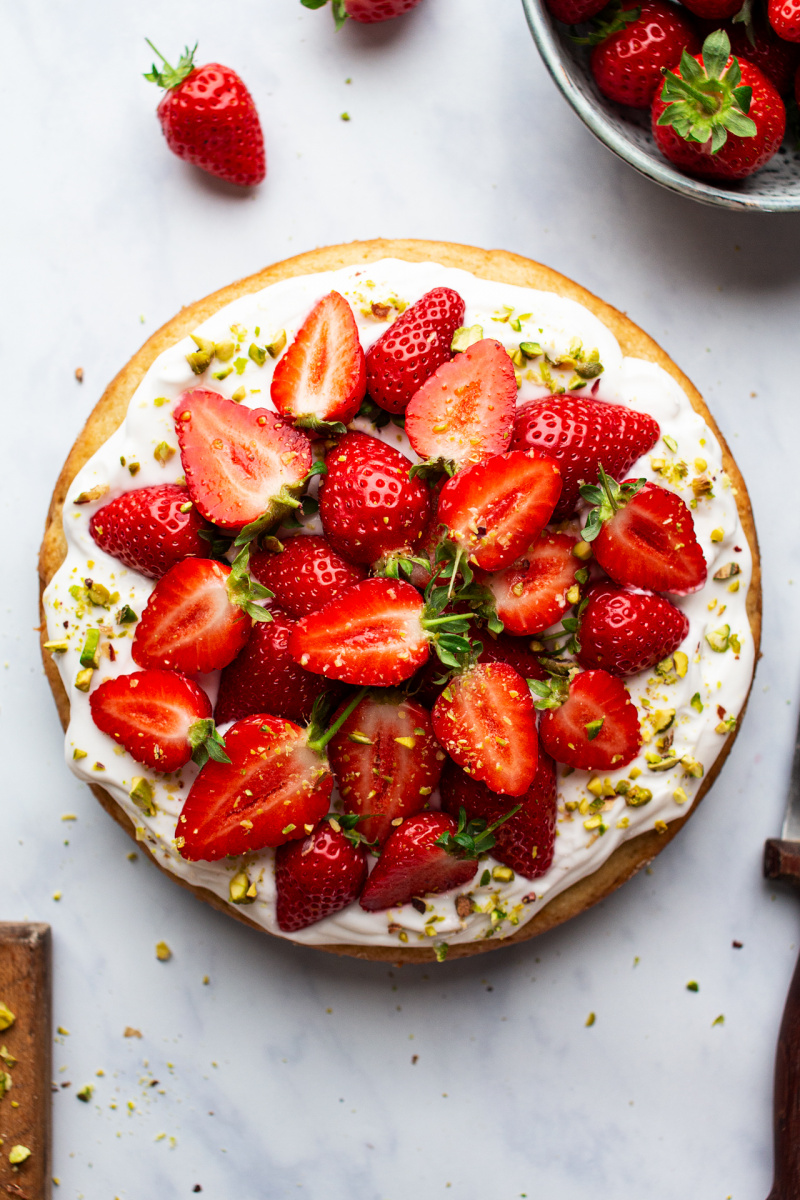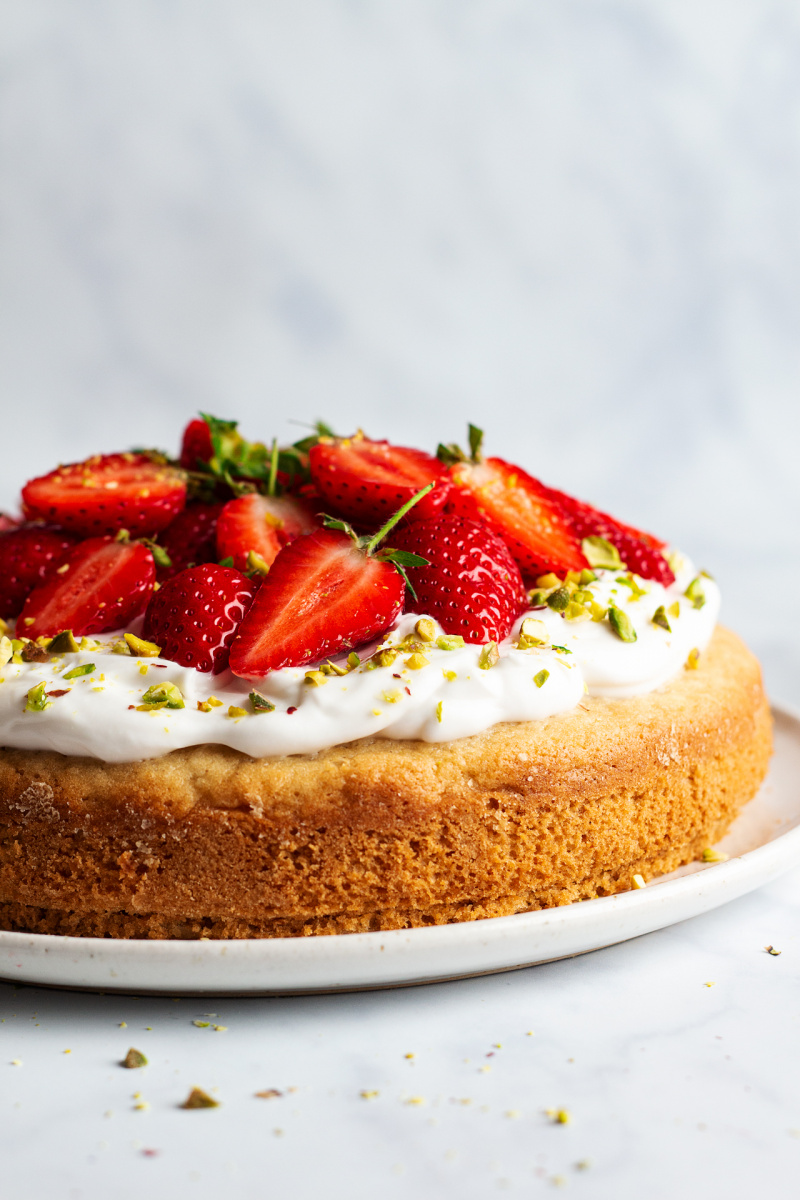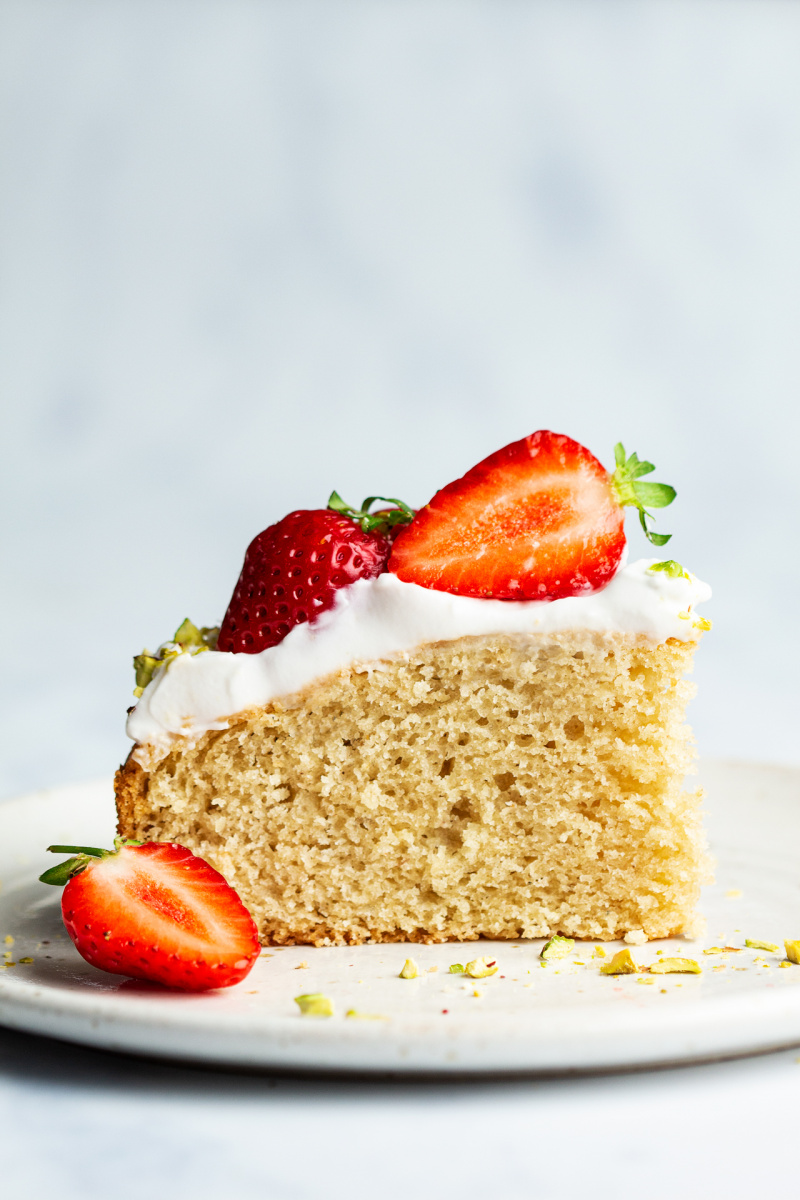 WET INGREDIENTS
50 g / 1.75 oz cacao butter (¼ cup once melted)*
150 g / ¾ cup caster / superfine sugar or coconut sugar for refined sugar-free version
240 ml / 1 cup soy milk (or other plant milk) at room temperature
2 tbsp lemon juice
1 tsp vanilla extract
DRY INGREDIENTS
TOPPING
2 tsp cornflour / cornstarch(optional)
3 tsp icing sugar (optional)
350 g / 12 oz thick vegan coconut yogurt (I like The Coconut Collaborative)
400 g / 14 oz fresh strawberries
chopped pistachios or almonds, to decorate (optional)
METHOD
Heat up the oven to 180° C / 355° F. Line the bottom of your baking tin (I used a 20 cm / 8″ round pan) with a circle of baking paper. Grease the sides and dust them with flour.
Melt the cacao butter in a large mixing bowl over a water bath. Once melted, allow it to cool down.
Add sugar and whisk with an electric whisk adding a splash of soy milk to loosen the mixture a little. If you don't have an electric whisk, that's okay too, combine the two with a manual wire whisk instead.
Add the rest of the soy milk, lemon and vanilla extract.
Next, place a sieve over the wet ingredients and sift in flour, cornstarch, both baking agents, salt and cardamom.
Fold them really gently and slowly into the wet ingredients starting by making small circles in the centre of the bowl to ensure that there are no lumps in the batter.
Finally fold almond flour very gently, just enough to combine – don't overmix.
Transfer the batter (it will be runny) to the baking tin.
Bake for about 30-35 minutes, until a toothpick comes out clean and the top is nicely browned.
Allow the cake to cool down completely (that's very important).
TOPPING
Stir sieved cornstarch (and icing sugar if you wish) through the yoghurt to make it more stable. Set aside in the fridge for 30 minutes. Also, some brands of icing sugar already contain cornstarch, in which case you don't probably need extra starch as well.
Top the cooled down cake with coconut yoghurt and strawberries. Decorate with chopped nuts (if using). Do not expose to excessive heat or direct sunline and store leftovers in an airtight box, in the fridge.
NOTES
*You can also use oil, like
this one
, but the sponge will not taste of white chocolate.