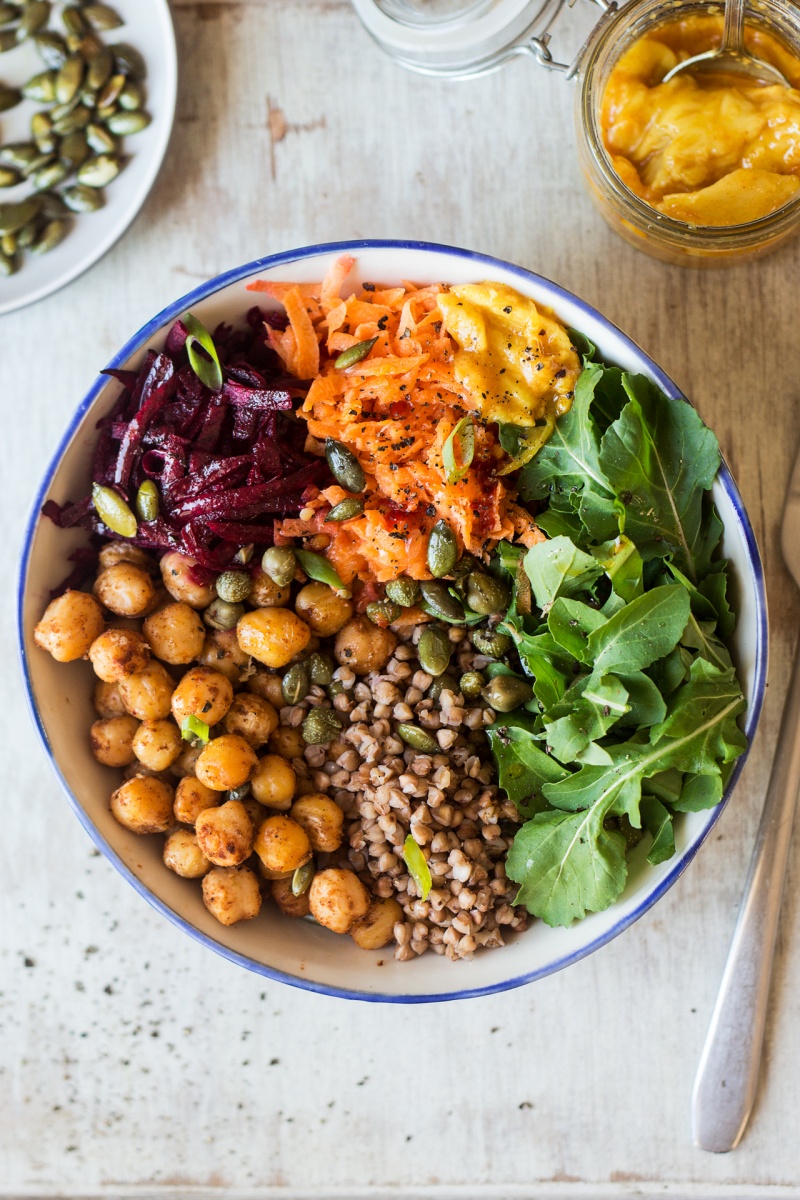 Winter is drawing near, especially in our neck of the woods, so we thought it is time for an appropriately named lunch inspiration – a winter bowl with roasted pepitas.
It's a winter version of the lunch bowl, which we frequently ate during summer, but with a few changes to include this season's bounty: carrots and beetroots.
I tend to grate 2 beetroots and 4 carrots in advance, using the grater attachment of my food processor, make a big batch of spiced chickpeas and cooked buckwheat and simply assemble the bowl throughout the week. It's easy peasy, gluten-free, low on effort and big on flavour.
I've jazzed up my bowl with my favourite capers (which you can easily swap for chopped olives) and a teaspoon of amba, a savoury mango pickle which I bought for this recipe as it really lifts the flavours.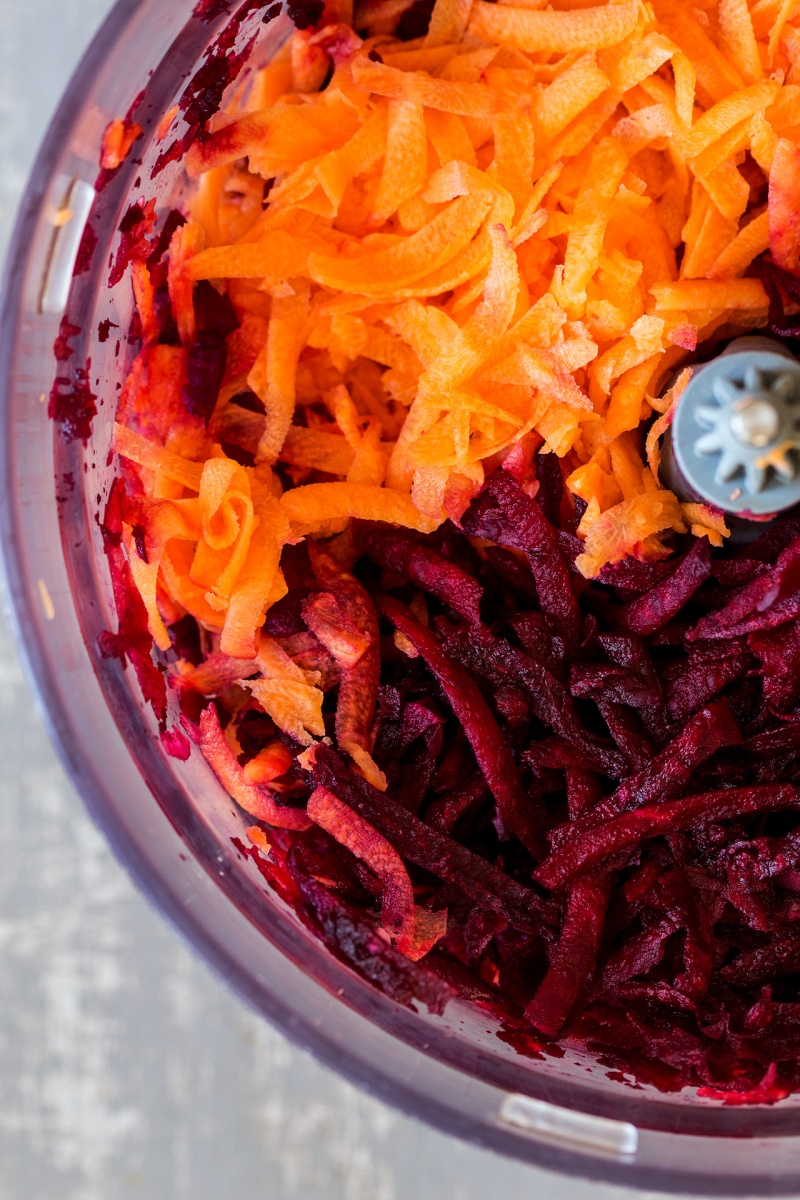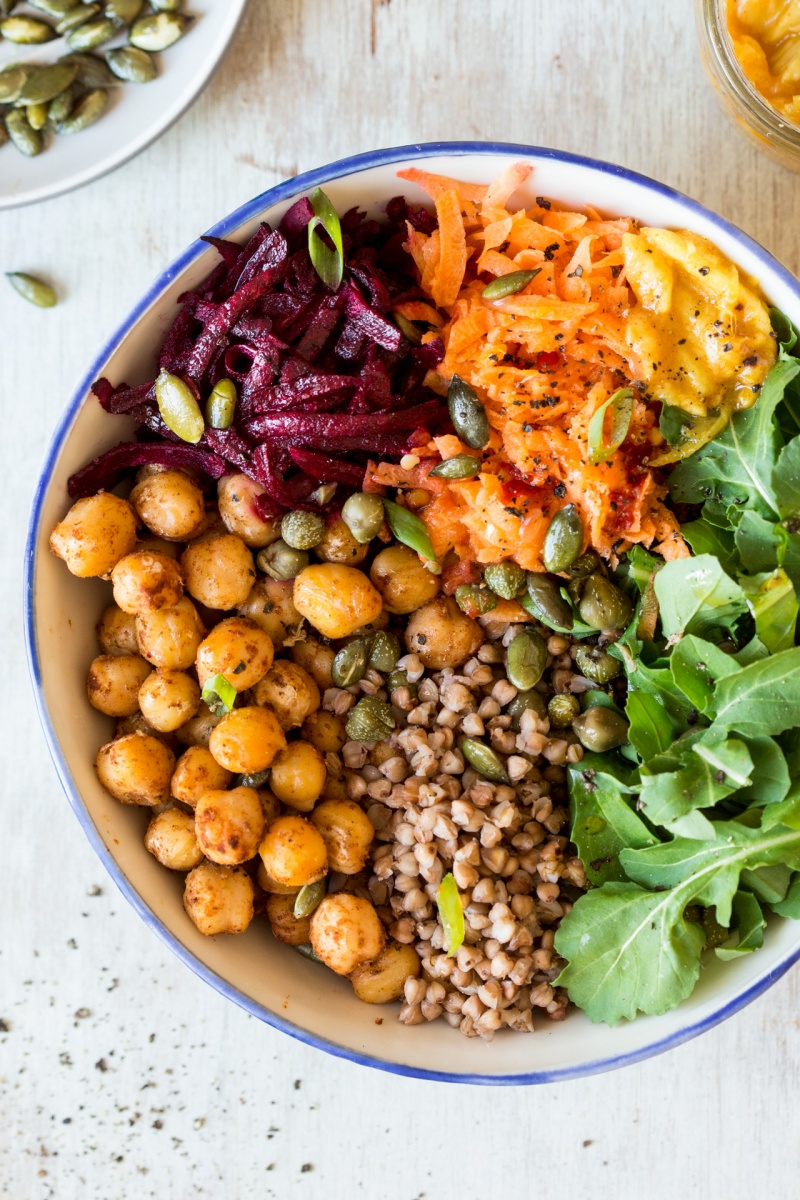 WINTER BOWLS
large handful (50 g / 2 oz) rocket
2 large carrots
1 large beetroot
1 cup cooked toasted buckwheat / kasha (recipe below)
½ cup spiced chickpeas (recipe below)
¼ cup capers, chopped finely
spring onion, green part, sliced thinly
black pepper, to taste
savoury mango pickle (also known as amba), optional
SPICED CHICKPEAS
4 cups cooked chickpeas (about 2 cups dry)
2 tsp ground cumin
1 heaped tsp smoked paprika
½ tsp hot chilli powder
½ tsp salt, more to taste
2 tbsp olive oil
TOASTED PUMPKIN SEEDS
DRESSING
2 tbsp extra virgin olive oil
2 tbsp lemon juice
½-1 tsp sambal oelek (Indonesian chilli paste)
METHOD
SPICED CHICKPEAS
Place the chickpeas in a colander for at least 15 minutes to drain them well. If you have time, leave your chickpeas on the sieve for a few hours so that they dry out a bit, you could also towel them with a paper towel if you wish. You may want to save the canning or cooking liquid (if you cooked them yourself) for another use like this cracking chocolate mousse, for example. If you cooked the chickpeas yourself, let them cool down completely before pan roasting them.
Mix all the spices and salt together in a tiny bowl. If you haven't salted your chickpeas during cooking, use 1 tsp of salt. If you have or you are using tinned chickpeas, go easy on the salt (start off with ½ tsp and adjust to taste afterwards).
Heat up a heavy-bottomed pan on a medium-high heat. Pour 2 tablespoons of olive oil on the hot pan and wait a few seconds for the oil to heat up – it will start rippling gently but don't get it so hot that it will start to smoke!
Chuck the dry chickpeas into the hot oil – they should sizzle as soon as they hit the pan. Let them roast lightly, stirring them regularly so that they don't burn. Once the chickpeas are lightly roasted and charred in places, sprinkle them with the spice and salt mixture and mix everything well until all the chickpeas are evenly coated in spices. Take the pan off the heat and let the spices finish roasting in the pan's residual heat, moving the chickpeas around the pan. Taste and adjust with salt if necessary. Set aside.
TOASTED PUMPKIN SEEDS
Heat up a small frying pan on a medium heat.
Add oil to the pan and once it starts rippling slightly, add pumpkin seed kernels.
Stir-fry them gently for a few seconds until they start popping.
Take the pan off the heat. Toss the hot seeds in the spices and salt and allow them to roast for a few more seconds in residual heat whilst stirring the whole time.
BUCKWHEAT
Carefully check the buckwheat for small stones and debris (I advise against rinsing it though as it becomes mushy).
Put buckwheat into a small pot with a glass lid and add water (1 : 1.5 buckwheat to water ratio), cover with a lid and bring to the boil. Do not salt it until it's been cooked as salt negatively affects buckwheat's texture. Once the water comes to the boil, turn the heat down to low and cook on a low heat until all the water has been absorbed (to check, tip the pot to see if the water is coming out from underneath the buckwheat, but DO NOT LIFT THE LID). Once the water has been fully absorbed, rest the pot for another 10 minutes (with the lid firmly on) so that the buckwheat finishes cooking in its own steam.
Once cool, store in an airtight container in the fridge.
ASSEMBLY
Prepare the dressing by whisking olive oil, lemon juice and sambal oelek together. Refrain from using salt as the chances are that the chopped capers will add a sufficient amount of salt to the dish.
Divide all the salad ingredients, cooked buckwheat and roasted chickpeas between two bowls. Drizzle with the dressing and season with a touch of black pepper. Top with finely chopped capers and mango pickle (amba) if using.