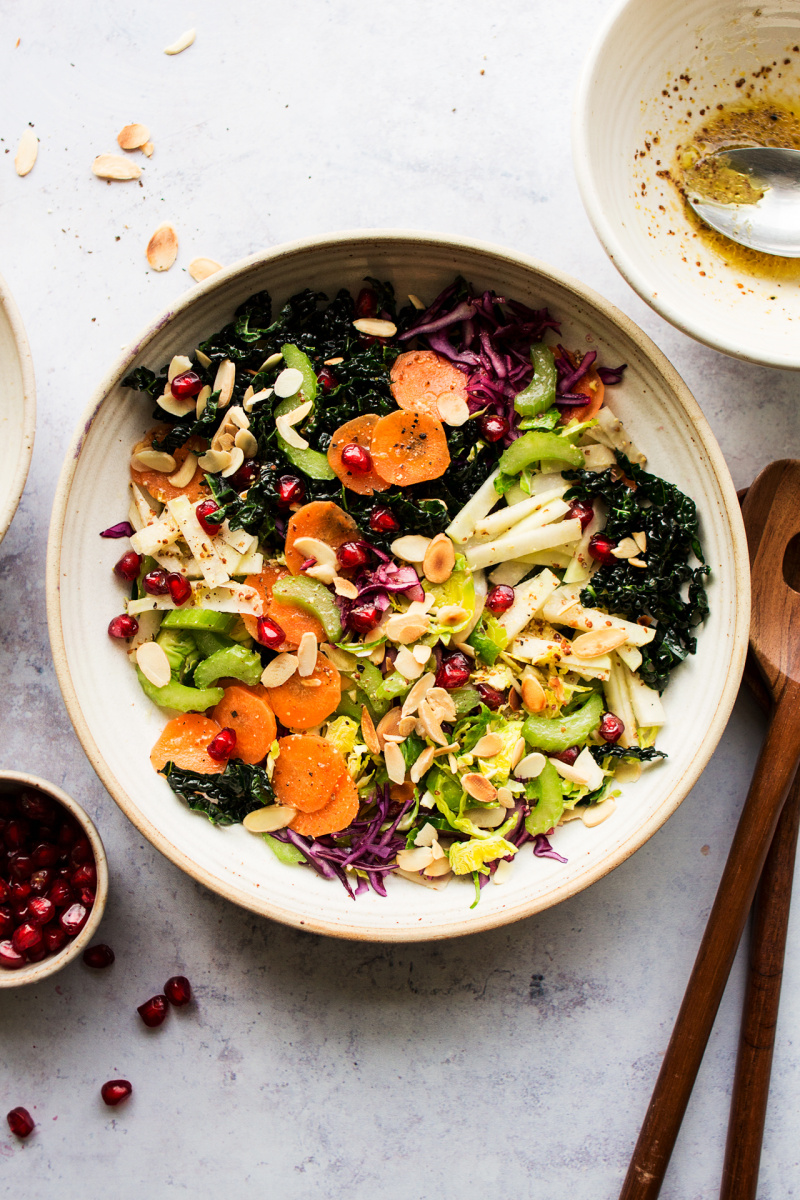 Hey guys, hope this week has been treating you well thus far! I am slowly starting to pack all our stuff into boxes in the anticipation of the impending house move and I am trying not to get overwhelmed with the amount of stuff we need to take care of before setting foot in our new house.
In other news, I have not been running for almost 3 weeks now, first due to an illness and now due to a running injury that I first observed before I got ill and which did not go away despite prolonged rest. After much reading and observing of my symptoms, I think I have an iliopsoas injury and I am truly bummed, as running is more than just exercise for me. I've started doing targeted yoga practice twice a day – after I get up and in the evening – and I am hoping that this will help. Otherwise, I will need to drag my sorry ass to a physio, I guess…
After Friday's pierogi indulgence, I've decided to switch gears and share with you a super simple winter slaw that I tend to have for lunch a lot in winter. The cold makes it harder to incorporate raw veggies into your diet, but I found that a heap of this simple slaw alongside a spoonful of hummus and a piece of toasted sourdough does sit rather well with me most days.
It's colourful and crunchy with a touch of spicy wholegrain mustard and lovely citrusy notes from orange and lemon juice, which complement all the vegetables nicely. The key to this salad, in my opinion, is to take care to shred, slice and chop all the veggies as thinly as you can. I tend to use the lowest mandoline setting for this, which makes a rather short job of it, but a sharp knife and some elementary knife skills will do a good enough job too.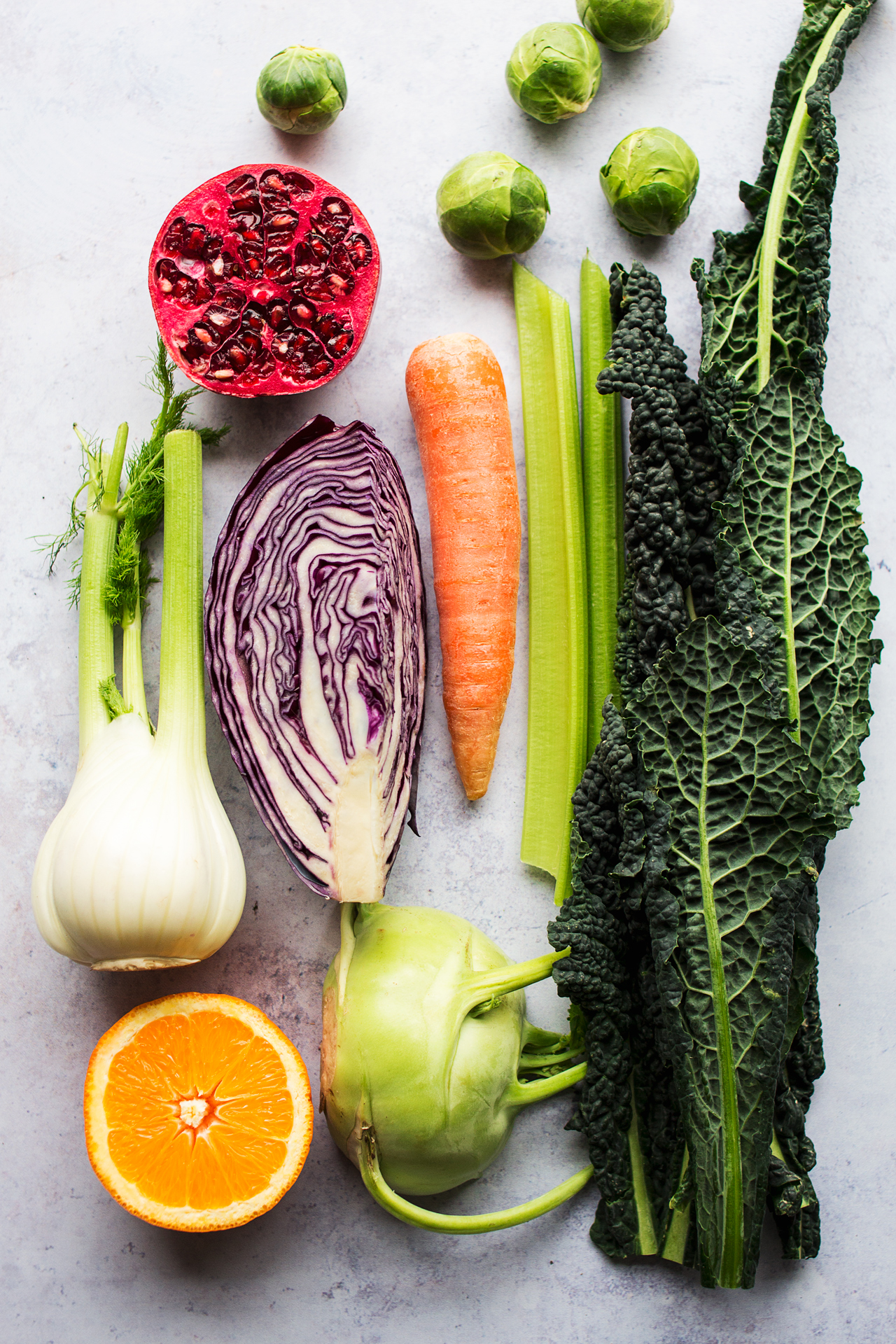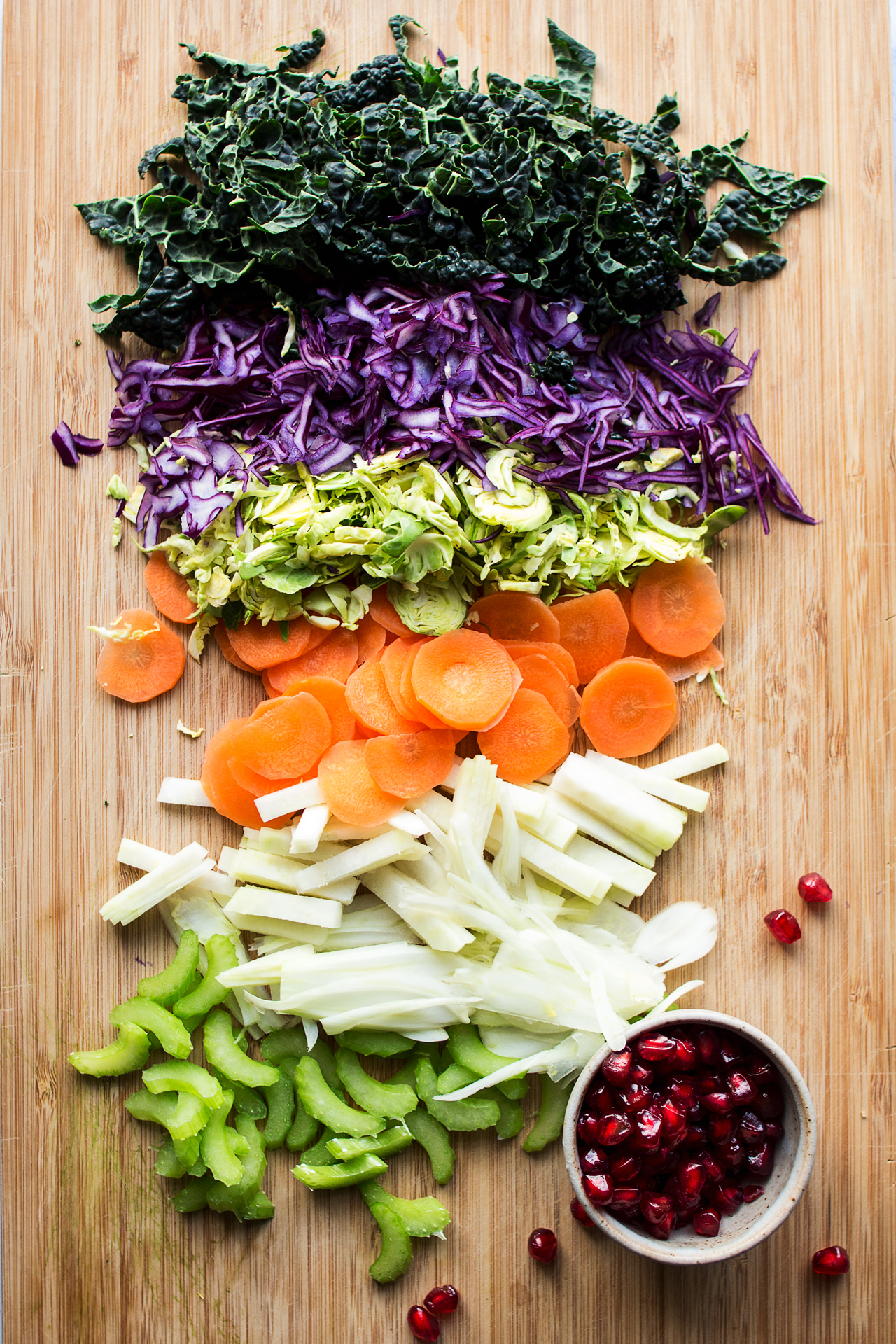 DRESSING
2 tbsp extra virgin olive oil
2 tbsp orange juice
1 tbsp lemon juice
2 tsp wholegrain mustard*
salt and pepper, to taste
SALAD
3 leaves of Cavolo Nero (aka lacinato / dragon kale)
6 brussel sprouts
a small wedge of red cabbage
2 carrots
2 celery stalks
½ small fennel bulb
½ small kohlrabi (or broccoli stalk)
2 spring onions / scallions
¼ cup pomegranate seeds
¼ cup almond flakes, toasted
METHOD
DRESSING
Mix the first three ingredients in a medium mixing bowl vigorously until the dressing has emulsified.
Incorporate the mustard and season with salt and pepper.
SALAD
Shred Cavolo Nero into very thin strips with a sharp knife, cutting out the tough middle stem.
Shred brussel sprouts, red cabbage, carrots, fennel and kohlrabi finely on the lowest mandoline setting.
Slice celery and spring onions finely with a sharp knife and cut kohlrabi slices into matchsticks.
Mix all the salad ingredients together apart from pomegranate and almond flakes.
Toss the dressing through the salad until thoroughly mixed.
Sprinkle with pomegranate seeds and toasted almonds.
NOTES
*Beware that not all brands are vegan, make sure to check the label for honey.