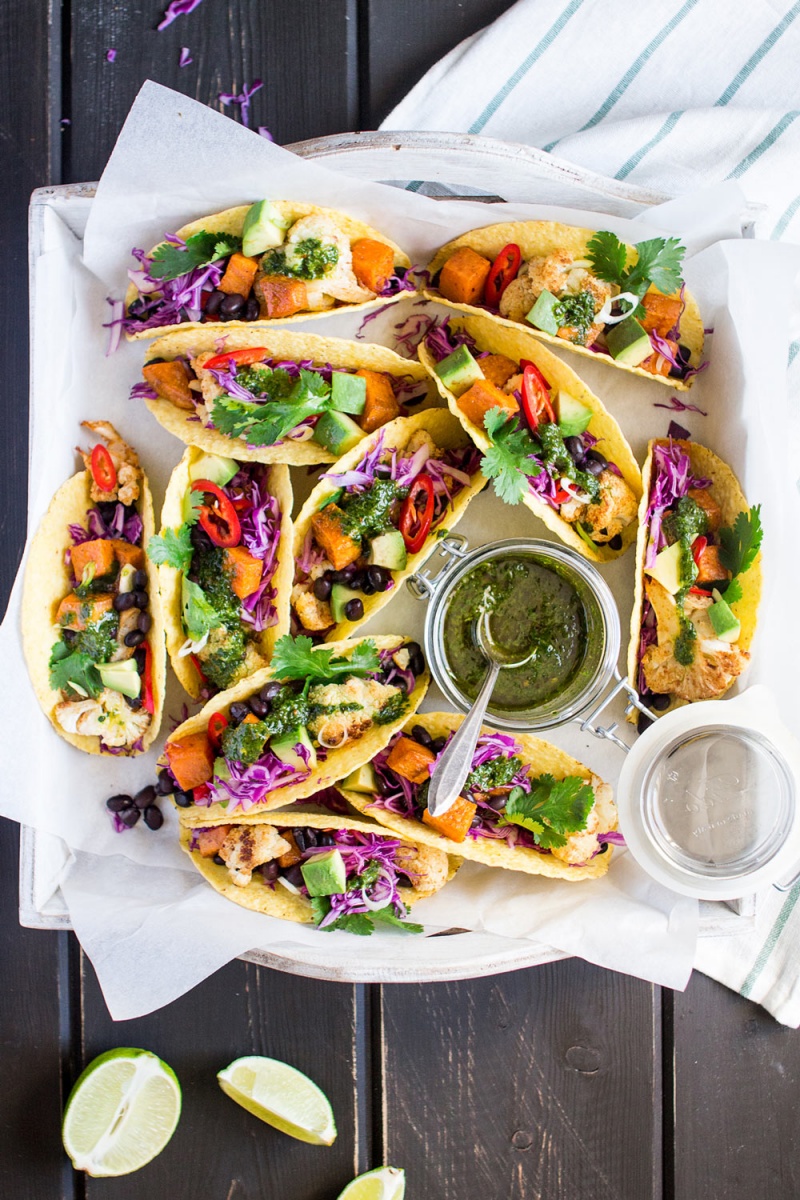 Today's recipe makes a quick and dirty (not literally 😉 ) lunch. We have had a lot on recently and sometimes when you are really engrossed in the work you're doing and your stomach starts rumbling all of a sudden, all you want is tasty food on the table, fast! We are working on a new, super-exciting project. It is top secret for now but to be revealed very soon. As I'm sure that you are all busy people too, especially now that Xmas fever would have taken a firm grip on some of you, I am guessing that quick and easy meals will be right up your street. Although fast to put together, these winter tacos do not compromise on taste. Apart from the taco shells, they are made from entirely fresh ingredients. Like all tacos, these are also quite adaptable so feel free to swap some ingredients out for your personal favourites. They will also make fabulous, fuss-fee food for laid-back get-togethers with friends. You can prepare a massive tray of them just before your friends turn up and be able to relax and actually chat to your guests once they are sitting on your sofa.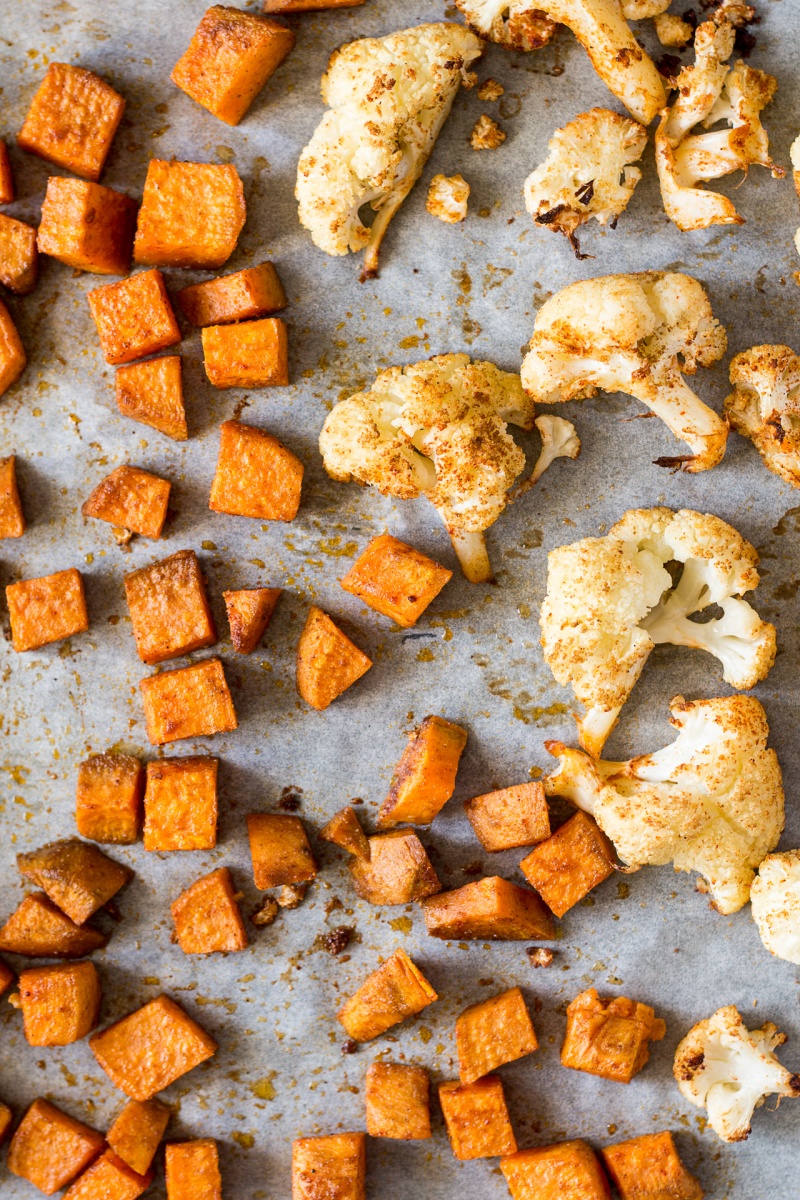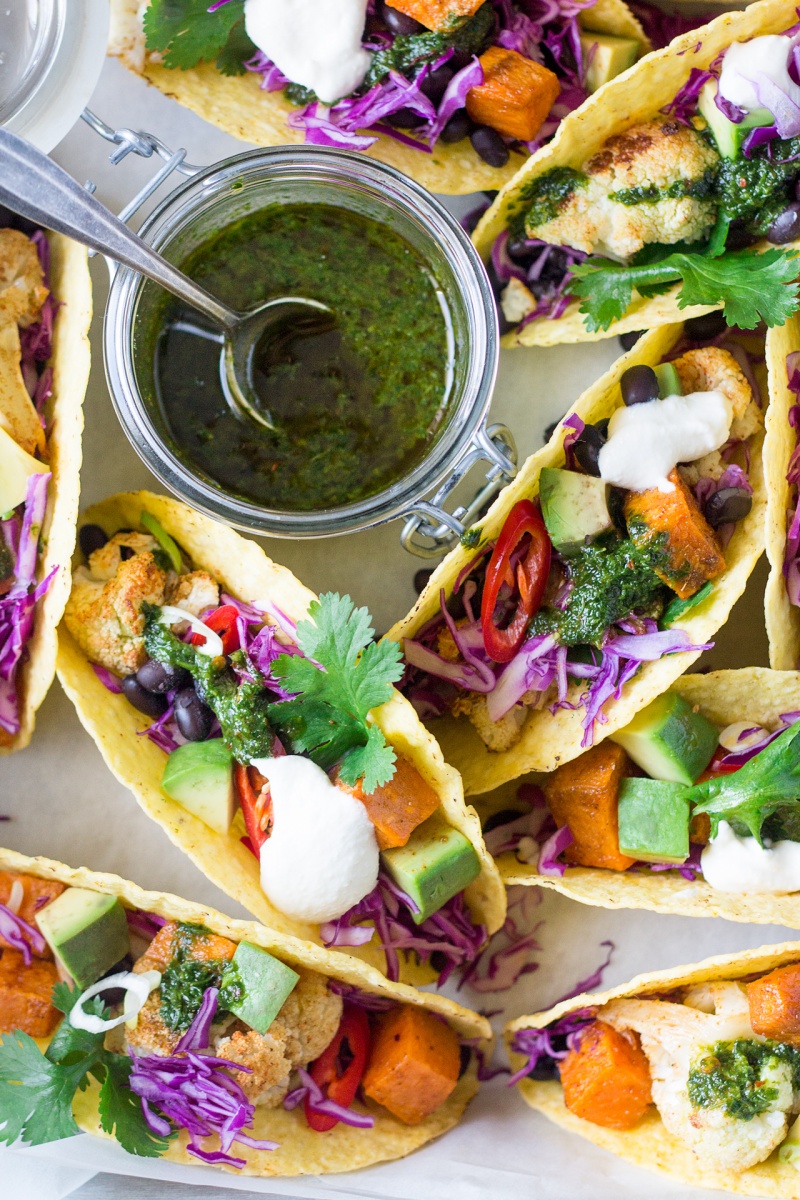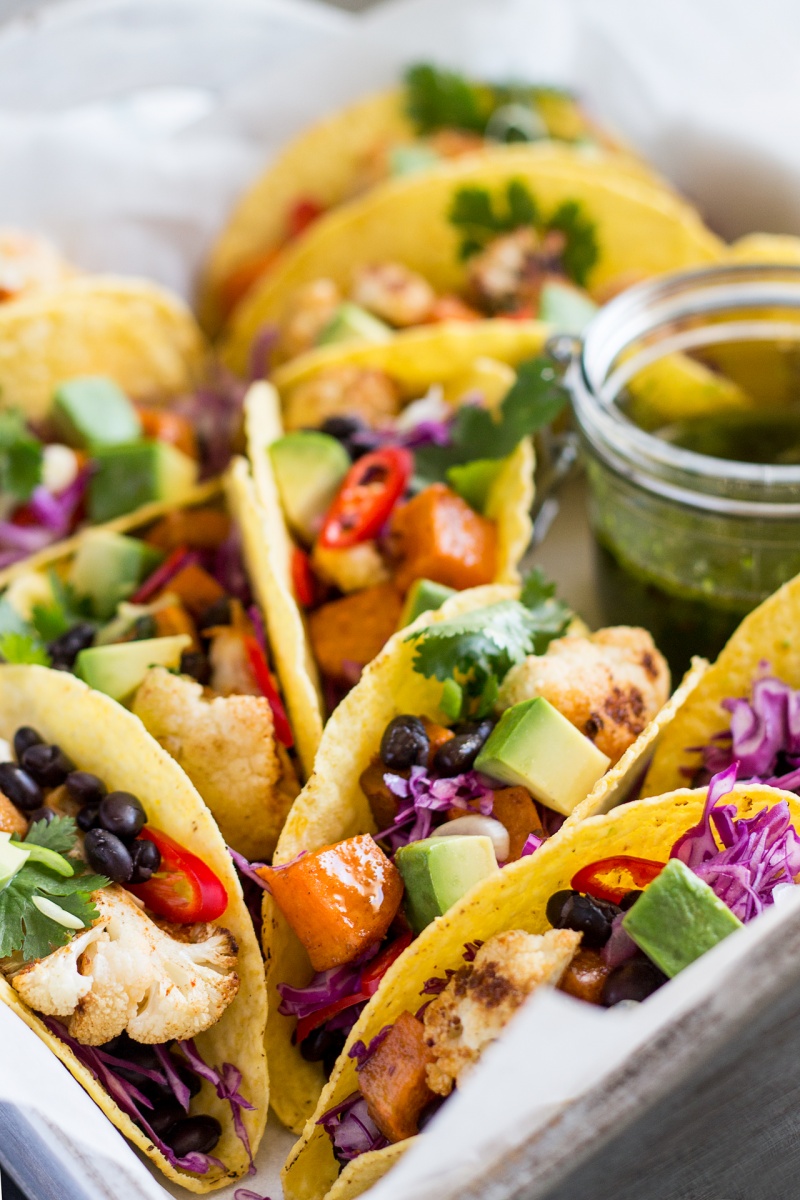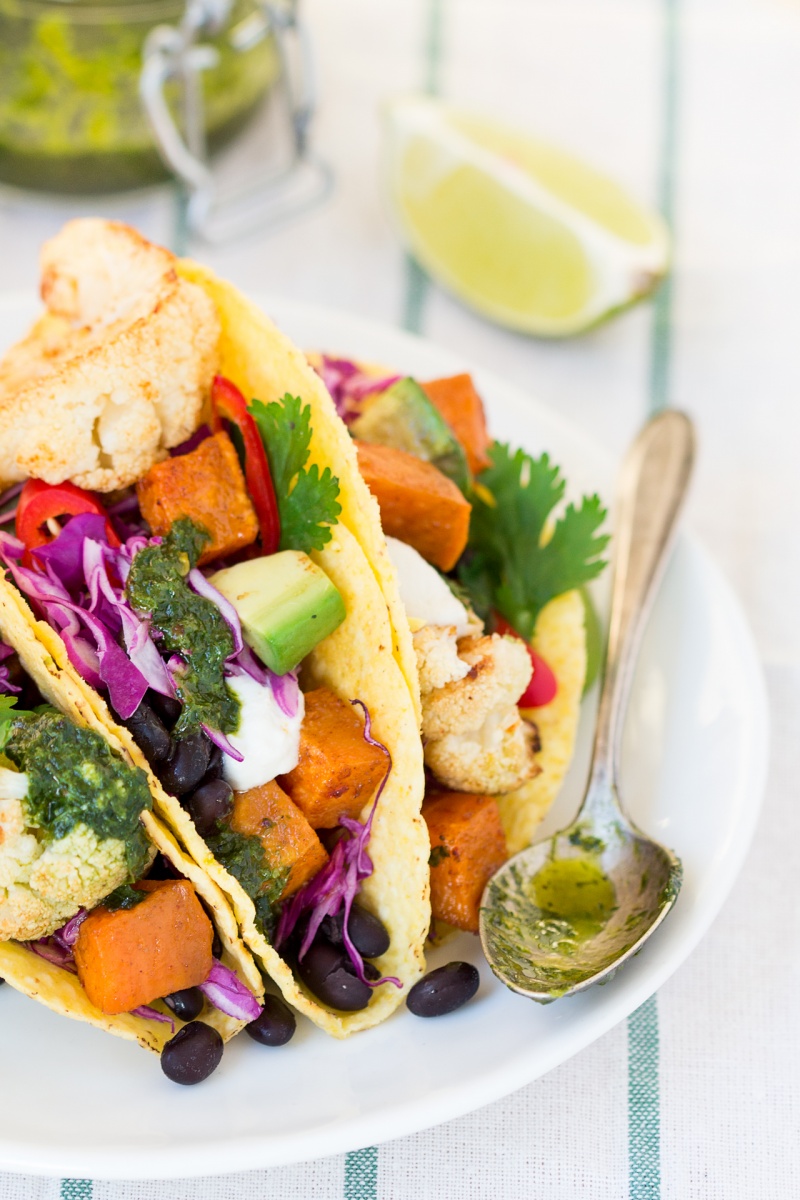 CHIMICHURRI SAUCE
½ cup (packed) fresh coriander / cilantro
¼ cup (packed) fresh parsley
2 tbsp / 30 ml red wine vinegar
6 tbsp / 90 ml extra virgin olive oil
2 garlic cloves, pressed
¾ tsp salt
1 tsp brown sugar
½-1 tsp hot chilli flakes (depending on preference)
ground pepper, to taste
TACOS + FILLING
12 taco shells (gluten-free ones if you are gluten-intolerant)
½ cauliflower, divided into florets
1 small sweet potato, cut into 1 cm / ½ in cubes
1½ cups of cooked black beans
a wedge of red cabbage, finely shredded
½ avocado, diced
1 tsp smoked paprika
1½ tsp cumin
½-1 tsp hot chilli powder
salt, to taste
2 tbsp / 30 ml olive oil
slices of fresh chilli, to serve (optional)
lime wedges, to serve (optional)
cashew sour cream, to serve (optional)
fresh coriander / cilantro, to serve (optional)
METHOD
CHIMICHURRI SAUCE (to be prepared when waiting for the veggies to roast)
Chop fresh herbs super finely, either by hand or in a chopper (that comes with most stick blenders).
In a separate bowl, combine vinegar, sugar, salt, chilli, garlic and olive oil. Mix everything well until sugar dissolves and add to chopped herbs. If using a chopper, process some more to get a sauce similar to pesto.
TACOS
Heat up the oven to 200° C / 390° F and line a baking tray with a piece of baking paper.
Put cauliflower and diced sweet potato into a large bowl. Mix in 2 tbsp / 30 ml of olive oil. Season with smoked paprika, cumin, hot chilli and salt. Spread on the prepared baking tray and bake for about 30 minutes, flipping it once half way through.
Warm up your taco shells in the oven or microwave.
Fill warmed up taco shells with black beans, shredded cabbage, cauliflower and sweet potato. Sprinkle with fresh coriander and chilli slices (if using). Serve with chimichurri sauce, sour cream (optional) and lime wedges.