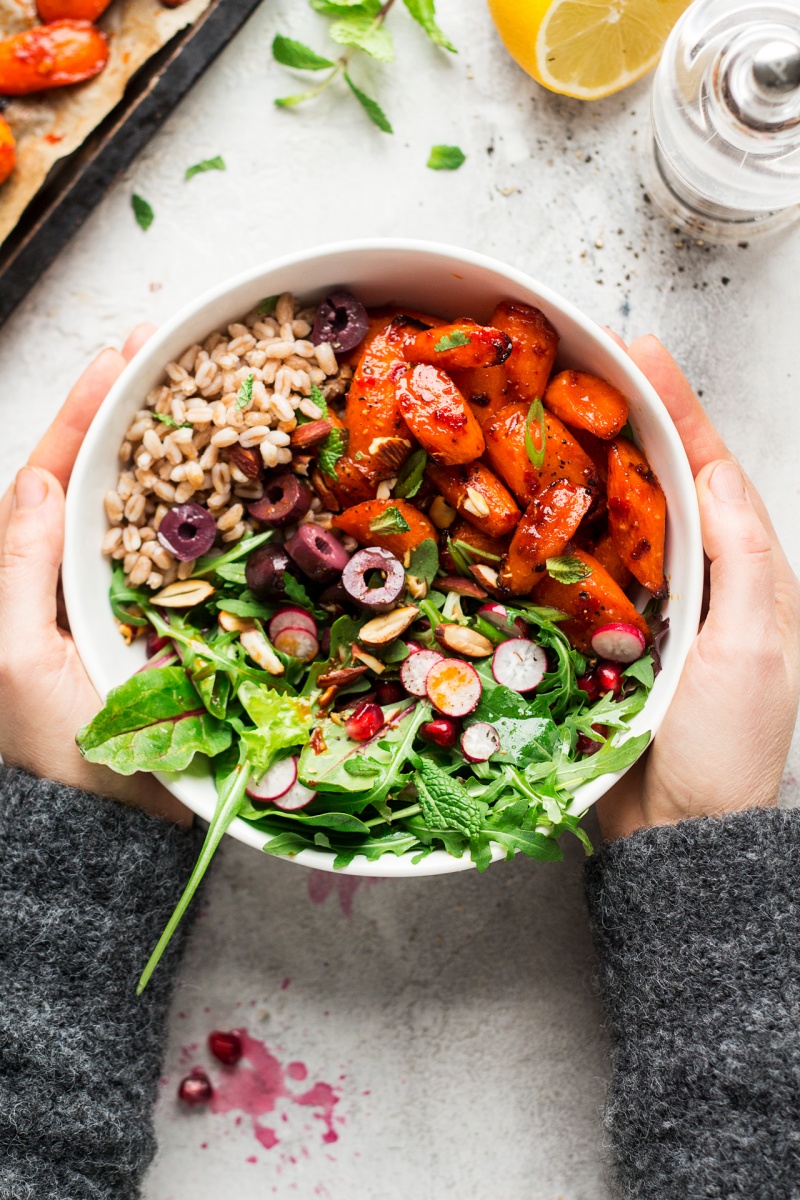 Greetings from freezing cold (yet postcard pretty) Krakow, guys! It was surprisingly mild and wet when I arrived on Sunday night and I almost started wondering why I wasted so much time shopping for a warm winter jacket, but things have cooled down a lot since.
Yesterday it started snowing quite heavily and now I am really grateful to have brought proper winter clothing. It is really cold and the buses are a bit messed up, as the roads have suddenly turned icy, but the city is also really pretty covered in a thick blanket of snow. I've missed this sight and the feeling of getting back home from the cold to a steaming hot meal (courtesy of my mum!!)
The mood has been sombre over here as, at the weekend, one of the country's most progressive politicians (who was the mayor of Gdansk for over 20 years) was fatally stabbed at a charity fundraiser. Most people are in the state of shock. He was a well-loved figure who stood firmly in opposition to the hatred and division politics endorsed by the current government and it does feel that there might have been more to this heinous crime than an isolated idea of an unstable individual who was released from prison a month before.
I don't normally write about things like this, but the state of things in my country (and many other countries around the world) is truly shocking. I feel like the powers of evil are constantly winning and laughing in our faces as it happens.
Why can't we exist peacefully side by side without hating, hurting and killing one another in the name of religion, national identity and other divisive, man-made constructs? We are all human beings after all, who want the same things, to love and to be loved and to have a peaceful yet fulfilling life.
Maybe we should screen all of the people running for power for psychopathic tendencies? I feel like that would solve a lot of the issues the world is currently facing.
Okay, rant over! I shall distract myself a little from all this doom and gloom (Britain MPs are pushing us towards a no deal Brexit – happy days! 🙁 ) by telling you how delicious and easy today's recipe is.
It's a simple winter themed lunch bowl that features sweet and spicy roasted carrots, chewy spelt, salty olives, sour pomegranate seeds, fresh green leaves and smoky almonds. It's easy to make and a delight to eat too. Enjoy and I shall check in with you on Saturday as I have a banger of a recipe and I cannot wait to share it with you!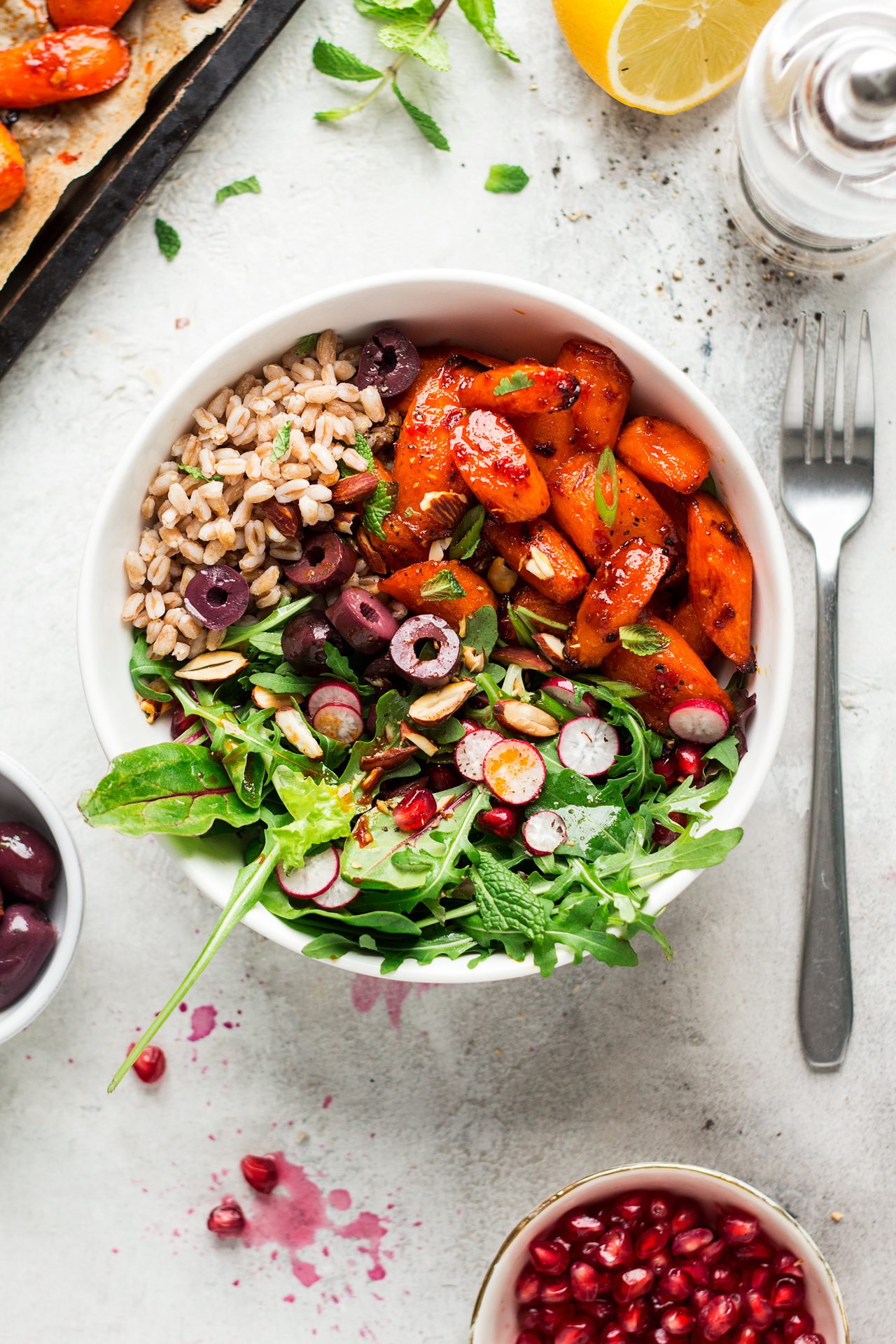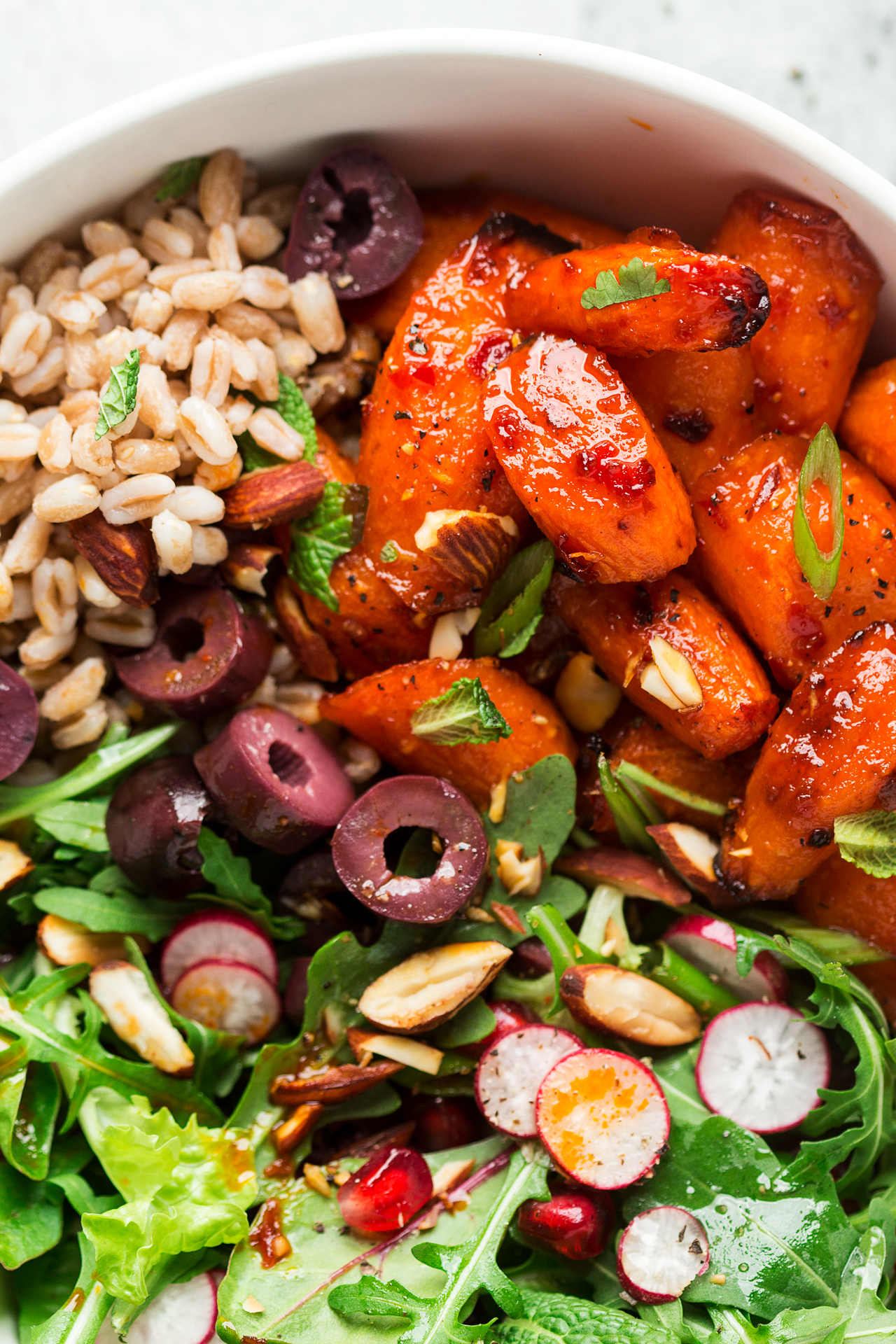 HARISSA CARROTS AND DRESSING
400 g / 14 oz carrots
2½ tbsp olive oil
1 tbsp maple syrup
1-2 tsp harissa paste (strength varies, adjust to taste)
2 tbsp lemon juice
salt to taste
SMOKY ALMONDS
2 tsp oil (I used olive oil)
a handful (about 2 tbsp) almonds
a good pinch of fine sea salt
a good pinch of smoky paprika
REMAINING INGREDIENTS
1 cup of cooked pearled spelt or farro (use brown rice or quinoa for GF version)
50 g / 1.75 oz baby rocket or spinach (or both) leaves
10 black olives, sliced
5 radishes, sliced (optional)
a handful of mint leaves, chopped finely
2 tbsp pomegranate seeds (optional)
1 spring onion, green part sliced finely
METHOD
HARISSA CARROTS AND DRESSING
Preheat the oven to 200° C / 390° F and line a small baking tray with a piece of baking paper.
Peel or scrub your carrots really well and slice them into similar sized chunks on the diagonal.
In a mixing bowl combine 1 tbsp olive oil, maple syrup and 1 tsp of harissa. Mix well and coat the carrots in this marinade. Season with salt to taste (about ¼ tsp is plenty).
Place the harissa carrots on the baking tray and roast for about 25 minutes, until soft and lightly charred in places. Make sure you give the carrots a good stir every 10 minutes or so.
Mix the remaining ingredients: 1½ tbsp olive oil, 2 tbsp lemon juice and 1 tsp harissa (if using) in the same bowl you used for the carrots. Season with salt and set aside.
SMOKY ALMONDS
Heat up 2 tsp of olive oil on a small skillet. Once the oil gets hot, add raw almonds and a good pinch of salt.
Toast them on low heat, tossing them constantly so that they don't burn. They are ready when fragrant and charred a little in places.
Just before you take them of the heat, add a good pinch of smoky paprika and toss to coat. Allow them to cool off completely and then chop roughly.
ASSEMBLY
Divide roasted carrots, cooked grain, salad leaves, olives, radishes and chopped up mint leaves between two bowls.
Drizzle with the dressing you made earlier and top with pomegranate seeds, spring onions and chopped almonds.
NOTES