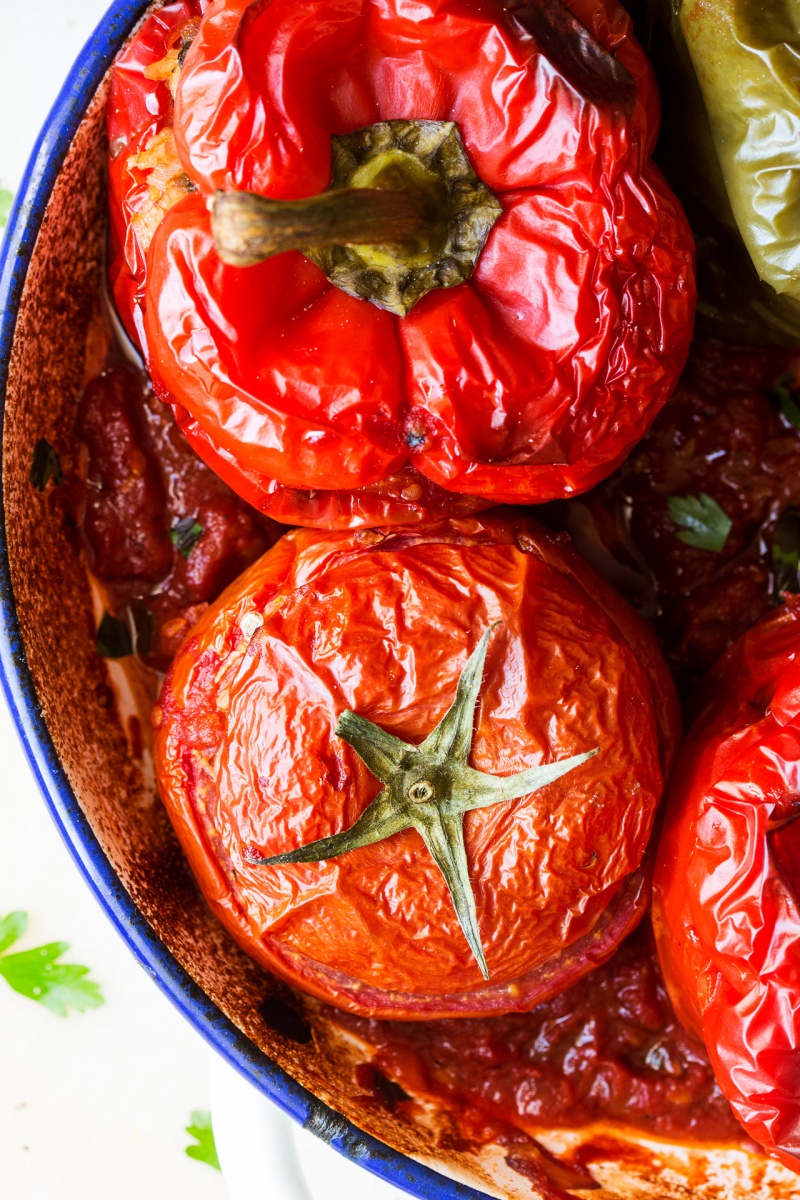 Preparing stuffed vegetables has a long tradition in almost all of the Mediterranean countries. If you've ever been to Greece, I'm sure the Greeks did not let you leave without trying yemista or dolmades first 😉 . They are hospitable like that! Yemista (pronounced 'gemista') is a classic dish of summer vegetables stuffed with rice. Tomatoes and peppers are probably the most popular and while this dish is often vegetarian, it's rarely vegan as there is kefalograviera cheese in the filling.
That's why I make my own yemista, which is a lot of fun and not that difficult at all. The rice does not require pre-cooking as it has plenty of time (and moisture) to get cooked through while yemista is in the oven, so it's really a straightforward kind of dish.
At first glance, you may think that I have gone a bit crazy when it comes to seasonings, but trust me on this! While I love yemista, it does have a propensity for blandness and I have had way too many bland versions to be shy about salt, garlic, capers, sultanas, toasted almonds, herbs, chilli (which isn't traditionally added, but I like a subtle kick) – all the things that impart flavour.
Apart from adding a touch of spice, I also made some other changes to the traditional vegetarian filling in order to compensate for the lack of cheese and to give it my twist, if you like. I used pan-toasted almonds (rather than pine nuts as they cost a small fortune) and a healthy dose of salty capers, which improve the flavour of almost every dish!
I also went a bit easy on the olive oil. A Greek yiayia (grandma) would typically use about 1-1½ cups of oil in a similar recipe. While I have nothing against olive oil, I feel that it should still be eaten in moderation. So I went for a meagre ¼ cup for the filling and ¼ cup for the sauce and I feel like that's plenty. Feel free to override me, of course! And don't tell any Greek yiayias as I have a feeling that I would get my wrists slapped 😉 .
This beautiful dish is one of those that tastes best the day after it has been made. It is eaten at room temperature (rather than steaming hot) and a glass of chilled white wine goes superbly well with it. Also, if you are feeling like some extra carbs, cut up some potatoes and place them in the sauce, they will give you more 'carbage' as Duncan calls it 😉 .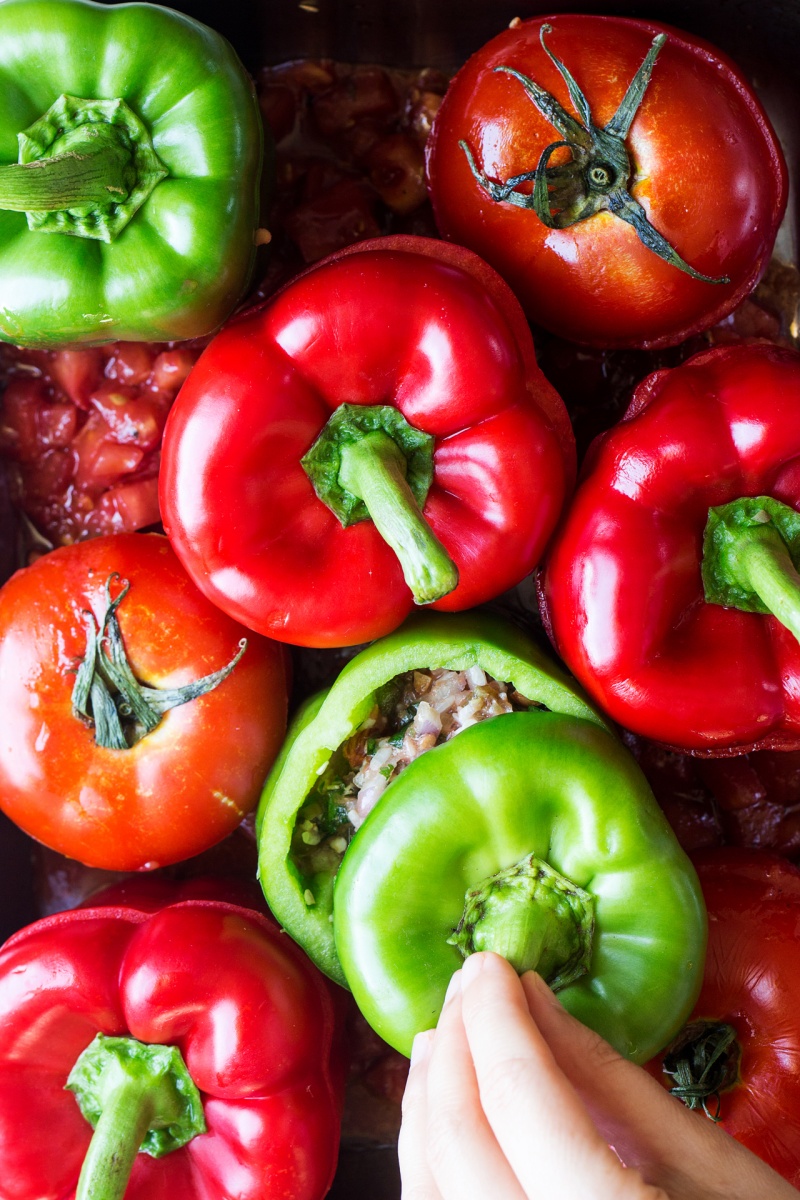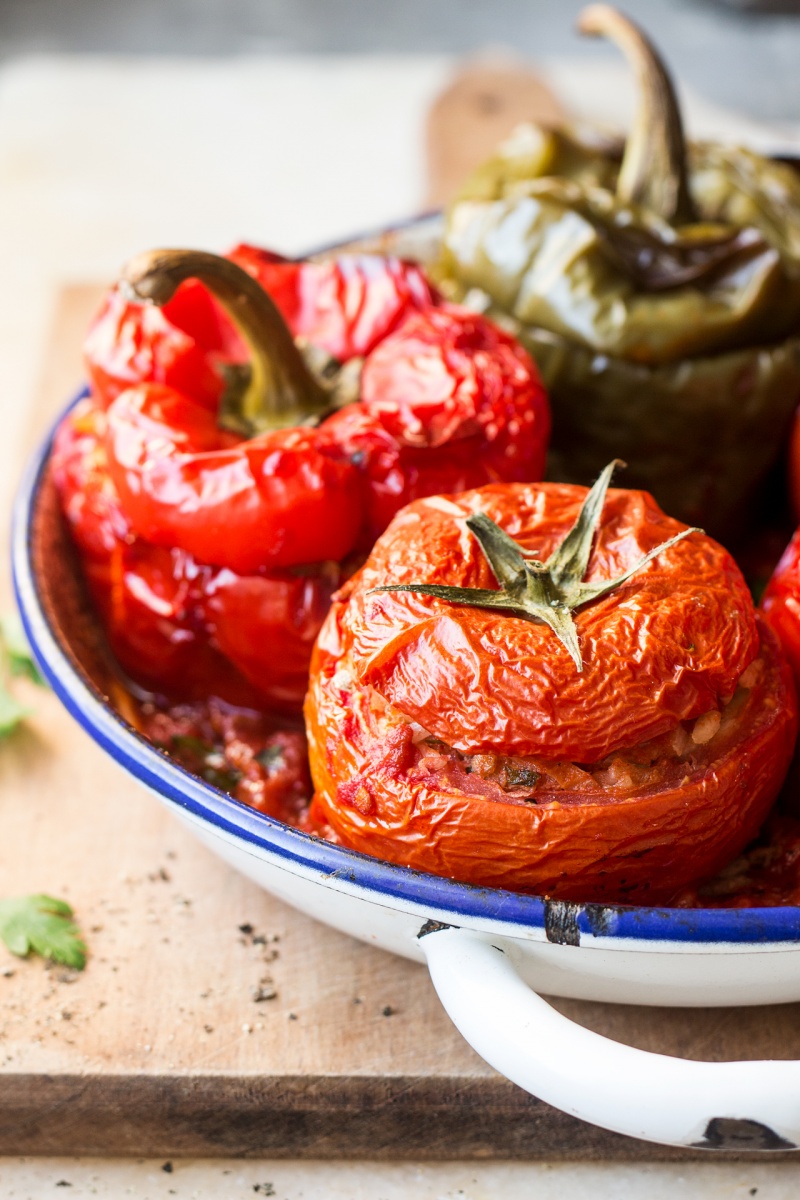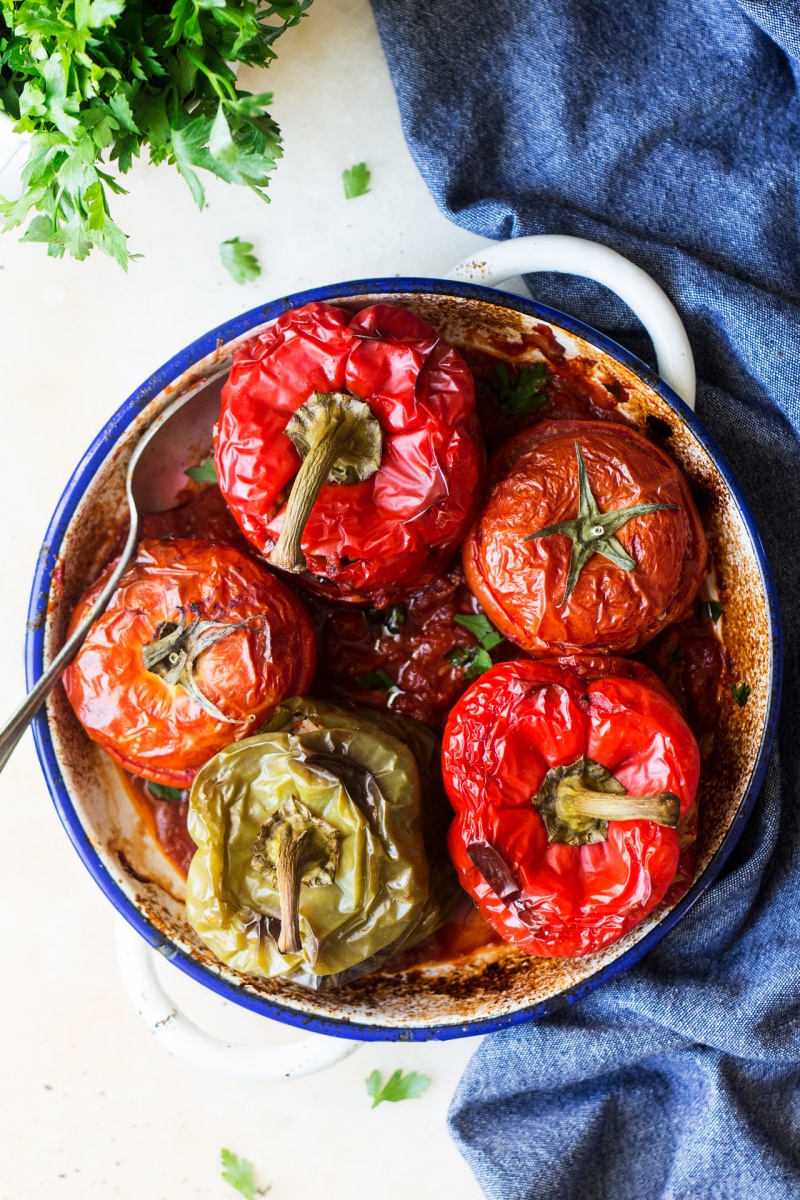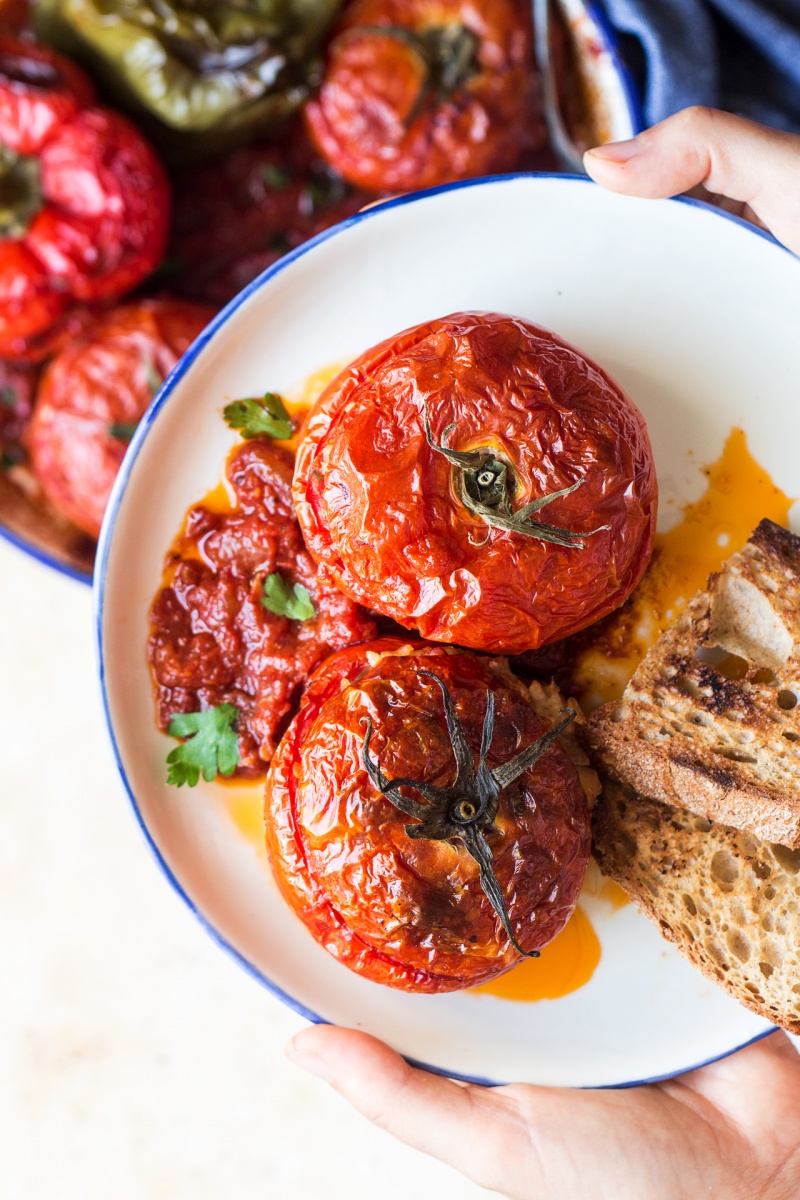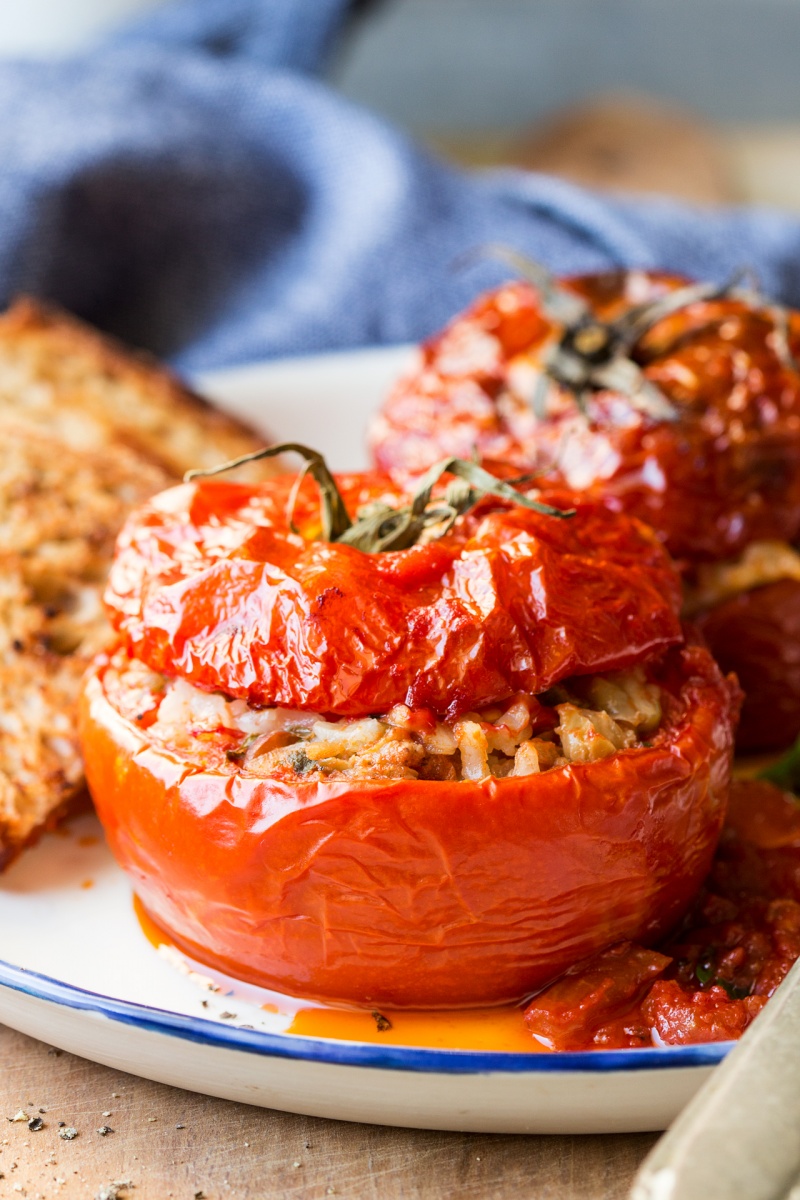 5 large bell peppers
5 medium-large and firm tomatoes
200 g / 1 rounded cup medium grain rice*
¼ cup (packed) fresh mint, chopped
¼ cup (packed) fresh parsley, chopped
¼ cup capers (in salt not vinegar), roughly chopped
¼ cup sultanas or raisins, roughly chopped
6 tbsp almonds, chopped and toasted
¼ cup / 60 ml / 4 tbsp extra virgin olive oil
1 medium red onion, very finely diced
3 large garlic cloves, pressed
2 tbsp nutritional yeast
½ tsp fine sea salt (more if skipping capers)
½ tsp freshly ground black pepper
½-¾ tsp hot chilli flakes
SAUCE
¼ cup / 60 ml / 4 tbsp extra virgin olive oil
2 cups peeled and finely diced tomatoes (2 large tomatoes)
2 tbsp tomato paste
1 cup water
¼-½ tsp hot chilli flakes
2 garlic cloves, finely grated
1 tsp fine sea salt
a generous grind of black pepper
METHOD
Set the oven to 180° C.
Wash tomatoes and peppers well. Cut about 1-2 cm off each pepper and tomato and set the tops aside. Make sure you don't cut the peppers too close to the base of the stalk as it may come loose and you want the tops left intact to keep the filling nice and moist.
Using a sharp-edged spoon, scoop the inside of the tomatoes, leaving the outer walls intact. Save the scooped-out tomato flesh.
Deseed the peppers, breaking the white membranes with your fingers or a small knife.
Arrange the hollowed-out tomatoes and peppers snugly on a baking tray (or trays, I had to use two to fit them all in).
Season the inside of each vegetable with a pinch of salt, sugar and pepper.
Blend or finely dice the insides of the tomatoes to add them to the rice filling.
Mix all of the filling ingredients together with the blended tomato flesh and olive oil.
Spoon the filling into the vegetables, but be sure not to overfill – the mixture should be roughly level with the cut so that there is room for expansion under the tops. Give the mixture a good stir between filling each vegetable so that you distribute the liquid that drops to the bottom evenly between all vegetables. Put the tops back on.
In a mixing jug, combine all of the ingredients for the sauce. Pour the sauce on the bottom of the tray, in amongst the stuffed vegetables.
Put the baking tray (or trays) into an oven. After about 1 hour, protect the tops from burning by wrapping a piece of aluminium foil over them. Continue baking for another 30 minutes, until the rice is cooked through. If the rice is still a little hard at the end of the cooking time, leave the veggies in a warm (switched off) oven for another 30 minutes to finish off cooking.
Traditionally, yemista is served at room temperature rather than warm, so allow it to cool down before eating. They're best enjoyed with a simple green salad (I use Romaine lettuce, spring onions and cucumber) and some crusty bread.
NOTES
*I used Blue Rose rice – a variety of rice that is available in Greek shops that is specifically recommended for this dish. It's a medium grain rice so feel free to substitute for another medium grain variety.