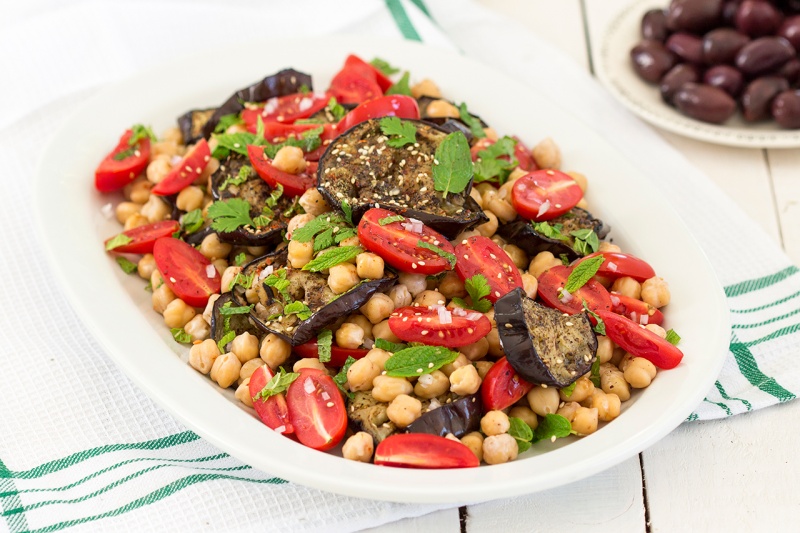 Following last weeks' pizza-making-induced sauna on the hottest day of the year, this week we've gone for something more hot weather-friendly: a quick salad with my beloved aubergine. I love eggplant's stunning colours, its chewy (almost 'meaty') texture and mild flavour, which allows it to take on various flavours so well. The fact that it is a staple ingredient of so many different cuisines goes to prove that the possibilities are endless. It's popular in India (it originally came from there), most Far-East Asian countries, the Middle-East and Mediterranean Europe. Until I moved to Greece, I had never seen eggplants in any other colour than deep purple, but here you can get many more varieties: smaller egg-shaped white ones (which is where the name eggplant comes from), stripy ones and long purple ones. They all look and taste fantastic. For this eggplant and chickpea salad, I went for the most common purple variety. I sliced it and coated in in Zaatar (a Middle Eastern spice mix), which you can either buy ready-made or mix your own.
Another great thing about this salad is that, if like me, you're having a romance with vegan meringues it uses up tons of chickpeas that are left after your meringue experiments. You have probably heard about a genius invention of a vegan meringue made from aquafaba (bean water/juice) and sugar? Some very clever people have noticed that bean brine (from most beans) gets insanely fluffy when aerated and therefore lends itself to making egg-free meringues. As you can imagine, this invention has taken the vegan community by storm. I have tried making vegan meringues too, but I haven't had a huge amount of success yet. It all looked very promising until about 30 mins in the oven when my meringues turned into a pool of sugary water. I am not giving up though as I dream of having macaroons again. It's just a matter of time and experience. Meanwhile, I'm enjoying bigger quantities of chickpeas than I would normally, which is a non issue, really.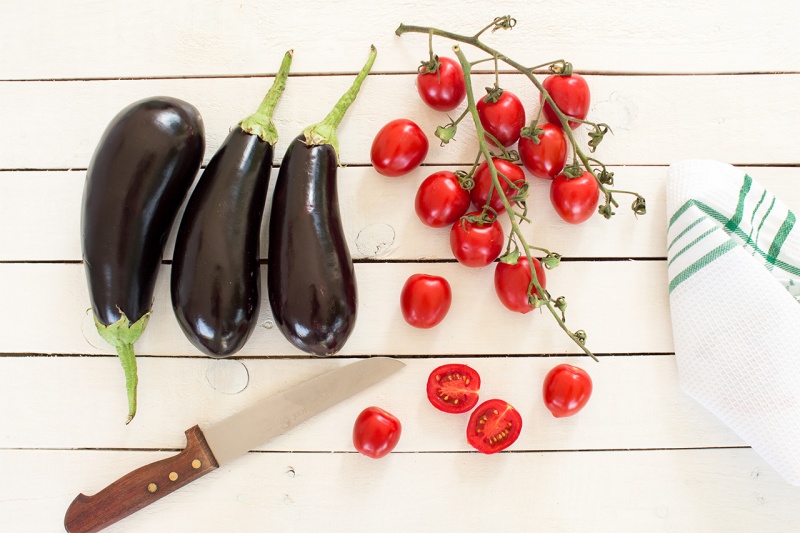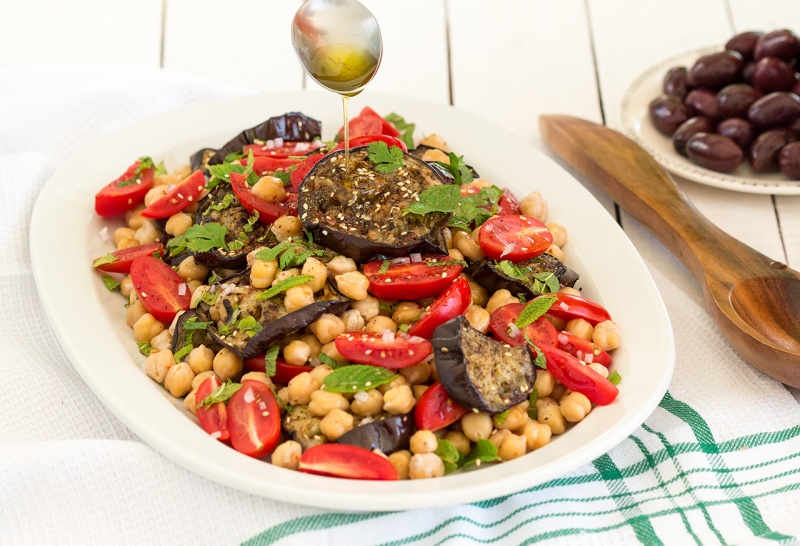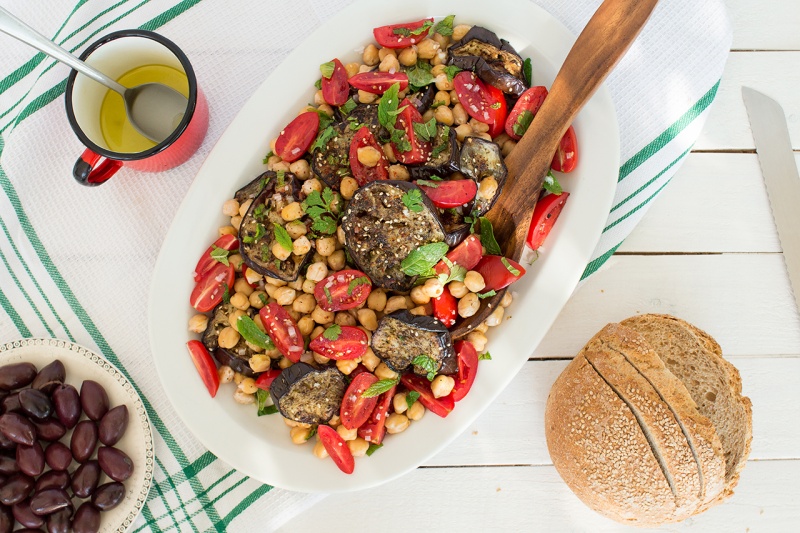 4 cups / 2 x 400 g cans cooked chickpeas
3 aubergines
20 cherry tomatoes, halved
small red onion, finely diced (optional)
handful fresh mint, chopped
handful fresh coriander, chopped
Zaatar* (Middle Eastern spice) or make your own (see below)
ZAATAR
2 tbsp dried thyme
2 tbsp dried oregano
2 tbsp sesame seeds
2 tsp sumac
1 heaped tsp fine sea salt
DRESSING
45 ml / 3 tbsp extra virgin olive oil
juice of 1 small lemon
1 garlic clove, pressed
salt & pepper, to taste
METHOD
To make zaatar, grind thyme and oregano in a coffee/spice grinder or by hand, in a pestle and mortar. Dry roast sesame seeds in a medium-hot pan until golden, remember to stir often. Mix ground herbs, sesame seeds, sumac and salt together and you're good to go.
Heat up a griddle pan. Slice your aubergine, brush some olive oil on it and rub it with Zaatar spice. Grill aubergine slices on a hot pan until charred on both sides and cooked through.
Whisk all of the dressing ingredients together with a hand whisk.
In a mixing bowl, mix together salad ingredients. Season to taste and transfer to a serving platter or salad bowl. Sprinkle with fresh mint and coriander.
NOTES
*If you cannot find zaatar or don't have ingredients to make your own, simply rub the aubergine slices with oregano and salt.