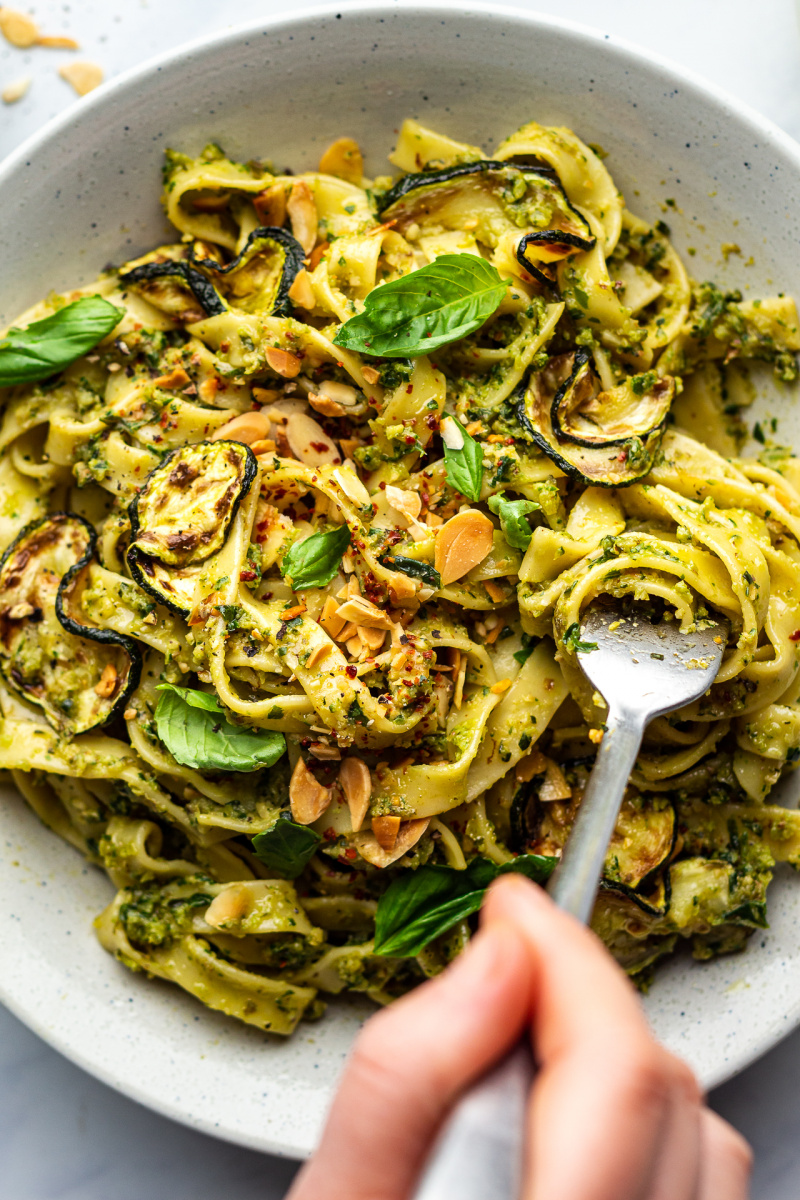 As of Monday, we are officially out of lockdown here in the UK. At last!! Although I am quietly cautious. My hunch is that drinking (pubs are now open) is not conducive to minimising spread. Back when we lived in London, the pub was the one place where intoxicated I love yous and gestures of affection between colleagues and friends was quite commonplace on a Tuesday night – something that the virus must be rubbing its hands (spikes?) together at.
I'm not much of a drinker myself so I won't be frequenting them for a while. I plan to celebrate with a haircut instead as my self cut fringe is crying out for someone with some expertise.
Anyway, back to food. Today's simple dish was born out of a massive amount of zucchini I bought for my last recipe and me getting sick of grilling it and chucking into an Italian-style salad. Also, we entertained a couple of our friends and their adorable toddler over the weekend and I always underestimate how fussy little kids are when it comes to food. Not sure if it's just English kids or is it a sign of the times?
I was never allowed to be fussy, I could cry my eyes out but if I didn't like something I had two choices, eat it or go to bed hungry. The iron fist with which I was brought up was certainly very old skool and, for most part, far from ideal, but I wasn't a fussy eater as a result. Neither was Duncan and his upbringing in this matter sounds very similar. Having said that I emphatize with parents, it must be exhausting to wage this war of wills at each and every meal. So anyway, the encounter with the said toddler made me think of making this Trojan zucchini pasta as it's a perfect way to smuggle a fair amount of zucchini into an unsuspecting zucchini hater.
The sauce is akin to pesto but, as opposed to pesto, it uses far less oil. You could get away with using no oil at all if you wish, but a little bit of it makes for a nicer, silkier mouthfeel and makes the sauce cling to the pasta strands better. A tablespoon or two of nut or seed butter like almond or walnut would work well instead or a bit of flesh from a ripe avocado. As opposed to traditional pesto, this sauce won't keep in your fridge for ages as it doesn't have the protective layer of oil to keep mould at bay. You should aim to consume it straight away or the next day at the most. We've enjoyed it and it made a nice flavour change from wild garlic pesto pasta, which we tend to indulge in at this time of the year. I hope it will be a winner in your books too.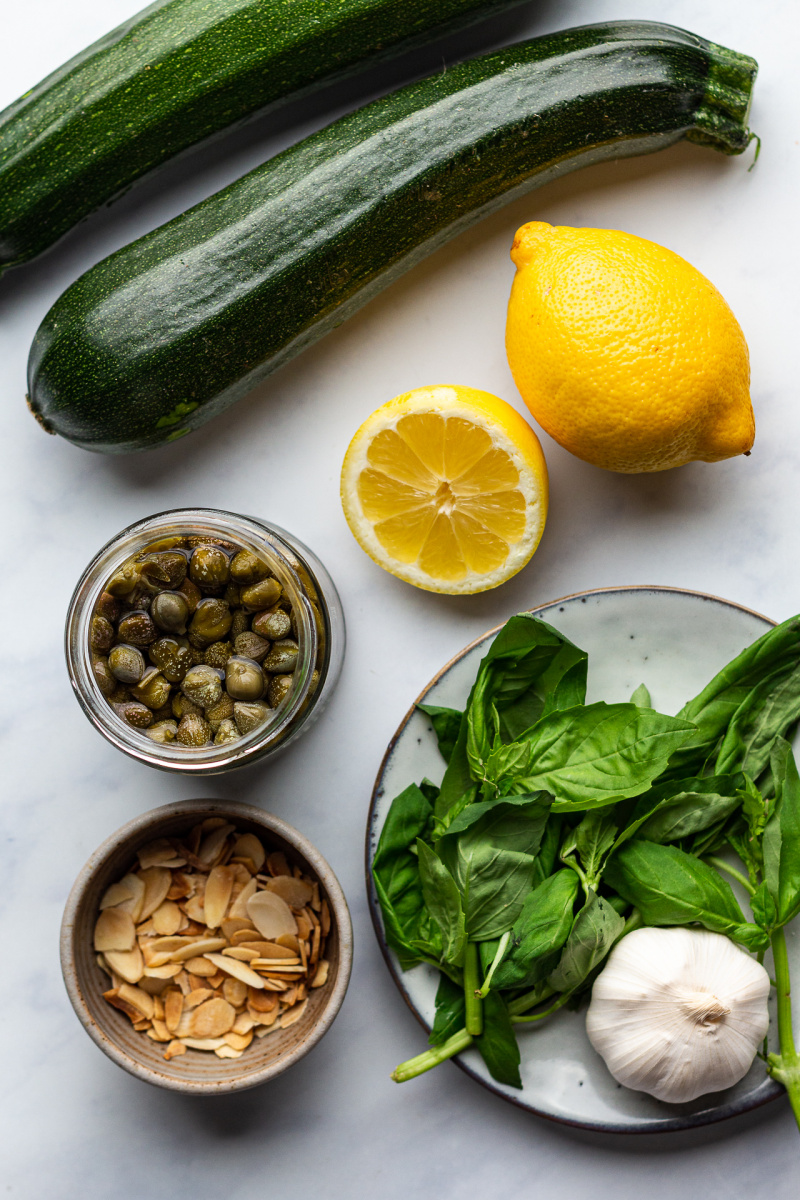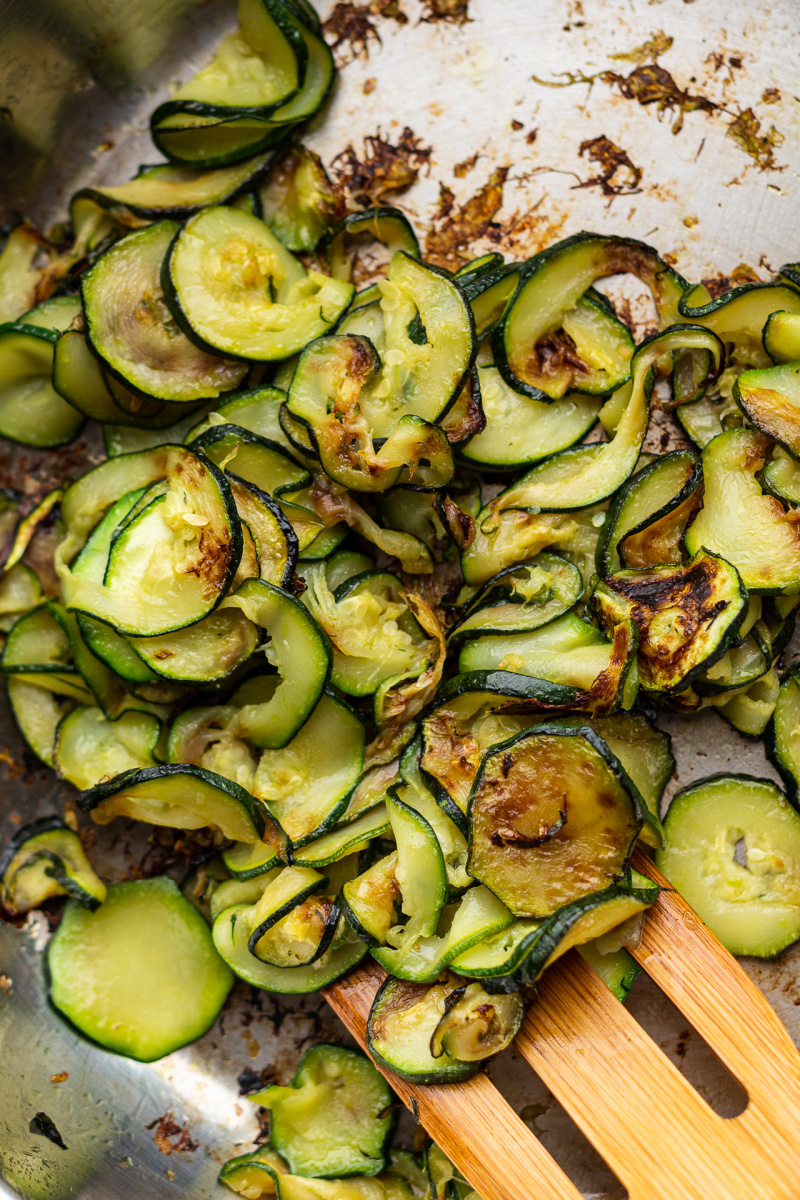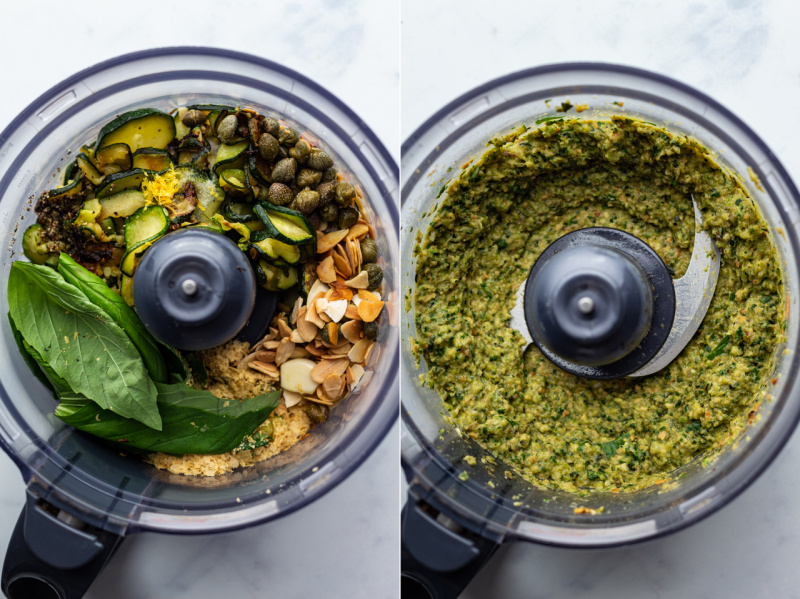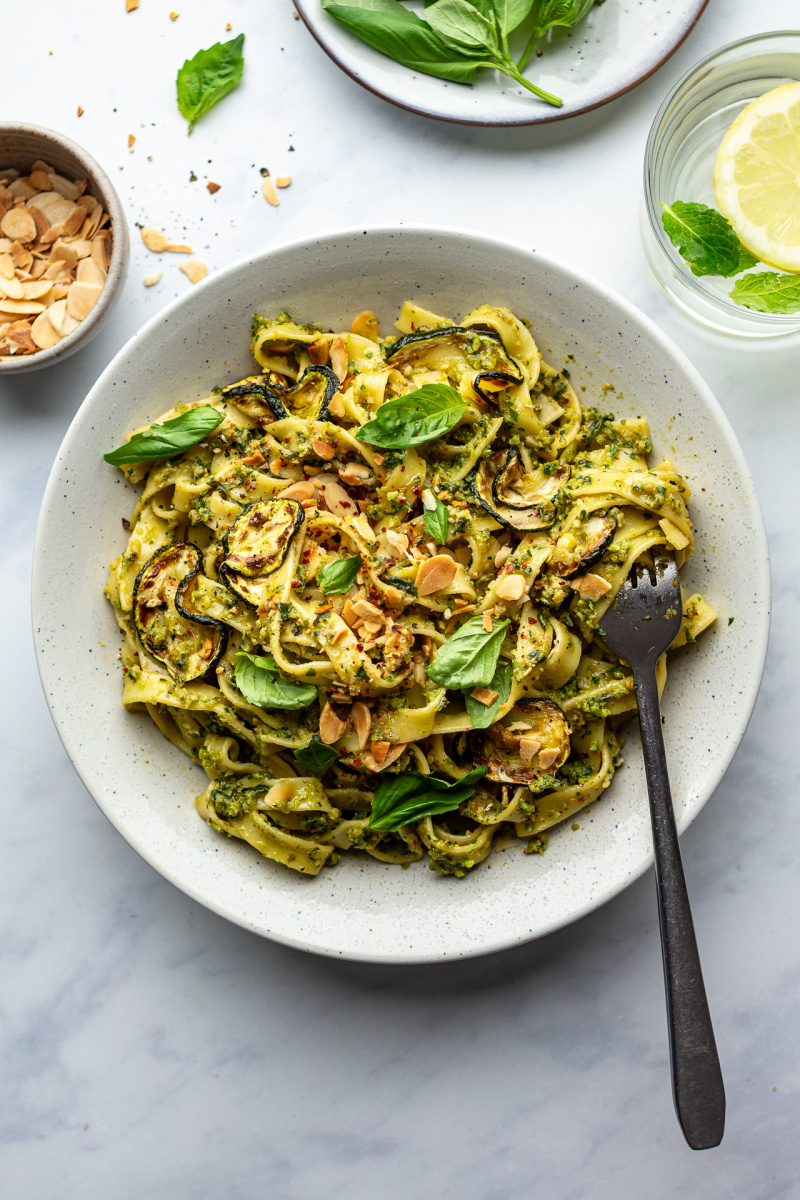 60 g / ½ cup flaked almonds (almonds, pine nuts, walnuts work well too)
30-45 / 2-3 tbsp olive oil* (optional)
450 g / 1 lb zucchini / courgette (2 medium), sliced thinly
30 g / 1 oz basil (mint works well too, but you may need less)
1 large garlic clove
zest 1 unwaxed lemon + 2 tbsp juice
2 tbsp drained capers
2 tbsp nutritional yeast (optional)
black pepper, to taste
salt (I used ½ tsp), to taste
300 g / 10½ oz smooth** pasta (GF if needed)
METHOD
Dry-roast almond flakes in a small frying pan, until golden and fragrant. Set aside.
Heat up 15 ml / 1 tbsp of oil in a large stainless steel pan. Once the oil starts to shimmer add zucchini slices. Toss them in the oil quickly to coat. If not consuming oil, you can steam them instead.
Sauté zucchini on a medium-low heat, stirring frequently, until all of them turn translucent and caramelised in places. Set the pan aside for step 6.
Place half of the almonds (leave the rest for garnish), cooked zucchini, olive oil (if using), 2/3 of the basil (leave some for garnish), garlic, lemon zest and juice (start off with 1 tbsp, then adjust to your liking), capers, nutritional yeast, and a dash of pepper and salt in a food processor. Process until smooth, adjust seasoning to taste.
Cook the pasta and just before you are ready to drain it, save 240 ml / 1 cup of pasta cooking water.
Transfer zucchini sauce to the pan, add enough hot pasta cooking water (you may not need all of it) to loosen up the sauce and then stir through cooked pasta. Toss well to coat all of the pasta strands.
Adjust the seasoning and divide between bowls, garnish with leftover almond flakes and basil.
NOTES
*If you want to make this dish oil-free, add a tablespoon or two of almond, walnut or cashew butter to make it creamier or ½ small ripe avocado. You could also just use pasta cooking water but the mouthfeel won't be as good.
**Smooth pasta is pasta like tagliatelle, spaghetti, penne or rigatoni. If you use pasta with lots of nooks and crannies like fusilli, there may not be enough sauce for 300 g / 10½ oz of pasta.